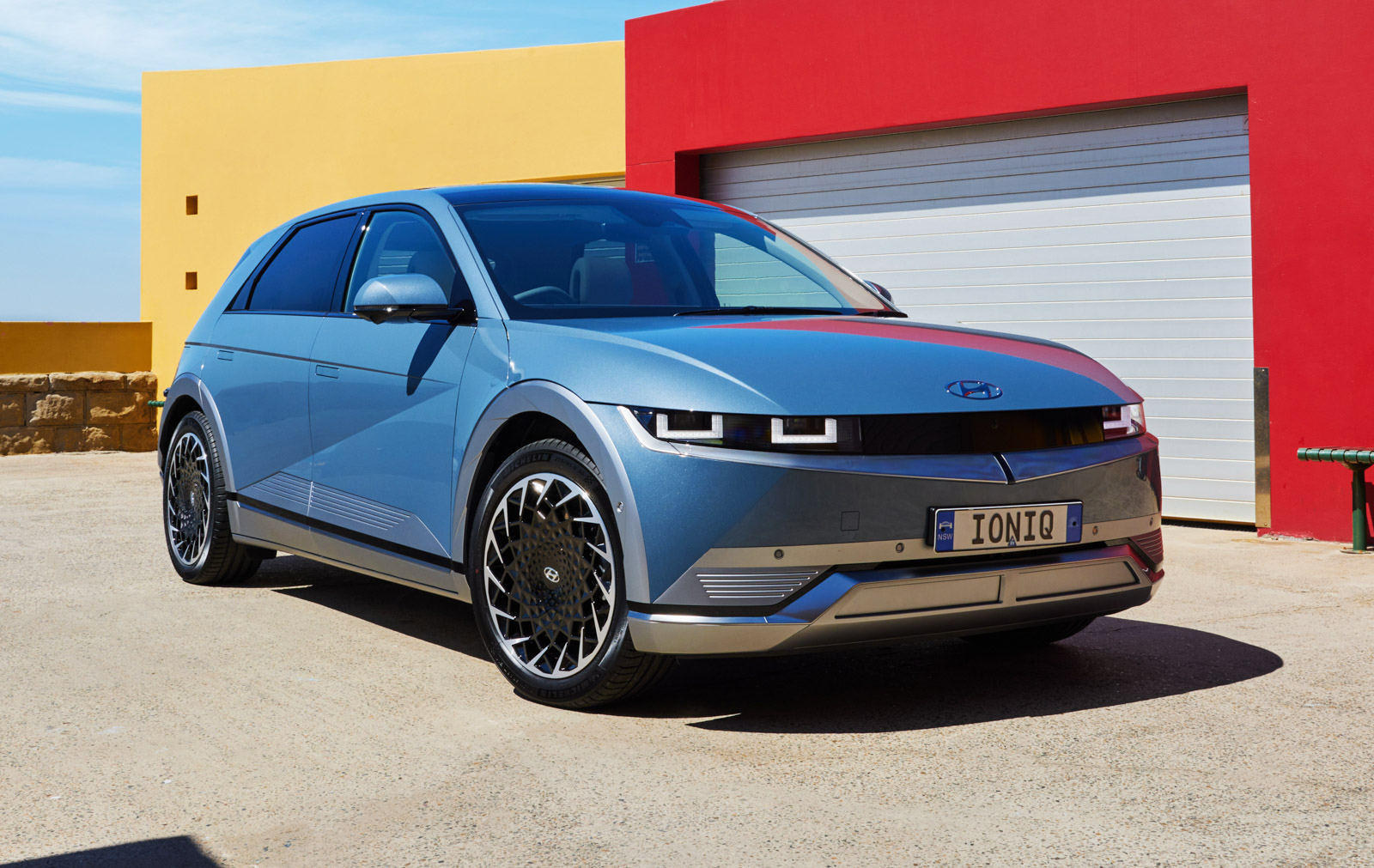 Hyundai's Ioniq 5 electric car has arrived and should rattle the EV rivals.
The name Ioniq has a history in Hyundai's line-up, but it was never anything like this.
The first proper stand-alone vehicle in the new Ioniq electric subbrand, the Ioniq 5 reinvents Hyundai's EV future with cutting-edge technology, incredible styling, sharp performance, and a well-designed, practical cabin.
Looks are always subjective but the amount of "What's that?" questions and stares that the 5 gathers driving around town surpasses that of some pin-up supercars we've driven along High Street. Some know it is an electric car, some are asking if it's better than a Tesla, and nearly all of them pause to take in the appearance which is different in the metal than the two-dimensional images you see here. The creases, which must be a pain to keep in perfection on the production line, and the unique front and rear taillights are truly different to what other car makers are doing. Details such as the pixel-style tailights are perfectly executed to make this a retro-inspired futuristic EV. Quite a feat from a company with not much of a retro catalogue to hark back on.
In any event, pioneering and innovative automakers must continue to push things forward, or risk falling into EV obscurity, and that is exactly what Hyundai has done. In a move away from the architecture used so far across its electric, hybrid and combustion-engined models, the Ioniq 5 is Hyundai's first car to use its new Electric Global Modular Platform (E-GMP) and, as a foundation for the company's next-level EV tech, it's mightily impressive.
Despite showcasing the company's latest EV architecture, the Ioniq 5 still incurs the typical weight penalty that comes from housing big, heavy batteries, although its design does allow for the cells to be placed under the floor to help deliver a low centre of gravity.
Hyundai's all-electric hatchback weighs around two tonnes, but performance remains solid, with fierce acceleration off the line in the 225kW top-spec model if you decide to stamp on the pedal. Otherwise, the power delivery is all very relaxed, with the 5 easy to pilot around town in normal mode or even eco mode which increases regenerative braking and dulls throttle response by a fair margin. Sport mode is noticeable quicker but the battery will drain quicker too. Even with a sport mode, the Ioniq 5 isn't an especially fun car to drive around twisty corners as it majors on providing comfort rather than B-road thrills – a brief it fulfills well, although the large 20-inch alloys and low profile rubber transmit a firm and fidgety response across hard edges and bumps in the road. Overall the 5 offers a composed ride though, with limited body roll and the light steering well suited to the car's set-up and intended use.
A real boon for Ioniq 5 owners is the car's ability to support 800V charging for the 72.6kWh battery, which means you can top-up from 10 to 80 percent in around 18 minutes, or 100km in about 5 minutes. Charging at home with an installed wallbox and the 5's 10.5kW AC onboard charger takes around six hours from 10-80 per cent battery charge. A normal household plug takes much longer. The maximum range is 450km for the FWD model and 430km for the AWD – from a full battery. In the real world consumption is around 18-20kWh per 100km, so you can expect about 350-400km from a full charge depending on how egregious your right foot is to being economical.
Inside, the driver is faced with a pair of 12.3-inch digital screens – one a colour touchscreen covering the infotainment and sat-nav systems, while the other displays information for the driver. There's no head-up display which feels amiss at over $70k for a landmark Hyundai.
The infotainment set-up is superb – the twin displays are similar to a Mercedes layout, with two 12.3-inch screens side-by-side. One provides digital dials, the second is a touchscreen for other functions – but there are still real climate controls, and those buttons are solid feeling. Things like settings for the heated seats and steering wheel are accessed at first by pressing a touch-capacitive button on the dash and then using the screen.
It's easy to use, works well with smartphone functions, is responsive and the graphics look sleek. The menus are well laid out, too, so there's very little to complain about except perhaps that only one of the front USB ports works with the smartphone link for Apple CarPlay or Android Auto.
The Ioniq 5 is 4635mm in length, which is 420mm longer than the Hyundai Kona Electric and 172mm longer than the Mercedes-Benz EQA. By way of further comparison, the 5 is longer and wider than its Tucson mid-size SUV sibling – though it doesn't stand as tall. At first sight you may be slightly taken aback by the oversized hatchback's dimensions. Make no mistake, the 5 is a big family car, but this does bring the advantage of plenty of interior space for the driver and passengers.
The Ioniq 5's king-sized cabin is vast and, with the battery pack mounted beneath the floor, occupants benefit from a flat floor space which really opens up the interior, while the large windows add to the bright and airy feel.
Useful details that help make day-to-day family life slightly easier include under bonnet storage (although limited in space), sliding rear seats, electrically adjustable front seats that recline almost fully flat, a sliding centre console and an automatic tailgate. A couple of downsides to note are that the rear doors are very big, and can be awkward to use in tight parking spaces, while Hyundai, in its infinite wisdom, has decided not to fit a rear wash wiper.
As mentioned above, the 5's rear seats have a sliding function to help maximise legroom or boot space, as required. The completely flat floor is a welcome feature, particularly for those in the back, while the long-wheelbase gives a limo-like feel inside. You can fit two kids seat in the back easily.
The rear boot is wide and provides easy access, although it's quite shallow and you'll need to retract the parcel shelf to accommodate larger items. There's 527 litres of space on offer, and this grows to a huge 1587 litres with the rear seats folded.
On launch in Australia, the Ioniq 5 is offered, initially, with one 72.6kWh battery and the choice of either rear or all-wheel drive. The entry-level $71,900 (before on-road costs) model has a single electric motor mounted on the rear axle, with 160kW and 350Nm of torque. It has a maximum range of 450km and a 0–100km/h time of 7.4 seconds.
The range-topping model ($75,900 before on-roads) features the same battery pack, but an extra electric motor on the front axle which gives the Ioniq 5 all-wheel drive and an output of 225kW and 605Nm of torque. The extra grunt slashes the EV's 0–100km/h time to 5.2 seconds, although its maximum range figure takes a slight hit at 430km. Both cars feature the exact same equipment beyond the driveline, so there's a sensible saving in opting for the FWD model.
The Ioniq 5 is a game-changer for Hyundai's position in the EV market. The Kona EV and Ioniq EV which have been on sale already for some time were solid starters, but this is in another ball game. It will attract buyers looking at European options such as the Mercedes-Benz EQA and Polestar 2 and we'd think that on panache alone it will win hearts. It isn't without some missed opportunities- namely the ride which could be better adapted to local roads and lack of HUD – but a very good drivetrain, the best charging capability and a nice driving environment for all passengers make this a landmark car from the South Korean company.
Alex Rae