We get a preview of how the incoming Cupra Formentor 228kW AWD will perform compared against the Hyundai Kona N.
Some pairings just work: fish and white wine, apple and cinnamon, coffee and chocolate, hatchbacks and a stiffer, pointier chassis.
Others are challenging from the outset: lobster with gravy, apple crumble with gravy, a sporty chassis with gravy. That doesn't mean a talented chef can't potentially make it work, but it's an uphill battle.
Like gravy, SUVs can be very appealing and are loved by many, but combine them with a delicate suspension set-up and their SUV-ness can dominate and make for a heavy-handed recipe.
The people at Hyundai's N performance division have so far proven to be proficient chefs when tackling the classics: the Hyundai i30 N is impressive and the i20 N is brilliant. Have they been able to make the hot compact SUV work with the Kona N?
Demonstrating just how difficult it is, the hot hatch masters at Ford did a great job on the Ford Puma ST, but when you drive it, you're reminded that it's very similar to the Ford Fiesta ST, just not quite as natural to drive. Given that the Hyundai Kona is in effect a slightly larger i20 on stilts, the verdict on the Kona N is heading in the direction of 'like the i20 N, just not quite as natural to drive'.
However, Hyundai has pre-empted that comparison and nixed it by going at the Kona with a big shoehorn. See, the Kona N isn't powered by the i20 N's 1.6-litre engine. Instead, its stubby bonnet houses the i30 N's much more senior 206kW 2.0-litre unit, complete with eight-speed dual-clutch automatic transmission and electronic differential between the front wheels. Hyundai clearly hasn't spared the gravy.
However, Hyundai isn't the only game in town. Well, it might be right now, but soon (Q2 2022) Volkswagen Group brand Cupra will launch in Australia with the arrival of the 228kW Formentor. While not currently available here, our colleagues in the UK have been able to put both hot crossovers against each other to see which one might pop (and crackle) out on top.
The Kona claims it will get to 100km/h in 5.5sec, and the Formentor shaves a further 0.6sec off that time, thanks to four-wheel-drive traction. But while the cooking versions of crossovers can feel a bit samey to drive, you would struggle to find two cars that achieve relatively similar results in more different ways than these two.
Despite them having 2.0-litre turbo fours with broadly similar power outputs, coupled to dual-clutch gearboxes, the powertrains behave wildly differently. The Kona emits a parpy, genuine sound that's appropriate and encourages you to go faster. It's not pretty, but what is, short of a GT3?
It's certainly better than the Formentor's symphony of silence. On the outside, at least. Inside, you're bombarded with V8 bellow. Yes, V8. Cupra correctly reckoned that the familiar EA888 sounds a bit rubbish by itself, but it decided that what the Formentor needed instead was fake Ford Mustang sounds. It only does it in Cupra mode, but the alternatives aren't that much better: Sport mode sounds more like a large-capacity diesel four-banger, while Normal mode is pure mechanical thrash.
In a way, though, V8 noise isn't entirely inappropriate, because the 2.0 TSI behaves like a bigger engine. There's power and torque all through the rev range, and consequently you could go way too quickly for the road without ever exceeding 3000rpm.
The Kona is the complete opposite. James Disdale picked up the car from Hyundai headquarters the morning of this test, and when he arrived at the photoshoot location, he had assumed the Kona had the i20 N's 1.6 T-GDi. It's easy to see why: the power and grunt are there if you go looking for it, but you wouldn't necessarily notice when driving it during morning rush hour.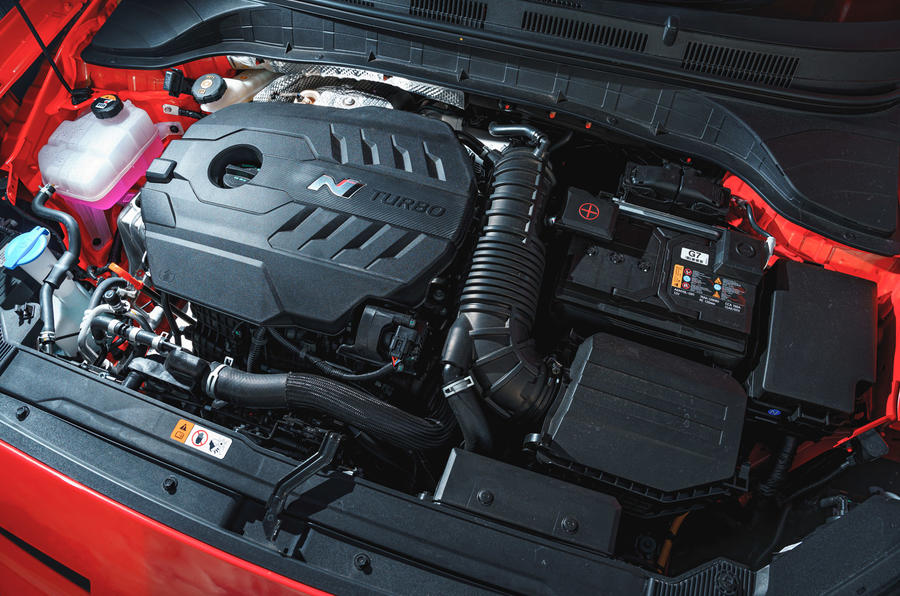 We've got used to turbo engines giving up their torque quickly and generously, but the Kona's has been tuned to behave somewhat like a naturally aspirated unit, giving a rush of power in the last 1000rpm. Given the natural inclinations of a turbo engine, it's a little contrived, but it's no doubt exciting.
The difference in character shows just as clearly in the way two cars go down the road. The fast Formentor is the epitome of the fast-hatchback trick of being able to get from A to B across country roads as fast and fuss-free as possible. That's no wonder, because underneath is essentially a previous-generation Volkswagen Golf R drivetrain, with a seven-speed DSG and Haldex all-wheel drive. The latest Golf R adds some clever torque vectoring, which the Formentor does without.
It's quick off the line (although subjectively not quite as rapid as the numbers suggest) and devours corners without fuss. When you go hard on the throttle out of a corner you can feel just enough power going to the rear to give it a perfectly neutral balance on the road, but it's to a clinical degree. This isn't an expressive car in the slightest, with an utterly locked-down balance and steering that's always very light and uncommunicative.
Despite the relatively ordinary Bridgestone Turanza T005 tyres, trying to get to its limits on the road would be madness, even on a greasy autumn day. It's supremely easy to make it go quickly, but it's lacking in involvement at all speeds.
The same can't be said for the Kona N. True to its recipe of a big engine in a small car, it's exciting and raucous at all times. Maybe a bit too much. Even when you're pootling around, it's screaming: "I am a touring car! I am HARDCORE!"
The first thing you notice is the ride. If you make a car higher, its centre of gravity becomes higher, resulting in more body roll. To counteract that, the suspension needs to be stiffer. This is something that absolutely defines the Kona N. You get three damper modes, but only the softest – or rather the least stiff one – is properly comfortable. Even then, it's a bit busy and bouncy.
It must be said that the quality of the damping isn't in doubt. The Formentor's dampers may be softer in their softest setting and adjustable through no fewer than 12 increments, but the Kona's round off surface imperfections better, and while the Korean car's ride is stiff, it's not jarring.
Add some throttle and the e-diff joins in with the hyperactivity. It's brutally effective at dragging you out of corners, but with the emphasis on brutal. Accelerate on an uneven road and the steering pulls this way and that over cambers and crowns.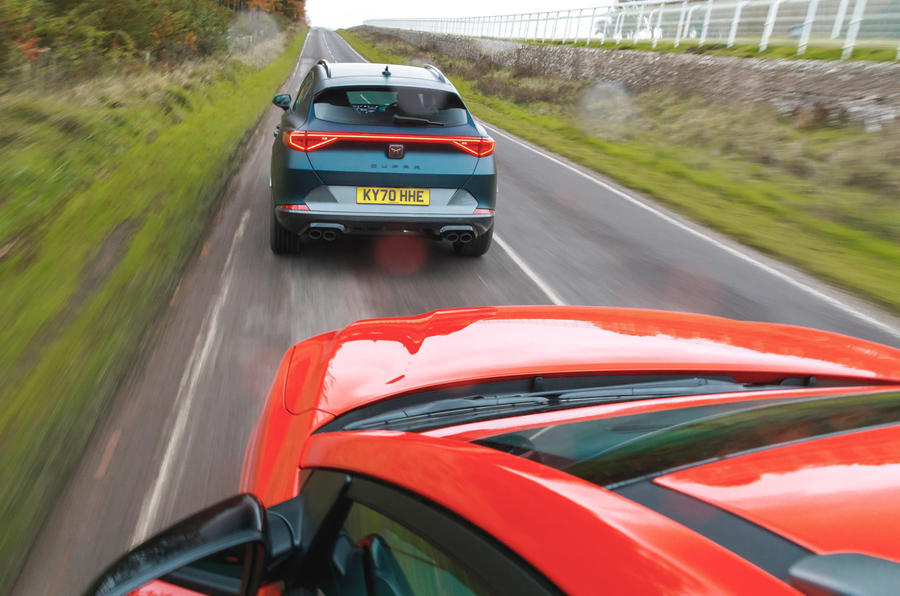 You need to be on your toes when driving the Kona N remotely quickly, not just because of the torque steer and sensitivity to the road surface but also because it's much more playful on a trailing throttle than we've come to expect from an N car.
With so much spectacle from the Kona, it's easy to forget that most people will buy these cars as everyday drivers in which to do their commutes or shopping, rather than for door-handling them on B-roads. So it's also the detail and polish that counts. While Cupra Australia is yet to announce pricing for the Formentor, it says it will "start just north of $40,000 and finish just above $60,000". That suggests this performance topper will be more expensive than the Kona N in Australia (starting at $47,500 plus on-road costs), but it's when you slow down that you notice why you would pay more for the Formentor.
True, its interior has the overly minimalist style that we've come to expect from the Volkswagen Group brands and the now-familiar touchscreen and touch-sensitive climate controls. Material quality is a cut above the Kona's, however, and the dark-blue leather is a classy touch.
The Hyundai just feels much more ordinary inside. The Alcantara seats, blue stitching and N buttons make it quite racy, but it's still a nice version of a relatively cheap car. Like any modern Hyundai, it scores with its touchscreen infotainment system, which is simply more logical and responsive than the Cupra's.
Aside from that, sitting in the Formentor, you feel that something strange is going on. This is a hot SUV test, but it's actually debatable whether the Formentor is even an SUV. It just about looks like one from the outside, but when you get in it, you sink down much farther than you expect. You look out over a big, tall bonnet, but your hip point is the same as it would be in a Cupra Leon.
By comparison, you do genuinely climb into the Kona. Despite being a smaller car with less space in the boot and back seats, its tall, upright driving position feels much more like that of an SUV, and surely that's what SUV buyers want?
While the Kona's more pronounced SUV-ness will appeal to SUV buyers, I'm not sure the intense way that it delivers its performance will. Hyundai's Michelin-star chefs have managed to create a very interesting recipe from conflicting ingredients. It's going to be too spicy for some, but it's definitely going to be memorable and make you want more – just not every day of the week. The Kona is remarkably hardcore, but surely if you covet a chassis and a powertrain that are this aggressive, you want to optimise everything and therefore go for a hatchback?
Ultimately, these two cars have such different characters that your choice will depend on personal preference, rather than which one is the objectively better car. The Kona is more likeable for how dedicated it is to being a driver's car, but the Formentor is the easier car to recommend to someone looking for a fast crossover.
Illya Verpraet