Mercedes-Benz has showcased the next stages of its transition to full electrification at this year's Munich motor show and its most important unveiling was this: the all-new EQE.
It is the second model to sit atop the brand's EVA2 platform, following the larger and more luxury-oriented EQS, and will be launched in mid-2022 as a rival to EVs such as the Tesla Model 3, BMW i4 and Polestar 2. Prices will be confirmed closer to its launch, but expect the EQE to be available from roughly midway between the E-Class and EQS.
Design
The relationship with the EQS flagship is clear from the EQE's black front panel, 'one-bow' cab-forward silhouette – a hallmark of the brand's new-era bespoke EV family – and short overhangs at the front and rear. Mercedes also refers to the "sensual purity" achieved by minimising joints, transitions and body lines and suggests the EQE shows off its "athletic character" with pronounced rear haunches and wheels ranging in size from 19-inch to 21-inch.
As with the EQS, the EQE has been designed with optimum aerodynamic efficiency in mind, with Mercedes claiming a "very good" Cd figure as a result of its smooth underbody, rigorous panel gap sealing and closed-off grille. It can't quite match the EQS as a result of its shorter overhangs and standard-fit multi-link front and rear steel suspension, but the aero-optimisation measures "were developed particularly intensively". Mercedes is even offering specially developed 19-inch and 20-inch 'aero wheels', including a set with an almost completely closed surface.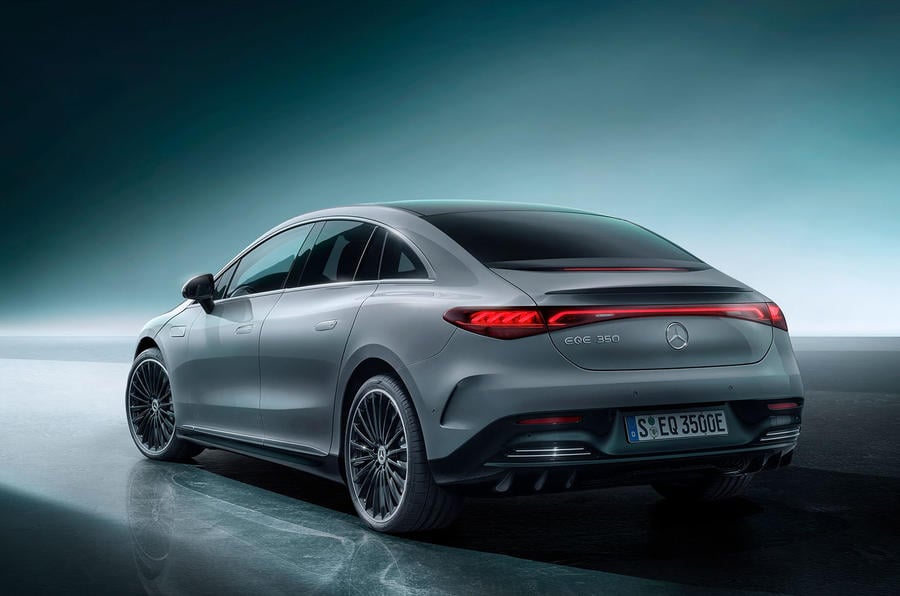 The EQE – the first Mercedes model to be built using 100% recycled steel – is 270mm shorter than the EQS, at 4946mm long, and has an 80mm-longer wheelbase than the E-Class, at 3120mm. Mercedes notes that it is more comparable in size to the CLS four-door coupé and, like that car, the EQE has a hatch-style bootlid rather than a saloon-style one.
Interior
It is further differentiated from the conventionally fuelled E-Class by an interior design that's familiar from the EQS, complete with the option of the larger car's 1410mm-wide 'Hyperscreen' infotainment device. Spanning the width of the dashboard, this high-definition screen is described as giving "zero layer" access to the key functions of the MBUX operating system, so the user does not need to cycle through multiple menus. The front passenger has control of their own 12.3in OLED display, which is automatically dimmed when showing 'dynamic content' so as not to distract the driver.
Over-the-air system updates and upgrades will be available from launch, offering enhanced features such as the 'Roaring Pulse' sound mode (which gives the option of a "large-volume combustion engine" soundtrack), specially developed driving modes for young drivers and technicians, in-built video games and uprated headlight technology.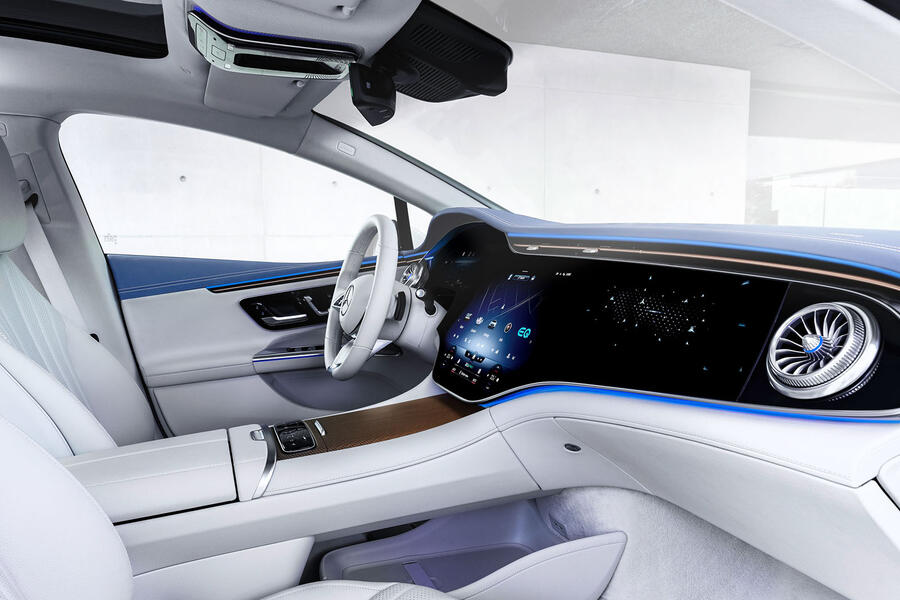 The flat-floored EQE also goes without a transmission tunnel, instead adopting a floating centre console, which is mirrored by a similar set on the door panels with controls for the seats and doors.
Mercedes claims the EQE is "one of the very best vehicles in its class" when it comes to noise reduction. A foam coating fills various cavities and insulates the electric motors to reduce wind and drivetrain noise, as do bespoke uprated seals for the door handles, mirrors and windows. There is also a subtle trim element at the base of the A-pillar that reduces noise, improves airflow and helps to keep the side windows clean.
Powertrain
Two variants will be available from launch: the EQE 350, with 215kW and 530kW on tap from its rear-mounted motor, and an as yet undisclosed second drivetrain option. Performance details remain under wraps, but Mercedes says the motor's permanent magnets ensure "high power density, high efficiency and high power constancy".
Four-wheel-drive 4Matic models will arrive later, potentially matching the most potent EQS variant's 560Nm in top-flight AMG EQE 53 guise. Dynamic upgrades available for all models include S-Class-derived air suspension and a choice of rear-axle steering systems that can reduce the turning circle by up to 1.8m.
For now, the EQE is equipped with a 10-cell, 90kWh (usable) lithium ion battery offering an expected range of 545-660 kilometres on the WLTP cycle, which gives it longer legs than most rivals, at least in more efficient rear-driven form. It can be charged at speeds of up to 170kW, which means the EQE can gain some 250 kilometres of range in as little as 15 minutes, and is topped up on the move by regenerative brakes, which allow for one-pedal driving in their highest setting.
Mercedes is also keen to highlight its "holistic approach to the battery life cycle", which will see EV batteries taken out of cars at the end of their usable lives and employed in energy storage facilities, rather than being recycled immediately. The battery's life will also be extended for as long as possible while it is in the car, courtesy of over-the-air software updates that work with the EV-specific navigation platform to determine the best heating and cooling cycles for optimal performance.
Felix Page