Morgan's latest three-wheeler retains the classic appeal of the earlier model but adds new character all of its own.
It's easy to get lost in the detail of the new Morgan Super 3. This is the replacement for the 3 Wheeler that arrived a decade ago and whose success seemingly took its maker by surprise. Morgan expected it to be a niche vehicle even by its own standards. Instead, more than 2500 left the Malvern factory.
Owners use them in two distinct ways, Morgan finds. The traditional owner jaunts around the country on a sunny Sunday afternoon. Then there are those who use them like adventure motorbikes: loading them up with kit, cladding themselves in waterproofs and heading towards the horizon with repurposed motorbike bags and luggage, whatever the conditions.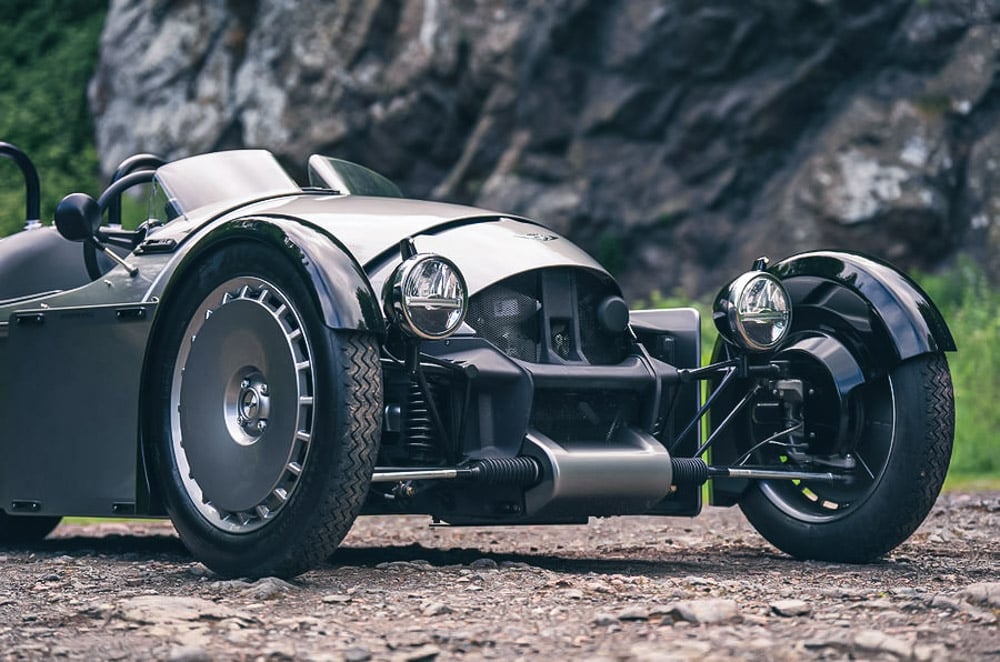 The Super 3 is meant to more easily accommodate those people as well as retaining the appeal for the traditionalist – and I think it does both spectacularly.
There was a time when Morgan – sometimes proudly the most traditional of car makers – was reluctant to try anything it hadn't done before. That time certainly isn't now, although I believe it's also true that a three-wheeleris an edgier, more flamboyant product that allows the company to exercise more creative flair.
The new trike has flair to spare. It's also clever. It's a true monocoque, as many components as possible have been given more than one job, there's no ash frame beneath the stressed aluminium body panels and it even features Morgan's first patented item in its 112-year history (a clever mounting clip btw).
To my engineer's eyes, it's a gorgeous piece of product design, born not from wondering how to make a traditional three-wheeler but how to make a great adventure trike. On a throwback machine, you wouldn't, for example, find big aluminium castings at each front corner, as here. These big sculpted pieces are at once the engine mounts, the mounting points for the pull-rod suspension, supports for the headlights and the nose cowling and, finished in either silver or black, also classy body surfaces. They're delicate yet solid like they've come from a locomotive, cold to the touch, visually appealing and, lastly, aerodynamically sculpted to direct air into the radiators.
There's more. The blocky side panels adjacent divert air to the radiators and act as mounting points for the vast array of luggage you can now specify (because Morgan knows accessories can be profitable too). They're flat because if they were shaped, the front wheels couldn't turn as far. The old 3 Wheeler had a terrible turning circle.
Wire wheels didn't help its cause. They have a great classic look, but their hubs are so wide that they push suspension uprights inboard, increasing the turning radius and compromising the dynamic set-up. Morgan's designers like the look of turbofan wheels (who doesn't?) so designed new ones. They have the advantage of being slightly convex without seeming it. So now the wheel upright is closer to the wheel centre and the wheel stands proud of the bespoke tyre (but disguises it well).
Then there's the engine. Necessity dictated the death of motorbike firm S&S's air-cooled 2.0-litre V-twin, which finds modern emissions regulations disagreeable. In its place comes a naturally aspirated three-cylinder 1.5-litre Ford car engine. Unlike an engine you would see on a Harley-Davidson, it's not very pretty, so it goes behind and under an engine cowl. It's still mated to a Mazda MX-5 manual transmission and drives the rear wheel via a belt, as the V-twin did, but there's no longer a need for a torque damper between the engine and the gearbox, because the torque output is less lumpy.
Moving rearward, the body surfaces are stressed, too, to make this Morgan's first proper monocoque. And again if a component can be given two or more jobs, it has been. At the very back, another pleasingly solid aluminium casting mounts the rear body structure. It is the (small) boot's hinge, it holds a rear light and it bears a cast-in Morgan logo.
The Super 3 is a little bigger than the 3 Wheeler. It's only 3.58 metres long but 1.85 metres wide (although quite a lot narrower across the body). Inside, everything is rated to IP64 levels of waterproofness. You will give up before it does. The seat fabric of our test trike is motorcycle-grade vinyl, although other fabrics are optional. You can rest your feet on bent aluminium supports so you needn't tread on the seat and get that filthy as you lower yourself down.The seat doesn't adjust, but pull a cable under the dashboard and the pedal box slides back and forth. The steering wheel moves for both reach and rake and if you don't like this wheel, six more are available.There are digital dials – clear and simple – and diddy aero screens. If they were any larger, they would be windscreens and thus need wipers, so they're not. I like them and their slightly retro-futuristic Jetsons feel. They refract light onto the body like images on a pond. You can get them in yellow, which I like even more. I know Autocar often rails against monochrome cars in various shades of grey or silver, but to me it really suits the Super 3 – more so than old-fashioned flat colours.
And to drive? The Super 3 is a joy. Our test car wears an optional sports exhaust, so when you thumb the starter button, the three-cylinder crackles hollowly like a junior Porsche 911. The pedal weights are spot on and the unassisted steering is direct, linear and the right sort of speed, at 2.5 turns between locks. The low-speed ride is fine and directional stability is very strong.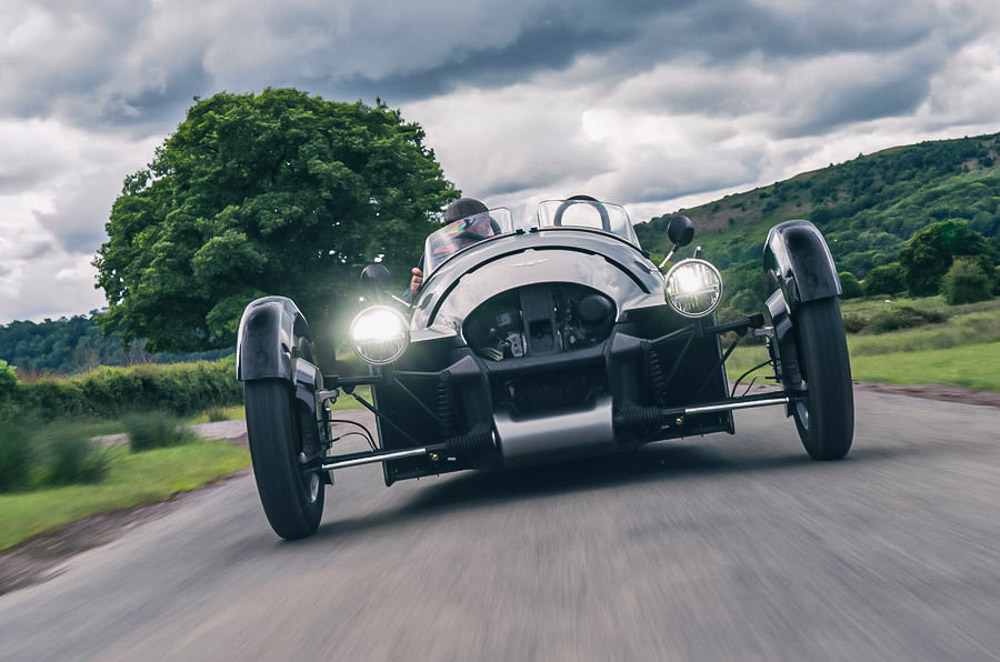 The engine has a lovely, predictable response. There's strong pull from low revs, and at 635kg, there's little inertia to overcome. And although it will rev to 7000rpm, you needn't go anywhere near the redline.The five-speed gearbox has a long but smooth throw, the brake pedal is firm and there are companies with many, many engineers who don't get the control weights this right. Around Worcestershire's lanes and B-roads, it's an absolute blast of revs, gearchanges, blipped downshifts and full-throttle hauls out of corners.
It has 88kW and can do 0-100km/h in 7.0sec, but quite often you glance at the speedo between bends and the number starts with just a four or five: 130/90 R20 Avon Speedmasters don't offer foot-wide Michelin Pilot Sport Cup 2 levels of adhesion, after all. Instead, they let go on the way into a corner and the rear wheel (whose response is instant, obviously but still curiously, on account of not needing a differential to start locking itself), will spin up on the way out of a bend. It's predictable, novel, modestly able and highly amusing. But more than any of that, it's absolutely thoroughly well sorted, too.
I know it's a niche choice. I know there's no roof. I know you get wet. But the Super 3 is a joyful car, which doesn't take itself too seriously and yet delivers a driving experience that, smiles per mile, is objectively the measure of cars costing many times its price. I think you will know if it's the kind of car for you. If you suspect it is, you will be right. It's the most automotive fun I've had all year.
Matt Prior