What could have been if the Holden Astra continued into this new generation model?
In February 2020 when General Motors axed Holden from Australia it was the final nail in the coffin for cars like the Commodore and Astra – two iconic nameplates for the lion brand and both of which were sourced from Opel after local manufacturing of the Commodore stopped.
If Holden's fortunes were different, Australians may very well have now had a new line-up of the latest generation machines, all from Vauxhall/Opel in Europe and now all owned by the Stellatnis group. While there's no chance GM can ever bring these cars here now, there is a chance Stellantis will. We drive the new Opel Astra, which will be produced in right-hand drive, to see what we might be missing.
Opel isn't shying away from electrification with the all-new Astra. The eighth generation of the brand's Toyota Corolla and Volkswagen Golf rival is being launched with a plug-in hybrid powertrain, a second one will follow later this year and a fully electric version is already lined up for 2023. But while the PHEV may be grabbing the headlines, the bulk of the car's early sales will continue to come from combustion-engined variants.
This is, of course, the first Astra to be developed fully under Stellantis ownership, and that means that quite a few of the oily bits should be familiar to anyone who's driven a Peugeot recently. The range starts with a 1.2-litre three-cylinder turbocharged petrol (PureTech in Peugeot parlance, although Opel doesn't use that name), producing 81kW and 205Nm, paired with a six-speed manual transmission.
But it's the more potent version of the same engine that we're trying here; it offers 95kW and 230Nm, and comes with the choice of a six-speed manual or an eight-speed automatic transmission. Under it all, of course, is Stellantis's EMP2 platform, so the suspension configuration is MacPherson struts up front and a torsion beam at the rear. It's the latest V3 incarnation of the architecture, though; that's what makes the Astra EV feasible.
Opel has been guilty in the past of having horrendously complex line-ups, but the firm is undergoing a welcome rationalisation of its trim levels across all of its models. There are just three to consider in the Astra. The entry point, Design, looks like it delivers a fair haul of kit; it brings 16-inch alloys, a 10-inch touchscreen infotainment system, a 10-inch digital instrument cluster, wireless Apple CarPlay and Android Auto, front and rear parking sensors, climate and cruise control, and auto lights and wipers. This is the only trim level that's available with both petrol engines – as well as the 1.5-litre diesel.
Mid-spec GS Line drops the weaker petrol motor but gains the option of the plug-in hybrid. This trim comes with 17-inch alloys, alloy pedal covers, dual-zone climate control, a heated wheel and heated front seats, a modular load floor in the boot, keyless entry and start, and styling tweaks including a black roof and a black frame for the front-end 'Vizor' grille.
Ultimate, meanwhile, steps up the wheel size again, to 18 inches, and brings a head-up display, wireless smartphone charging, a heated windscreen, a panoramic sunroof, Alcantara upholstery, LED pixel headlights and a 360-degree parking camera.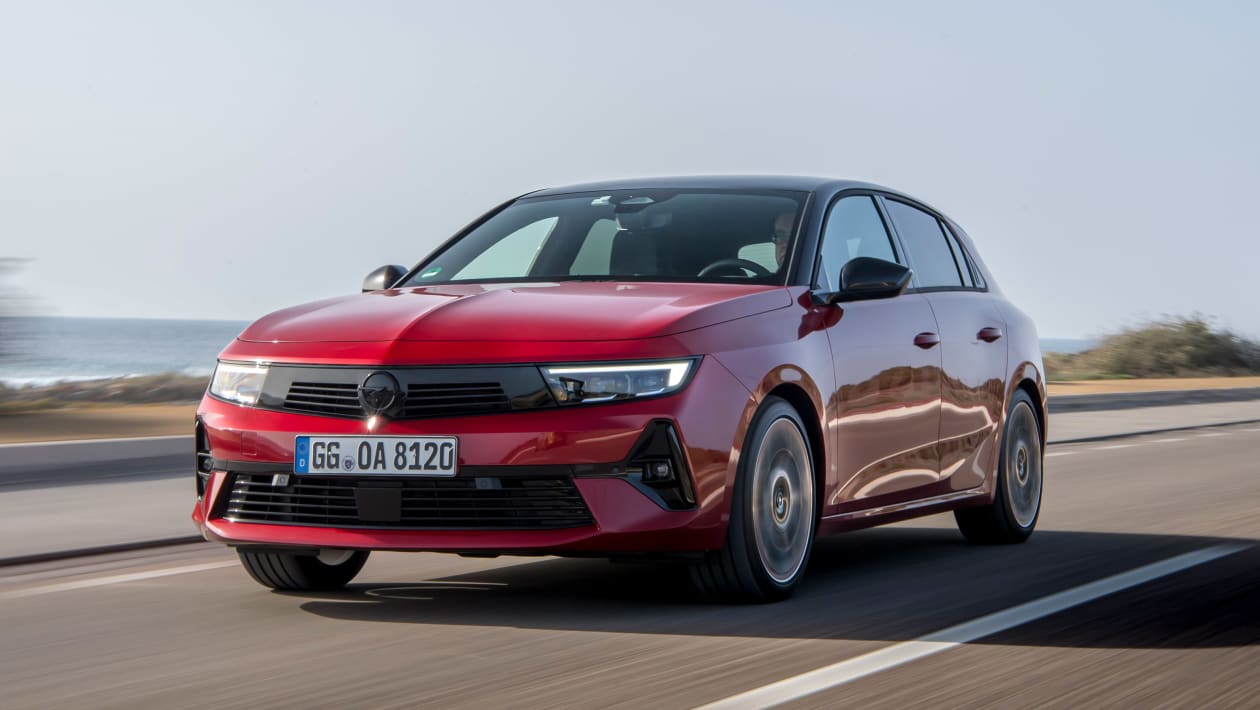 Our drive on Portuguese roads was in a GS Line – albeit one fitted with optional 18-inch wheels. The 95kW drivetrain is more than capable of carrying the Astra along swiftly, and while it does have a typical three-cylinder grumble, it never turns the volume up to the point where it would sound genuinely rough. There's enough torque low down in the rev range to allow you to hold higher gears in slower corners, too – but if you do start shifting, the transmission has a positive enough throw, albeit a slightly long one. Stellantis's excellent, smooth eight-speed automatic is an appealing alternative, and likely the only option Australia would consider.
Opel claims that its engineers fine-tuned their own steering parameters, suspension damper settings and anti-roll bar configurations, in a bid to give the Astra a different feel from the likes of the 308. It certainly turns keenly enough, with slightly light but responsive steering that feels impressively accurate. Body control is respectable too; this is a car that's quite happy to be pushed through rapid changes of direction when required.
It'll be happiest doing that on smoother roads, mind you, because the trade-off – perhaps one exacerbated by our test car's larger wheels – is a slightly firm edge to the ride. It's classic EMP2 fare, really, with composure most of the time (low-speed bumps are generally soothed out) but patter and thunks when you reach the limit of the suspension's travel, or throw inputs at it at too high a frequency. There's a fair bit of tyre noise and resonance too; this is probably the most notable issue in an otherwise-refined package.
The cabin treatment is neat, with sensible buttons for all of the major functions, such as heating and ventilation, but a clean, uncluttered design. The dual-screen treatment is pretty slick – although as is often the case, we're sure we'd end up using the wireless Android or Apple functionality instead of the built-in interface. It's worth noting, incidentally, that GS Line and Ultimate will get a flusher panel to house the twin displays, called Pure Panel Pro, but the basic functionality won't change across the range.
The materials used in the cabin aren't quite so polished, with easily scratchable piano-black finish around the centre console and on GS Line, a flash of fairly cheap-looking red material on the fascia. Stellantis's carbon fibre weave-effect plastics aren't going to fool anybody any time soon, either. It's not outright nasty, and it feels tightly put together, but it's more in line with a Hyundai i30 or, yes, the Focus than it is with another Stellantis offering, the latest Peugeot 308, or even Skoda's Octavia.
Practicality is a stronger point, provided you aren't carrying too many grown-ups along with luggage. By that we mean that the Astra's boot has the measure of the Focus's and Golf's, with 422 litres of space, or 1379 litres if you fold down the back seats. But as we've seen before on other EMP2 models, a larger load bay does come at the expense of rear cabin space. Six-footers won't complain about headroom in the Astra's second row, but they will find their knees and legs pressed firmly up against the front seat backs.
What you're left with, then, is a solid, sensible upgrade on the outgoing Astra – and one that will become ever more relevant once the pure-electric version has arrived – but a car whose competent driving dynamics and average interior finish and cabin space leave it a little short of a USP over the opposition. It's not as good to drive as a Focus; it's not as spacious as an Octavia; it's not as nicely finished as the latest 308. Opel will be hoping that the Astra's sharper design – a subjective element that we're not about to pass judgement on here – resonates with customers.
John McIlroy