Porsche 718 Cayman gets a lighter, louder and more powerful range-topper, touching down in Australia next year from $300,800.
The Porsche Cayman GT4 RS is the new flagship of the mid-engined 718 range, shedding weight and gaining power over the existing GT4 in pursuit of quicker lap times.
Engineers at Porsche's motorsport division have liberated an extra 59kW and 20Nm from the Cayman's naturally aspirated 4.0-litre flat six, which redlines at 9000rpm. That takes the total outputs to 363kW and 451Nm for a 0-100km/h time of just 3.4sec and a top speed of 315km/h.
Power is sent to the rear axle through a seven-speed PDK automatic gearbox, which shifts "at lightning speed", according to Porsche.
Weight has been slashed by swapping the bonnet and front wings for carbonfibre-reinforced plastic items, installing lightweight carpets, replacing the door handles with pull straps, reducing the amount of insulation and installing a lighter rear windscreen. These measures combine with the engine modifications to give a power-to-weight ratio of 286kW per tonne.
Porsche has also further optimised the GT4's aerodynamics. A swan-necked rear wing based on that used by the 911 RSR GT racer, new air vents and adjustable front diffuser – together with a 30mm drop in ride height compared with the standard Cayman – are said to increase downforce by as much as 10 per cent over the GT4, and in track-oriented Performance mode that climbs to 60 per cent.
The rear windows, meanwhile, have been swapped for air intakes for improved airflow to the engine, a by-product of which is a "thrilling intake noise right next to the occupant's ears".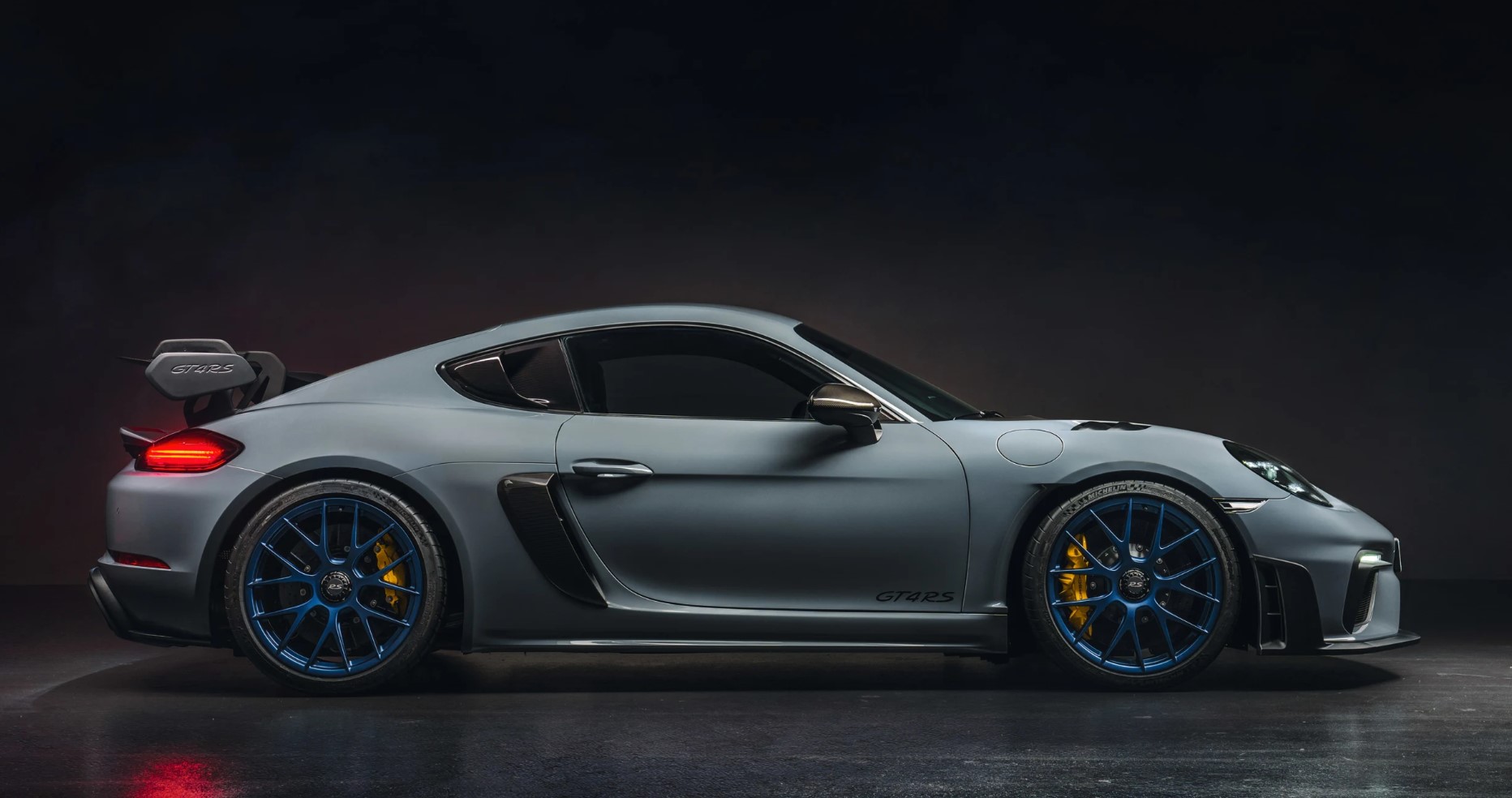 There is also a bespoke shock absorber set-up and a specific tune for the spring and anti-roll bar rates to give keener handling.
An optional Weissach package, as seen here, brings a carbon-weave finish for various exterior trim items, aluminium exhaust tips, a titanium roll-cage and bespoke 20in forged aluminium or magnesium wheels.
The 718 Cayman GT4 RS is on sale now in Australia priced from $300,800. The first Australian cars are expected to be delivered by mid-2022.
The new addition to Porsche's hallowed RS line-up is a substantial 23.6sec quicker around the Nürburgring than the existing GT4, hinting at the effectiveness of the extensive mechanical and dynamic modifications.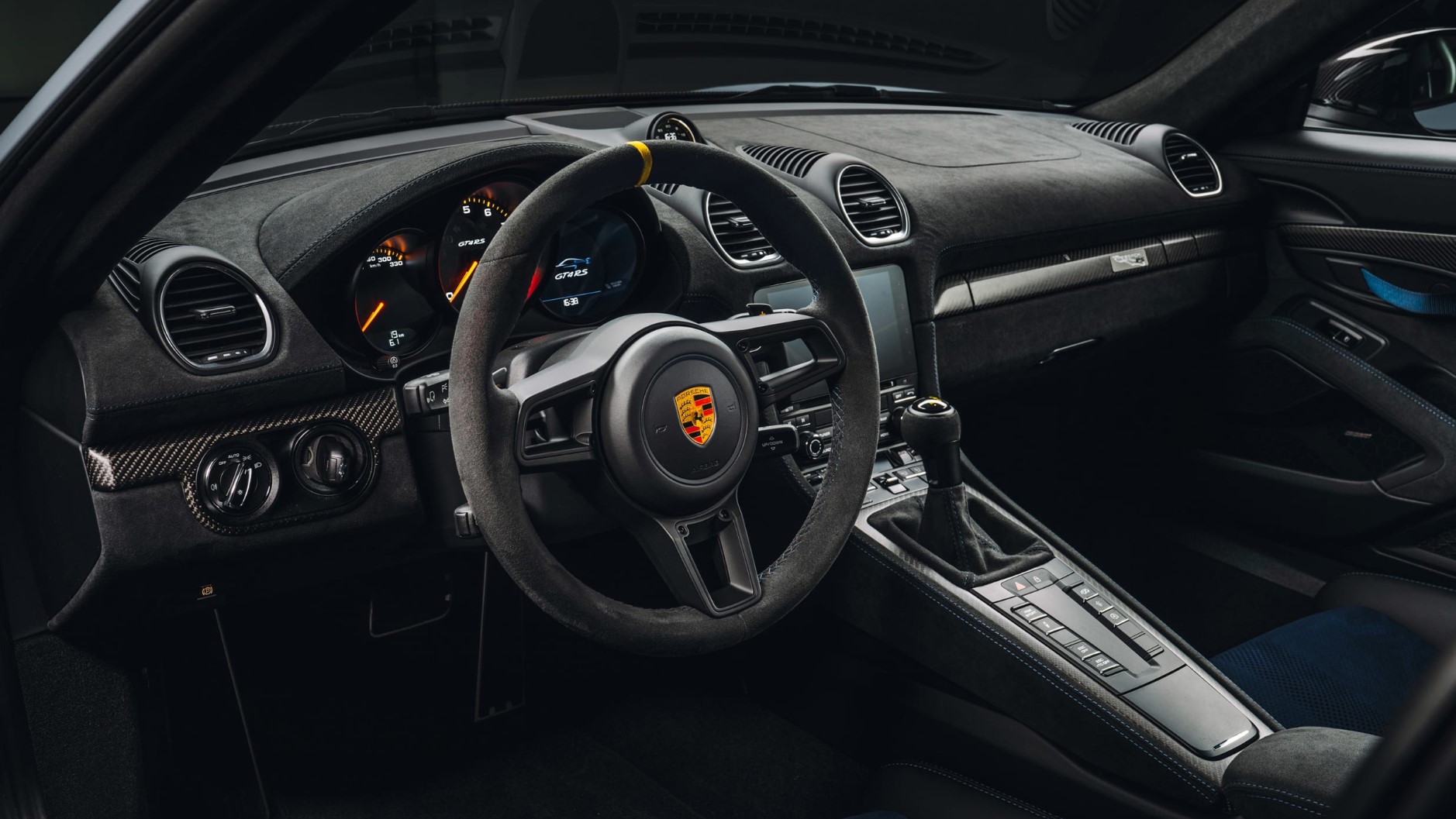 In the final stage of testing, ex-racer and brand ambassador Jörg Bergmeister lapped the slightly shorter 20.6km Nordschleife circuit in an impressive 7min 4.51sec, while a 7min 9.3sec lap time around the full 20.8km circuit makes it very nearly as quick as the previous 911 GT3 RS.
Felix Page