The souped-up Porsche 718 Cayman GT4 RS sports car is a cracker both on the track and on the road.
"The GT4 RS started life as a car, not as a Powerpoint presentation," explains the boss of Porsche's legendary GT department, Andreas Preuninger, as he introduces us to its latest creation.
This is the man who's been responsible for an entire generation of Porsche's very best sports cars over the past 15 years, but even he becomes visibly and audibly emotional when talking about his new baby. It is, he says shaking his head, just an incredible car. One that has "a very big heart". And a very powerful engine in its guts.
The motor in question is a 4.0-litre flat-six that's been lifted straight from the rear of the 911 GT3, and the only reason it has 7kW less than its big brother is because it sits in the middle of the Cayman's chassis, so its exhaust gases have further to travel before they reach the tailpipes.
Even so, 368kW at 8400rpm and 450Nm of torque at 6750rpm aren't exactly disappointing outputs. Not when the red line remains at an ear-shattering 9000rpm and the kerbweight is just 1415kg, meaning the GT4 RS is 35kg lighter than a regular GT4 PDK and 20kg lighter than the auto GT3.
The price tag of this 'incredible' car is not small, at $300,800 before on-road costs. And although production numbers won't be numerically restricted, Porsche will only build around 7000 examples in total (there is still some allocation left for Australia), and demand is already sky high. You might get a car sometime next year if you order one today and are lucky, or you might not. Ordered deliveries for Australia are expected from Q3 this year.
The PDK gearbox is a development of the second-generation 991 GT3's unit and is both closer and shorter-geared than the regular GT4's PDK. Hence the drop from 3.9 seconds to 3.4 seconds for the official 0-100km/h claim. Top speed has also risen from 303km/h to 315km/h, despite the addition of a vast new adjustable rear wing, complete with 'swan neck' mounting brackets. This helps the RS develop almost as much downforce as the GT3, albeit not until about 190km/h.
There is a Clubsport pack and Weissach pack to choose from. The car we drove had pretty much everything thrown at it, taking it well beyond its $300k price tag. But given that it is one of the sharpest, most entertaining, best sounding, and just plain best-to-drive cars you are ever likely to experience at any price, it's hard not to conclude that it is actually something of a bargain for a GT4 RS.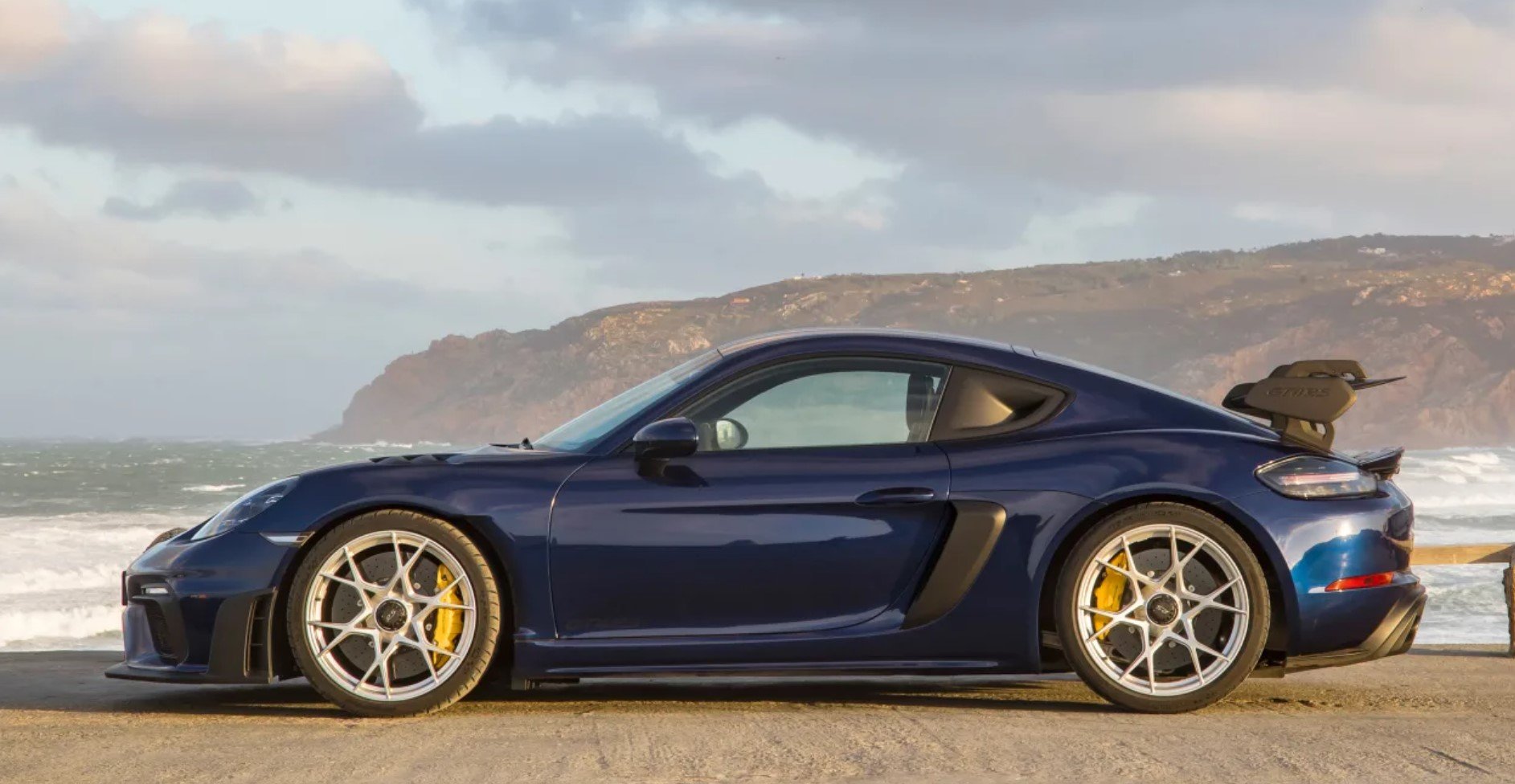 Around the track at Estoril it felt damn near perfect in everything it did. The engine and gearbox work together in a way that makes your brain go fuzzy for a moment in pure disbelief. So instant is the response from the throttle, so magnificently loud is the bark from the engine – specifically from its induction system that runs through the cabin – and so pure, smooth and fast are the gearshifts when you click on either paddle to change up, or down.
And in a straight line the GT4 RS is seriously, seriously quick, from any revs beyond 3500rpm, but especially between 7000 and 9000rpm.
The brakes are also massively powerful and bursting with feel but, for once, the way the GT4 RS goes is probably even more impressive than the way it stops. Think about that. And then mix such potency with a mid-engined chassis and a steering set-up that is sharper than it is in the GT4 (quite a lot sharper, in fact), and what you end up with is quite some vehicle. Around a track, it is one of the most memorable road cars we have ever encountered. Full stop. It's very possibly the best yet, even.
Which makes it more mind-blowing to report that, on the road, the GT4 RS is not the hard-riding, unusable, uncomfortable monster you'd expect it to be. Instead, somehow, it is quite incredibly civilised if you select D, dial the suspension and exhaust modes back to normal and drive it as you would any other car. It even has a respectable boot in its nose, although the one in the rear has taken a hit in size and shape due to the addition of a roll cage. But what a car, and what a moment for Porsche to produce the best of the best.
We knew the Porsche 718 Cayman GT4 RS would be sensational, because slotting a GT3 engine into the centre of the already brilliant Cayman GT4 and further tweaking its chassis to add even more ability was always going to bear superb fruit. But we had no idea it would be quite this good or, indeed, that it would be so usable on the public road and not just on the track. It delivers on the numbers and it delivers on sensory terms. This is Porsche doing what it does best, and if ever a mere sports car can be worth $300k, this is it.
| | |
| --- | --- |
| Model: | Porsche 718 Cayman GT4 RS |
| Price: | $300,800 before on-road costs |
| Engine: | 4.0-litre flat-six petrol |
| Power/torque: | 368kW/450Nm |
| Transmission: | Seven-speed dual-clutch automatic, rear-wheel drive |
| 0-100km/h: | 3.4 seconds |
| Top speed: | 315km/h |
| On sale: | Now |
Steve Sutcliffe