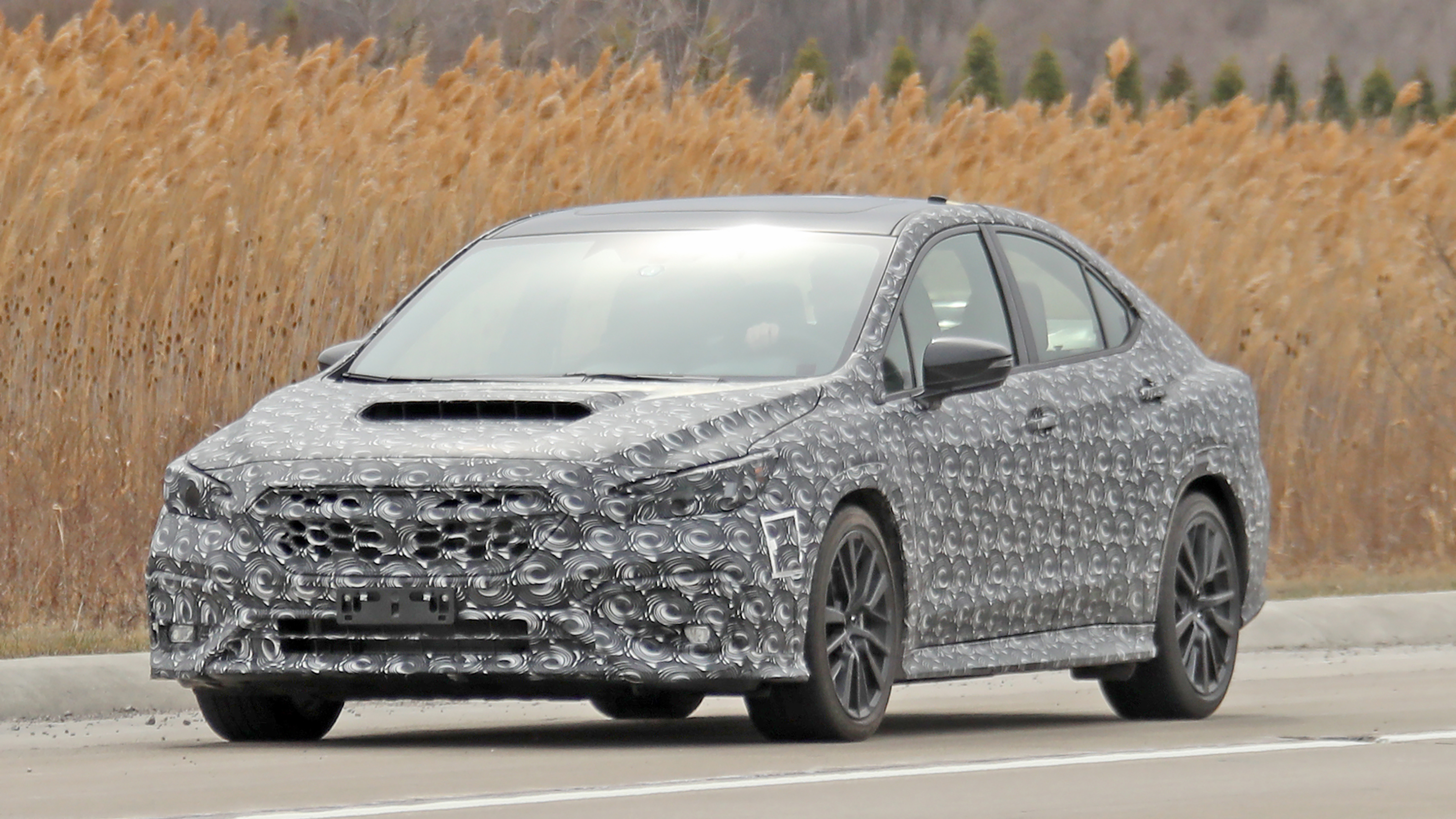 Subaru has long since severed ties with the World Rally Championship, but the brand is still associated with that image thanks to cars like the upcoming 2022 Subaru WRX, which we've caught testing in close-to-production spec.
From our spy shots we can see some typical WRX styling and performance cues, such as the bonnet-mounted air scoop that feeds the turbocharged engine's intercooler. The deep grille and chunky front bumper are apparent behind the camouflage, while a pair of deeper side skirts hint at the car's performance potential.
At the rear the WRX's quad-exit exhaust makes a return, teamed with a small boot lip spoiler to improve aerodynamic performance. From the rear we can also see how the saloon's boot lid spreads into a pair of flared rear wheel arches, housing a wider rear track.
It's expected that the new WRX will use a flat-four Boxer engine with turbocharging to improve performance. However, it's not clear if the new car will stick with the 2.0-litre 'Boxer' engine in the current American-market WRX, which makes 197kW and 350Nm, or if it will inherit the WRX STi's larger 2.5-litre unit in the pursuit of more performance. This engine currently makes 228kW and 393Nm in the STi.
Expect Subaru's symmetrical all-wheel drive system with torque vectoring to feature, as well as a choice of automatic or six-speed manual transmissions. However, it's likely that the more advanced driver-controlled centre differential will be held for the more focused WRX STi.
The car's styling will look a little sleeker and more futuristic. The next WRX's design will be inspired by Subaru's Viziv concept, which was unveiled at the 2018 Tokyo Motor Show. It's expected that we'll see the production-ready Subaru WRX mid-year ahead of sales commencing in early 2022.
Sean Carson