Ariel is introducing a new EV supercar which produces 868kW and almost 1000Nm – and this is the very first drive of the prototype.
Currently rolling out from under the domed roof of a Race Shuttle trailer is an advanced taste of things to come from Ariel Motor Company Ltd that Automotive Daily Network partner Autocar is driving for the first time of any publication in the world.
A fairly compact, unconventional, insectoid-looking supercar with a closed cockpit, dihedral doors, some huge aero fins, and hindquarters that could have been donated by a jet aircraft, it gently drops off the trailer ramp, and then just sits there – so bold as to be almost indecent in places – ready for closer inspection.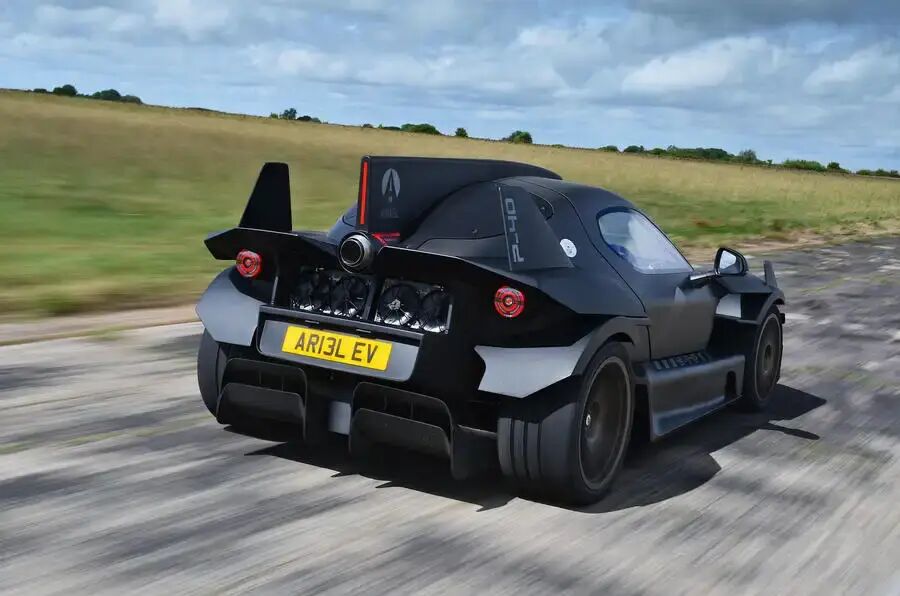 It's a long way from an Atom, in more ways than one. This is the jawdropping electrified Ariel Hipercar.
It's early on a foggy Tuesday and we're on a disused airfield, only about 30 kays from Ariel's Somerset base in the UK. The old runways here look dishevelled to say the least (the last time they had fresh bitumen, the landowner says, was when they needed to be concealed from the airborne gaze of the Luftwaffe).
If we were about to get a look at the first electric model from a more typical sports car brand – Porsche, Ferrari, Mercedes-AMG, you name it – we'd be in an air-conditioned auditorium instead, in front of a tennis court-sized projection screen, bombarded with lasers and atmospheric music; and you can bet that we wouldn't be going anywhere near a driver's seat. Thankfully, Ariel does things a little differently – and today there is nowhere else in the world I'd rather be.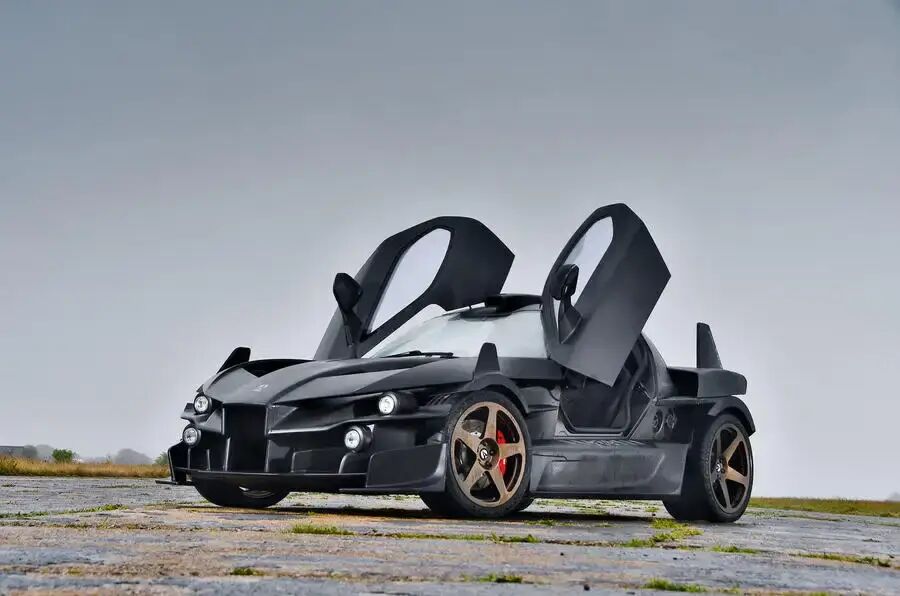 Wow, this thing is an eyeful – a bit like some remodelled McLaren SLR with a Napoleon complex. Ariel boss Simon Saunders says they worked through plenty of other more conventional-looking, conventionally aerodynamic low-drag designs but rejected them all because they weren't daring enough.
"Not us," he says.
What they've ended up with is a car of a similar skeletal character as an Atom, one whose tyre contact patches and beautifully machined front wishbones are visible through the partly open frontal structure but whose size and proportions are both much less toy-like and more imposing than those of an Atom. This car has looming, predatory presence – just as a 868kW hypercar should.
The Hipercar we're looking at is Ariel's first full-bodied running prototype. It has 3D-printed body panels for ease of manufacture, whereas finished versions will have all-carbon panels for a more upmarket material appeal. But I must admit, as graphic as it may sound, I do want more of the car's innards on display. I want to see it working, the way you do an Atom – especially around the drive motors and that gas turbine at the rear. I want the whole car to be like looking at a Lego Technic model kit – because that feels like an Ariel thing now. Trouble is, the Hipercar will be a fully type-approved vehicle – crash tested, wind tunnel tested, emissions tested, the works. And where the Atom can get away with its scaffolding-like frame via the individual vehicle approval process, the rules on bodywork gaps in type-approved cars are much, much stricter.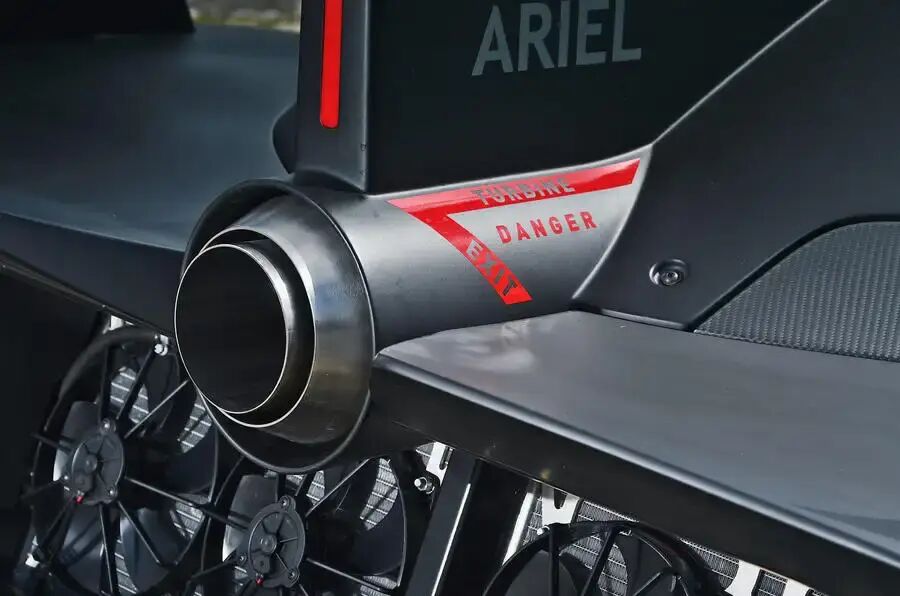 There's a slightly beetlish quality about the Hipercar's cabin-rear silhouette. The cockpit could almost be sitting behind a compact, front-mid-mounted V8 engine if you didn't know better. Instead, however, there's a 220kW electric motor for each of its individual drive wheels; a 62kWh battery under the cabin floor; a tremendously complicated multi-circuit cooling system for the car's various heat sources; and what looks to all the world like a tiny rocket booster sticking naughtily out of that perky rear end.
"That's the gas turbine range extender," says Saunders, "and I'm afraid we can't demonstrate it for you today. Our supplier isn't quite happy with its refinement yet, so they've asked us not to run it. When it's working, though, it does sound a bit like a jet engine, which justifies all the styling references, we hope!" For now, we'll just have to take the man's word for it.
It feels odd to be opening a door on an Ariel at all, and stranger still finding comfortable leather seats, three-point belts and, err, a windscreen once you have. This is more of a fully fledged sports car than an Atom might ever be, of course, and Saunders is clear about the added usability and convenience that will be expected of it.
The sills are wide but easy to vault over. Visibility is great forwards, although that turbine range extender forbids any potential for a rearview mirror corridor. Otherwise, this is the interior of an unfinished prototype quite lovely in its spartan specification, although the finished product will look and feel much more inviting. (Note to the Ariel design department: if it doesn't have a missile-trigger-style activation button for that range extender, a trick has been missed.)
Finished versions should be quieter, too. I reach up onto the flight panel-like roof console, select drive, squeeze the accelerator and trundle my first few feet. The absence of chassis insulation is very apparent, but the unadulterated, unfiltered noise of an electric motor at each corner is actually really interesting on the ear. Here's hoping they keep plenty of that in the car's audible mix.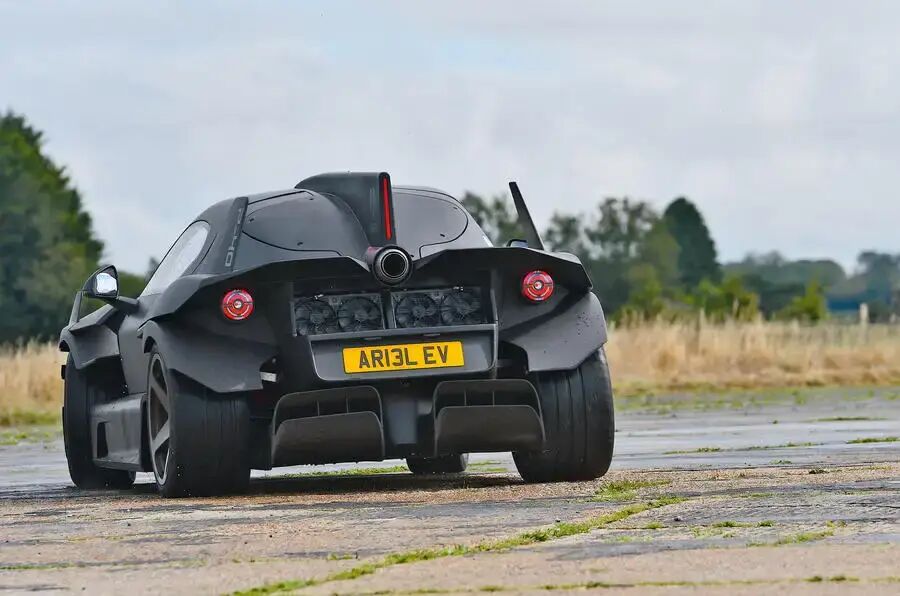 Surely it's much too early for Ariel to have done any artificial sound tuning with these motors? Either way, as you move off, the car issues to the world outside a low, bassy hum that's somehow enticing and menacing in equal measure.
From within, that low pulsing throb is less apparent. You just hear the whining of rotors, and the distant, high-frequency scream of high-voltage current, as you accelerate – and the flicking and pinging of rubber and stones picked up by the car's Michelin Pilot Sport Cup 2 tyres and thrown at the underside of the aluminium tub.
The Hipercar feels unexpectedly laid-back to begin with. The accelerator calibration and motor response isn't at all savage from rest; the ride is only medium firm; and the steering is weighty, assured and connected of feel but quite gently paced, at three turns between locks. There's a reason for that, though. "These are just our baseline settings," says project engineer Tom McLaren. "We've had almost no time for tuning yet, but we want a really dynamic character, and we'll perfect things like spring and damper calibration, and steering gear, as we go."
Four drive modes will be on offer in the Hipercar: Eco, Sport, Serious and Fun. (Read drift mode for the last of those.) None has been fully finished in our prototype, with the Ariel's asymmetrical torque-vectoring motor control software in particular still to be written by key systems partner Delta-Cosworth. Sport mode gives the car access to about 80 per cent of its total reserves, I'm told (977Nm of torque as well as that 868kW of power). Thus configured, the car is certainly not wanting for potency.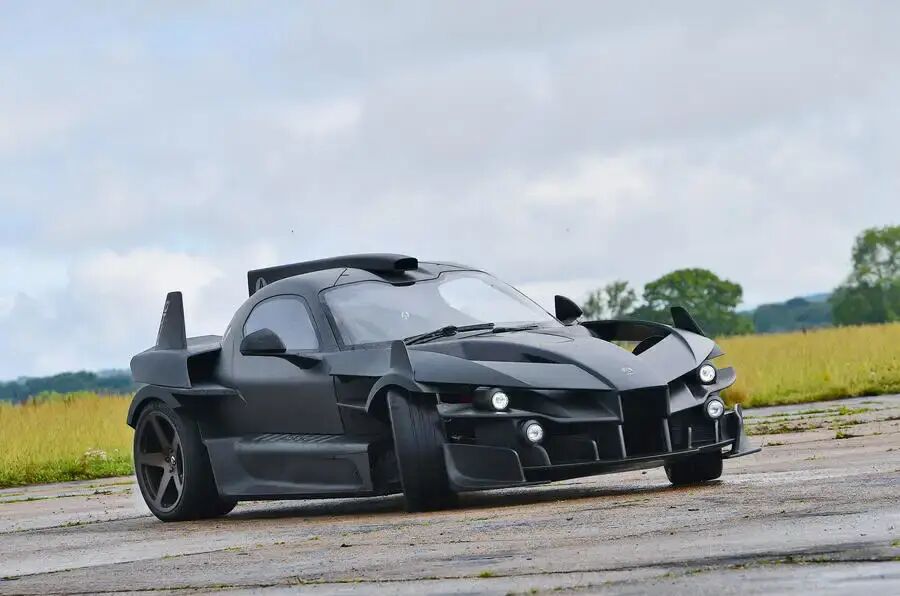 Whether by calibration or not, the Hipercar's drive motors seem to need a second to hit full stride when you launch it from rest, so there's a second wave of thrust that seems to overtake the car as you pass 70km/h in addition to the one that initially propels it off the line. At least, there is today. Then I realise that this is likely to be the impact of the car's traction control limiting torque at lower speeds on that patchy, slippery old runway; because once the car finds grip and settles down, it simply soars up to 160km/h and beyond, with a force that pins you back in your seat. Zero to 160km/h in less than five seconds? That would be Bugatti Veyron beating, but on this evidence, on a good surface, I can believe it.
Some flat corners and manoeuvres areas elsewhere on the airfield, meanwhile, reveal only a little about the dynamic fundamentals of the Hipercar's chassis. But enough to be really impressed with its dry grip level, lateral body control and steady-state handling balance. And to be heartened by its readiness to transfer its weight longitudinally when cornering (with the help of some battery regeneration at those front wheels on a trailing throttle), and to move around underneath you with a little bit of liveliness and charisma.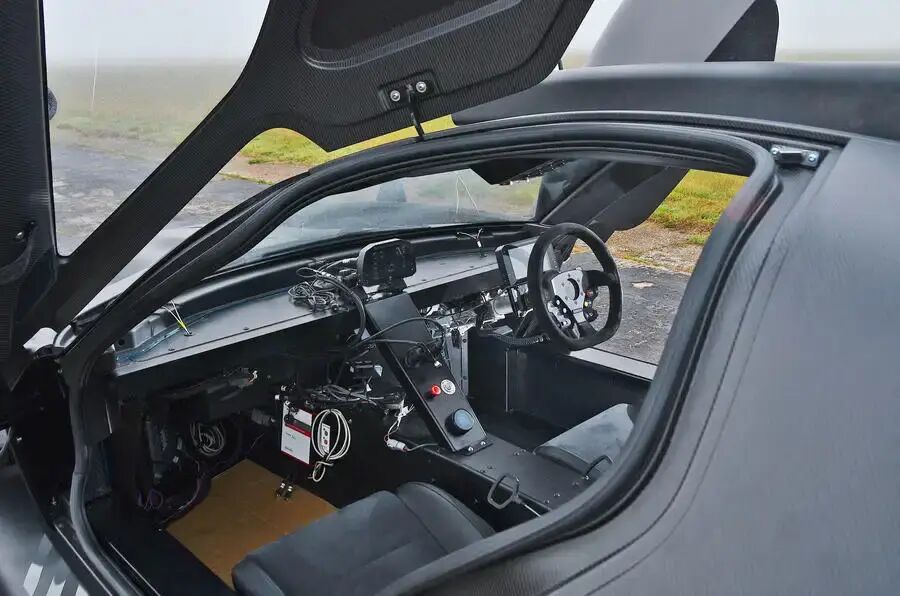 On this evidence, driving the Ariel Hipercar never ought to be boring, irrespective of which driving mode you've chosen. It will be 18 months to two years before they are ready to show us a finished car, within which time they should also have a new 'carbon-positive' factory to build it in.
Landmark times are ahead, then, for little Ariel, as it continues to set the standard for its niche manufacturer rivals to follow. I reckon its next 20 years might be even more impressive than its first. And won't that be going some?
Matt Saunders