Bentley combines ultra-opulent Mulliner trim with W12 Speed's honed mechanicals.
The Bentley Continental GT range has recently become more streamlined but also more nuanced and less obvious. You might not know what you're looking at.
That said, the easiest way to identify a flagship Mulliner car – the most expensive and lavish model in the line-up – remains via its wheels. Painted, polished and partially skeletonised, they would be unmistakable even at 15 inches in diameter, let alone at 22 inches, and are unique to the derivative that sits at the top of the Continental tree. There's also the Double Diamond front grille, whose blindingly bright lattice overflows into the lower air intakes. Somehow it manages to be noticeably more noticeable than even the catch fencing of the standard car.
Your next task is to count the exhaust tips, to work out said Mulliner's calibre. A quartet means the presence of Bentley's Porsche-derived 4.0-litre twin-turbocharged V8. It makes 404kW and is a tremendous unit for this application. Expensive, too. Even the more junior, V8-engined Mulliner costs $599,100 (before on-road costs in Australia).
However, only two outlets mean you have the 6.0-litre W12 on your hands, and now it gets interesting.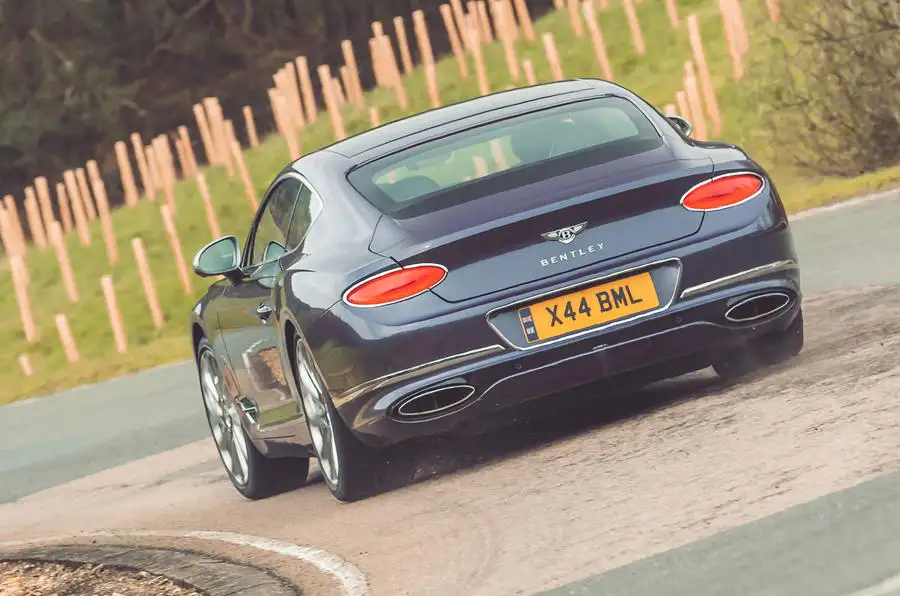 Up until this point, the 12-cylinder Mulliner came with Bentley's twin-turbocharged W12 in its 'ordinary' 467kW tune. The car also rode on the standard air-sprung chassis. Power, performance and driving satisfaction mattered, but they weren't necessarily the main event; luxury was. The Mulliner was the most luxury-preoccupied, ornamental model in the range and was the Continental happy to be thrown into a contest with the ultra-dignified Rolls-Royce Wraith. Less so against the DBS.
But now the brief has been reconsidered. Today, the W12 Mulliner is supplied with the chassis and powertrain of the 485kW W12 Speed – a machine with more dynamism at its core. The resulting 18kW uplift is essentially irrelevant in the context of a car that weighs as much as an S3 Lotus Exige with another S3 Lotus Exige parked on its roof. However, the chassis upgrades aren't irrelevant. Speed spec means the W12 Mulliner benefits from having a new torque-vectoring rear differential, retuned active anti-roll bars and an adaptation of the rear-steering set-up from the Flying Spur sedan. The Speed is as B-road-hungry as the current Continental gets, while the Mulliner is, as ever, the most lavish, so you can see what they've done here. The resulting uber-Conti costs $653,100.
Predictably, it's an almighty thing on the road, being utterly resolute yet showing plenty of poise. It's pretty almighty on a private test facility, too. A diary clash meant that, to photograph this car, we had to piggyback another shoot, one taking place at Millbrook Proving Ground. As such, it would have been rude not to get out the telemetry gear and run some numbers.
Sitting at the start of Millbrook's mile straight in the W12 Mulliner's near-silent, double-glazed interior, with its milled-aluminium surfaces, endless stitching, quilted-leather door cards and other haute-level Mulliner finishing, you struggle to believe that 7.5sec later you will be doing 160km/h. Mostly because that time would make this palatial Bentley faster to triple figures than Porsche's 991-generation 911 GT3 RS.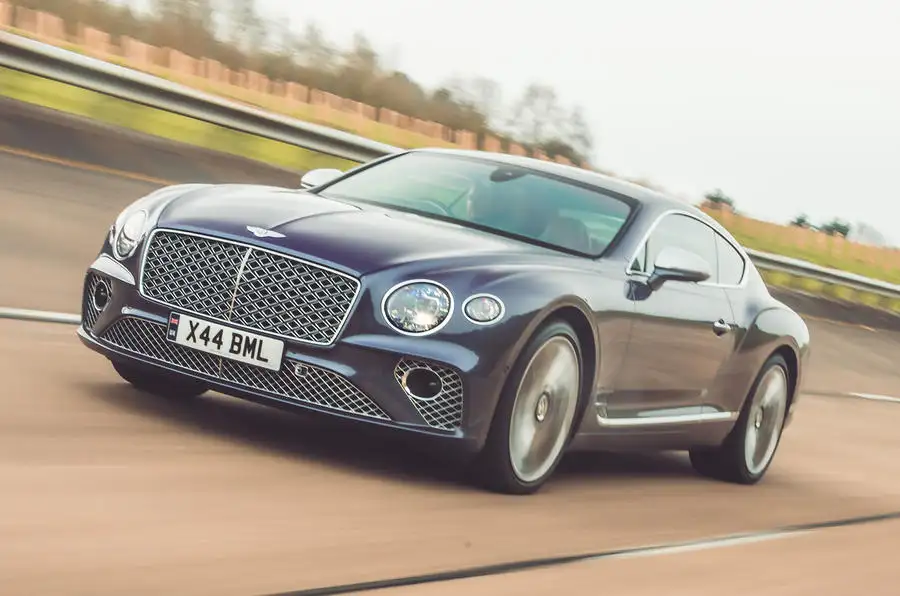 But telemetry doesn't lie. Such refinement and material richness shouldn't go hand in hand with this sort of pace, yet this a juxtaposition the Continental pulls off better than any other car, and the W12 Mulliner better than any other Continental. As that mammoth engine pumps 900Nm of torque to four corners almost throughout its 6250rpm scope, and in an unbroken torrent, thanks to a still-excellent dual-clutch transmission, you reside calmly in the eye of the storm. That said, the potency of the performance stays with you. We took the car well into triple figures, and while Bentley claims 335km/h, at Nardò I bet you would hit 345km/h or even 350km/h. Behind the chintzy grille, this car is an utter hammer.
So it's fast, but does it handle? As with the Speed, those chassis modifications improve the driving experience but don't transform it. This is a large and heavy car, best stroked along at seven- or eight-tenths, when it can be genuinely rewarding. The steering has authentic weighting and pacing. Combined with throttle response that's unexpectedly crisp under medium throttle loads, it means the Mulliner is intuitive to drive from the get-go. And while the 'box can take a moment to shuffle itself while you're manoeuvring slowly, it's polished at speed. It slips gently between cogs in its most laid-back map but, when you're on it, elicits a sharp yet satisfyingly rich glissando from the exhaust on upshifts.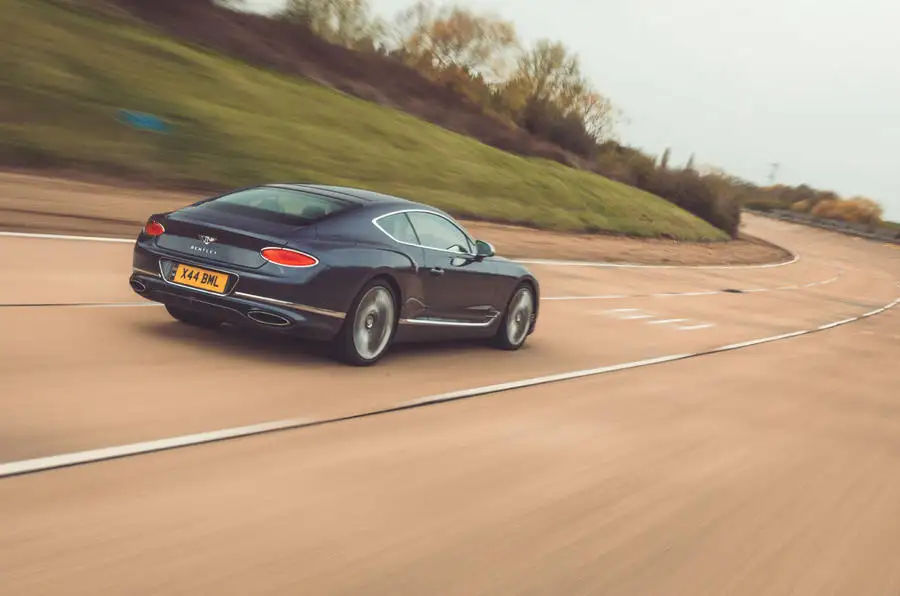 Special mention also goes to the damping, especially in the Goldilocks Bentley driving mode, which feels custom-developed for bumpy cross-country routes, because it is. It allows the body to breathe with the road, yet just when you feel all that heft is about to get away from you, it's delicately brought back to heel. Superb. This car also slides neatly if you goad it, thereafter quickly straightening up and maximising its prodigious levels of traction.
So, is it the ultimate Mk3 Continental? Depends how you frame it. At this price, you might not appreciate plastic gearshift paddles or the conspicuous lack of Android Auto. Consider also that the V8 S costs far less, is sweeter to drive and listen to and is hardly lacking in material comforts. In the case of the epic Mulliner W12, you really have to want excess, as if it were a commodity. Also know that this Mulliner costs what the 812 Superfast costs. The Ferrari is more tiring, but that V12…
In short, Speed internals with Mulliner finishing is a hell of a marriage. In that sense, this car really is the ultimate. At least for now. For the limited-run Bacalar (also a Mulliner job), the W12 was taken to 524kW. Chief engineer Matthias Rabe has hinted that the Continental may soon breathe that kind of fire. A rabid Supersports model, as Crewe has done before, would justify the output. Won't come with levelling centre caps, mind.