New BMW 5 Series range is headed by the all-electric i5 M60 xDrive. It costs from $215,900 and boasts a 442kW, 820Nm twin-motor drivetrain
The eighth-generation BMW 5 Series has arrived in Australia with a three-model line-up consisting of two dedicated electric models and 520i petrol model. Next year, the range will be topped by the M5 super sedan and, for the first time in Australia, an M5 Touring.
Right now, the eighth iteration of a brand staple that launched back in 1972 starts with the $114,900 520i that is powered by the company's Miller cycle B48 2.0-litre turbocharged petrol four-cylinder that also boasts a 48-volt mild hybrid system. With a traditional rear-drive layout, the 520i sends 153kW and 330Nm to the back wheels via an eight-speed torque converter auto. Key performance figures are a 0-100km/h time of 7.5 seconds and a combined consumption rating of 6.7L/100km.

Also rear-drive but fully electric, is the i5 eDrive40 that starts from $155,900. It uses an 85kWh lithium-ion battery pack that powers an electric motor on the back axle to deliver 250kW and 430Nm. The eDrive40's 0-100km/h time is a neat 6 seconds and the range according to the WLTP testing regime is 582km.
The $215,900 i5 M60 xDrive tops the new 5 Series range until the M5 arrives next year, and with a combined output of 442kW and 820Nm it looks to be something of a cut-price, EV M5. The xDrive suffix means that the i5 M60 runs a motor on each axle, and the resulting all-wheel-drive traction off the line delivers a 0-100km/h sprint of just 3.8 seconds – a performance parameter that gives further weight to the on-paper comparison to an M5. As with any ICE car, the extra performance of the M60 comes with a consumption and range penalty, but the flagship electric 5 Series still offers a WLTP range figure of 516km. And our experience on the Australian launch suggests that a real-world figure beyond 450km is entirely feasible.

Both i5 models have a max AC charge rate of up to 22kW, and 205kW on DC. On a high-speed fast DC charger, BMW claims that a 10-80 per cent recharge takes "around 30 minutes".
Whether petrol or electric, the new G60 5 Series is a big car. Indeed, at 5060mm, the new 5 Series is 97mm longer than its predecessor and the first 5 to stretch beyond five metres. It's also 32mm wider (now 1900mm), 36mm taller (1515mm) and sits on a wheelbase that's 20mm longer (2995mm). While occupying roughly the same real estate as the infamous Chris Bangle-designed E65 7 Series (2001-2008), the new G60 5 Series doesn't look that large in the metal. Nor does the design offer the controversy of the 'flame-surfaced' Bangle 7 or even some of BMW's more recent offerings. Instead, the new 5 Series follows the tradition of the model that has been the backbone of the luxury and executive sedan market for more than half a century. Perhaps the most 'extreme' design flourish is the BMW Iconic Glow lighting that illuminates the kidney grille.

Across the range, standard equipment levels are high, starting with the 520i that boasts a 12.3-inch digital instrument cluster and curved 14.9-inch centre display; BMW Live Cockpit Professional; Connected Drive; 12-speaker Harman Kardon surround sound audio; wireless charging tray; heated sports front seats; non-opening panoramic glass roof; M Sport suspension; 19-inch alloys; two-zone air-con; and adaptive LED headlights.
The i5 eDrive40 builds on this 20-inch alloys; Adaptive Suspension Professional; metallic paint; 17-speaker Bowers & Wilkins surround sound audio and BMW Individual Leather Merino upholstery. The range-topping i5 M60 xDrive adds Adaptive M Suspension Professional; 21-inch alloys as a no-cost option; four-zone air-con; active front seat ventilation; and M rear spoiler.

All models in the range are covered by a five-year warranty, and the two i5 models come with a five-year Chargefox subscription.
A million years ago I ran back-to-back 5 Series long termers. Both the E39 and E60 were in 530i M Sport spec and I absolutely loved every minute of driving them (especially the sweet riding E39). Rather than recall a previous M5 model, it's these goldilocks 530s of which the new i5 M60 xDrive most reminds me. Of course, the performance of the 442kW, 820Nm M60 is of another magnitude, but the way that performance blends with everyday luxury and useable and useful technology makes this old head reflect through rose-tinted glasses. There's just a rightness to how the i5 M60 goes about its business.

That said, the launch drive programme didn't offer a challenging drive loop, but the i5 M60 cornered with a flat stance, helped, no doubt by the active roll stabilisation. Rear steering also plays a part in imbuing the M60 with a sporting character on a winding road. There's not a vast amount of feedback from the steering wheel, but there's enough dynamic tension in the chassis to mark it out as a properly sporting sedan, as distinct from a sports sedan like the M5. While it's not an electric M5 (something BMW doesn't claim) it certainly feels closer to an M5 than a 7 Series limo.
There's a linearity to the drivetrain that marries to the chassis responses, making the i5 M60 an easy car to pilot through a variety of scenarios. Late peak-hour Melbourne traffic was dispatched on a silent breeze of 'throttle' but a firmer shove on the go-pedal away from the sprawl instantly summons the army of electrons to dial in warp speed. But unless you're tapping into that instant-torque party trick (which is worth experiencing), it's best to stroke the i5 M60 along.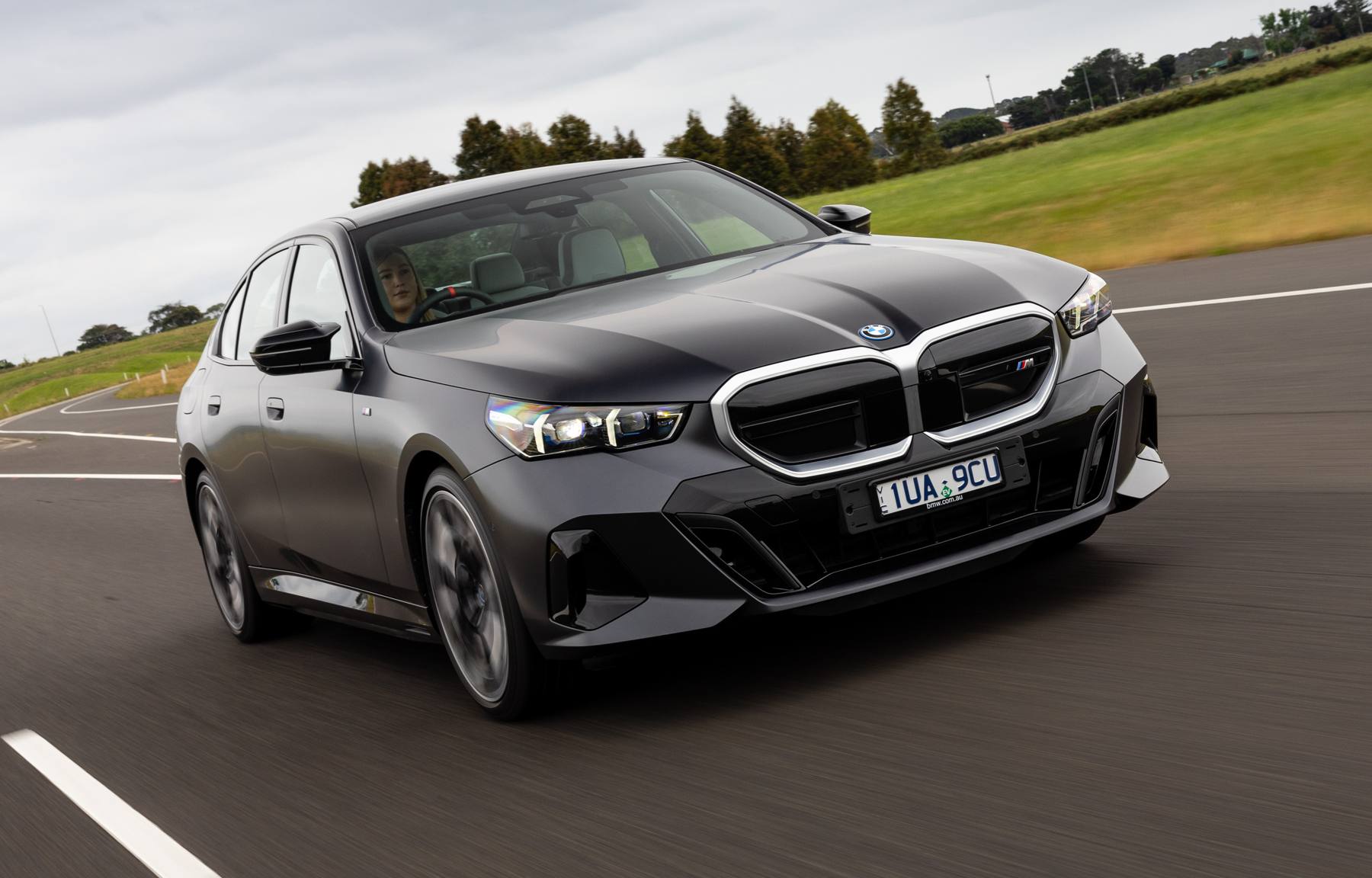 Do so, and the i5 M60 feels like the great 5 Series executive sedans of the past. It eats up the motorway and cruises down country roads with ease and comfort. Conditions never presented to tap into the all-wheel-drive traction on offer, but I'd suggest you'd be travelling mighty quickly to challenge the Pirelli's hold on the tarmac.
A more dynamic assessment of the i5 M60 awaits, but on this first taster, the new eighth-generation 5 Series feels like a continuation of a heritage that began in 1972, and the all-electric i5 M60 xDrive a flag-bearer for the model into the future.