Our first drive of GWM's Good Cat ahead of its Australian debut shows there's a lot more than just good about this new electric car.
GWM's Chinese electric brand Ora has a bit of a job on its hands with the new Ora Good Cat which is expected to launch in Australia next year (so far we've only seen it testing here, and GWM is yet to confirm timing). It's not because this is a new brand in the market – look at how Polestar has been getting on – and nor is it because of securing supply from Ora parent company Great Wall's Jiangsu factory (right-hand drive production is secured through the first half of 2023). But rather more simply, it's because it's quite a bit bigger than it looks in pictures.
A cat among pigeons
At 4235mm long, 1825mm wide and 1603mm tall, the Ora Good Cat is rather more in step with the Volkswagen ID 3 and Hyundai Kona Electric than the smaller Fiat 500 Electric – whose cutesy styling it more obviously emulates, giving the impression in pictures that it's intended as a rival. But only when we jumped in to drive models which have landed in the UK already (called the Funky Cat over there) was GWM able to show off the Cat's spacious back seats (room for six-footers) and airy cabin.
Bosses are keen to point out that it's also not a rival for that other new Chinese hatchback everyone's talking about – the MG 4 – because it's a more overtly upmarket proposition.
The highly specified First Edition car is the only we can drive so far (Australian specifcations and pricing are yet to be confirmed) so we can't speak for testing the sporty Cat GT (tweaks are primarily chassis- and style-focused), the longer-range variant (with a 61kWh battery boosting range to 420km), and the sportier 'Next Cat' fastback.
Ora presents the Good Cat as a small car with big-car tech and prestige – and that's an ethos that carries through to its dynamic character. Not in a bad way (this is a fantastically easy thing to thread down tight, slick, congested city roads) but in the impressive composure it is able to maintain at speed and on rougher surfaces.
On the freeway, it holds its lane comfortably and predictably, requiring minimal correction in crosswinds in the wake of overtaking lorries (both out in force on the day we tested the car), and though it doesn't tout particularly lofty power and torque outputs, there's plenty of performance in reserve for high-speed overtaking and merging. There's a bit of buffeting and tyre roar to speak of, but nothing that would grate over the course of a lap of the UK's M25, for example (it won't go much further on a charge, anyway), and the quilted leatherette seats – albeit contrived in their retro 'plushness', somewhat reminiscent of a '50s Pontiac – are generously padded, comfortably shaped and flexible in their positioning.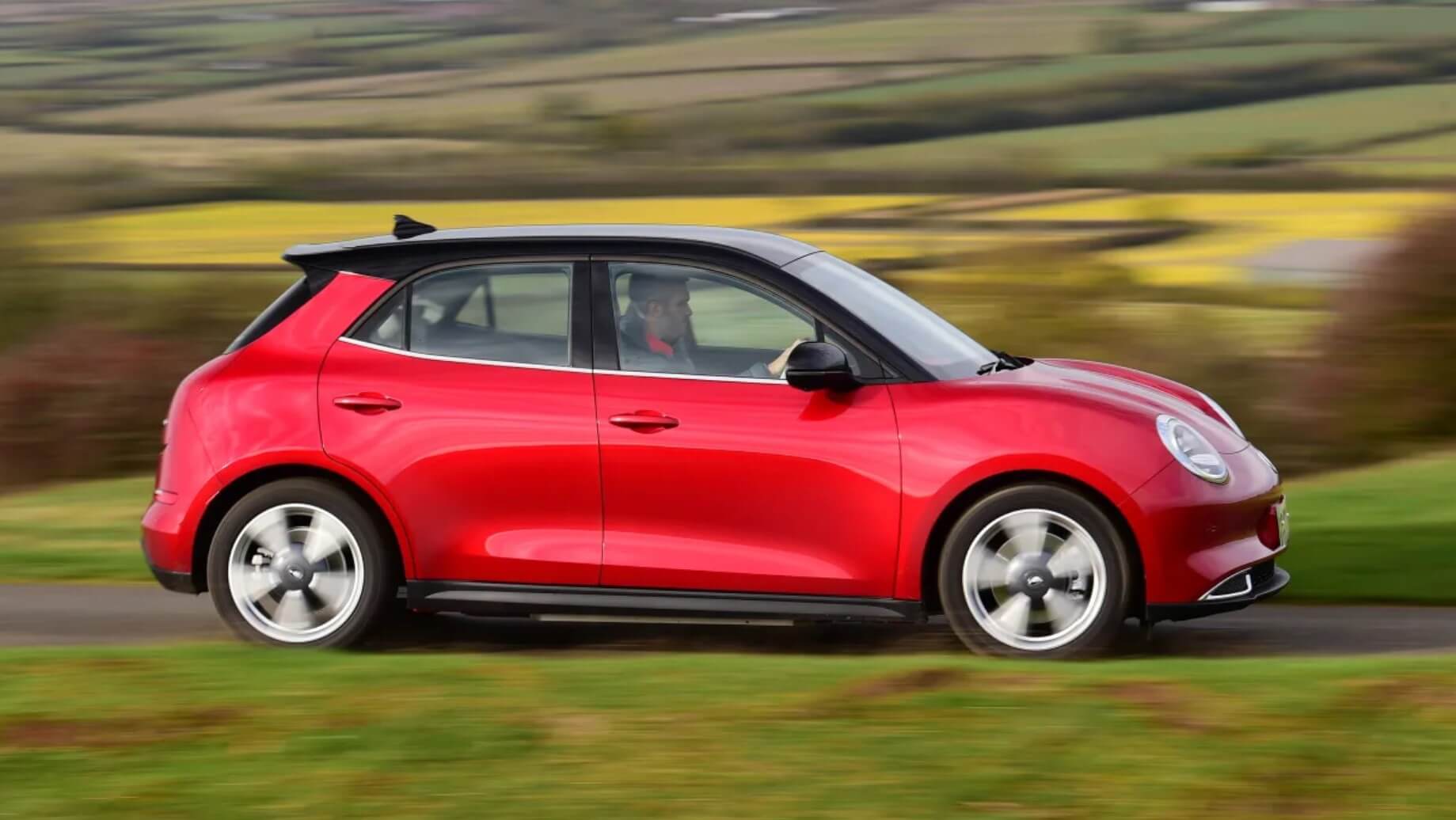 Head into the country and the Good Cat continues to make good on its premium promises, coasting quietly over potholes and coming back down to earth softly after enthusiastically approached lumps and bumps. The steering is a bugbear: there's barely any weight variation off-centre, which makes for a lack of feel and pretty resoundingly kills off any preconceptions of this being an unlikely affordable driver's hero, despite its agreeable straight-line pace. Plus, the steering wheel feels a couple of inches too large in diameter, so there's a bit of grappling in low-speed manoeuvres and quick bends, and the traction control isn't quite up to the task of facilitating wheelspin-free, full-bore launches in Sport mode on wet roads – though maybe that's too much to ask. It remains to be seen exactly how the forthcoming GT variant will be differently tuned, but if it's to have the chops to properly take on the most tied-down compact EVs on sale, it'll need to tighten up the steering rack and stiffen the dampers, at least. Then again, perhaps the local Australian testing will bring some tweaks that improve these areas.
Drive the Good Cat less keenly and it becomes quite easy to relax into the flow of the road. It's a comfortable car – spacious, generously equipped and plenty airy enough – and reassuringly realistic about its remaining charge over a mixed route, which makes route planning easier.
Pricing is an unknown factor, but looking at comparative models in the UK for this segment we'd expect a circa $50k price range. There are longer-range EVs at this price point (the MG 4, for example, offers 452km per charge from sub-£30,000/AUD$53,000) but the launch-spec Ora remains competitive in the context of the use case it was designed for, and while its 100kW maximum charging speed falls short of rivals', it's still pretty quick in the grand scheme of things.
What blights the experience – surprisingly – is Ora's decision to cram as much tech and functionality into the keenly priced Good Cat as possible, which on paper looks like a refreshingly generous approach to vehicle retail in this era of parts shortages and margin preservation, but there are irritating shortcomings that are hard to ignore. The sat-nav – which is the only option until smartphone mirroring is rolled out via an over-the-air update in the first quarter of 2023 – is vague in its instructions and controlled using a minuscule touchscreen keyboard that's impossible (or at least dangerous) to use on the move.
Plus, the infotainment interface itself is tricky to navigate and the inbuilt voice assistant's contributions are as unhelpful and unwelcome as that smiling paperclip from Microsoft Word 1997. It understood when I asked it to open my window (it knows which seat occupant is speaking) and redirected me to the media launch HQ when I said "hello Ora, take me home" in my politest voice, but individual radio stations and changes to the vehicle settings were well out of its grasp. And it pipes up a bit too often to tell you about speed limits or to recommend a break when you yawn (HAL-9000, anyone?) – but in a quiet and tinny voice that's difficult to make out over the radio and road noise. A bungled attempt from Great Wall, perhaps, to emulate better-rounded systems from established premium marques like 'Hey Mercedes', but over-the-air connectivity means improvements could be made relatively simply.
We've waited a while to test drive the Good Cat, and its divisive but undeniably charismatic form is a welcome addition to the electric hatchback ranks – not to mention immediately competitive in what we'd expect for local Australian specification and pricing. Another game-changer from the Far East, then? Perhaps, but less obviously so than the longer-legged MG 4 (also yet to launch in Australia, but expect a Q2 2023 appearance).
It's time to sit up and take notice of the Chinese car industry; if you can see past the childish name and slightly challenging rear-end styling, the Good Cat is an extremely credible small EV. Watch out, Europe, China's on the march.