Matt Prior drives the new Honda Civic Type R ahead of local deliveries to see if it's still the king of the big hot hatches.
The previous-generation Honda Civic Type R was, so the saying goes, the Porsche 911 GT3 of hot hatchbacks; it was the hardcore choice among family-friendly sports cars.
The new-generation Type R is based on the 11th-generation Civic, whose platform is an 'optimised' version of that of the previous car. It arrives in Australia in February next year, but orders open up for the $72,600 driveaway hot hatch in December this year.
Compared to before, the wheelbase is longer by 35mm and the track widened by 15mm, because Honda wanted a wider and lower stance. Weight is up nearly 30kg to 1429kg, mostly because it now needs a petrol particulate filter.
Body modifications increase static torsional rigidity by 15 per cent, but that's only half the story, says Honda. It has used nearly four times as much adhesive along the joints, which makes for much greater local stiffness, although it's hard to measure in percentage terms. But overall it makes for a more stable platform from which to hang the mechanicals.
And, for a front-wheel-drive hatchback, it has quite the swanky set of mechanicals. The engine is a 2.0-litre turbocharged unit based mostly on the previous car's, although with a lighter flywheel, increased air intake capacity and a freer-flowing exhaust, among other things. It now makes 235kW at 6500rpm and 420Nm at just 2200rpm.
Power drives through a six-speed manual transmission, as before but with a redesigned gate to reduce the lever's lateral flex when in gear and, in particular, to ease the second-to-first downshift; to make what was already very good more precise. There's a mechanical limited-slip differential, too.
Putting 235kW through the front wheels alone is asking a lot, so the suspension retains its dual-axis strut to reduce the gap between the wheel centre and kingpin so there's less propensity to torque steer. At the rear is a multi-link set-up and there are adaptive dampers. From those points of view this remains an analogue old-school hot hatch, but it's a school whose last day of term is looming. Time to bring games.
What the increase in body rigidity means, I think, is that the suspension is in the right place to do its job more often, in turn allowing Honda to offer a car with more compliance. The previous car needed to be stiff to return the precision Honda wanted; here the inherent rigidity should provide most of that, which should allow for a softer set-up.
Although 'softness' is relative: instead of being at the launch in person, the Civic Type R's chief engineer Zoomed in via a press conference from Suzuka circuit where he was racing a new one. So, as you can imagine, it's still quite hardcore.
Other significant mechanical changes involve the steering, an electrically assisted system that had, Honda thought, reached the limit of how stiff its torsion bar could be. But increasing the resolution of a sensor has allowed the bar to be stiffened by 60 per cent, said to increase steering immediacty and precision.
I like the standard 11th-generation Civic's cabin, and this fast version is merely a gently massaged variant of it. Material quality is sound, if not to the levels of premium German cars – which wouldn't be a problem if this wasn't nearly priced like them. But there are brilliantly supportive yet comfortable seats, metal pedals, the trademark turned aluminium gearknob and a wholly round steering wheel with Alcantara trim.
Honda's touchscreen infotainment isn't the last word in excellence but there are phone mirroring and separate climate controls, physical steering wheel buttons and a smattering of other real knobs and dials. And an actual rear wiper. Next to the gearlever is a switch for the drive modes.
There are Comfort, Sport and angry +R modes, plus for the first time an Individual set-up that allows the driver to separately tweak things such as the engine note, steering weight, damper stiffness and other parameters.
I drive it on road and track, but both are damp. Before I set off, a tame Honda racing driver tells me that, whatever mode I'm in, and despite the fact I'm on an unfamiliar circuit first thing in the morning, with cold tyres and wet asphalt, it's an easy car to feel comfortable with.
And he's right. The Type R is particularly good at making its driver feel at ease, and doing so quickly. First impressions are that this is a more synthetic experience than previously, in the same way that the new Toyota GR86 is compared with its GT86 predecessor. Not in the way it handles, but in, say, the slickness of its steering, which weights-up and responds in such a well-refined manner that torque steer is largely wiped out, and the torque feedback that does reach the rim is full of messages you do want, about how much traction is available and when it's going to run out. I suspect only electric rather than hydraulic steering can be tuned to that extent. Similarly, the engine plays some of its sound through the speakers, also synthetically.
But beneath both of those new facets there is still a fantastically capable car that has added real breadth of usability to how it rolls down the road, especially on poor surfaces. There's little of the hardness that marked the previous car out, particularly in Comfort, but even in Sport or, on better roads, +R.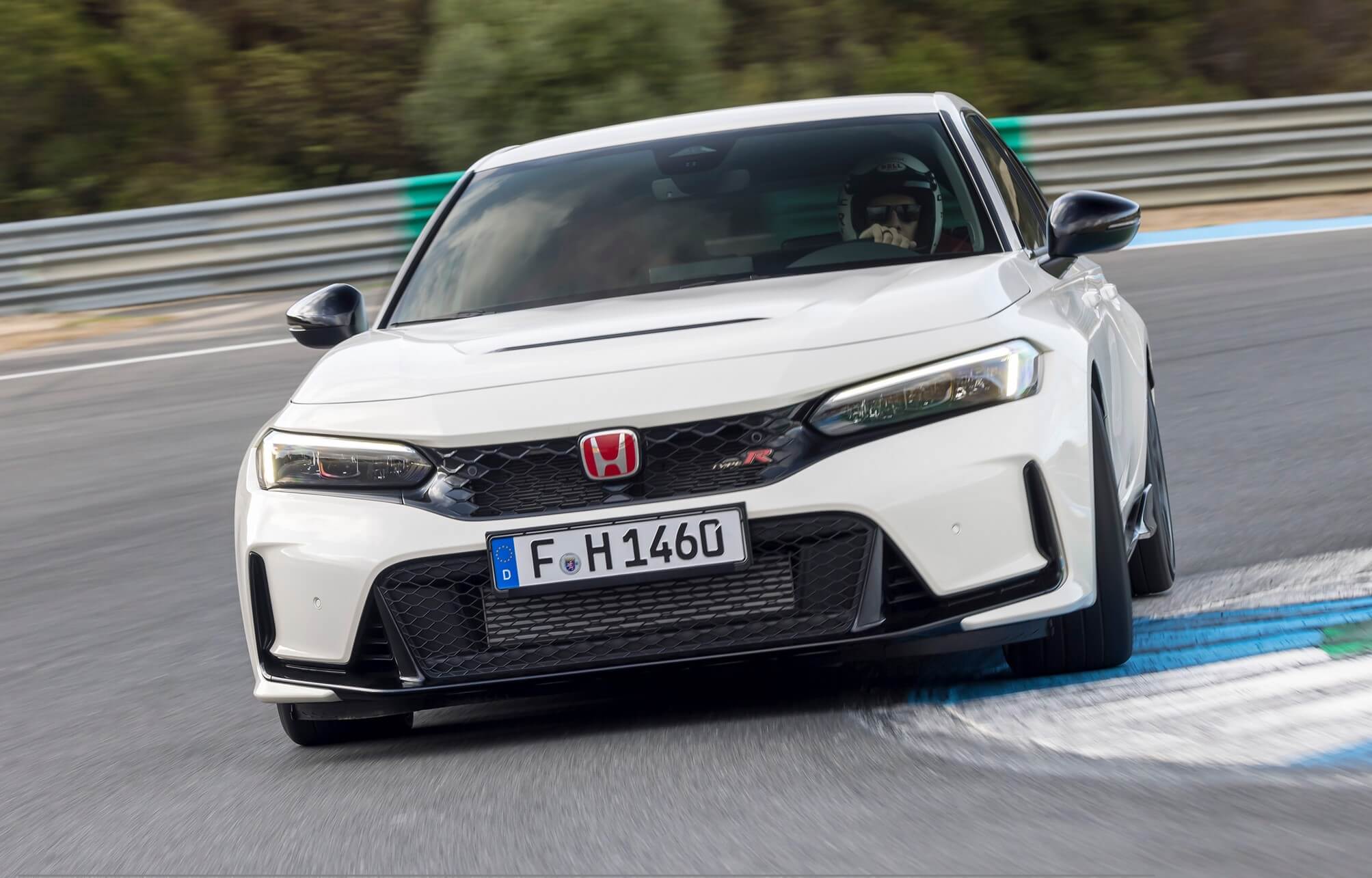 The Type R has to it a compliance the old car could only dream of. Yet it doesn't inhibit the immediacy of responses or, therefore, its appeal as a driver's car, because, while it's a more mature experience, it's still 
a thrilling and engaging one. The old abilities are still here, they're just wrapped in a more approachable demeanour.
That's not to say it's like a Volkswagen Golf R, which is involving but ultimately numb and non-adjustable. When conditions are poor it's not always easy to get a feel for what a car's balance is like, because it understeers too readily.
But despite this the Type R both tells you exactly what its front end is up to, and even though it lets go earlier than in the dry it still – on a circuit – will loosen the rear if you trail the brakes or lift the throttle, in the way that the best 'old' hot hatchbacks – by which I mean Ford's or Renault's RS models – did. The Type R moves around communicatively and easily.
Brake feel is strong. The gearshift is excellent. All of the things that made the outgoing Civic Type R still the best big hot hatch (the Toyota GR Yaris being the best little one) are all retained here, enhanced even, just with the less accommodating bits turned up too.
Honda reckons it has created the best hot hatchback of all time in the new Honda Civic Type R, but is such brazen confidence justifiable? In a word, yes. The new Type R is an incredible car to drive, boasting an even broader dynamic repertoire than its predecessor and marking a perfect way to celebrate 25 years of the Civic Type R and 50 years of the Civic model line. So even though Honda's new hot hatchback costs a whopping $72,600 driveaway – which means it now competes against some premium heavy-hitters – it is worth every penny. And then some.
| | |
| --- | --- |
| Model: | Honda Civic Type R |
| Engine: | 2.0-litre 4cyl turbo petrol |
| Power/torque: | 235kW/420Nm |
| Transmission: | Six-speed manual, front-wheel drive |
| 0-100km/h: | 5.4s |
| Top speed: | 275km/h |
| Price: | $72,600 driveaway |
| On sale: | December 1 (February 2023 deliveries) |
Matt Prior