Targeted tweaks make incremental gains to a V8 GT car with obvious star quality, but some persistent dynamic shortcomings remain.
The demise of the V8-engined luxury GT coupe has been reported prematurely in a lot of quarters of the media. Counting up the number of Jaguars, BMWs, Aston Martins, Mercedes, Bentleys and Ferraris there are left with woofling V8 motors up front and two-door cabins behind actually remains a heartening exercise if, like me, you dread the day when a car market of so much mechanical variety will be a dim and distant memory.
And yet there's something about the Lexus LC 500 that suggests it'll be the very last car of its kind. There has been a light update of the car's mechanical specification for the latest model year, although not as much as there was for the 2021 version. In a bid to enhance both the car's touring and sporting credentials, Lexus has tweaked the LC's coil spring rates and recalibrated its AVS adaptive dampers, once again.
It has a new more "deeply hung" (Lexus's choice of words, not mine) front seat design and a new shift lock function for its 10-speed automatic transmission. And there are a couple of new special editions of the car (Hokkaido Edition, Black Inspiration) that are based around particular colour combinations and material themes. The updated model is on track for an Australian launch this year, but there's no confirmation on when that is.
But this is a car whose main draw remains the atmo 5.0-litre V8 under the long bonnet. It's not especially torquey, needing a good 4500rpm on the tacho before it really starts to pull. But it revs from there on out with creamy smoothness and genuine ferocity; it responds to your right foot with beautiful crispness and proportion; and it sounds delicious in doing so – particularly with one of Lexus's naughtier driving modes governing the active exhaust system.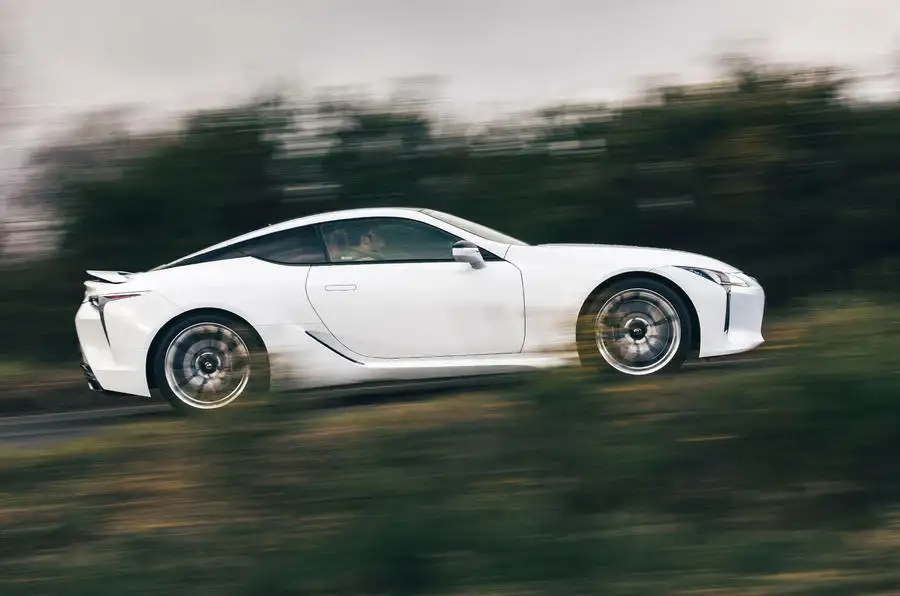 Unfortunately, seeking to savour that V8 through the filter of the LC 500's 10-speed automatic transmission feels a bit like being given the last wagyu steak in the world, with a jus of Bird's Custard on the side. Or licking your death-row, last-meal salted caramel ice cream dessert off a grubby prison sock (alright, maybe that one's a bit too pungent).
Lexus likes to innovate with its drivelines; we know that. But while 10 speeds for a car like this might deliver closing in on 9L/100km on a moderate, long cruise, the way they subdue the star quality of this V8, and too often dull its responsiveness between so many slurred shifts, is too great a price to pay.
In years to come, we'll marvel that engines as good as this were ever partnered with gearboxes so unworthy of them, for the sake of a 5 per cent cruising efficiency gain. Leave it in 'D' and the auto's shifts come so often as to feel like those of a CVT. The only way you'll have a useful idea of what gear you're in is via the indicator on the car's motorised digital instrument screen. Pick your own ratios instead in manual mode and, while the clackety action of the paddles themselves lacks appealing tactility, the transmission's shift speed and positivity both leave plenty to be desired.
At the wheel, it's hard to appreciate any significant difference in the LC's driving position. The cabin's raked pillars and low roof will mean any driver over 6ft 2in may find the headlining with their scalp, until they've set the seat just right, at least.
The seat cushions remain a little hard and short. But adjustability in the seat is good in any case; lateral support is, too; and Lexus's ability to choose and combine leathers, suedes and chrome trim, and present them all so appealingly, gives the cabin lots of lavish, expensive feel.
Lexus's suspension tweaks, meanwhile, intended as they are to put more notional distance between the car's ride characteristics when operating in either its Normal or Sport S+ drive modes, are moderately successful. The LC is certainly now a better-riding GT than it used to be. It's settled on the motorway, and the suspension better deals with choppy country lanes than previous versions ever did. It can still clump suddenly over sharper edges, though. It can be noisy on some surfaces, and oddly brittle-feeling on others when it allows the body to sink a little clumsily into hollows in the road surface rather than better supporting it.
With Lexus's Sport+ steering and slippy diff fitted, however, the LC's chassis can certainly command some rear-drive, muscle-car handling adjustability when you want it to, so there are plenty of enjoyable facets to its dynamic character. This is a big, heavy GT whose impression of a proper sports car can, at times, be quite convincing and whose qualities as a long-distance car are also good – if only in parts.
The truth is, developing the LC to its full potential will take more than just peripheral tweaking of suspension and seat design. But maybe that's all the invitation that Lexus needs to just keep on tweaking until somebody tells them they really must stop.