Our drive of the new drop-top Maserati MC20 Cielo reveals it offers a unique and thrilling driving experience.
If a supercar's success should be measured by how it makes you feel, pure and simple, then the new Maserati MC20 Cielo is pretty hard to fault. Unexpected and exotic, it's a new and distinct taste compared with the likes of Ferrari and McLaren. Yet this fresh flavour doesn't feel contrived or over the top, and despite an effortless, unadorned style the MC20 really performs when pushed, too.
Put simply, the MC20 flies. It snorts and shrieks. Elegance, brutal performance and dynamic polish have rarely been combined so effectively. And the Cielo or 'sky' added by the retractable hard top only heightens the intoxicating mix. From nowhere, Maserati has created a fascinating and dazzling open-top supercar. If you have $528,000 (before on-road costs) going spare – and honestly, who doesn't? – then it should very much be on your shopping list.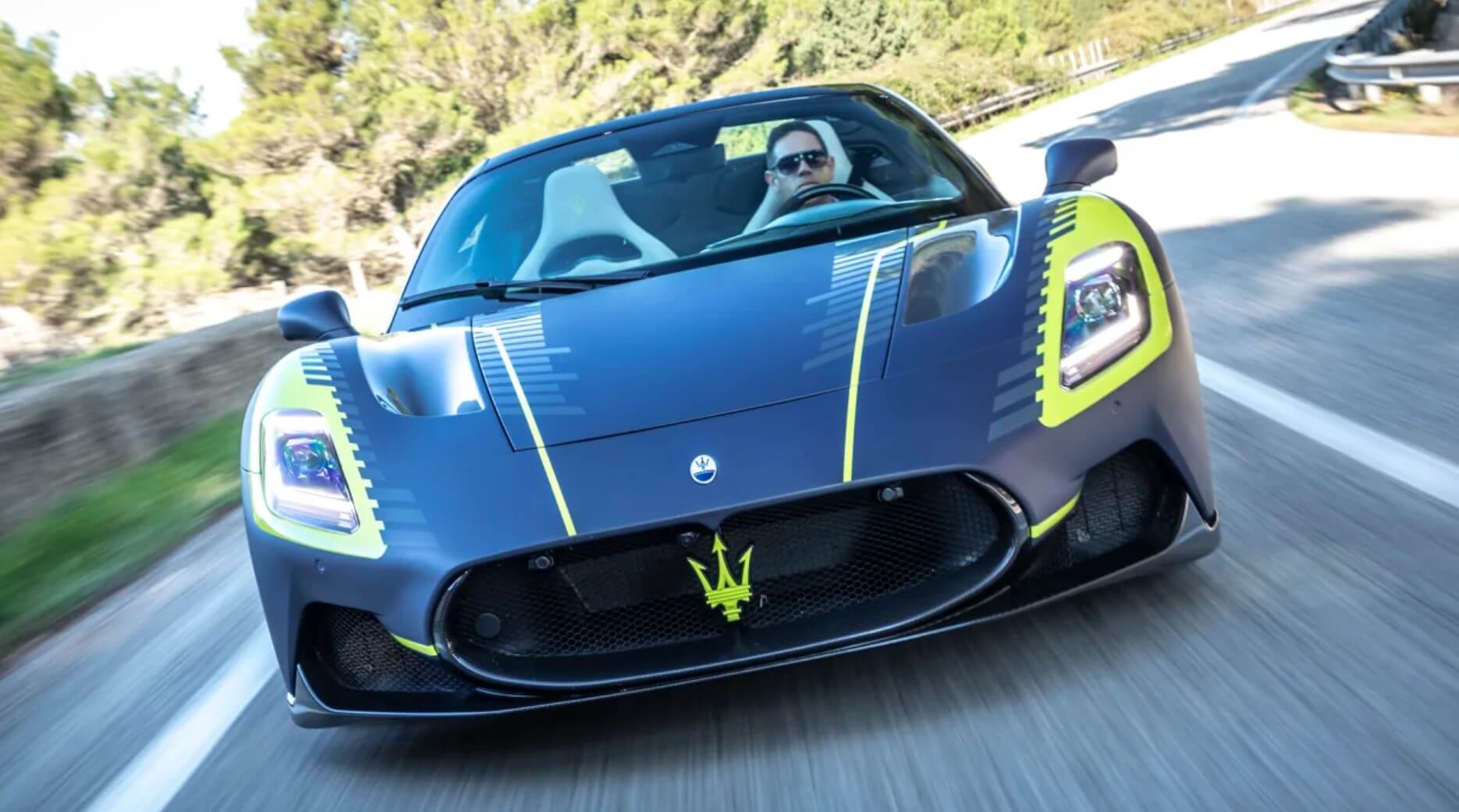 Much is retained from the MC20 coupe: The carbon-fibre tub that was engineered in conjunction with Dallara (they also make Haas F1 cars and the Bugatti Chiron chassis), the double wishbone suspension at each corner and, of course, the 'Nettuno' 3.0-litre twin-turbocharged V6 engine producing 463kW mated to an eight-speed dual-clutch transmission. Despite a 65kg weight increase, performance is pretty similar, too. The Cielo covers 0-100km/h in 2.9-seconds – exactly the same as the coupe – and the top speed dips from 327km/h to 324km/h.
However, there are plenty of changes, seen and unseen. For example, the core carbon fibre chassis may look identical but the weaves and thickness of the material have been modified to help compensate for the open configuration.
There are different springs and retuned dampers, too. Every measure was taken to preserve the feel and agility of the coupé. Even the aluminium housing for the stowed roof adds to the rigidity of the Cielo. The mechanism is simple and purely electric (lighter and quieter than electro-hydraulic) and can be raised or lowered at speeds up to 50km/h in 12 seconds. The roof panel itself features polymer-dispersed liquid crystals and can be completely opaque or flood the clean, nicely executed interior with natural light at the push of a button.
So far, so beguiling. Of course, at times in the past Maserati's have radiated romance and excitement but ultimately failed to deliver on the promise of the evocative Trident badge, that wonderful name and the raw numbers on the spec sheet. Not so the MC20 Cielo.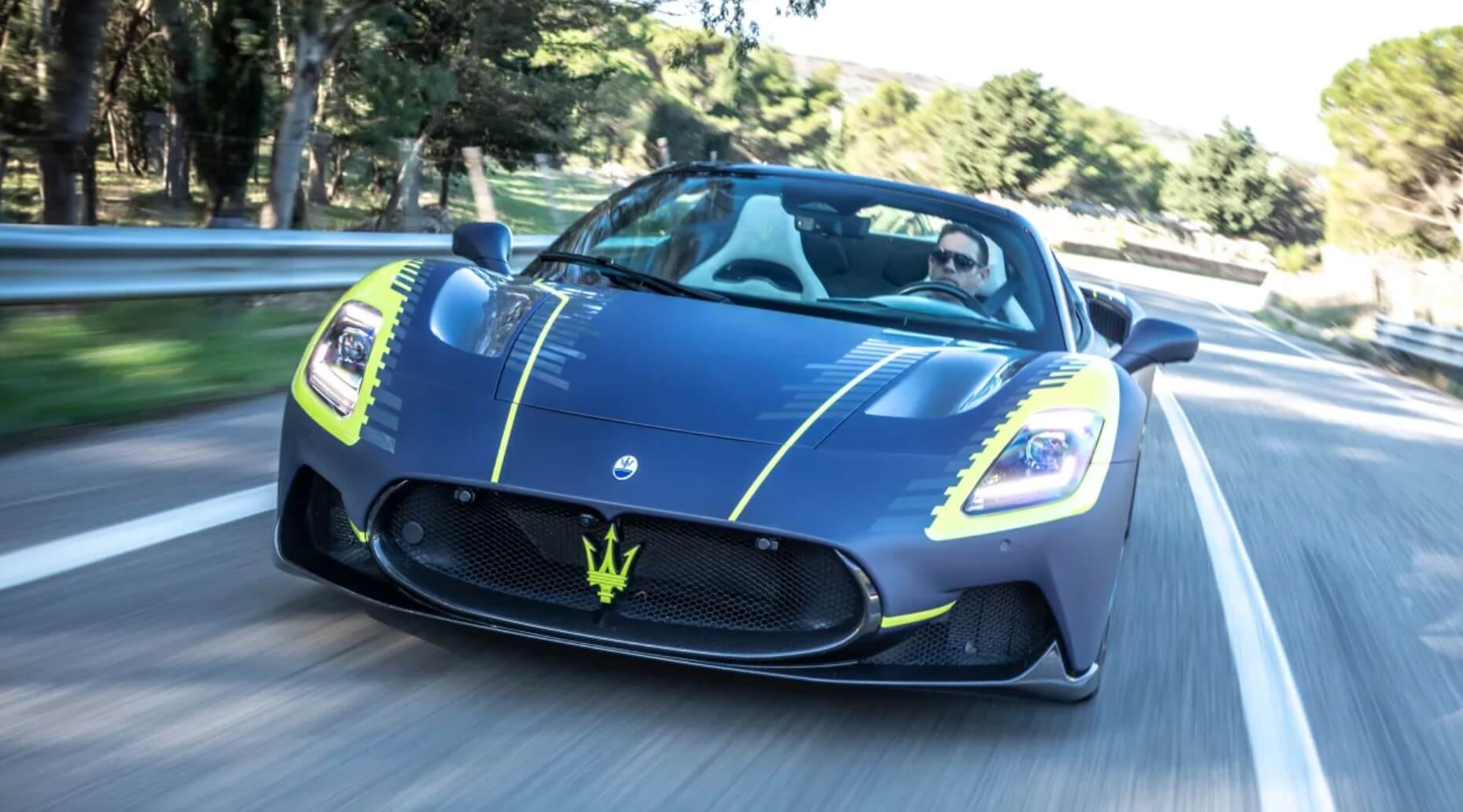 It rides quietly in GT mode and feels long-legged and at times almost serene. In Sport there's greater sharpness and the engine is enlivened in response and noise. Go to Corsa and things get stiffer and angrier, and there's a real savagery to the MC20's performance and agility. Most supercars that promise the comfort and usability of a GT and the pure joy and focus of a sports car fall woefully short, landing in a scrappy, inconsistent no-man's land. Somehow the MC20 nails the brief.
The Cielo does have its compromises. The structure is stiff, admirably so, but on really rough roads you do sense just a shade of steering corruption. It's minor but coupe purists will notice. It feels a shade heavier than the closed car in these moments, too. The optional carbon-ceramic brakes have a longer pedal travel than those of, say, a Porsche or Ferrari and hence don't inspire quite so much confidence.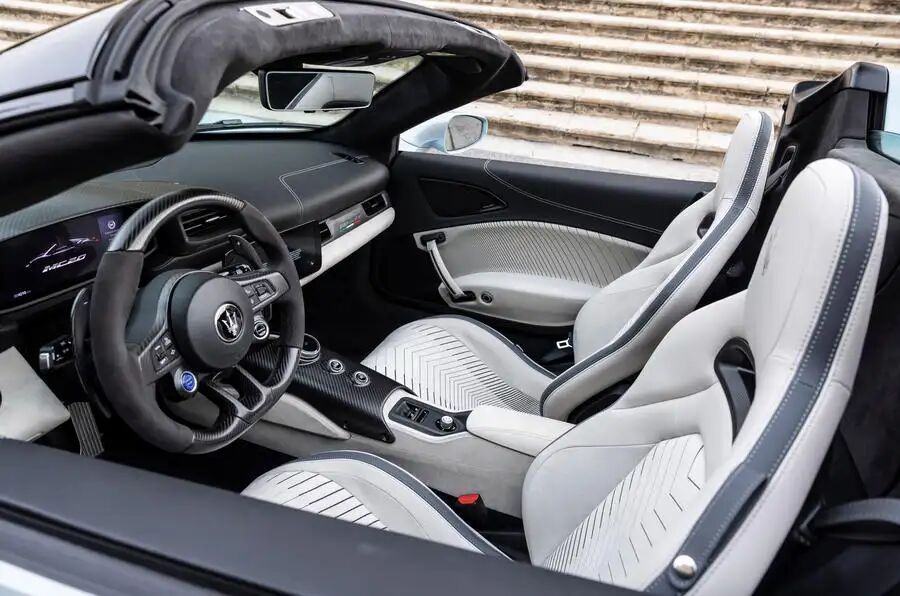 This really is nit-picking, though. The Cielo gets so much right. The steering is light and precise, the V6 embraces and celebrates its turbochargers with all sorts of chirrups, whistles and sneezes and the car has a lovely, transparent balance. The transmission is fast and has a real mechanical connection, too.
Roof down there's very little swirl or discomfort, just more volume, more sensation. This is high quality stuff but, more importantly, the MC20 Cielo feels completely comfortable in its own skin. This is not a Ferrari or McLaren clone, nor does it slavishly pay homage to long-forgotten glory days. It has breadth, almost a dual personality, but remains laser focussed on being the best version of Maserati we've ever known.
Maserati's MC20 supercar came from nowhere to deliver a unique and thrilling driving experience. This new Cielo version with its retractable hard top adds drama, retains so much of the poise and fury of the coupe and looks truly beautiful. It can stand toe to toe with McLaren and Ferrari on its own terms. What an achievement.
Jethro Bovingdon