Mercedes-AMG's rival to the BMW M3 drops four cylinders but gains nearly 150kW of power courtesy of an electric boost.
The next-generation Mercedes-AMG C63 – which will make the landmark switch from V8 to four-cylinder hybrid power – will be officially unwrapped in 24 hours.
Following a reveal in concept form at Goodwood's Festival of Speed in June, the upcoming BMW M3 rival is emphatically marked out from the standard Mercedes C-Class by way of an aggressive body kit, chunky AMG sports alloy wheels (covering the requisite drilled and ventilated brake discs) and a beefy quad-exit exhaust.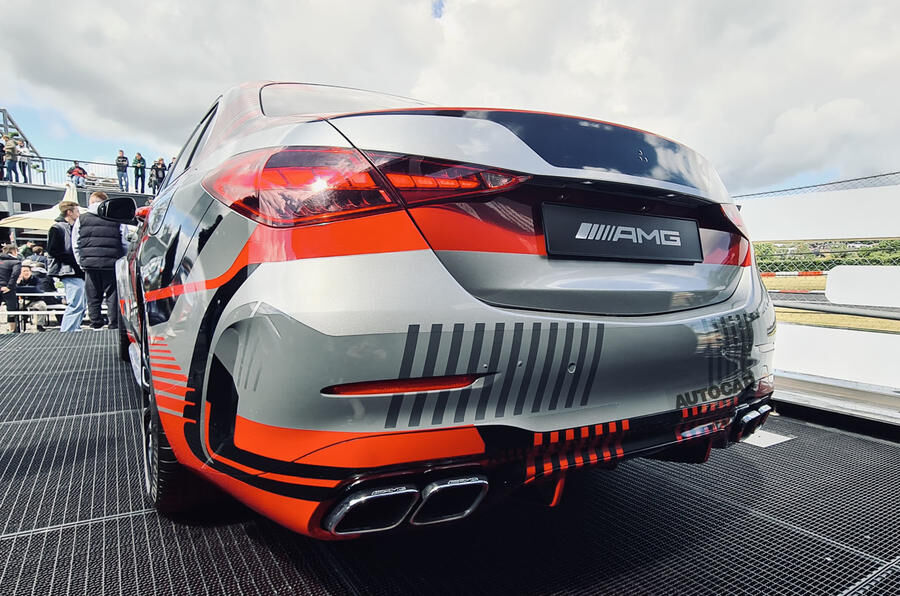 The C63 will be the first AMG model to feature an advanced four-cylinder hybrid drivetrain instead of its long-standing V8 powerplant when it goes on sale later this year. The car will be one in a line of future new AMG models earmarked to receive an electrified version of Mercedes' new turbocharged 2.0-litre M139 engine.
The potent four-cylinder engine kicks out a maximum of 310kW and 500Nm of torque in non-electrified form in the new Mercedes-AMG A 45 and its related siblings. The unit has already been engineered for longitudinal mounting as well as mild-hybrid electric boosting.
Mercedes-Benz has confirmed that the petrol unit has been tuned to give 350kW in its own right for the new C63 – making it comfortably the most powerful four-cylinder engine in series production. It will then be paired with a 150kW EV motor on the rear axle – a set-up Mercedes refers to as the 'P3' drivetrain – to give a total figure of 500kW, some 125kW more than the BMW M3, its closest rival.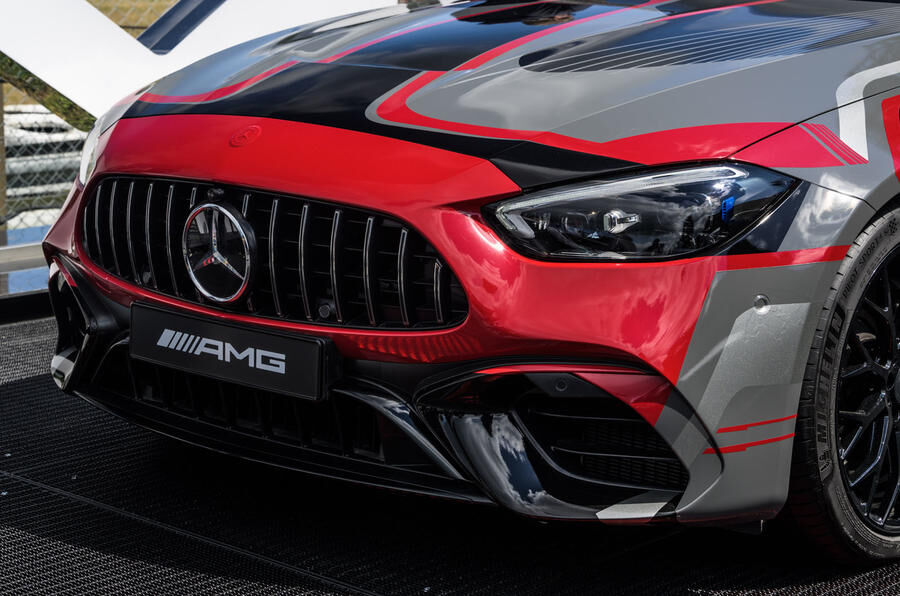 This is despite a 50 per cent reduction in swept capacity and cylinder count. With the benefit of electric boosting, it has also been conceived to deliver up to 750Nm of torque – a 50Nm increase on today's C63 S 4Matic.
Automotive Daily Network partner Autocar has been told the M139 engine will adopt a 48V integrated starter motor similar to that already used by the turbocharged 3.0-litre in-line six-cylinder M256 unit, which powers the CLS 53 4Matic+ and other recent new AMG models.
In the CLS 53 4Matic+, the gearbox-mounted starter motor provides an additional 16kW and 250Nm of electric boosting. In the next C63, however, it is set to be tuned to provide significantly more power in combination with a similar torque loading.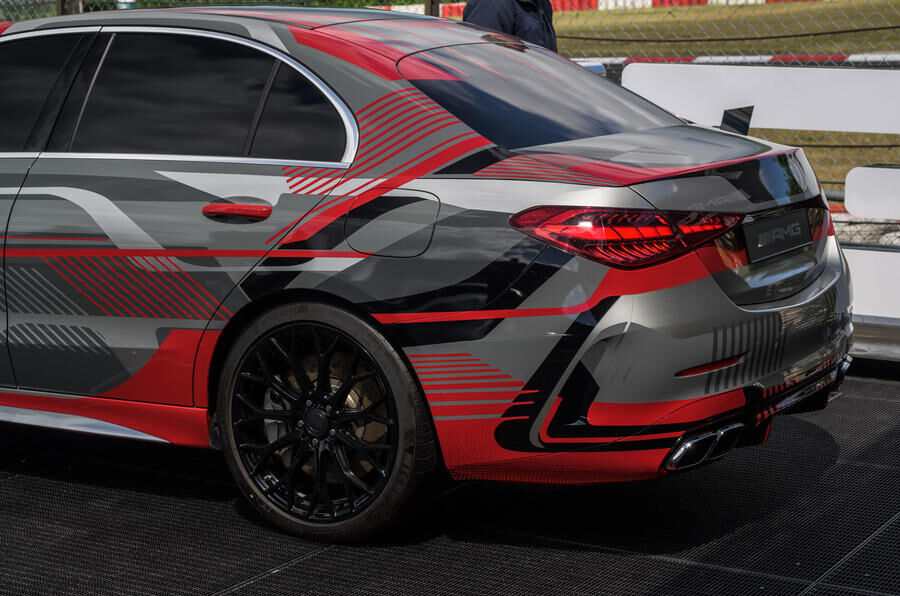 The new EQ Boost hybrid drivetrain is also planned to run in combination with Mercedes' nine-speed torque-converter MCT Speedshift transmission.
The entire C-Class range is powered exclusively by electrified four-cylinder engines, with plug-in and mild-hybrid technology rolled out across the range for better efficiency and thus reduced emissions.
One of the most significant advantages in the adoption of the new electrified driveline is a reduction in weight over the front axle of the new C63 4Matic. At 160.5kg, the M139 four-cylinder unit weighs 48.5kg less than the M177 V8 engine used by today's C63 4Matic. Even with the addition of the hybrid architecture, including a disc-shaped electric motor and power electronics, the overall weight of the new powerplant is claimed to undercut that of today's unit.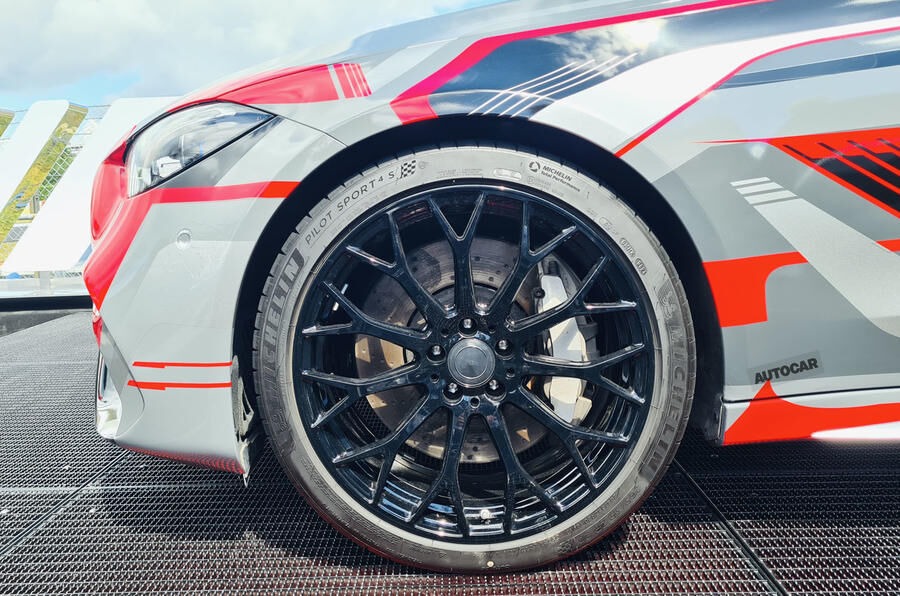 Additionally, the new powerplant's weight is concentrated lower, which aids efforts to bring about a lower centre of gravity for the new model, theoretically improving its agility and body control. Further development plans for the next C63 4Matic include a new four-wheel drive system to provide a fully variable apportioning of power front to rear. This will allow AMG to engineer the new model with rear-wheel-drive properties in certain driving modes, much as with the larger Mercedes-AMG E 63 sibling.
AMG has indicated that all its next-generation models will adopt this system, moving away from pure rear-driven models due to customer demand for all-wheel drive.
The decision to provide the C63 4Matic with four-cylinder power was apparently driven by Mercedes-Benz as part of rapidly escalating efforts to reduce fleet CO2 emissions while harnessing the engineering lessons pursued during the development of the Mercedes-AMG One hypercar.
Automotive Daily