We go for a ride in the new Mercedes-Benz GLC Coupe, which has been handed uprated steering and sports suspension.
The Mercedes-Benz GLC Coupe, the more stylish if less practical liftback version of the German car maker's mid-sized SUV, is set to be replaced by a new second-generation model in mid-March.
Shortly before it is unveiled, however, we've been invited to ride along as Mercedes-Benz's test engineers put the final miles on lightly disguised pre-production prototypes of the Audi Q5 Sportback and BMW X4 rival, which predictably boasts many of the same developments brought to its more upright Mercedes-Benz GLC SUV sibling launched late last year.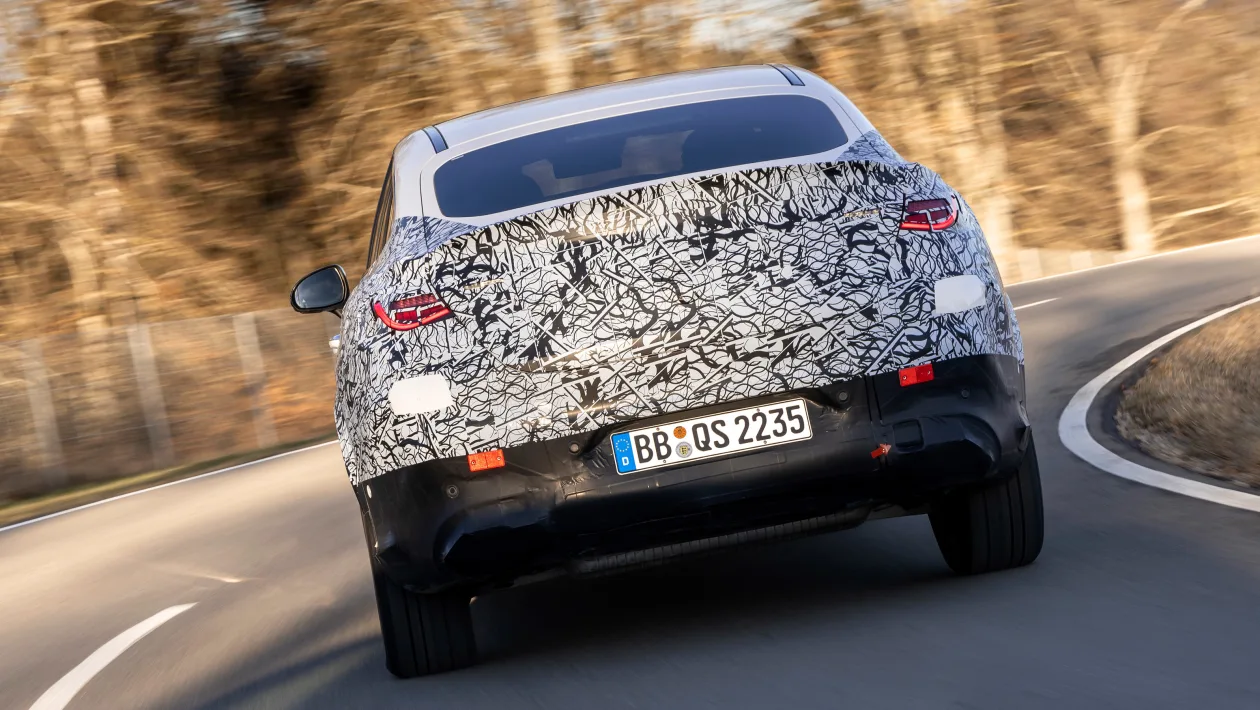 First introduced to the Mercedes-Benz line-up in 2016, the GLC Coupe was conceived from the start to be more sporting in nature than the GLC SUV. This holds true with the new model, says Peter Kolb, the head of development for Mercedes-Benz's mid-size cars, including the GLC.
"The emphasis has not changed a lot. We have once again developed the new GLC Coupe to be the more dynamic model in the line-up. The difference between it and the GLC SUV is not great, but it is subtly more sporting in terms of driving characteristics," he says as we head out of Mercedes-Benz's Immendingen test centre in Germany onto public roads.
The GLC has quickly established itself as one of Mercedes-Benz's most important models. Since joining the German car maker's line-up as a replacement for the short-lived GLK, it has regularly headed the company's sales charts. Up to now, it has racked up over 2 million sales worldwide, some 20 per cent or 400,000 of which are said to have been for the coupe.
The design changes brought to the new model, codenamed C254, are quite evolutionary in nature; there's a general sharpening of the exterior styling, with a new-look grille and thinner LED headlamps (optional with Mercedes-Benz's Digital Light functionality) together with defined swage lines along the flanks and doors as well new-look tail lamps at the rear.
As before, the GLC Coupe is differentiated from the GLC SUV by its rounded roofline, liftback style tailgate and arguably more stylish rear end. Dimensionally, it has grown. But not by much. Kolb says it is now 32mm longer overall at 4763mm, with the wheelbase extending by 15mm to 2888mm.
Newly designed mirrors mounted on the front doors as well as flat panelling underneath are among the developments claimed to provide the new model with slightly more efficient aerodynamics, with the drag co-efficient reduced from a previous 0.30 to 0.29.
Inside, a new dashboard receives higher-grade materials, giving the new GLC Coupe a superior feel of quality compared to the old model. Many of the elements, including a new 12.3-in instrument display and 11.9-in portrait-style central infotainment display, are shared with the C-class.
The adoption of a new software package, meanwhile, brings a more contemporary MBUX operating system with an optional "Hey Mercedes" conversational command prompt as well as a wider range of standard driver assistant systems, including Active Distance Assist Distronic, a cruise control system which now operates at up to 100km/h instead of the 60km/h previously.
There is also a new multi-function steering wheel with a combination of touch-sensitive pads and traditional button-based controls as well as new front seats boasting firmer cushioning with added support and bolstering as well as three USB-C ports that allow charging at up to 100 watts as standard, extending to six as optional equipment, and a new smartphone charging pad.
Overall, it's a very agreeable cabin. And somewhat roomier than before, too. At 545 litres, nominal boot space has increased by 45 litres, extending to 1390 litres when the rear seats (optional with an electronic drop function) are folded down. Plug-in hybrid models, which house their battery within the floor of the boot, now offer 30 litres more luggage space than before at 390 litres, extending to 1200 litres when the rear seats are not in use.
While Mercedes-Benz is holding back on many details relating to the drivelines of the 2023 GLC Coupe, Autocar can confirm plans for both petrol and diesel models from the outset – all running a 48-volt integrated starter generator (ISG) with mild-hybrid properties and added 17kW and 200Nm under acceleration.
Included is the GLC200 Coupe with a turbocharged 2.0-litre four-cylinder petrol engine developing 150kW and 320Nm of torque. Above it is the GLC300 Coupe, which runs the same engine but in a more powerful state of tune, with 190kW and 400Nm.
They will be joined by the GLC220d Coupe, whose turbocharged 2.0-litre four-cylinder diesel engine delivers 145kW and 440Nm.
Also planned is a trio of plug-in hybrid models. Already unveiled in the GLC SUV, they include the GLC300e Coupe and GLC400e Coupe, which share the same turbocharged 2.0-litre four-cylinder petrol engine and transmission-mounted electric motor to deliver respective system outputs of 230kW and 550Nm and 280kW and 650Nm.
There is also a diesel-electric model, the GLC300de Coupe under development. It uses a turbocharged 2.0-litre four-cylinder engine in combination with the same electric motor as its petrol-electric siblings to provide up to 245kW and solid 750Nm.
The trio of plug-in hybrid models receive a larger 24.8kWh battery that is claimed to provide them with an electric range of over 128km on the WLTP test procedure. The charging power has also been upgraded with 11kW now available on AC systems and up to 60kW on DC systems – the latter allowing a 10-80 per cent battery charge in less than 20 minutes, according to Kolb.
All drivetrains are combined with Mercedes-Benz's 9G-Tronic nine-speed automatic gearbox and a 4Matic four-wheel drive system providing a nominal 45/55 front-to-rear apportioning of drive as standard. The engine in the GLC300 Coupe we're in is nicely refined by petrol engine standards, with impressive damping of vibration under load in lower gears and genuinely hushed qualities in taller gears at constant cruising speeds.
You get five driving modes in the internal engine models: Eco, Comfort, Sport, Off-road and Individual. The performance is willing if not exactly stomping in Sport. Nothing is official just yet, though expect a 0-100km/h time to match the GLC300 SUV. The basis for the new GLC Coupe is a further developed version of Mercedes-Benz's widely used modular rear architecture (MRA) platform shared with the latest Mercedes-Benz C-Class.
In keeping with developments brought to the GLC SUV, it has been reworked with a newly developed suspension with either standard steel springs or optional air springs in combination with constantly variable adaptive damping control. The most significant change, however, centres around the adoption of a rear-wheel steering system. Offered for the first time on the GLC, it operates with up to 4.5 degrees of rear steer angle. "The steering is more direct than before," says Kolb. "With the addition of rear wheel steer, we have a smaller turning circle. This makes it more manoeuvrable in urban driving. But at the same time, it also provides added agility out on the open road." Right now, we'll have to take his word for it. But from the passenger seat, the new GLC Coupe gives the impression of being quite responsive and wieldy.
There is an imbibing maturity to the handling and overall dynamic properties of the new Mercedes-Benz model. Body lean is well controlled during all-out cornering, as is pitch and dive under acceleration and braking. In this respect, it feels to have progressed beyond its predecessor, with agreeably composed qualities out on the open road.
With the optional air suspension, the ride is impressively refined, too. There is excellent absorption of road shock over smaller high-frequency bumps and better isolation of road noise than before, even on the optional 225/45 R20 (front) profile and 285/40 R20 rear profile tyres worn by the GLC300 Coupe prototype.
Kolb credits a more rigid platform as well as the faster-acting properties of the adaptive damping control for the apparent improvement in overall ride quality, which he says was a key element in the new model's development.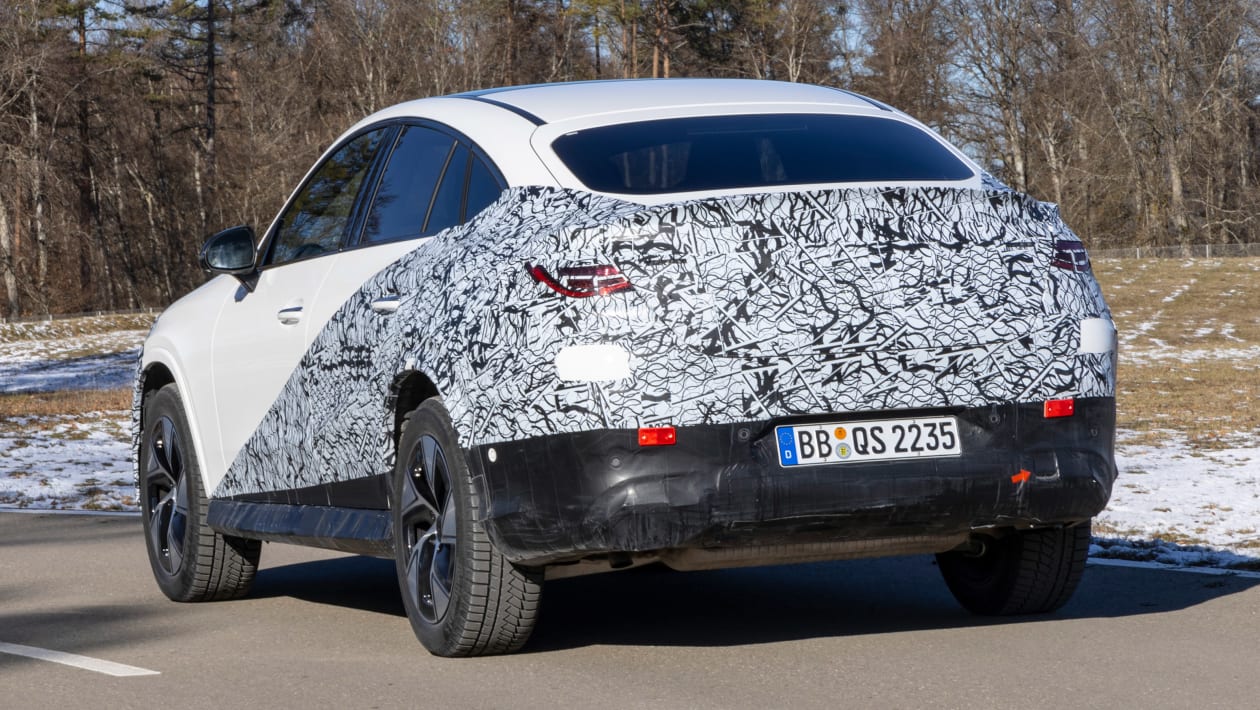 Another factor that contributes to the low vibration and noise levels is a new bitumen-based material fitted within the transmission tunnel.
Just how seriously Mercedes-Benz takes the engineering of its models can be seen in the optional Off-Road package. It includes a clever 360-degree camera, which provides a live view of the terrain underneath the front of the new GLC Coupe in a function called Transparent Bonnet within the infotainment display.
For those who take their towing seriously, there's also an updated version of the optional Trailer Manoeuvring Assist system, which now performs manoeuvres at up to 90 degrees to make parking a trailer in tighter spaces a simpler affair than previously.
There is still a lot to learn about the new GLC Coupe, but from our early ride in one of the last prototypes to be assembled prior to its unveiling, the second-generation model appears to have improved in every vital area.
Sharper styling, more efficient drivetrains, a higher grade interior and contemporary driver assistant systems combine with more agile handling, excellent ride quality and impressive refinement by internal combustion engine standards to give it broad appeal and the basis for continued sales success.