Mercedes-Benz chooses not to fiddle too much with its facelift GLE SUV and maintains a fine premium offering.
The facelifted Mercedes-Benz GLE, which continues in SUV and coupe bodystyles, is at first hardly distinguishable from the old version – and that's just as Mercedes intended. Sales are holding up five years after the fourth-generation GLE appeared, and its maker doesn't want to mess with the formula.
Exterior changes include a new-look bumper and revised grille, new LED graphics for the headlights and tail-lights and new designs for the wheels, which range up to 22-inch.
Inside, the GLE adopts Mercedes' latest multi-function steering wheel and an MBUX operating system with new software and menus. In combination with a standard 360-deg camera, there are also new graphics for models with the optional Off-Road Package.
There is lots of room front and rear, and the cabin is trimmed to a high standard. Boot space is a large 630 litres in conventional engine models.
The GLE continues with a choice of seven drivetrains, ranging from a 198kW twin-turbo 3.0-litre inline six diesel in the GLE 300d 4Matic to the 450kW twin-turbo 4.0-litre V8 petrol unit in the GLE 63 4Matic+.
All of the ICE options now feature a 48V electrical architecture and integrated starter motor providing added power and torque under acceleration and a coasting function for added fuel savings.
The GLE 400e 4Matic SUV mates Mercedes' turbocharged 2.0-litre four-pot petrol engine with an electric motor to provide a combined output of 280kW (up by 30kW) and 602Nm. Electrical energy is stored in a 31.2kWh lithium-ion battery, which can be charged at 11kW on an AC charger and at up to 60kW on a DC system.
Steel suspension is standard, but our test car runs the optional Airmatic system – both of which have been brought over without any significant changes.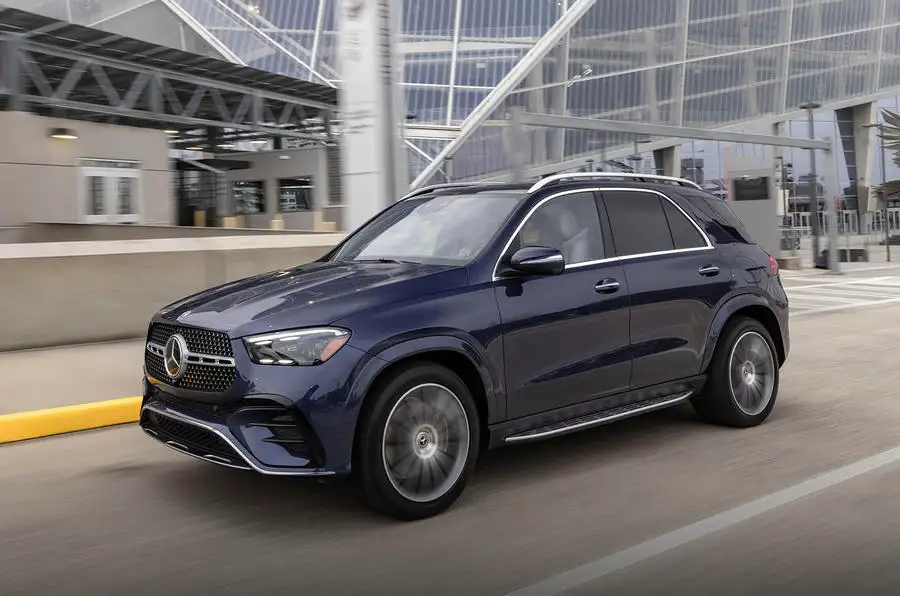 On the road, there is excellent control and inherent subtlety to the ride even on optional 20-inch wheels, making this GLE agreeably comfortable and refined, and with sufficient electric energy stores you can travel in near-silence.
So configured, the GLE 400e – a model not yet confirmed for Australia – has strong step-off and feels brisk in town. While it can't quite replicate the official electric WLTP range of between 92km and 105km in real-world driving, the relatively large battery does help it achieve a greater electric range than most hybrid-powered rivals.
That refinement takes a hit when the petrol engine fires. The four-cylinder unit is vocal when working hard in lower gears, but this apart, the GLE 400e is quite accomplished at lower revs on motorways, where the combination of the two power sources is flexible and refined.
Light but precise steering makes this an easy car to place despite its size. With Mercedes' 4Matic four-wheel drive system, traction is assured. Firm damping provides good resistance to body roll, but the big battery under the boot floor means you're aware there's a lot of weight in play during quick changes of direction.
The suspension deals with larger bumps exceptionally well; it absorbs shock without harshness and settles quickly. Road roar is also well isolated.
The GLE continues to make a strong case for itself and offers a refined ride with strong engine options. Some tweaks to styling keep a familiar but stylish look and the inside is as comfortable as it has always been.