A fourth-generation of Porsche's big-selling SUV will be unveiled at the Shanghai Motor Show.
has teased the new styling of the Cayenne SUV ahead of its reveal at the Shanghai motor show on 18 April.
The new image reveals a more angular headlight design and a simplified daytime running light signature, in which one LED bar replaces the previous split design. The grille – undisguised on the prototype car previously driven – has grown in size and also takes on a more aggressive, less rounded shape.
Porsche has already unveiled the Cayenne's new interior, which takes inspiration from the Taycan EV with a heightened emphasis on driver engagement.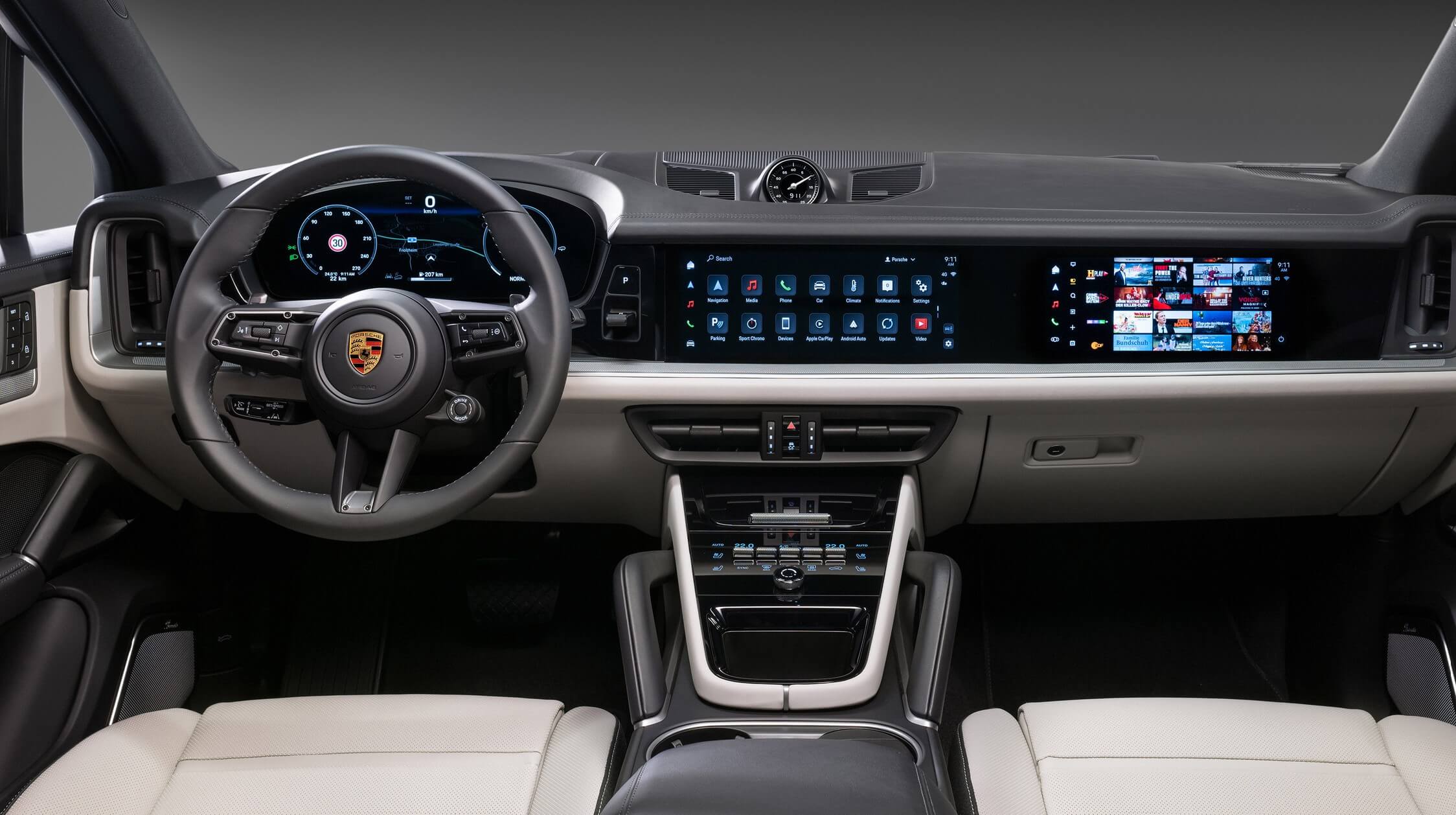 Aimed at providing an "even more intensive driving experience" while facilitating interaction – both with the car and the front-seat passenger – the Cayenne's new dashboard is dominated by a full-width digital panel comprising three screens: a 12.6-inch curved instrument cluster, a 12.3-inch central infotainment screen and – new for 2023 – an optional touchscreen in front of the passenger.
This new 10.9-inch interface allows the passenger to "take the strain off the driver" by setting the sat-nav and adjusting the media settings. Innovative screening technology means it is invisible to the driver, minimising distraction on the move.
The 'free-standing' digital instrument display (with up to seven different views including a five-dial set-up reminiscent of the 911), new-generation steering wheel, dash-mounted drive selector and redesigned centre console take their lead from the Taycan – and it all forms part of Porsche's ploy to achieve "the right balance between digital and analogue elements".
Ben Weinberger, spokesman for Porsche's SUV models, said that this balance was crucial to maintaining the Cayenne's global appeal: "Of course, if you ask a Chinese customer, they say, the bigger screens the better – more screens and bigger screens, more lights… But if you ask a customer in Europe, or the US they say: 'No, I like knobs. I don't like this touchy stuff'."
The Cayenne's technological capability has also been significantly enhanced, gaining a new cooled wireless smartphone charging pad, Siri voice control, four USB-C fast charging ports and a new video streaming service that shows films on the central display when stationary, and on the passenger screen when moving.
Billed as "one of the most extensive product upgrades in the history of Porsche" by the firm, the new Cayenne has already been put through its paces in Asia, Africa, Europe and North America, covering more than four million test kilometres in prototype form.
Ramping up to its appearance at Shanghai, the SUV took on extreme conditions in desert, snowy and rugged mountain terrains, with Porsche engineers testing the model's new semi-active chassis. Tests also included over 200,000km spent in urban traffic, on motorways and on country roads.
Porsche said it has been testing the Cayenne as if it had been "developed from scratch", with the goal of "achieving an even wider range between the typical Porsche on-road performance, long-distance comfort and off-road capability."