It's not cheap, but the new all-electric Kia EV9 boasts acres of space and plenty of tech.
Big electric cars are nothing new. Yet the seven-seat EV market is curiously under-occupied; whether it's the compromised packaging or lack of demand, car makers have largely held off building SUVs capable of carrying the entire family, as well as their friends.
But that's all about to change. As well as the flagship Volvo EX90 due in 2024, the likes of Jeep, Skoda and more are planning electric seven-seaters. But, beating them all to market is Korean giant Kia, with the EV9.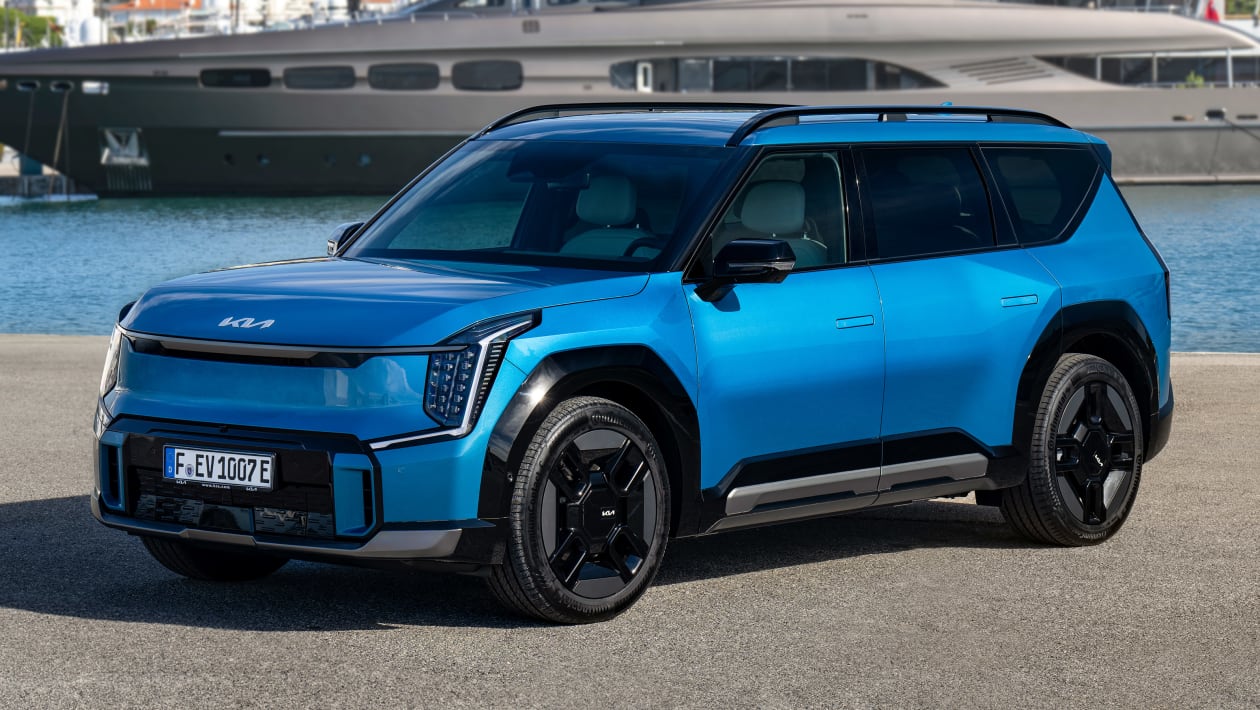 Let's first address the elephant in the room. You may have noticed the pictures (plus the spec box below) show a six-seat version of the EV9. That's because our launch car was fitted with two captain's chairs in the middle row – an option over the seven-seat car.
It fits well with the EV9's overarching personality too – that of a quiet and refined SUV, which brings the isolation and comfort of its occupants to the fore. The car is completely silent around town, and while you might consider that a given, the complete lack of motor whine or tyre noise make this an almost-eerily quiet way of shuffling between traffic lights.
Ride comfort is, on the whole, very good. Every car gets an active damping setup, though this is reactive rather than being adjustable via the drive modes as in some rivals. It's pretty plush most of the time, working particularly well at motorway speeds. Sudden jolts or potholes can catch the EV9 out, however; at times, the dampers aren't quite quick enough – sending the odd unwanted thump into the cabin. While it never felt anything approaching harsh on the roads of southern France, we'll need to see how it performs on Australian roads before delivering a definitive verdict.
Elsewhere, the EV9 is a quick, composed family SUV, but not one that rewrites the rules of physics. This is a big (5.1m-long), heavy (>2.5-tonne) SUV that, despite its relatively low centre of gravity, does move about quite a bit in the bends. The steering is a little slow to react, as well, which limits the EV9's outright agility.
Ease off, however, and it's a very pleasant thing to drive. The regenerative brakes have several modes, ranging from a near-friction-free coast, to effective one-pedal driving. The strongest setting is easy to modulate, and can be adjusted via the paddles behind the steering wheel.
The EV9 can feel cumbersome down particularly tight streets, and the rear windscreen feels further away than it might in a Sportage or even a Sorento. But the stubby bonnet limits the car's length up front and helps when parking – despite the fact every version gets a usable frunk for storing the charge cables. Of course, the myriad sensors and cameras make light work of urban manoeuvres.
The benefit of those generous dimensions means there's space inside for six (or seven) to sit in complete comfort. Very few cars can claim to be genuinely suitable for adults in the third row, but the EV9 is one of them. Provided you've pulled the middle seats forward a touch, there's enough leg room and plenty of head room. You'll even squeeze in a trio of carry-on cases with the rearmost seats in place.
The other advantage of the EV9's size is the ability to fit a huge 99.8kWh battery beneath the floor – the result being a competitive 505km range on dual-motor GT-Line cars. However, this isn't a particularly efficient SUV; even driving gently we failed to crack 4.8km/kWh. We'd expect even less in normal driving, and a significant hit in colder weather. We reckon you'd average around 400km between charges; rear-drive models will manage a little more.
But topping up is quick and easy, not least due to Kia's excellent 800-volt architecture and 210kW peak charge speed. Remember, this is a bigger battery than before, but Kia says you'll still manage a 10-80 per cent charge in around 24 minutes when connected to the fastest public points.
Priced from $97,000, buyers get a choice of familiar Air, earth and GT-Line trims, with the first of those available exclusively in more affordable, more efficient, rear-wheel drive form.
Quality treads the line between mainstream and premium, but never touches on the type of luxury you'd find in a diesel BMW X7, which sits in a similar ballpark on price. The Kia's seats are a highlight, but the infotainment graphics aren't as crisp as rivals' and the system itself is laggy at times.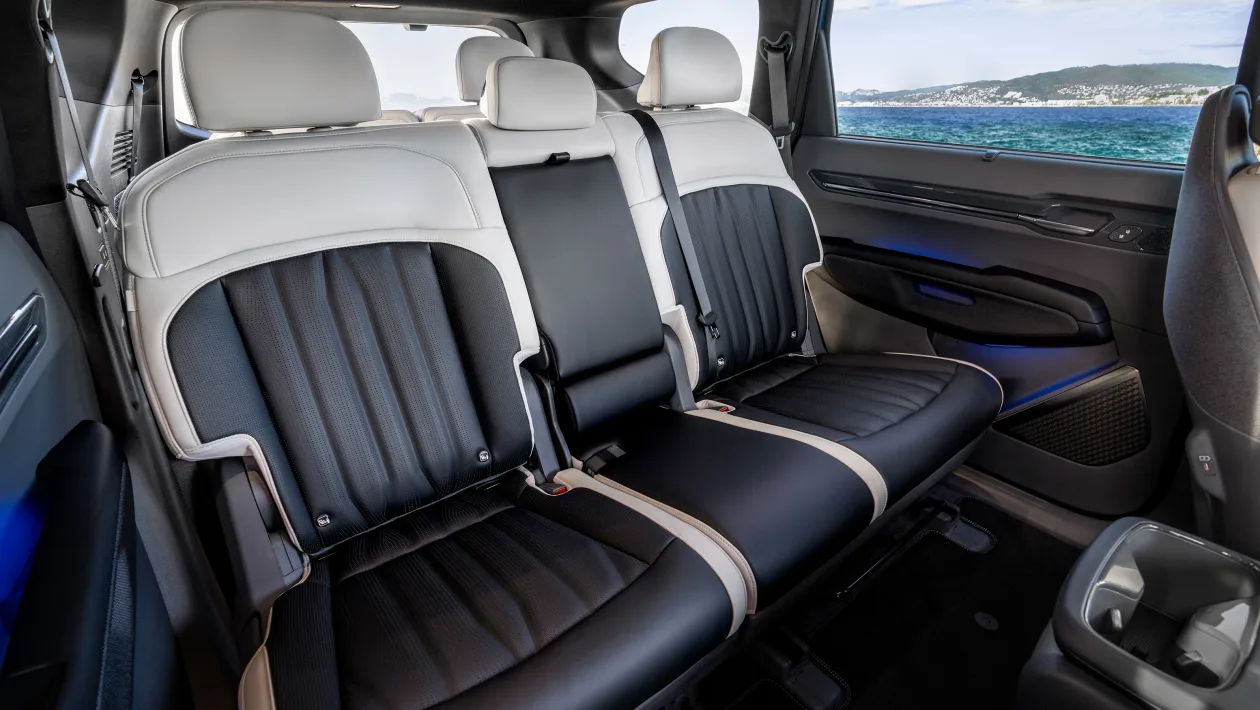 All cars get automatic LED lights all-round, plus three-zone climate control, heated and ventilated vegan leather seats, a powered tailgate and a host of USB slots dotted about the cabin. The infotainment now comprises three screens – with the heating and ventilation controls permanently visible on a small display in the middle. Kia has added physical toggle switches on the lower dash, allowing both driver and passenger to easily adjust the temperature on the fly.
Earth ($106,500) upgrades the base Air with a sportier aesthetic, as well as that powerful front motor for all-wheel drive. You also get a 360-degree camera and side-view monitor.
Only the top-spec GT-Line ($121,000) can be optioned with the six-seat layout and Kia will throw in twin sunroofs, a 14-speaker Meridian stereo, and a head-up display. Of course, the list of standard safety kit is comprehensive across the board.
If you want a seven-seat electric car, your options are limited – albeit only for the time being. A slew of rivals is on the horizon, but Kia has got there first with a thoroughly likeable (if rather expensive) family SUV. Quiet, comfortable and decent enough to drive, the Kia EV9 lays it on thick with plenty of tech and acres of space inside.