Loaded with luxury and technology, the all-electric EQS SUV has arrived in Australia.
With outstanding craftsmanship and equipment, the Mercedes-Benz EQS SUV builds on luxury themes established by the current petrol-driven S-Class and GLS, along with the EQS sedan and EQE EV models. Following on from the recently arrived EQE SUV, the full-sized EQS SUV is now available in Australia in a single-model specification – the 450 4Matic. For those after more power and luxury, the Mercedes-Maybach EQS 680 SUV is due mid-2024 with 484kW and 950Nm.
At $194.900, the EQS 450 SUV certainly isn't cheap. But for families (or chauffeur services) wanting a full-sized, flexible and luxurious SUV, it's extremely well equipped. Oh, it just happens to be an EV as well, which will bring unique appeal to some buyers and businesses.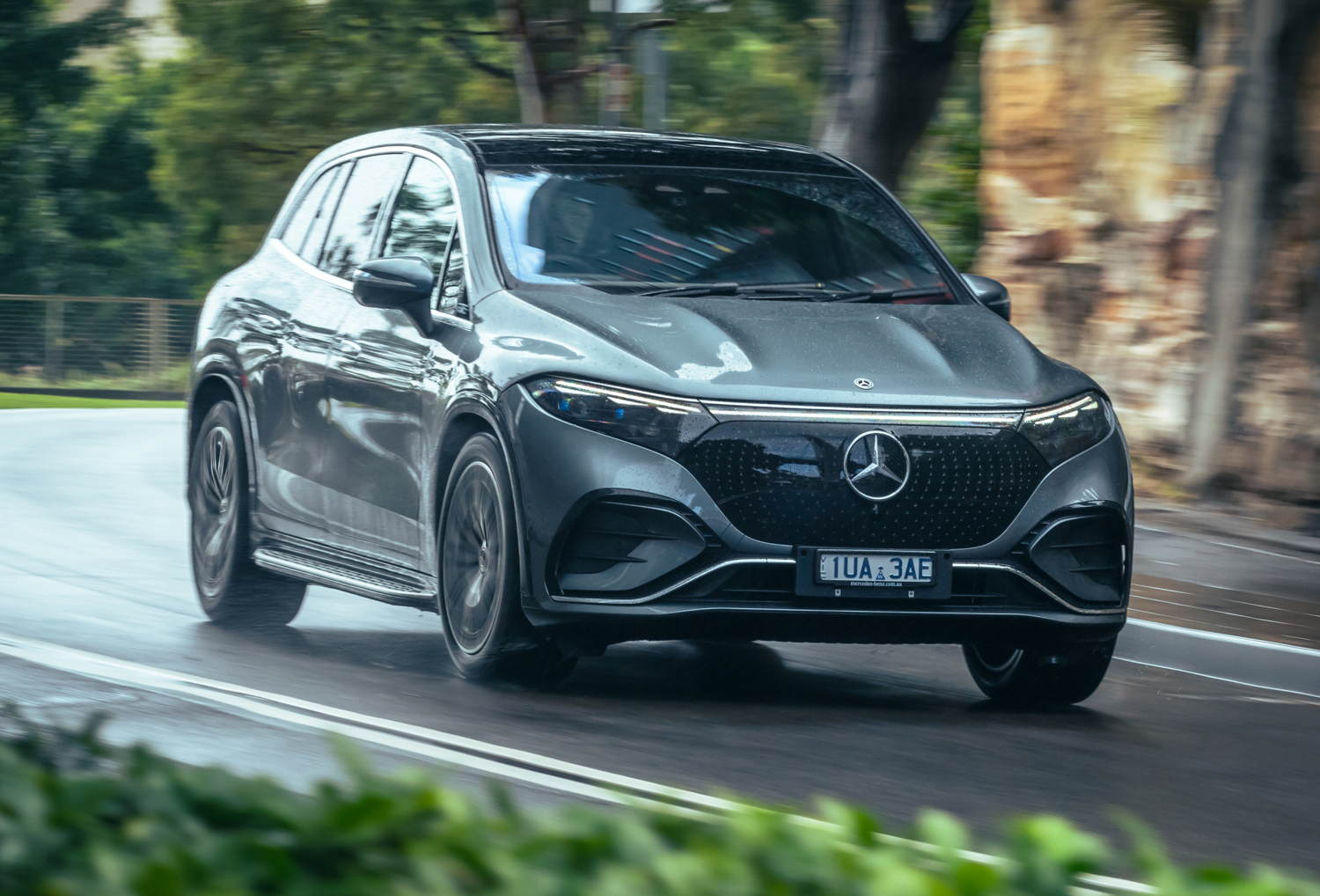 Offering generous space for seven occupants – even the third row offers room for passengers up to 150cm – the EQS SUV is a large vehicle, but it disguises its size better than many bulky full-sized SUVs. The EQS SUV utilises the dedicated EVA platform that also underpins the EQE sedan and SUV, and EQS sedan. At 5125mm in length, the EQS SUV is 262mm longer than the five-seat EQE SUV, and 180mm of the extra length is in the wheelbase (3210mm to 3030mm). It's also 10mm wider than the EQE SUV and 32mm taller. But for all of its size, the EQS SUV never looks of feels intimidating or overbearing. The visual bulk is disguised with clever detailing and signature EQ elements such as the blanked-off grille. Impressively for such a large vehicle and one with a dominant frontal area, the EQE 450 4Matic SUV boasts a 0.26 CD.
The exterior is enhanced with the standard-fit AMG Line accoutrements that include AMG-specific front and rear bars. Aluminium-look illuminated running boards adorn the flanks and the EQS SUV rides on 21-inch AMG alloys.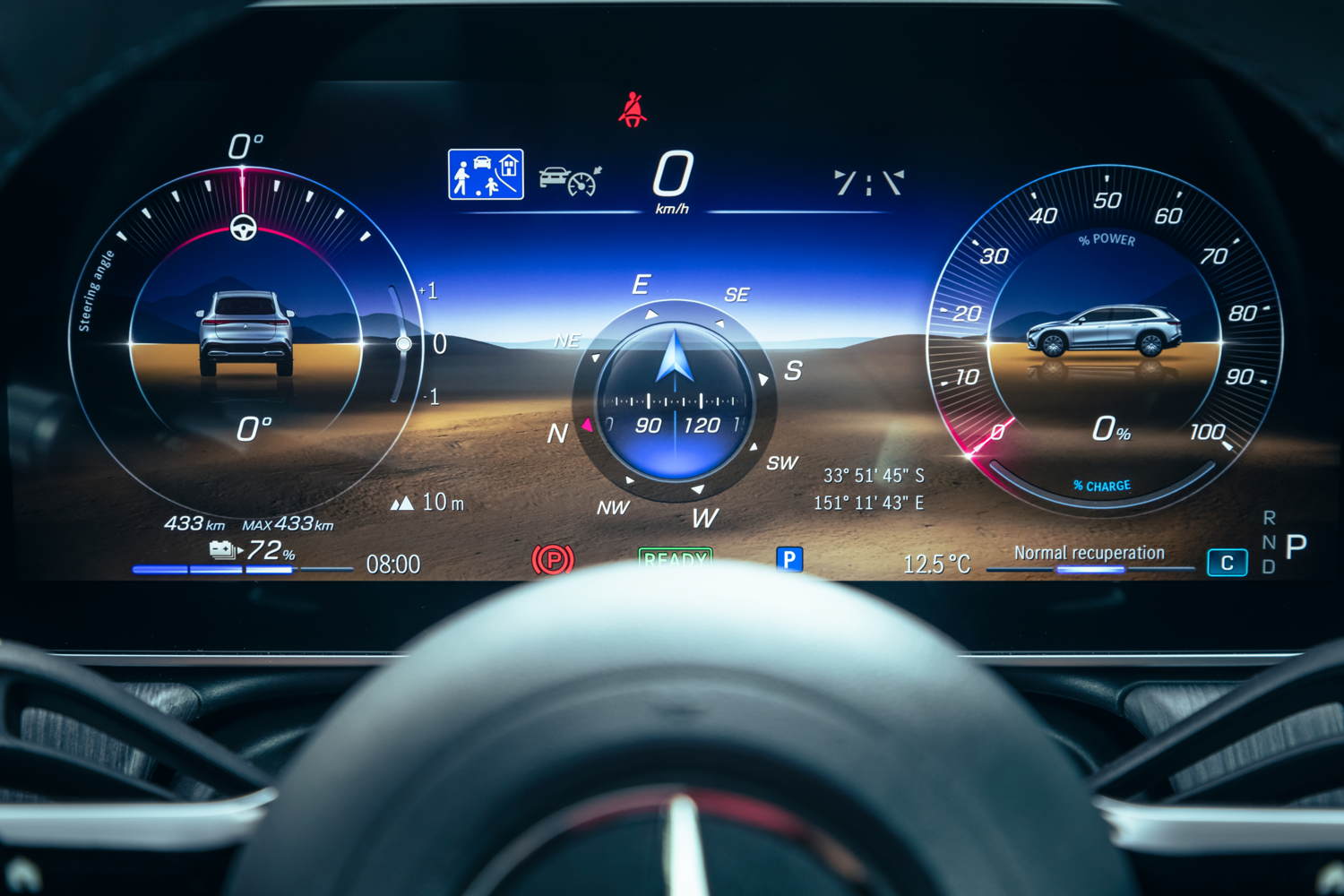 Inside, there is space, luxury and technology to satisfy the most demanding occupants, regardless of which seat that they may occupy. The centre row of seats can be electrically adjusted through 130mm to provide flexible legroom for occupants in the second or third rows. The standard dash features a 12.8-inch OLED touchscreen display that runs Mercedes-Benz's MBUX infotainment system. Wireless Apple CarPlay and Android Auto are also standard, as is a 12.3-inch digital instrument cluster and head-up display. For an additional $6700, you can option the Hyperscreen Package that combines three screens – 12.3-inch instrument display, 17.7-inch OLED central display and 12.3-inch OLED passenger screen – under a single 141cm expanse of glass. The Hyperscreen Package also includes the centre console in wood trim.
Other standard interior highlights include 64-colour ambient lighting, leather trim, Nappa leather-trimmed multifunction steering wheel, electrically adjustable, memory, heated and cooled front seats with massage function. There's also the concert-quality 710-Watt, 15-speaker Burmester audio system that utilises Spatial Audio with Dolby Atmos.
Need even more luxury and technology? Mercedes-Benz is happy to oblige with the $11,700 Comfort Package that brings a pair of 11.6-inch front headrest-mounted displays, wireless headsets, MBUX rear tablet and rear wireless charger. For increased comfort, it also adds pillow-style headrests for the second row, heated second and third-row seats, heated steering wheel, Energising Package Plus and Air Balance Package.
The EQS 450 4Matic SUV features a 108.4kWh 400-volt architecture that powers an electric motor on each axle. The combined outputs are 265kW and a considerable 800Nm, which are more than enough to motivate the 2805kg mass.
The WLTP range is listed at 483km, and charging is via the standard 11kW AC system, optional 22kW AC or 200kW DC fast charger. On three-phase 11kW AC, the 10-80 percent charge time is listed as 10 hours, which cuts in half on 22kW AC. Charging on a 200kW DC system from 10-80 percent takes 31 minutes.
From behind the steering wheel, the EQS 450 SUV doesn't feel as big and cavernous as other upper-large SUVs. In fact, the seat embraces you and you feel in the car rather than on top of it. Our test loop included urban running with plentiful road works to narrow lanes and skinny mountainous twists and turns up the Bells Line of Road across the Blue Mountains. While being aware of the EQS SUV's size, it never felt as though it was taking up more than its share of tarmac and it was easy to thread it between cats eyes.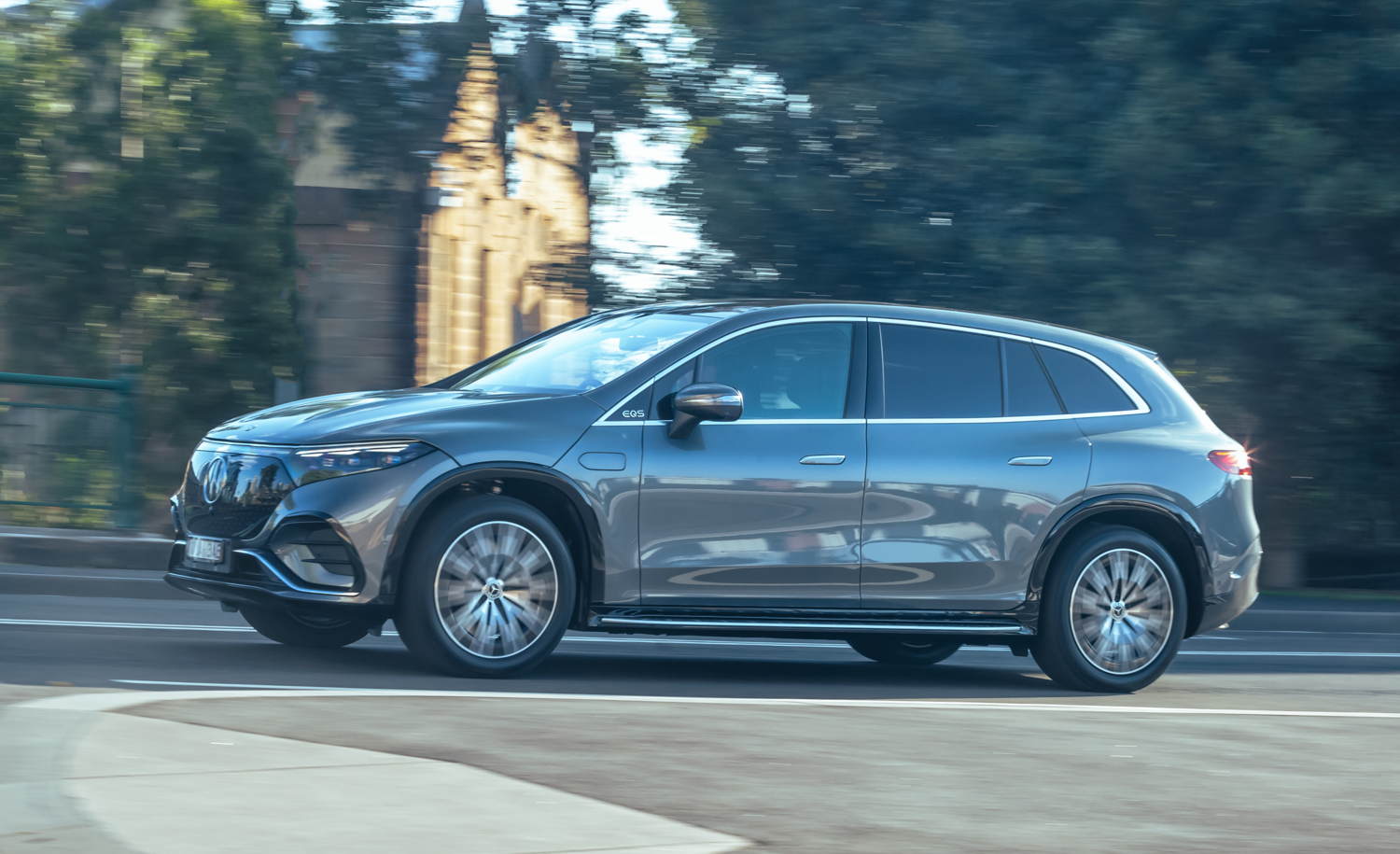 As standard, the EQS 450 is fitted with rear-axle steering that offers up to 4.5 degrees of steering angle to improve agility at low speeds – at higher speeds, the rear wheels turn in the same direction as the fronts to aid stability but at a much smaller angle. For $2900, you can opt for an even more aggressive rear-steering angle of up to 10 degrees.
Part of our road test included damp tarmac from a passing shower, but the EQS SUV remained sure-footed even when pushed at a pace that would likely engage divorce lawyers if your family was on board. There's more agility evident than is strictly necessary, but equally, you can dial it back to sanity and drive with smoothness and serenity to lull passengers to slumber. The long wheelbase and standard Airmatic suspension provide stability and isolation from road imperfections despite the 21-inch alloys. Perhaps it doesn't ride with the same isolation as an S-Class or EQS sedan, but it hardly lacks refinement.
The performance feels right-sized rather than dizzying like some EVs. The 'throttle' pick up is linear and the EQS SUV is an easy car to drive at low- and highway speeds. Steering feedback isn't overwhelming, but who expects that from a luxury EV SUV? Instead, the EQS 450 SUV delivers performance and comfort via controls that operate as you'd expect but without a concocted level of 'feel' or 'involvement'.
I've long been of the opinion that the best EVs are those that deliver on their primary role as a car, rather than try to reinvent everything because of their propulsion system. To that end, the EQS SUV feels just like other luxury SUV offerings, but it just happens to be electric-powered.