Tesla Model 3 gets a fresh face, aero tweaks and a raft of refinement-boosting upgrades as the price gets increased.
The Tesla Model 3, one of the world's best-selling electric cars, has been substantially updated for 2024 – bringing more range, improved refinement and a new look.
Tesla claims that more than 50 per cent of the Model 3's components have been refreshed in response to customer feedback, with the ultimate aim of improving refinement and comfort.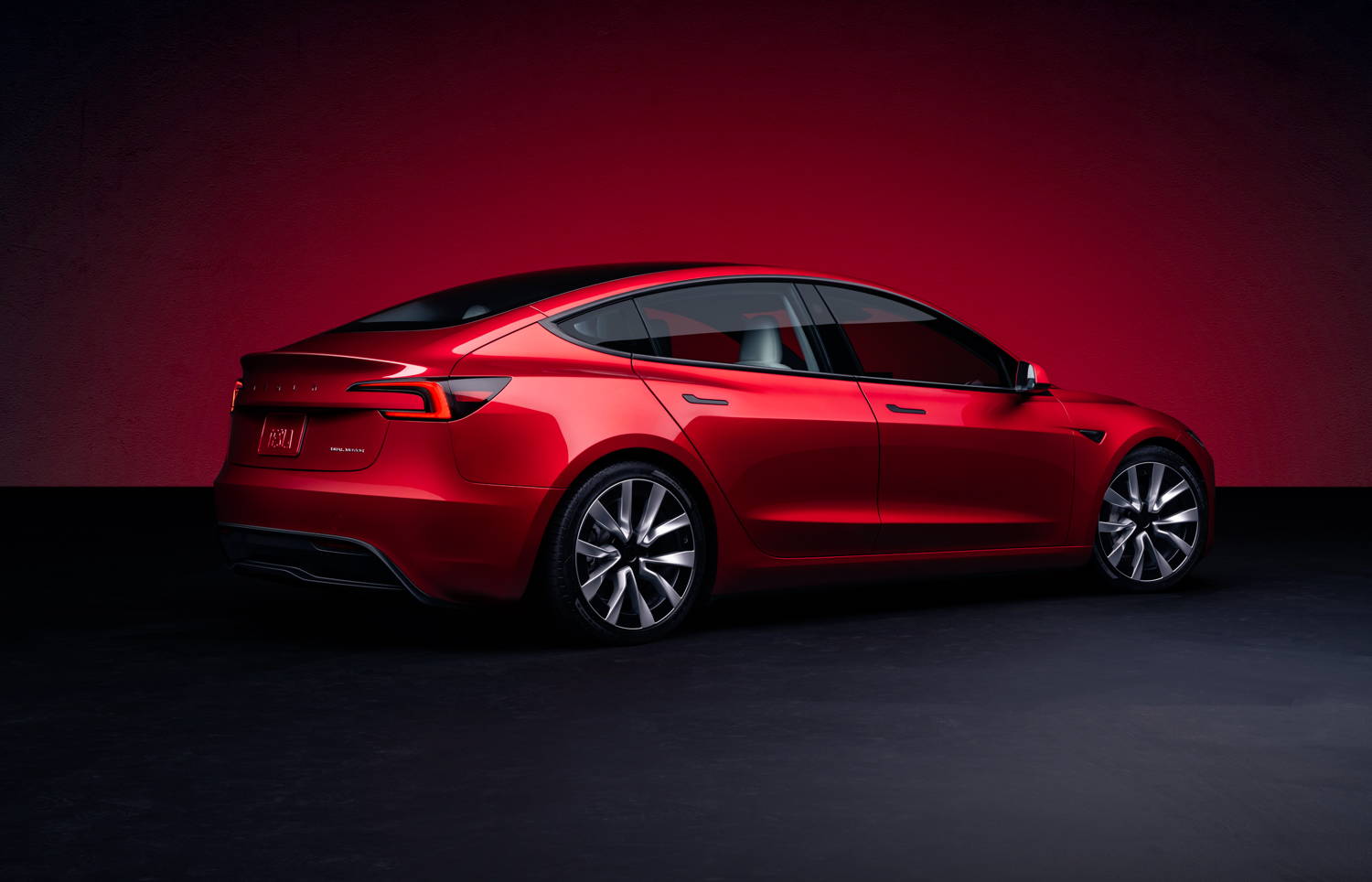 Known by its internal codename, 'Project Highland', the updated Model 3 has been the subject of much speculation since the first clues were announced in late 2022. Since then, a series of leaked images and camouflaged prototypes have given hints about the final design, but Tesla characteristically refrained from giving away any official details until now.
As suggested by widely circulated pictures of an undisguised car earlier this year, the most obvious change for the 2024 Model 3 is its heavily overhauled front end, which is said to reduce drag in pursuit of more kays per charge, while reducing wind noise at a cruise.
Tesla emphasises that it is "staying true to the sleek, uncluttered design aesthetic" of the Model 3, and indeed the new-shape headlights and revised lower bumper are the most significant visual changes, with the rest of the car largely unaltered – save for the integration of new C-shaped rear light clusters into the bootlid.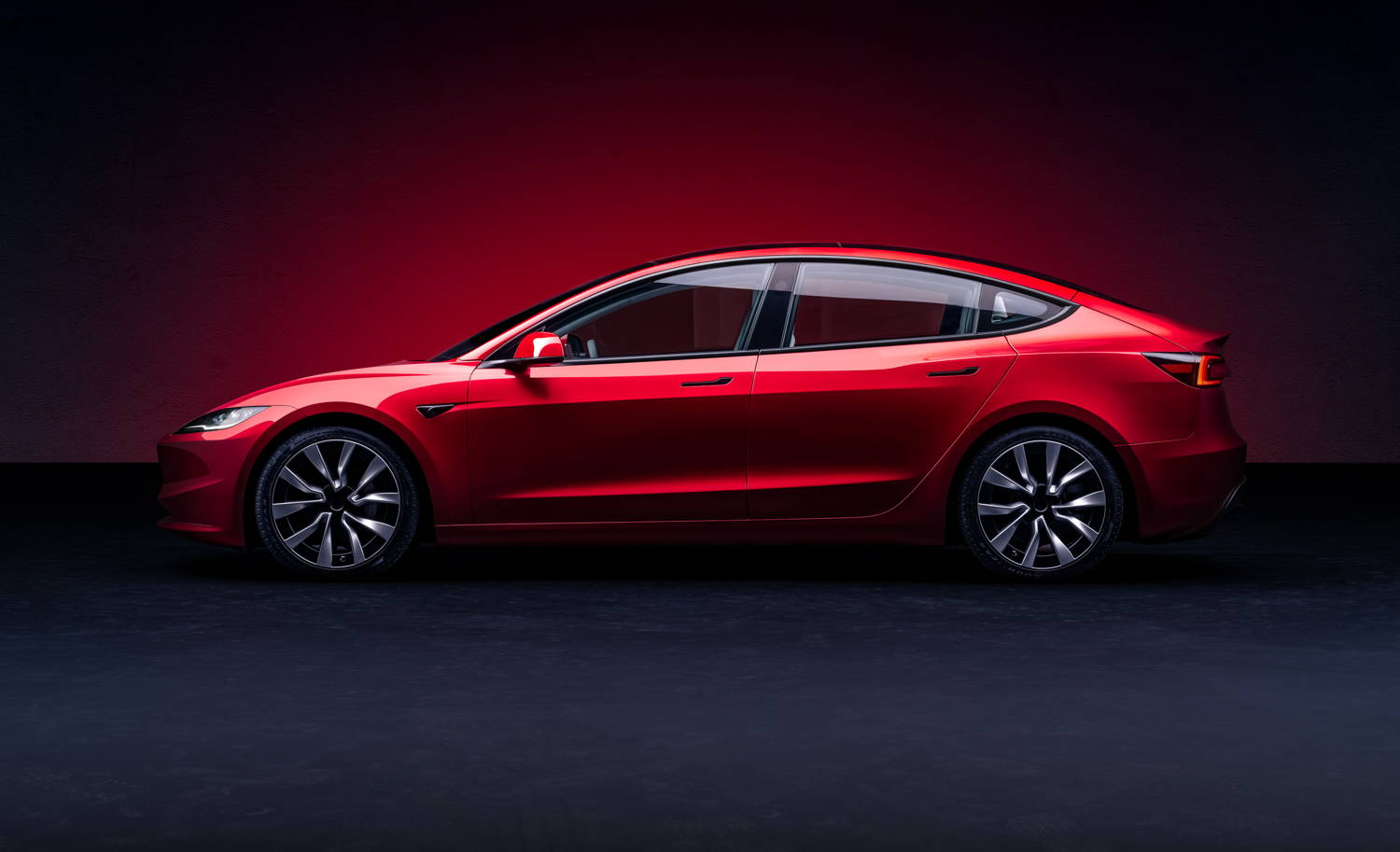 Explaining the subtle overhaul, Tesla said it did not want to depart "from what made Model 3 a global best-seller: delivering great range and efficiency with sports car performance and handling at an approachable price point".
The changes are also said to amount to a tangible improvement in rolling refinement and efficiency. With the front foglights removed for a sleeker front end, and a new air curtain installed at the trailing edge of the reshaped bonnet, the new Model 3 has a drag coefficient of 0.219, down from an already impressive Cd of 0.23.
The result, Tesla claims, is a boost in range of between 5% and 8%, depending on specification. The rear-wheel-drive standard car now has an official range of up to 513km, while the Long Range car boosts that to an official 629km.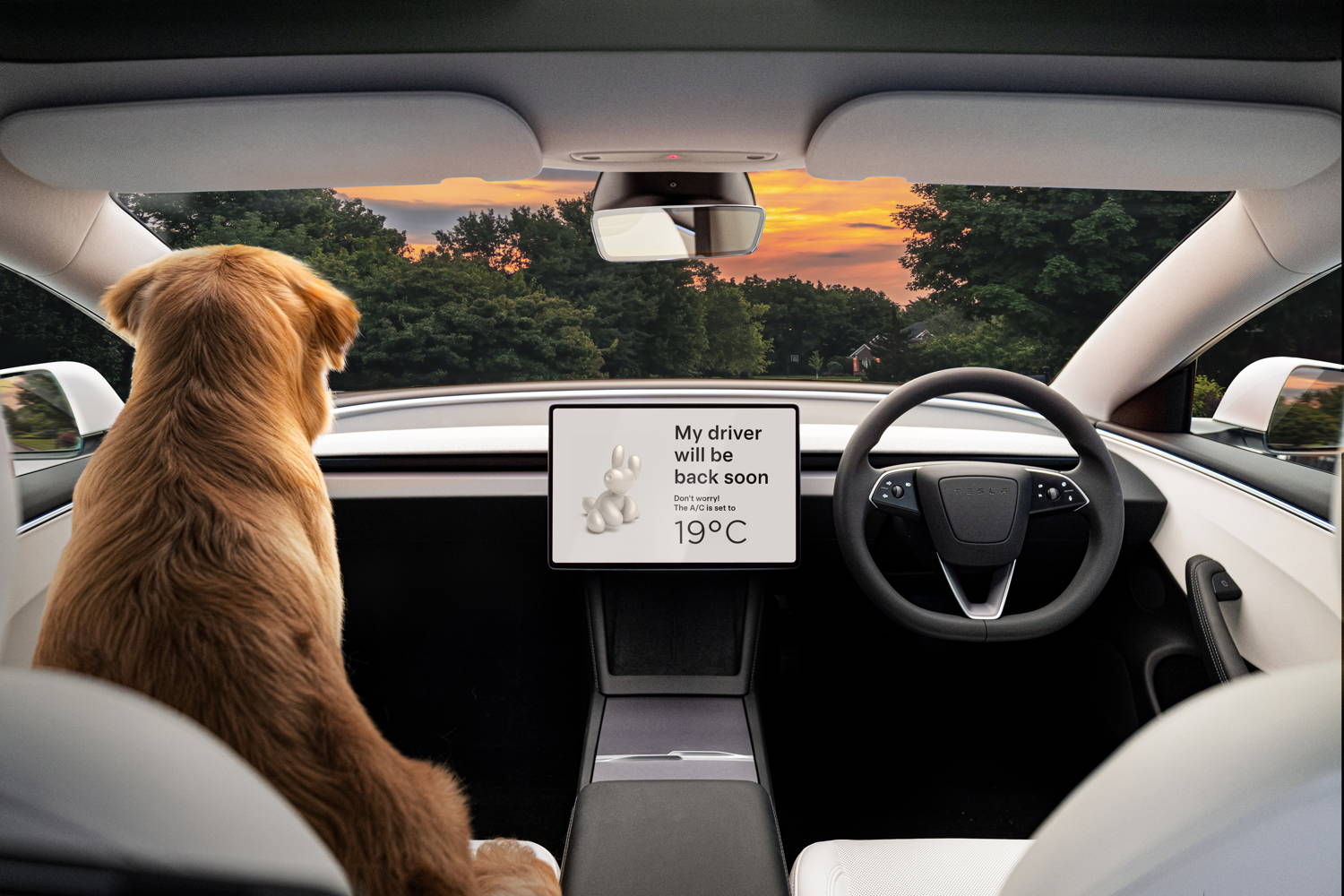 Charging speeds are unchanged: the standard car tops out at 170kW and the Long Range version boosts that to 250kW.
As for straight-line speed, the brand quotes a 0-100km/h time of 6.1sec for the entry-level car, and 4.4sec for the Long Range, both of which use the same powertrains as the pre-facelifted car. Both top out at 201km/h.
The brand has yet to confirm figures for the all-wheel-drive Model 3 Performance, but based on the current car's range, it should manage around 580km per charge.
Other functional visual tweaks include the introduction of aero-optimised wheel designs, said to be 5% slipperier, and 'improved' tyre sidewalls for the 18-inch or 19-inch wheels, which enhance cushioning while reducing road noise – the latter assisted by the introduction of double-glazed windows all around and new suspension and seal rubbers.
Tesla also highlights that the front and rear doors have been structurally reinforced to withstand heavier impacts – a move made in line with stricter crash regulations that dictate all cars must be able to withstand a collision with an SUV, given their increasing popularity. A by-product, according to Tesla representatives, is that they have a better-sounding 'clunk' when closing, helping to boost the car's perceived quality.
The Model 3's cabin has been refreshed, too, ushering in an even more minimalist look. The brighter, more responsive, 15.4-inch touchscreen has a slimmer surround and the steering column has lost its stalks. Indicators are now operated by buttons on the new-look steering wheel and the drive selector has become a touchscreen icon.
Tesla also highlights an improvement in cabin quality, thanks to the use of real aluminium for the redesigned centre console, upmarket textiles and "elevated levels of execution". There are now two wireless phone chargers and three USB-C charging ports, plus an 8.0in rear display with climate control and infotainment functions built in.
The refreshed Model 3 is available to order in Austrlaia now and deliveries are set to commence from January 2024. Pricing has increased, with the Model 3 RWD entry-level starting at $61,900 before on-road costs and the Dual Motor AWD Long Range now starting at $71,900.
It is expected that that closely related Tesla Model Y will follow suit with a similar package of upgrades, but Tesla has given no indication of when this will be.