The updated Tesla Model 3 is pretty much an all-new car.
Tesla doesn't really do facelifts. But apparently a leopard can change its spots. The hotly-anticipated, updated Model 3 was revealed just before the Munich Motor Show in September, and now here we are driving arguably the most important car of the year.
Let's quickly run through the changes. Externally, the most notable difference is at the front, where the slightly blobby headlights have been slimmed down for a much sharper appearance. The rear has been tweaked, too, with new C-shaped light clusters that are integrated into the tailgate "to improve fit."
It's quite telling that Tesla puts a line like that in its marketing literature. Early models were criticised for their sub-standard finish in places, but this new one can mix it with the class leaders. It maybe doesn't feel quite as solid inside as a BMW i4, but the defined uplift in quality compliments the super-slick 15.4-inch touchscreen, which controls everything from the infotainment and mapping, to the lights and wipers. You even use it to put the car into drive.
Back-seat passengers get a small screen as well, which not only grants access to the rear climate controls, but allows them to connect Bluetooth headphones and watch YouTube or listen to their own music on the move. Space in the back is pretty generous too, with enough room for six-foot adults to get comfortable – gazing at the sky through the standard-fit glass roof.
The seats are also new. They're now heated all round, and ventilated up front as standard. They feel plush and comfortable, though we'd need to test them over longer distances to see how they compare with the best in the business. Our car had the optional white interior, and while it was spotless for our drive, we'd think twice about specifying it if you have young kids.
As well as boasts about interior and exterior quality, Tesla claims the Model 3 is now "whisper quiet" – stating a 30 per cent improvement in ambient noise isolation. This, the maker says, is thanks to 360-degree acoustic glass, improved suspension bushes, seals and myriad sound-dampening materials.
The difference is tangible. There's very little road noise, even on our car's larger 19-inch wheels (18s are standard) and you'll not notice significant wind noise around the A-pillars either – even at 110km/h. This, added to the Tesla's excellent Autopilot semi-autonomous drive functionality make it an excellent motorway car.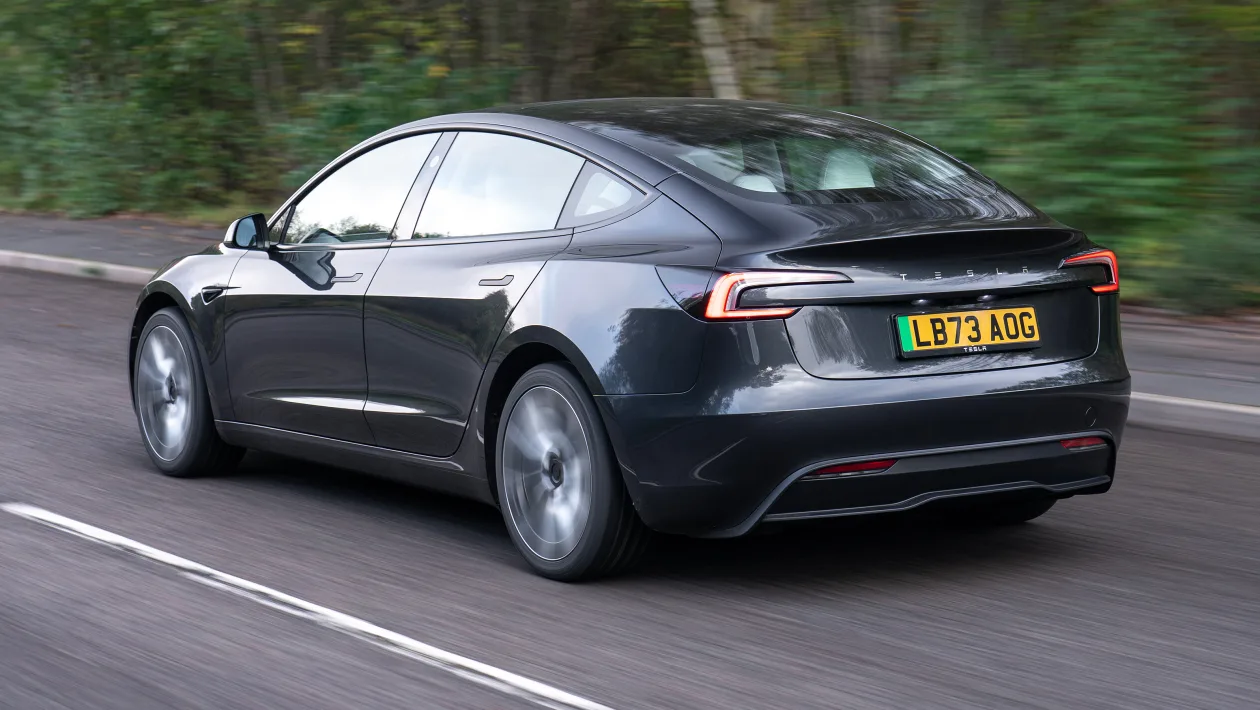 You'll still notice a faint pitter-patter on most roads – the damping clearly isn't as accomplished as an i4's, but it's significantly more pliant than a Polestar 2's. The Model 3 rarely crashes into bumps, and deals with camber changes well.
The driving experience overall remains quite inert, however. This is a fast car – even with the base battery and motor combination – but it isn't one you'll relish driving on your favourite road. We drove almost exclusively with the steering in its Sport setting, but apart from adding a bit of heft, there's very little feedback whatsoever. It's still an easy car to trust though, with plenty of grip even without the added reassurance of a second motor on the front axle.
There's still loads of tech to get your head around, but those coming from a pre-facelift Model 3 will feel mostly at home. The screen looks and feels absolutely first rate – responsive and filled with functionality. Like before, there's no instrument cluster, but it's surprising how quickly you get used to looking slightly left to see your speed. What's less intuitive is how the indicators have been placed on the steering wheel. The stalks have been removed completely.
At first, this doesn't seem like too much of a challenge. Leaving a car park or approaching a junction with the steering wheel dead ahead, the buttons are exactly where you want them to be. They self-cancel once you've made a turn, and even know when you've changed lanes. But try to find those switches on the exit of a roundabout – with half a turn of lock or more – and you'll have no choice but to give up.
For now there are just two Model 3s to choose from, with no confirmation whether a flagship Performance variant will return in time.
Our Tesla has a quoted range of up to 554km, while the Long Range can do up to 678km on a charge – both those figures tallying with the smaller of the two wheel options. Entry-level Model 3s can charge at up to 170kW, meaning a 10-80 per cent charge at a Supercharger will take around 27 minutes. Long Range cars boost this to 250kW, but the bigger battery means a slightly lengthier charge time.
The standard kit list casts further shade on this car's rivals. Every Model 3 gets those razor-sharp screens front and rear, vegan leather alternative and a glass roof, plus ambient lighting and wireless phone charging.
No half-measures, most manufacturers would label this an all-new car. Improved in several key areas, the Model 3 immediately elevates itself back to the top of the class with dramatically improved quality, even more tech, and a more desirable look.