The new C-HR is refined, well-equipped, and good to drive, but it all comes at a cost.
Toyota's popular C-HR crossover has been totally revamped for 2023, coming with a selection of considerable improvements on the previous model. Coming to Australia with a range of hybrid powertrains, the new C-HR lines up in a competitive segment with plenty of firepower to back it up. Here we give the modes its first drive on the road in Europe.
In Australia, the C-HR range will launch in three permanent grades. The GXL and Koba are powered by a 1.8-litre four-cylinder petrol engine producing 103kW of power to the front wheels.
The GR Sport gets a more powerful 2.0-litre four-cylinder petrol engine with two electric motors for all-wheel drive, producing 145kW of power.

The equivalent of the Koba trim we're driving here comes with a fairly serious $49,990 price tag. Still, for the cash you get an impressive spread of standard equipment, with two 12.3-inch displays, a set of 19-inch wheels and all-round parking sensors with a high-resolution rear camera. There's also an automatic tailgate, LED headlights, heated seats and dual-zone climate control.
In this day and age, it's no surprise the active safety kit list is also pretty extensive. You get standard front and rear-collision alert, adaptive cruise control, lane-keep assist and traffic sign recognition. But the first black mark for the C-HR is that it feels like many of these systems are poorly calibrated and often feel intrusive, even in everyday driving.
Indeed, the traffic sign recognition is particularly irksome, as it elicits a soft but persistent bong every time you stray slightly over the posted speed limit, or even when the limit changes. You can disable the system, but the process is slow and clumsy – just like its activation.
Ignore the initial irritations, though, and you're left with a very sophisticated new interior. Gone are the days of Toyota's frill-free cabin design; in its place is a complex aesthetic with lots of funky details backed up with excellent build quality and materials. Visibility is also excellent out the front, and despite the falling roofline, it's also good directly to the rear on account of the surprisingly deep rear screen. What's not so great is the over-the-shoulder lines of sight, due to the tiny rear windows.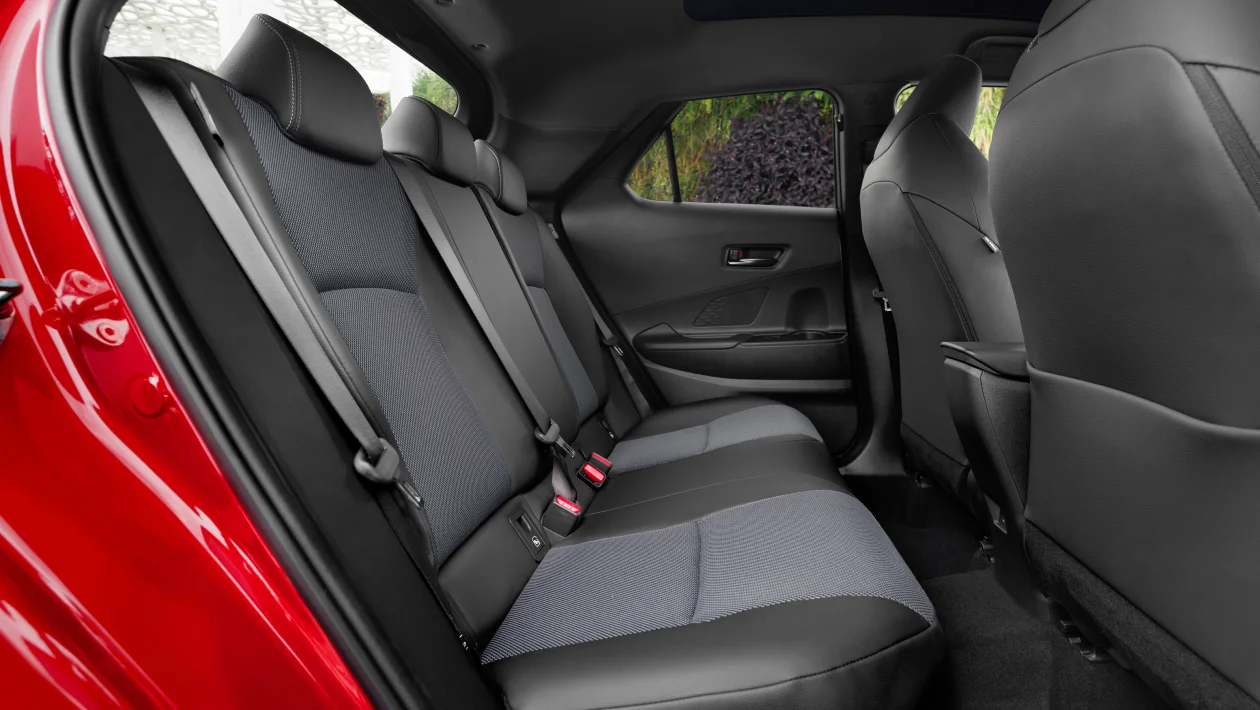 While space up front is very good, the second row isn't quite as impressive. Once you fold yourself through the small door aperture, head and legroom is only average for the class, feeling tighter at times thanks to those small windows, dark headlining and solid front seatbacks. All in, it creates a slightly claustrophobic feeling, even if it's not quite as cramped back there as it seems.
It's the driving experience where the C-HR scores highly, though. The ride quality is particularly impressive, with a flowing gate to body motions without feeling overly soft. The wheels are also well controlled, and together with the car's more rigid body, helps the C-HR's overall refinement and composure. However, time in higher grades with their larger wheels shows the ride deteriorates with every inch gained – up to 20-inches on the GR Sport.
The fifth-generation hybrid system in this case pairs a 1.8-litre four-cylinder with a small integrated electric motor and battery pack. Just like you'll find in many of Toyota's recent models, the car relies on the petrol engine less than you'd expect given the tiny supporting battery, and equates to good low-speed performance, refinement and efficiency. Taking 10.2 seconds to hit 100km/h, it's no firecracker, but the flipside is a very achievable 4.7l/100km claim on the combined cycle, with a relatively low 105g/km CO2 rating helping things along the way.
There is a caveat when pushing on, though, as the hybrid system's reliance on the CVT means in order to find any performance, the engine will weil and rev. As one of the few hybrid powertrains still using an unstepped CVT, it makes driving at a faster pace feel somewhat out of the C-HR's comfort zone. It's best to keep things calmer and resist the temptation to dip into the car's outright performance.
Which is a shame, because there's nothing inherently wrong about the way the C-HR goes around a corner. It feels relatively light-footed and composed, and while the steering is a touch light, it is precise without feeling nervous. In reality, the C-HR drives better than it needs to, but if you're looking for easy and relaxing get up and go, the smaller of the two hybrids has its limitations.
The latest C-HR appeals to a series of values that are increasingly common in new-era Toyotas. It drives well, is very refined, comes full of kit and is extremely efficient. But it's also quite expensive and not as practical as you might expect. However, this is a car its maker thinks you'll want rather than need, so if the eccentric design floats your boat there's definitely lots to like.