It's the off-road Atom that thinks it's an asphalt rally car – and it needs to come to Australia.
In the 1990s, there was a highly strung 125cc two-stroke sports bike called the Cagiva Mito. "It's got seven gears," said a review at the time, "but they all do the same thing."
I'm reminded of this by the new Ariel Nomad R. It has a sequential six-speed rally-spec gearbox whose ratios are so close that you could happily be in sixth gear at 40km/h or first gear at 80km/h. It doesn't really matter which when you put your foot down.
To recap: the Nomad was introduced in 2015 as the Atom's 'mucky brother'. "You drive down a road," said Ariel, explaining where it was pitching the two cars, "and turn left onto a race track in an Atom, or turn right into a field in a Nomad." A supercharged Nomad variant arrived in 2016.
A proper Nomad v2.0 will arrive at some point but, in the interim, and I think just for the fun of it, there's the Nomad R, an expensive, limited-run special that is "as close as we can make it to a Tarmac rally car", says Ariel's Nomad development manager, Henry Siebert-Saunders.
There will be just five Nomad Rs – two are still unspoken for – powered by a supercharged version of the old 2.0-litre Honda Civic Type R engine, rather than by the Nomad's usual 2.4 Honda unit, or the new 2.0 turbo from the Atom 4 (and surely destined for Nomad Mk2).
Mounted transversely behind the occupants, the supercharged engine makes 250kW at 7600rpm and 330Nm at 5500rpm and drives through a Sadev six-speed 'box, a bit like in the old Atom 3.5R and Atom V8, but in beefier specification here. It's rear-wheel drive with a limited-slip differential. The gearbox has straight-cut gears, dog rings, there's an auto blip on downshifts and, once you're rolling, pneumatic shifts mean you can largely forget the clutch.
Some of the Nomad's wet credentials have been sacrificed: the gearchange air compressor and other gubbins are in the central tunnel, so you probably shouldn't wade beyond wheel-centre depth. Not that you'd really want to go too deep in a regular Nomad but, if you had to, you could carry on until the engine, or you, stopped breathing.
There are two damper options – our test car rode on optional adjustable Ohlins ones – and wheels are 18-inch alloys with Yokohama A052 high-performance road tyres. All quite racy. So, yes, think of the Nomad R as Tarmac rally car, or maybe a supermoto motorbike. And quite expensive, at £77,400. That's roughly $140,000 Australian dollars. (I know, but it's usually someone's fifth car, and they don't depreciate much.) A curious thing, then, but it is Siebert-Saunders' favourite Ariel, on account of it being "the most pointless one".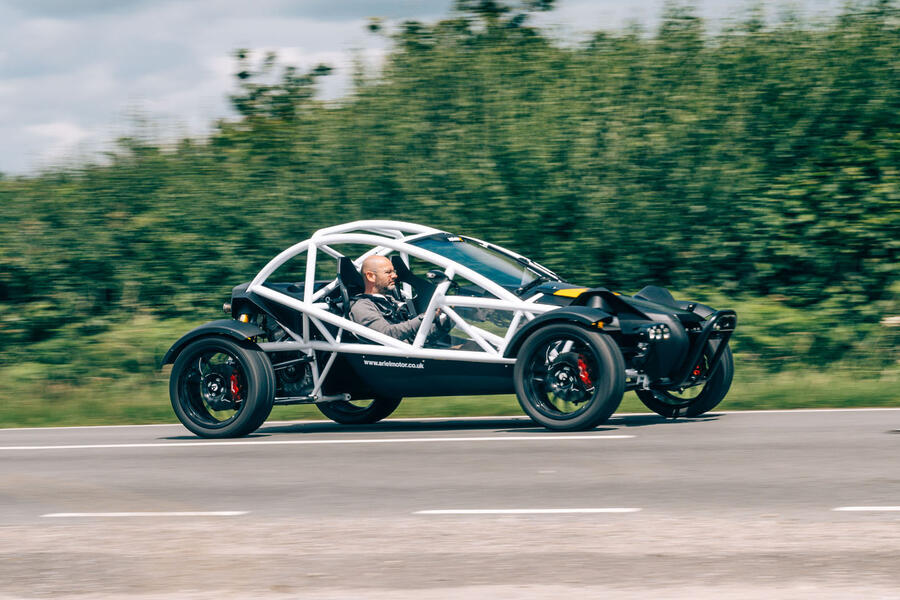 To get in, you must decide whether to slither through a gap in the side of the spidery cage or, as I find it easier, climb onto the roof and inelegantly drop in, like Wallace in The Wrong Trousers. The steering wheel is removable but the single carbonfibre flappy paddle – pull for upshifts, push for down – is not. Moving the seats requires a hex key but a relaxed driving position's easy to come by and the Nomad R, exposed componentry and construction everywhere, looks fabulously put together.
After you've wafted an immobiliser chip in roughly the right place and thumbed a button, the Honda engine fires to a fizz behind you. Pulling the gearshift selects first with a pneumatic hiss straight from a fairground shooting gallery. And then, once rolling, the straight-cut gears are deafening. I don't know if this is the most pointless Ariel, but it's definitely the noisiest one.
On the open road, Ariel's latest Atom 4 – heavily turbocharged as it now is, and lighter than the Nomad – feels apocalyptically fast, but there's so much going on in the Nomad R that its performance feels every bit as brutal. Apparently, it can do 0-100km/h in 2.9sec, so I suppose it is. Gearshifts come so fast, and so loudly, and the whine behind you is so vocally like a race or rally car's that it's almost overwhelming.
There's a windscreen, then, but it's still sensible to wear earplugs and a crash helmet. With noise and buffeting and exposure and downright distraction reduced, it's easier to concentrate on the Nomad R's dynamic qualities. It's a less furious but much nicer way to enjoy it.
The steering – 1.7 turns between locks – is immediate, heavy, but never kicks back irksomely. The ride is beautifully damped, but body control tight, with a small amount of lean, and perfectly sharp, linear throttle and brake response. This is a great driver's car. Pointless? Sort of. But not right now, not from where I'm sitting.
And the single gearlever is a surprise joy – rather than finger clicking two different paddles. Lightly pulling or knocking the same lever back and forth is more involving, a bit like working up and down a motorbike's gearbox. Which is fitting.
Wearing motorcycling ear and head protection is pretty much the only gear that makes a difference, after all.
Ariel Nomad R spec and price

Price £77,400 (approx. AUD$140,000) On sale March 2021 Engine 4 cyls, 1998cc, supercharged, petrol Power 340kW at 7600rpm Torque 330Nm at 5500rpm Gearbox 6-speed sequential manual Kerb weight 670kg Top speed 195km/h (220km/h gearing-dependent) 0-100km/h 2.9sec Fuel economy no WLTP data available CO2 no WLTP data available
Matt Prior