Chinese electric car start-up extends line-up with new SUV-coupe tweaked by Prodrive.
Aiways has confirmed it will begin sales of its new U6 in selected European markets in December at a price tipped to start at around €39,000 (AUD$60,000), ahead of planned deliveries of left-hand-drive models during the first half of 2023. It is planned to later go into right-hand drive production toward the end of 2023.
Initially previewed in concept form at the Chengdu motor show in 2020, the U6 is a front-wheel drive Volkswagen ID 5-size SUV with coupe-like exterior styling and a roomy five-seat interior.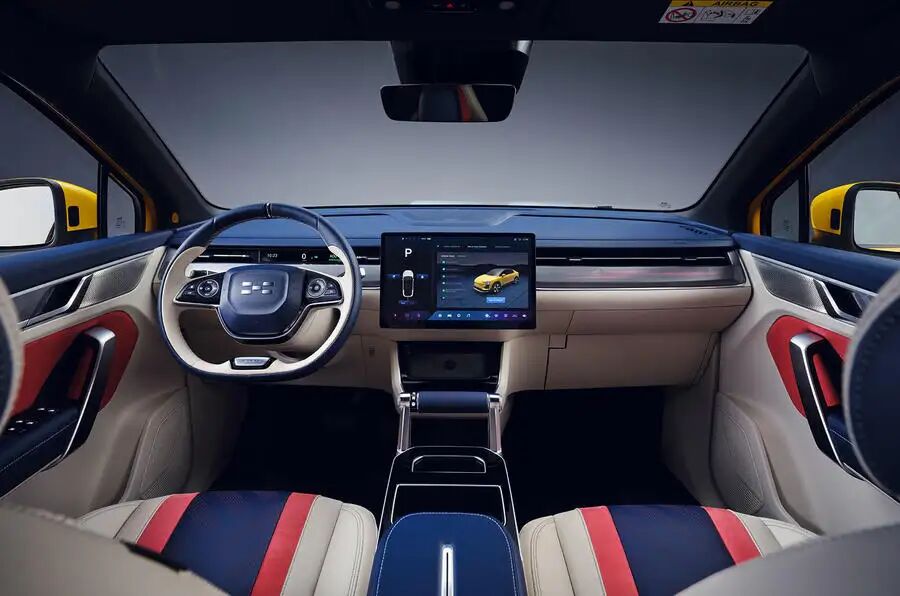 It's the second model to be produced by Aiways, which was founded by Samuel Qiang – a former sales boss of Volvo Cars China – and Gary Gu in Shanghai in 2017.
Aiways' first model, the more upright Volkswagen ID 4-rivalling U5, is currently sold in 15 markets outside of China.
The U5 and U6 are based on Aiways' proprietary More Adaptable Structure (MAS). The skateboard-style structure supports a standard 63.0kWh lithium ion battery that uses cells supplied by Chinese battery specialist CATL.
The styling of the U6 is little changed from the earlier concept, with only minor alterations to the exterior and interior made for production, which takes place alongside the U5 at Aiways' factory in Shangrao, China.
Among those who contributed to the new model's design is Ken Okuyama, former creative director at Pininfarina, who is credited with the Ferrari Enzo among other supercars.
Befitting its positioning, the proportions and stance of the U6 are more sporting than those of the U5. Key elements include a blunt front end and a large angled liftback-style tailgate with a small lip spoiler. Aiways claims a drag coefficient of 0.26Cd, equaling that of the ID 5.
Power comes from a 160kW, 315Nm electric motor, which pushes the 1790kg U6 from 0-100km/h in a claimed 6.9sec and all the way to a limited 160km/h.
It boasts an official range of 400km on the WLTP test cycle, as well as charging rates of 11kW (AC) and 90kW (DC) – the latter allowing a 20-80 per cent top-up of energy reserves in 35 minutes under optimal charging conditions.
The U6's suspension uses MacPherson struts up front and a multi-link set-up at the rear in combination with adaptive dampers.
It has been tuned by British automotive engineering specialist Prodrive, which was commissioned by Aiways to add polish to the new SUV-coupé's dynamic properties.
Inside, the U6 receives its own uniquely styled dashboard and what Aiways dubs its AI cockpit, with a thin 8.2-inch instrument display ahead of the driver and a larger 14.6-inch infotainment display – the latter featuring an Android OS 9.0 operating system with support for Apple CarPlay and Android Auto.
There's also a multi-function steering wheel and a phone-charging pad within a pod that protrudes out of the centre of the dashboard.
A novel twist-grip gear selector, inspired by those used on motorboats, is set within the front section of the centre console.
Other features include ambient lighting that can be made to pulsate to the tune of music, an 11-speaker Magnat sound system, aluminium trim elements, heat-pump-based ventilation and 5G-enabled over-the-air software update compatibility.
The U6 comes with 11 standard driver assistant systems, including a Level 2 autonomous driving function. Sensors and software for these systems were developed in partnership between German automotive supplier Continental and Israel-based Mobileye.
Initial European sales of the U6 will centre solely on the 160kW single-motor, front-wheel-drive model. Further variants are rumoured to be in the pipeline, including a dual-motor version featuring four-wheel drive and up to 300kW. However, launch plans for a more powerful model are still up in the air.
Meanwhile, Aiways' European boss, Alexander Klose, has reaffirmed plans for UK sales of the U5, which opens the door for a local launch in Australia.
"We're holding firm on our plans for right-hand drive," he said. "We're looking to launch in the UK by the end of 2023."
Automotive Daily