Hot Alfa Romeo gets a welcome cabin refresh but the driving experience remains the main attraction
What is it?
Four years have passed since a revitalised Alfa Romeo first released its fantastic Giulia Quadrifoglio on the motoring masses. How excited we were: here was Alfa's first rear-wheel-drive model in a quarter of a century. Not only did it turn out to be a bona fide driver's car, but it was also quite simply the best car Alfa Romeo had launched in a generation.
Despite all of this, things weren't exactly rosy in Turin over the following years. Sales struggled in Europe and the US; the Stelvio SUV with which it shared its newly developed Giorgio platform didn't perform as well as expected; and Alfa's plans to field seven models by 2023 were significantly pared back. Considering the billions of dollars parent company Fiat Chrysler Automobiles had poured into the brand under charismatic former CEO Sergio Marchionne, that must have been concerning. Perhaps the forthcoming PSA Group merger will turn things around for the better.
In the meantime, however, Alfa has treated the Giulia Quadrifoglio to a minor mid-life refresh. So there's a new touchscreen infotainment system, and a full suite of advanced driver assistance systems has been introduced, too. The material quality of the cabin has also been lifted ever so slightly. An Akrapovic exhaust and exposed carbon roof are now both available as options – although our test car had neither.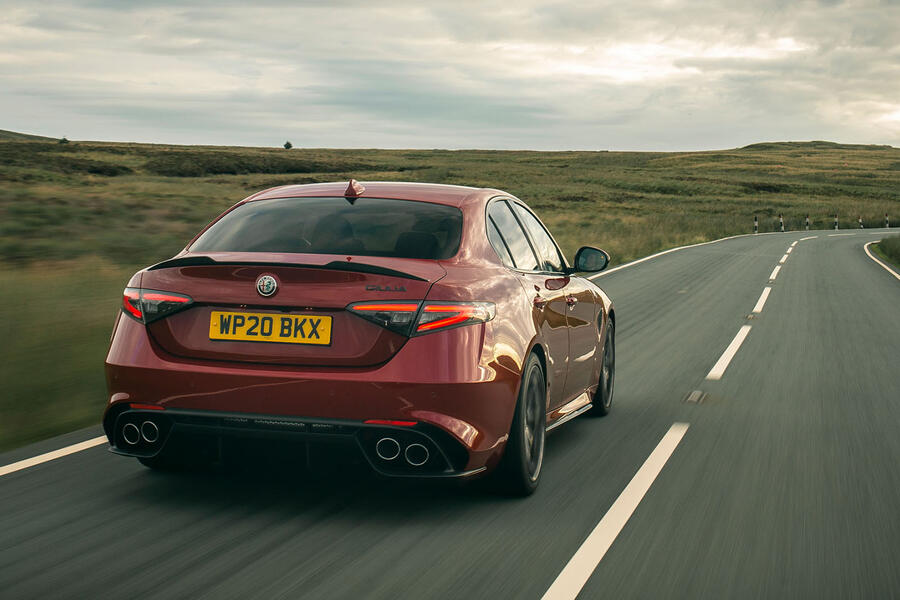 Not that it mattered, as the Giulia Quadrifoglio remains as magnificent as ever. Its performance is ferocious, but not so outrageous that it feels like overkill on the public highway. With 3000rpm or so on the clock, turbo lag is all but non-existent, and an extended stomp on the throttle will keep acceleration impressively constant effectively all the way round to the rev limiter. Provided you've selected manual mode – as you should – you'll then be invited to grab one of the beautifully milled, cold-to-the-touch metal shift paddles to slot the next gear home. This will almost immediately be followed by a whip crack from the exhaust, and a suitably forceful kick as the Alfa's eight-speed gearbox slots the next ratio home.
With the DNA drive mode selector set to 'D' for Dynamic, the Ferrari-dervided V6 sounds pretty good, too, with a rich mechanical growl that's highly suggestive of its abundant performance intent. And although that growl morphs into more of a bellow than a truly memorable operatic climax as the revs climb, it's unlikely you'll feel short-changed for aural drama. Nevertheless, the optional Akrapovic exhaust would probably still be an absolutely worthwhile investment.
Throttle response is noticeably sharpened in D, too. That's great when the road ahead is clear and you're pushing it, but around town, it's perhaps a shade too aggressive and urgent. That said, in Normal mode, that pointed response is blunted to a far more civilised level, and the gearbox remains nicely mannered, too.
But really, it's the chassis that remains the Giulia Quadrifoglio's standout asset. With its dampers softened off (you can do this at the press of a button, even in Dynamic), the balance it strikes between ride comfort and body control is about as spot on as you can get in a 375kW-plus sports sedan. Yes, it might trip over larger ruts and bumps pretty forcefully, but that aggression comes with the territory.
The handling, meanwhile, is sublime. Our prescribed test route didn't provide much scope to really probe the limits of its handling, but even at sensible speeds, this car feels alive in your hands. Its steering rack is exceptionally quick, with just over two full turns between locks, but it doesn't feel nervous or overly twitchy. It just turns in with huge amounts of energy and precision, and with what feels like abundant grip, too.
The tweaks to the interior are minor but combine to create a more convincing effect than they did before. Aside from the new touchscreen (which is still fairly unresponsive and lacks the graphical sophistication you find in the Alfa's German rivals), it's the centre console that's changed the most. Previously, the area surrounding the gearlever and rotary dials was finished in a pretty ugly section of hard matt-effect plastic. That's been done away with and these controls are now more cleanly integrated into the carbonfibre covering that sits on top of the transmission tunnel. It's a subtle change, but one that was needed nonetheless.
Even with its lightly revamped interior, the Alfa still doesn't quite live up to the likes of the Mercedes-AMG C63 S in terms of premium appeal. For some, its V6 soundtrack might pale in comparison to the C63's raucous V8, too.
But as a driving tool, the Alfa Romeo remains an exceptional device. With prices in Australia set to be announced closer to its official launch here and with the current edition costing $145,900 we estimate a starting price of circa $150,000, making it the best part of $15,000 cheaper than the Mercedes-AMG C63 as well. Sure, there have been tales of classic Alfa unreliability, but even so, it's hard to believe that the Giulia Quadrifoglio isn't deserving of a far greater level of sales success than it currently achieves.
Simon Davis
Alfa Romeo Giulia Quadrifoglio
Price circ $150,000 (est) Engine V6, 2891cc, twin-turbocharged, petrol Power 375kW at 6500rpm Torque 600Nm at 2500rpm Gearbox 8-spd automatic Kerb weight 1580kg 0-100km/h 3.9sec Top speed 307km/h Economy 9.43km p/L CO2 236g/km Rivals Mercedes-AMG C63 S & BMW M3