Alfa Romeo and Zagato work together to produce a one-off two-door Giulia inspired by iconic SZ.
Italian coachbuilder Zagato has revealed the Alfa Romeo Giulia SWB Zagato, a hand-built one-off special that celebrates 100 years of collaboration between the two iconic Italian brands. As the name suggests, the Giulia SWB is based on the existing rear-wheel drive Giulia sedan, but features bespoke bodywork and a blend of the mechanicals from the Giulia GTA and Quadrifoglio.
Alfa Romeo's twin-turbocharged 2.9-litre V6 engine remains, but unlike Australian Giulia QVs that are only fitted with an eight-speed automatic, Zagato has instead installed Alfa's six-speed manual; Alfa initially offered a manual transmission alongside the auto when the Quadrifoglio was launched in 2016, but only a handful of left-hand drive examples were bought. For this one-off the V6 is tuned to GTAm specification, resulting in 397kW and 574Nm. Lighter con-rods, new cooling jets for the pistons, a new oil cooler and lighter internals for the turbochargers all play a part in the increased performance.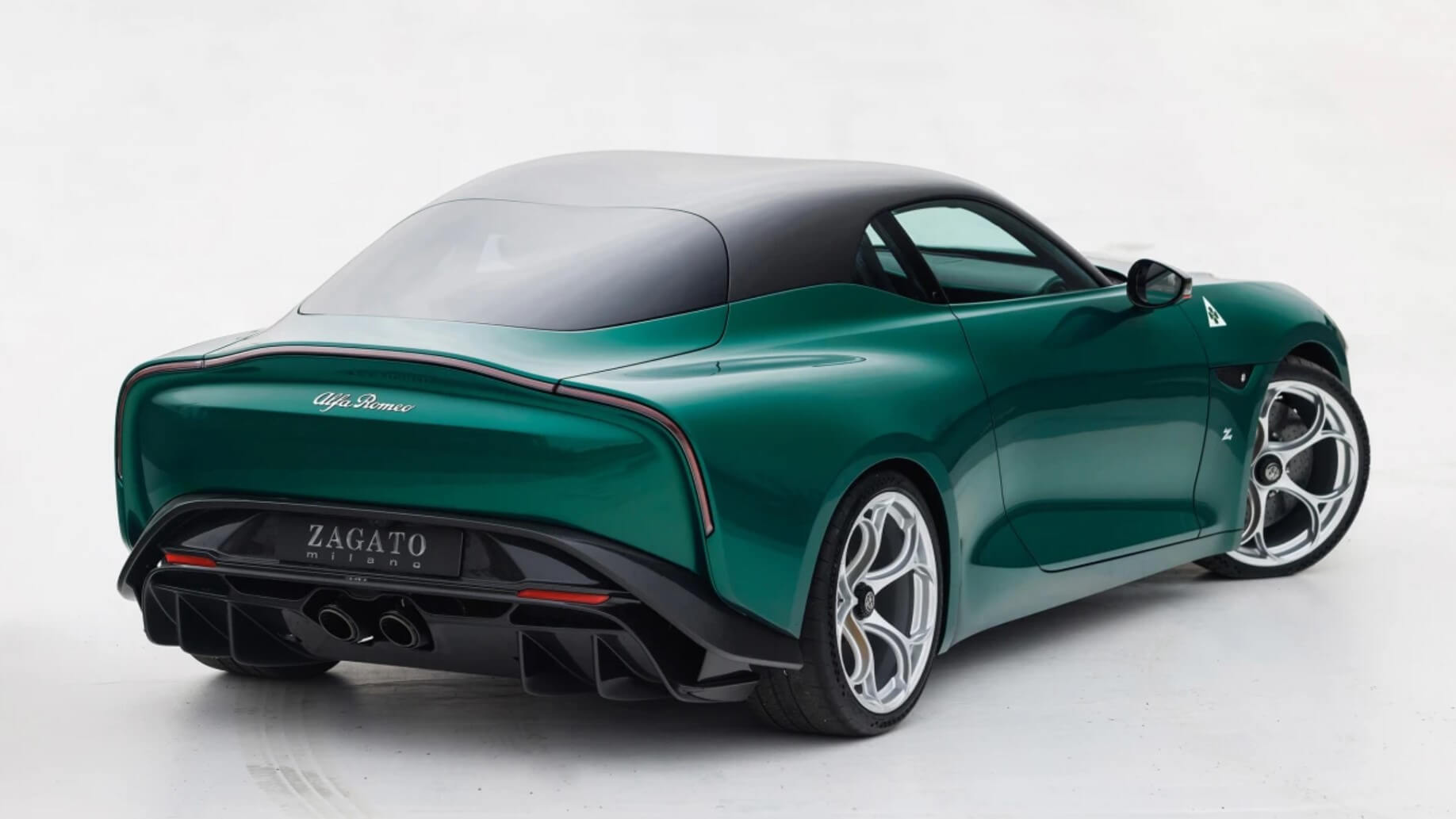 Zagato's involvement has more to do with the dramatic change to the car's striking exterior design. Dominated by a one-piece forward-opening clamshell bonnet it features three main openings, with a typical Alfa Romeo triangular centre grille flanked by large intakes that incorporate new headlights. These are borrowed from the Tonale SUV, and feature a triple lighting signature that references Zagato's iconic Alfa Romeo SZ.
The black a-pillars and roof are another nod to the SZ, separating the cockpit from the main bodywork. The rear end dramatically widens with aggressive haunches that finish in an upright, Kamm-style tail framed by a thin LED light strip. Zagato's signature double-bubble roof profile extends into the rear glass. The rear diffuser, also in carbon, has two central exhaust outlets covered in carbon sleeves. The exhaust system itself is a similar titanium Akrapovic system as fitted to the GTAm.
The body itself is made of carbonfibre, sitting over the Giulia's mixed metal chassis only with that shorter wheelbase. Zagato hasn't gone into specifics about how much length's been taken out, but it creates a very different silhouette compared to the four-door model. The doors themselves also now feature frameless glass, and are also made of carbonfibre.
The GTAm's carbon ceramic brakes, forged centre-lock wheels and Michelin Cup 2 tyres are also fitted.
Internally the Giulia's dash and basic structure are carried across with only subtle design and trim updates.
No weight or performance figures have been confirmed, but thanks to the use of the smaller carbon body expect it to come in under the GTAm's 1580kg figure. As it stands, the GTAm is able to sprint to 100km/h in just 3.6sec.
Unfortunately the Giulia SWB Zagato is a definite one-off. Despite intense collaboration with Alfa Romeo in its design and engineering, the notion of a lighter, more agile two-door Giulia is something its one lucky German owner will get to experience. All hope's not lost for a future Alfa Romeo sports car, though, with the firm confirming that a new super sports model with both ICE and EV powertrains will be revealed in 2023.