Callum is proud of the car, of course; it was one of the earliest designs for which he drew practically every line. It led Aston's change to modern construction methods and it's a timeless shape that has matured beautifully over its 20-year life.
However, there were always things the designer simply didn't like: the old-tech lights, the lower lamps he inherited from the DB7 V12, the mirrors, the chromework, the "timid" wheels, the too-narrow tracks that didn't quite fill the arches, and the nose and tail designs that he felt needed "more teeth". Most of all, he was disappointed with the interior; the design theme was decent but the execution was less about craftsmanship than using existing facilities to get cars out of the door.
All of which is why Callum last year revealed, after he moved on from a distinguished 20-year career as the head of Jaguar design, that the first project for the new design business he promptly launched would be a batch of 25 revised Vanquishes. They would be produced at a new studio in Warwick and be backed by the Swiss R-Reforged group that makes a speciality of high-quality, bespoke products of all kinds – not just cars.
Now the building of Callum Vanquishes has begun. The details of the interior revisions, trim options and the definitive chassis and engine specifications have now all been decided by Callum and Adam Donfrancesco, the project's head of engineering. At the Warwick UK headquarters a couple of weeks ago, the pair of them offered us a socially distanced meeting, a car viewing and an exclusive drive.
"We've made a grand total of 350 changes," Callum says, "introducing a level of craftsmanship you simply can't get in normal production cars – even supercars. The idea is to chase even the smallest details. Only the panelwork remains the same. Our idea is to build a show car for every customer."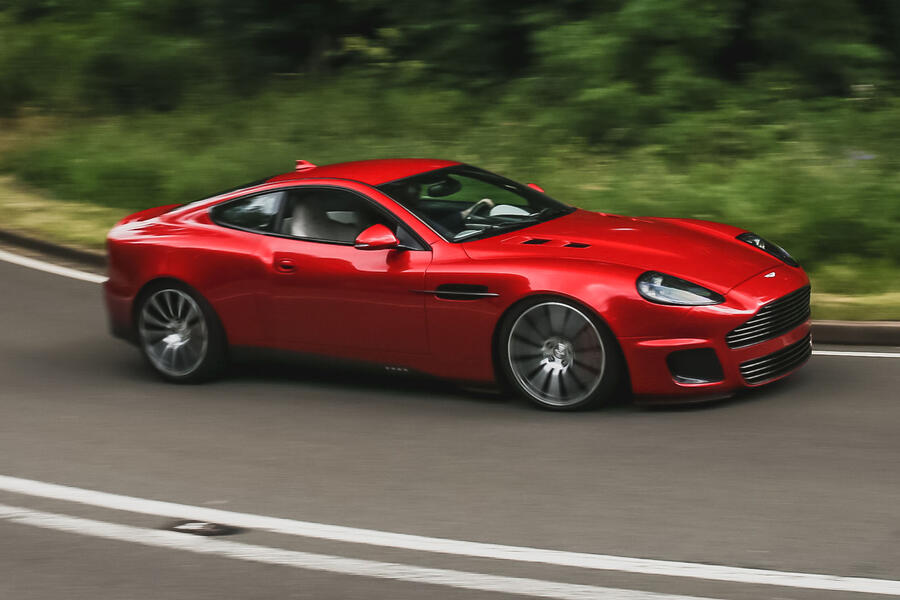 When you approach the 2020 Vanquish, its quality hits you immediately. The lustre of the paint, the richness of the black chrome window surrounds, the new stance on more prominent wheels… they all modernise it. "I'm 20 years older than when I did this first," says Callum, "and quite a lot has happened in the meantime. Life and fashion are different now. When the chance came to reconsider the car, I could see immediately what it needed."
The 5.9-litre Aston V12 engine gets light modifications (as well as a superb set of specially machined air intake stacks for beauty reasons) so that it now produces 432kW – an extra 45kW. Buyers can opt for a six-speed manual or conventional eight-speed automatic gearbox, or stick with the original car's six-speed automated manual. Despite the bad publicity, some prefer that.
Underneath, as a result of 30,000 + kilometres of extensive testing, the car's suspension has been rebushed and retuned with new springs, anti-roll bars and Bilstein dampers so that it rides 10mm lower and gets the best performance from Donfrancesco's preferred Michelin Pilot Sport tyres. Even the steering wheel is stripped and machined to give a rim shape that Callum feels is more appropriate, and to reduce the diameter slightly, before being retrimmed.
Such painstaking work isn't cheap: buyers will pay around £450,000 (AUD$730,000) if they bring their own car, preferably a Vanquish S. Alternatively, the team will find a suitable car on the market. The 25-strong batch is already half sold, even before most prospects have even seen a complete car, boding well for a successful completion.
We spent two hours in Callum's test car, a six-speed manual. The interior's architecture is easily recognisable, but every surface gets a quality boost and a large range of textures and colours is now available. The seats are completely redesigned and mounted lower – something the original car badly needed. One fascinating feature is the tasteful use of what's dubbed 'Callum abstract tartan' – a theme likely to be used in future creations. There's a removable Bremont pocket watch mounted on the dashboard, too, and a custom Mulberry luggage set for the boot.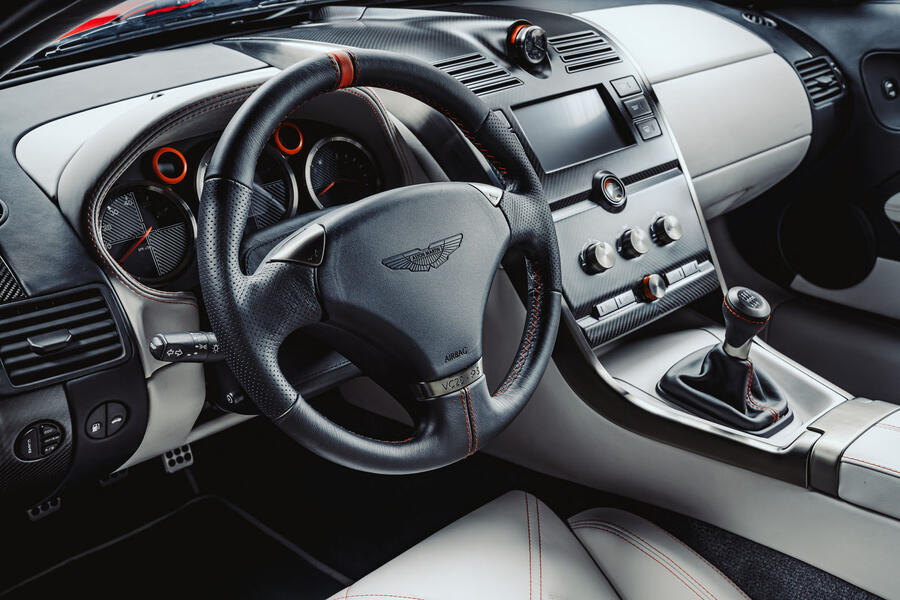 As soon as you start to drive, it's apparent the car has near-bottomless reserves of torque and power. Its V12 sounds quite different from that of the original Vanquish, courtesy of a re-engineered exhaust system that emits four distinct but harmonising sounds at once: treble and bass lines, a classic rustle from the valve gear and a faint, refined whine from the camshaft drive system. Also, a new exhaust box forms part of the large and effective underbody diffuser.
Callum and Donfrancesco say the idea is to enhance the grand touring capabilities and driving quality of the Vanquish, and that's most definitely what they've achieved. The engine isn't obtrusive until it's really pulling (which it can rarely do on a public road) and always sounds wonderful.
The car rides flat and firm and has much better turn-in and grip than before, thanks to its modern hardware. It stops beautifully, too, using Aston's latest-specification – and large – carbon-ceramic brakes.
However, two things really stand out for me from the dynamic package. One is the new excellence of the steering, whose impressive precision and deliberate effort levels are now far more appropriate and deliver a whole new level of sophistication. The upshot is a much more directionally stable car.
The other is the ride quality: flat, controlled and beautifully damped, accompanied by a refreshing lack of tyre noise, because so much work has been done to suppress the original obtrusive road roar. In all, the twin aims of enhancing driver reward and grand touring ability have both been impressively achieved.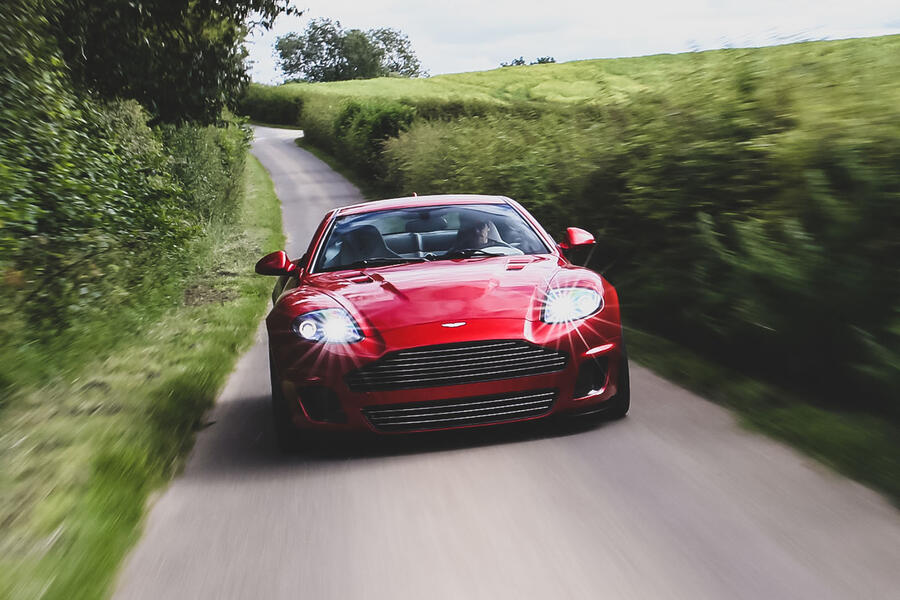 Callum and his friends are distinctly coy about what they might do next. After all, at their level of detail, this run of modified Vanquishes will take many months to complete. But it's apparent that there might be an even more special Vanquish on the stocks and that other projects, automotive and otherwise, are already in the frame. Callum was once merely a designer. Now he's a brand as well.
Steve Cropley
Aston Martin CALLUM Vanquish 25 by R-Reforged​ specification
Price AUD$730,000 not including donor car On sale now Engine V12, 5935cc, petrol Power 432kW Torque not specified Gearbox 6-spd manual Kerb weight 1835kg (estimated) Top speed 305km/h (estimated) 0-100km/h 4.5sec (estimated)