Final entrant into Sphere concept series could be an "Audi Allroad 2.0" and has a sub-5.0sec 0-100km/h time.
The Audi Activesphere has arrived as the final entrant into Sphere series of concept cars, following the Grandsphere luxury saloon, Skysphere convertible and Urbansphere MPV.
The 4×4 gives a concrete indication of Audi's plans for a radical new approach to car design, which will coincide with a push towards high-level autonomous capability and an exploration of new market segments.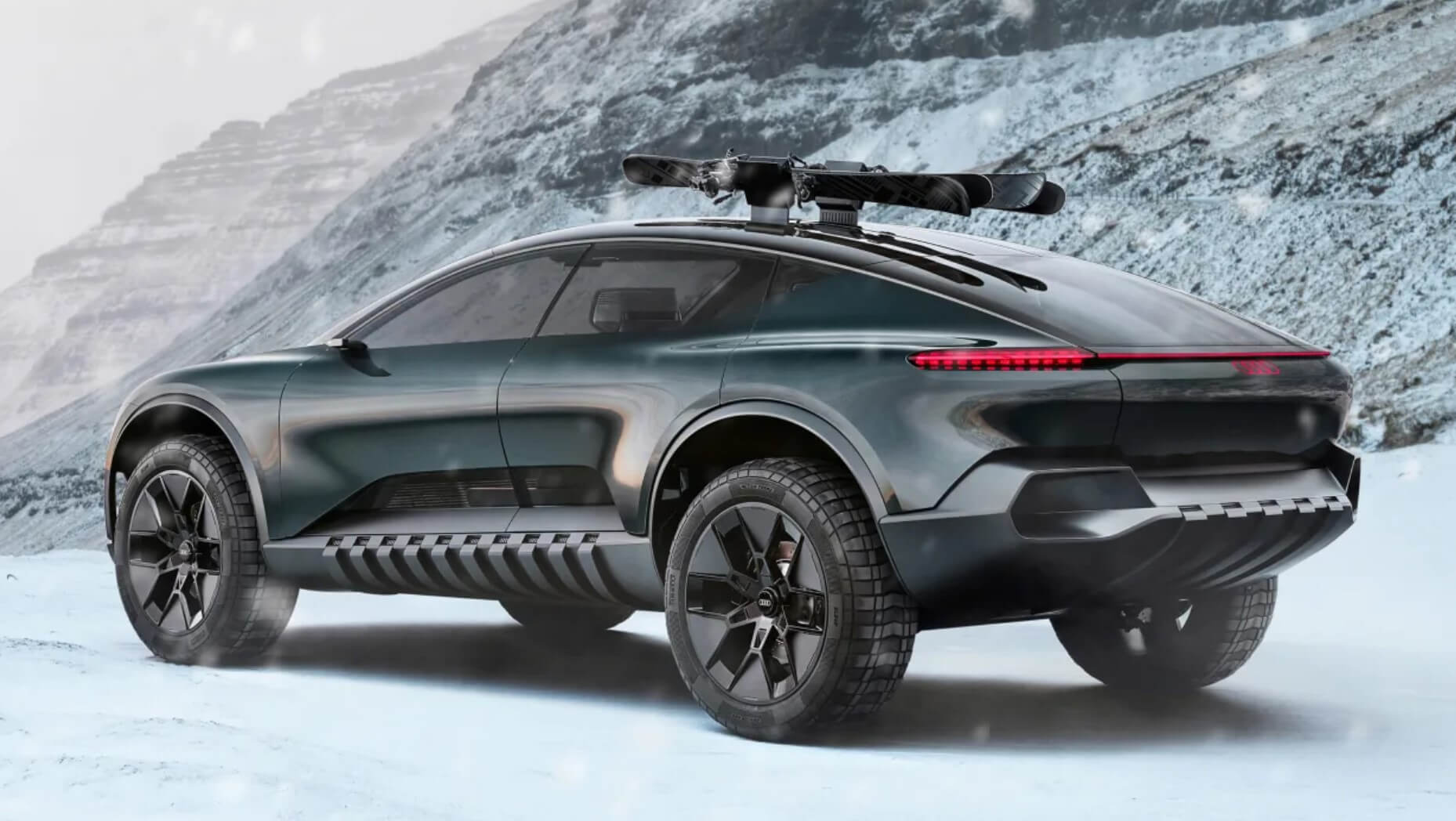 As the name suggests, it has been conceived with a focus on catering to 'active' lifestyles and so touts impressive levels of functionality and off-road ability among its claimed attributes.
Its relative readiness to evolve into a production car is evident, and Audi designers have confirmed that elements including the swollen rear haunches, reshaped Singleframe front grille and trick dynamic OLED lighting patterns are destined for the road.
Audi design boss Marc Lichte said the company's board of directors "fell in love" when presented with the concept – but also that a launch is unlikely before 2026, because the company's priority in the next three years is "the biggest product launch in history of Audi", with existing models including the Audi A3, Audi A4, Audi A6, Audi Q5 and Audi Q7 due to be replaced before any new model lines are introduced.
Lichte added that a production version of the Activesphere wouldn't necessarily replace any current car but hinted at the potential for it to inspire a 4×4-flavoured version of the electric replacements for the A6 saloon and rakish Audi A7 Sportback.
He said: "Today we have the Audi A6 – a low-floor vehicle – or the Audi A7, and there's an [A6] Allroad. So, for example, maybe this is the future: Audi Allroad 2.0."
As with the previous Sphere cars and the acclaimed A6 E-tron saloon and estate concepts, the Activesphere sits atop the new PPE platform being developed by Audi and Porsche for use by upcoming EVs from both marques, beginning in 2024 with the Q6 E-tron and Porsche Macan EV.
It's a static concept but is said to theoretically host a battery of around 100kWh in capacity, giving it a range of "well over" 600km, and capable of charging at rates of up to 270kW, courtesy of 800V electronics.
Two electric motors – one on each axle – combine to give the car 320kW and 720Nm of torque for a sub-5.0sec 0-100km/h time. This means that (on paper) the Activesphere is more powerful and slightly quicker than today's V6-engined Audi S7 Sportback.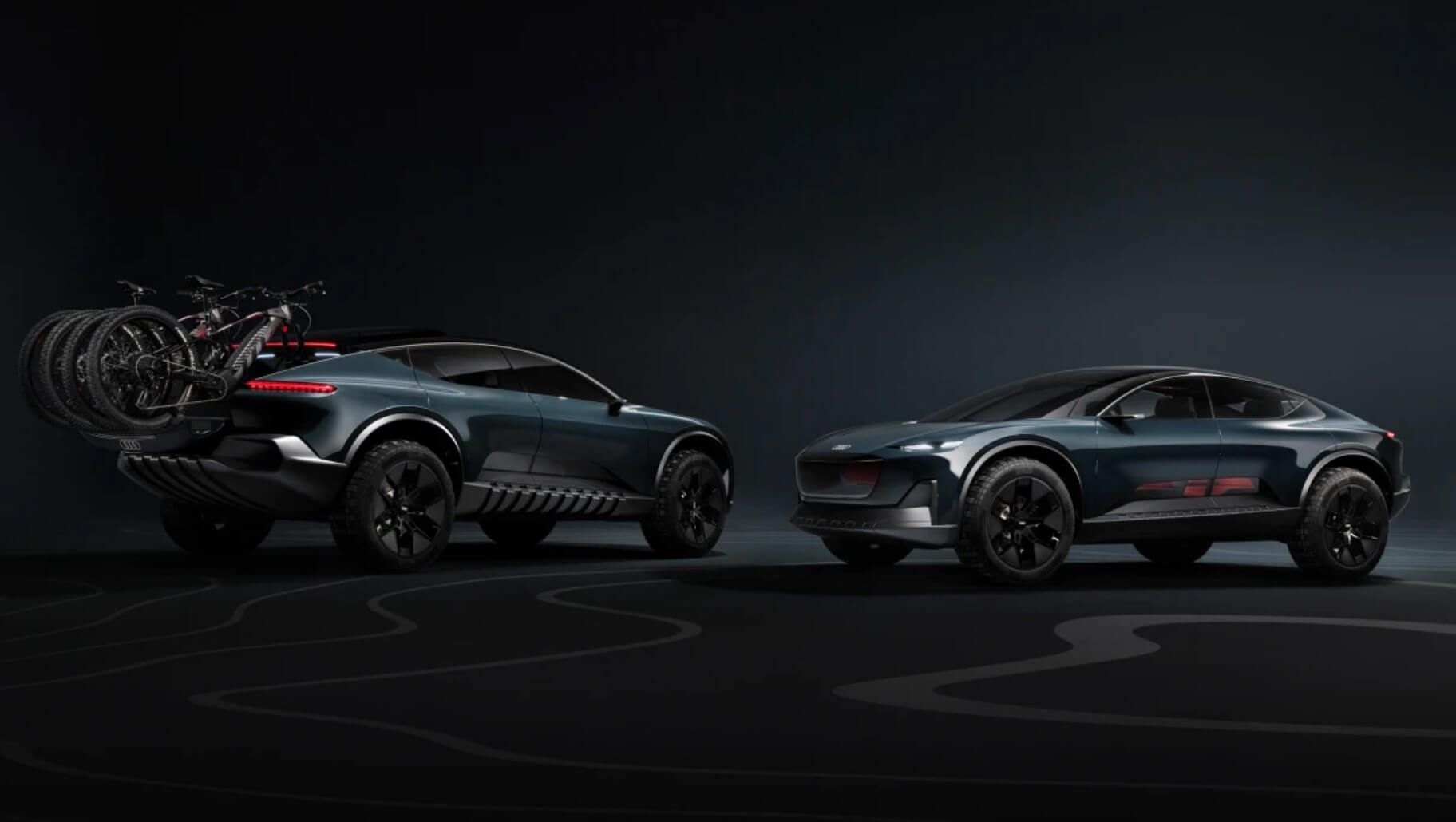 The Audi Activesphere's top five features
Pick-up bed
The Activesphere's party piece is a highly advanced adaptable rear body section that allows users to carry sporting gear "James Bond-style", according to its designer, Charles Lefranc.
At the touch of a button, the rear screen lifts and slides over the top of the car to create an open cargo bed reminiscent of that on a pick-up truck, complete with a pair of integrated bike stands (because "roof racks destroy the aesthetic of a vehicle" according to Audi design boss Marc Lichte) and a full-height bulkhead section that slides automatically into place behind the rear seats to keep the elements out.
Autonomous driving
To showcase the scope of its Level 4 autonomous capabilities (which will allow it to drive itself in designated areas), the Activesphere's pedals, dashboard and steering wheel fold away electronically when not in use to provide a more spacious and lounge-like cabin space.
But it can still be a performance car, explained UI/UX boss Sid Odedra: "With driving in our DNA and Quattro as our heritage, we're also keen to enhance the driving experience. It's not just about being in this lounge-cabin and consuming content. As soon as you put your hands on the steering wheel, this interface goes from spatial to driver-focused. Everything becomes central to the driver."
Virtual reality
The Activesphere shuns conventional physical controls – and even touchscreens – in favour of an interactive hologram set-up called Audi Dimensions, accessible through augmented-reality headsets for the driver and passengers.
Audi suggested that the car's key displays and functions could be hosted in this virtual platform, controlled via gestures and adapted according to the driving scenario.
Odedra said: "We've created a boundless spatial interface with you in the centre. Information can be distributed to the right places. And a key message here also is that we don't want to overload you."
Off-roading
"The skateboard of the car is very robust," Lefranc boasted of the specially reinforced PPE platform. "It can take the beating when you go on dirt roads or in the snow. Wherever you need to go, this car could take you."
Boosting its off-road credentials, the Activesphere's active air suspension can be raised 80mm to give up to 248mm of ground clearance, the wheel faces can open to optimise brake cooling, the front of the car can become 'invisible' so that the driver can see the position of the front wheels on the augmented-reality display and its 22in wheels are wrapped in heavy-duty all-terrain tyres. Audi claims an approach angle of 18.9deg and a departure angle of 28.1deg.
New styling cues
Audi design evolves every three years, according to Lichte, and the Activesphere gives clues as to the defining features of the next iteration.
Most obvious is the reshaped Singleframe grille, which will adorn the next generation of Audi EVs from around 2026 (although not in transparent form), as well as the rakish silhouette, sloping roof, muscular rear arches and minimal creases and lines.
Although he acknowledged the Bauhaus influence, Lichte laughed off the idea of calling the eventual production version the TT-tron.