Audi's A3 hatch and sedan have spawned a new generation of hot and hyper variants. We delve deep behind the single-frame grille and pumped guards to bring you the definitive guide to Ingolstadt's compact performance icons.
S SHARP
Audi's new-generation S3 blends a proven and powerful drivetrain with a sharp new look.
Through a logical stepping stone, from the mainstream Audi A3 models to the apex-hunting RS3 variants, the S3 is very much a model apart. Obviously the RS3's five-cylinder engine puts it on a different plain to the S3 and the A3s below, but the new-generation S3 looks and feels more separate from the A3 on which it's based than did previous generations of the model.
Speaking of previous generations, this is the fourth-gen Audi S3, and it sits on the updated version of the Volkswagen Group's MQB platform. The hardware is an evolution of what went before, the Group clearly working to refine its latest generation of cars rather than redefine. So the S3's engine and drivetrain are very similar to those of the outgoing model, with an EA888 2.0-litre turbocharged four-cylinder sitting widthways under the bonnet and sending power through a seven-speed dual-clutch transmission to all four wheels. The all-wheel-drive set-up is a refinement of the previously-employed Haldex-style system, able to send power to either end of the car as required but not to individual wheels.
Outputs and performance are also little changed relative to the previous model: 228kW, 400Nm and sub-five to 100km/h, with the usual 250km/h limited top speed. Not that any of these are disappointing figures in isolation, and arguably we should be relieved that Audi isn't attempting to escalate the hot hatchback power race any further. This is the first time that this engine has arrived in Australia with the full complement of European-spec kilowatts. Previously, Australian S3 variants peaked at 213kW and 380Nm. This is also the first time that an Australian-delivered S3 has been fitted with a gas particulate filter to help clean up tail-pipe emissions.
As we'll discover during our road test, the S3's level of performance is such that you can deploy much of it for much of the time. Find the right road and the right conditions and the S3 freely gives all it's got – in a world of outrageous hypercars and YouTubemelting EV acceleration, the S3 feels like it inhabits the Goldilocks zone.
The new S3 gets electro-hydraulic adaptive dampers (replacing the previously employed magnetic ride units) for the strut (front) and multi-link (rear) suspension, influenced by the chosen Drive Select mode and independently switchable in the Individual setting. Again, these settings provide obvious steps in ride compliance and body control, while the auto mode does a brilliant job of providing the right mix of compliance and control with real-time adjustments depending on conditions and driving style.
The styling, in contrast to some of the hardware, is probably the biggest step yet for an S3. That's more down to the fourth-gen A3's angular lines being a departure from the previous model's looks than it is any S-specific plumage, but it's much more of a shrunken RS6 this time around. In profile particularly it has that same Hot Wheels vibe as other recent S and RS models – tucked-in sides, arches stretched over the wheels, and on our test car a distinctive shade of metallic yellow (Python).
Inside, the shapes are relatively inventive, the materials tactile and it's ergonomically spot-on. You get Audi's interpretation of the mostly touchscreen-based controls seen in other recent MQB cars, but with the wise inclusion of physical buttons for the air conditioning. Once you're used to the touchscreen it works well, and while the novelty of Virtual Cockpit has worn off now everyone's doing it, it remains simple to configure the display to a combination that works for you.
As with the RS3, two variants of the S3 are available – five-door Sportback and four-door sedan. Both sit on a 2630mm wheelbase, though there's a noticeable difference in overall length with the 4504mm sedan stretching the tape measure an additional 153mm over the 4351mm Sportback.
The Sportback kicks off the S3 range at $70,700 with the $73,200 sedan asking an additional $2500.
SPORT TO THE POWER OF 3
With 228kW, 400Nm and a sub-five-second 0-100km/h time, the Audi S3 is very much a hot hatch. Can it also deliver dynamic thrills?
There comes a moment in almost every road test that makes or breaks your opinion and expectations of a car. If you've been testing cars for 25 years like I have, cars tend to perform close to expectations with only a little variation either side of the median. Actually, that's probably only true of cars from the last decade or so, as cars from the very early 2000s tended to miss or exceed on-paper expectations more regularly and by a greater degree.
The previous-generation S3 was very much a car that met expectations with almost no wavering from your pre-drive thoughts. It was solid to drive, with a thoughtful blend of technology and luxury. It delivered a more mature Golf R feel – just as one might expect of similar technical hardware in a more premium tin.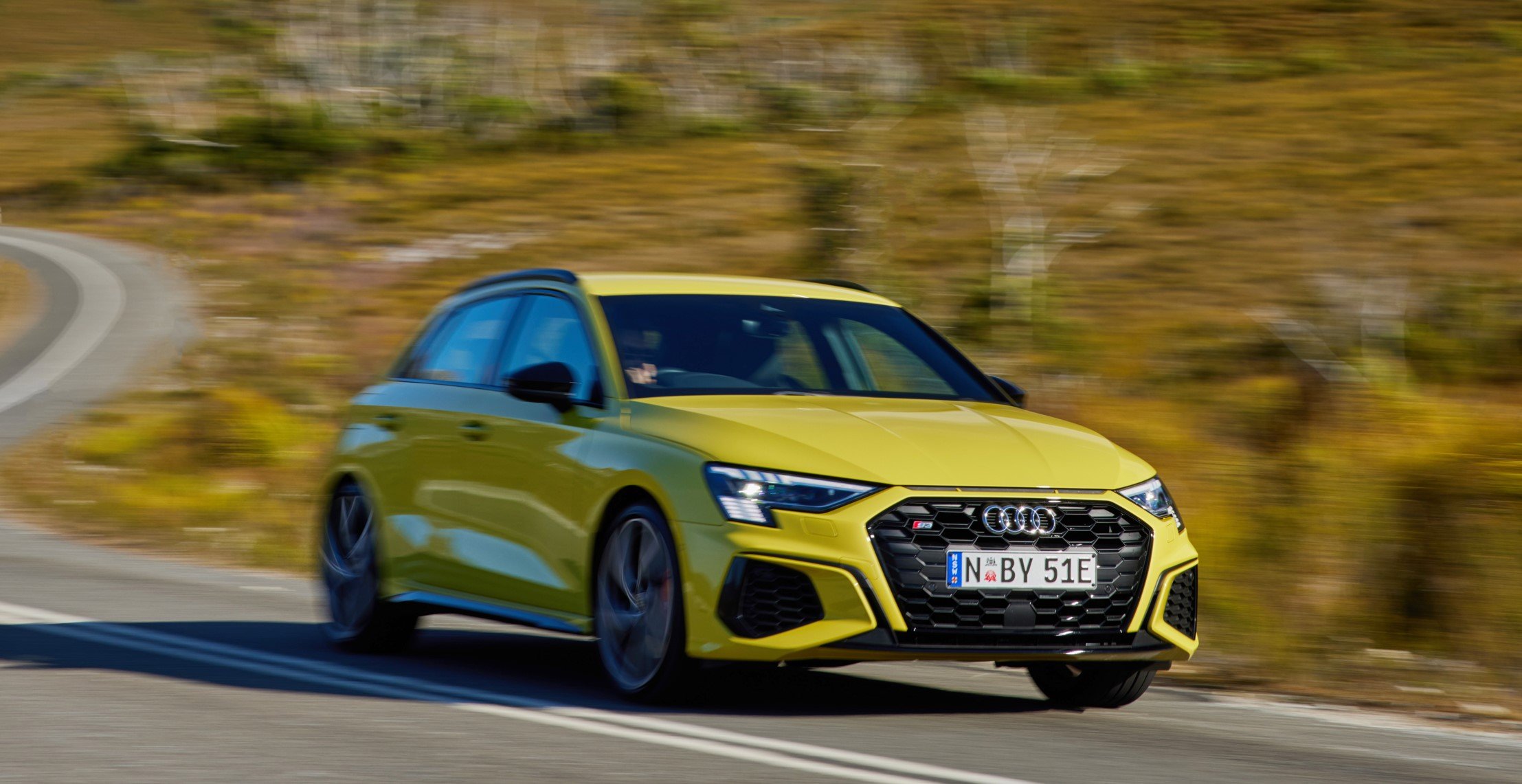 The evolutionary nature of the fourth-generation S3 means that my expectations are of something similar. Then the moment arrives.
It's a corner that I love and loathe in almost equal measure – its tricky nature skews it a little towards the latter. The corner in question is a cresting left-hander that's approached after a decent straight and a slight kink to the right. That it's well sighted tends to suck you in to linger on the throttle too long, resulting in you carrying too much speed for the left-hander. Compounding this error is that the corner is sometimes mysteriously scattered with gravel (I honestly have no idea where this comes from) and, after months and months of rain, there's a sunken depression at the ideal turn-in point. It's a split-second snapshot of everything that can tie a car's chassis in knots.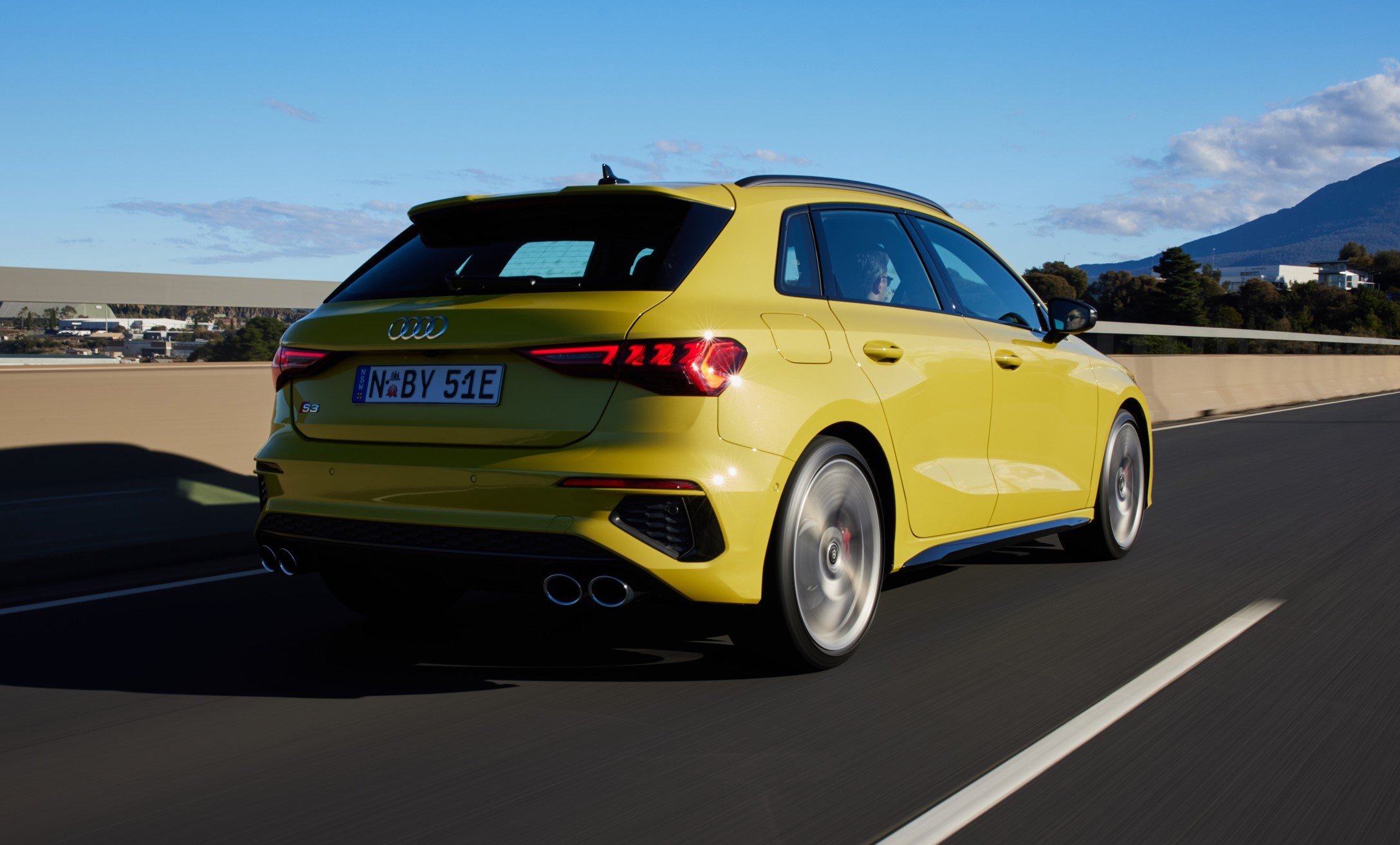 The new S3's familiar EA888 2.0-litre turbocharged four is deeply on song along the straight and into the rising kink to the right. As the tarmac is dry, there's probably very little torque being delivered to the back axle but the 228kW and 400Nm outputs are making furious progress. While there's not Porsche-levels of braking feedback, the pedal doesn't overreact to your initial input like that of older-generation Audis sometimes did. Instead, the firm pedal pulls pace out and gets the S3 settled on its nose.
I've rarely been a fan of flat-bottomed steering wheels, so I loudly applaud the change to a thin-rimmed and perfectly round wheel for this new-gen S3. It guides the nose to the left as I brace for the front tyres to thump into the depression. The impact doesn't come but I'm so busy pointing the Audi into the cresting left that I can't be sure that there wasn't a thud. Expecting the S3 to get up on its toes over the crest, perhaps even floating into oversteer, I'm ready to throw corrective lock at the situation. Instead, there's minimal float and only a gentle four-wheel drift as the S3 powers up the road.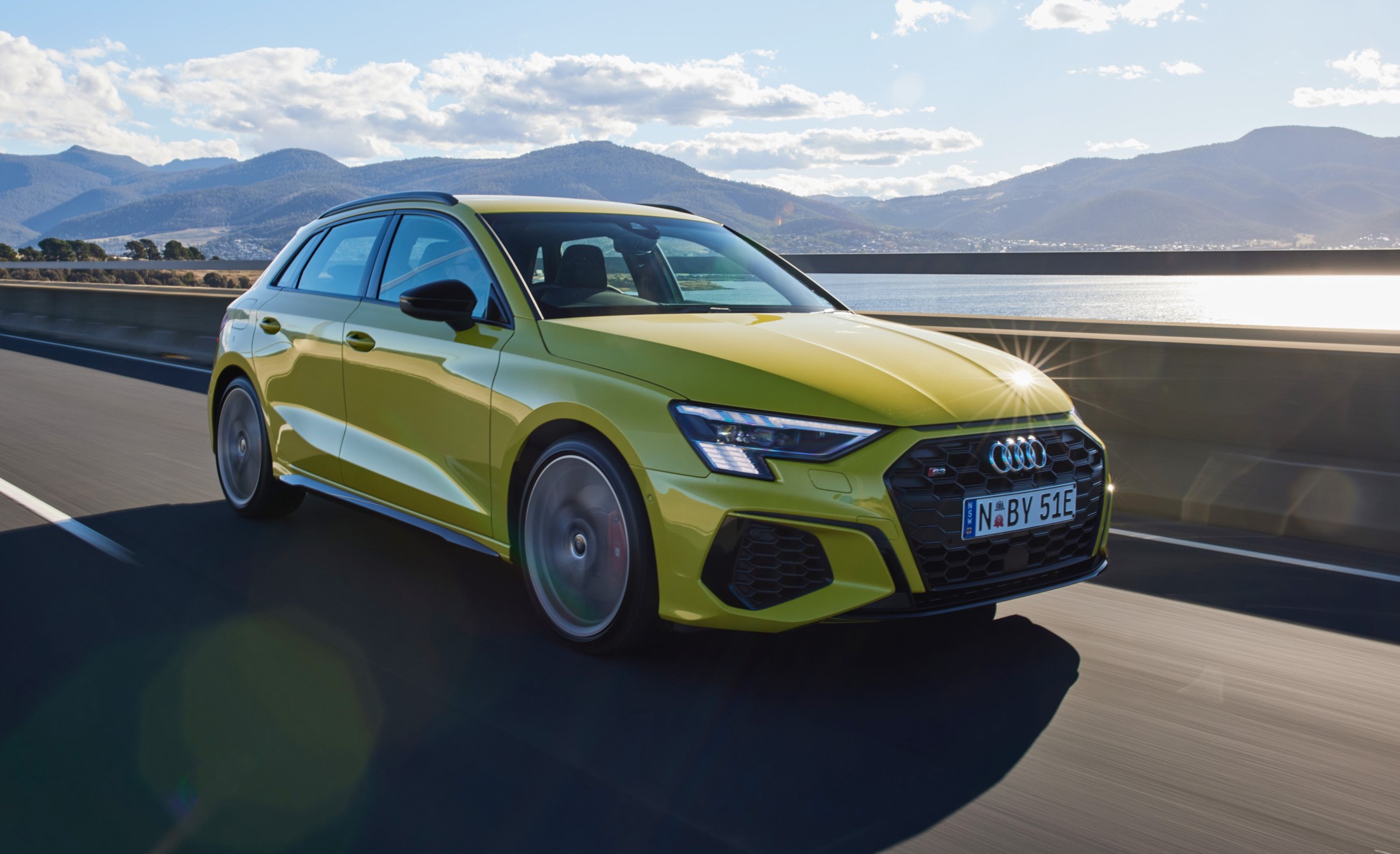 It's quite the demonstration of the new S3's capabilities and something of a confounding of expectations. I'm further confounded when I realise that I've left the adaptive dampers in their auto mode.
To ensure that I've explored all outcomes, I scientifically complete several more runs through this testing corner, flicking through each drive mode and damper setting. In the tauter sport setting, the float over the crest is all but banished, but it doesn't quite have the pliancy to deal with the impact of the depression at the turn-in point. On the flip side, comfort mode can't quite control the rapid transition from full compression to almost full droop over the crest. It's an amazing discovery, and one that rarely comes to pass, but the dampers' auto mode feels like a set-and-forget mode for road use.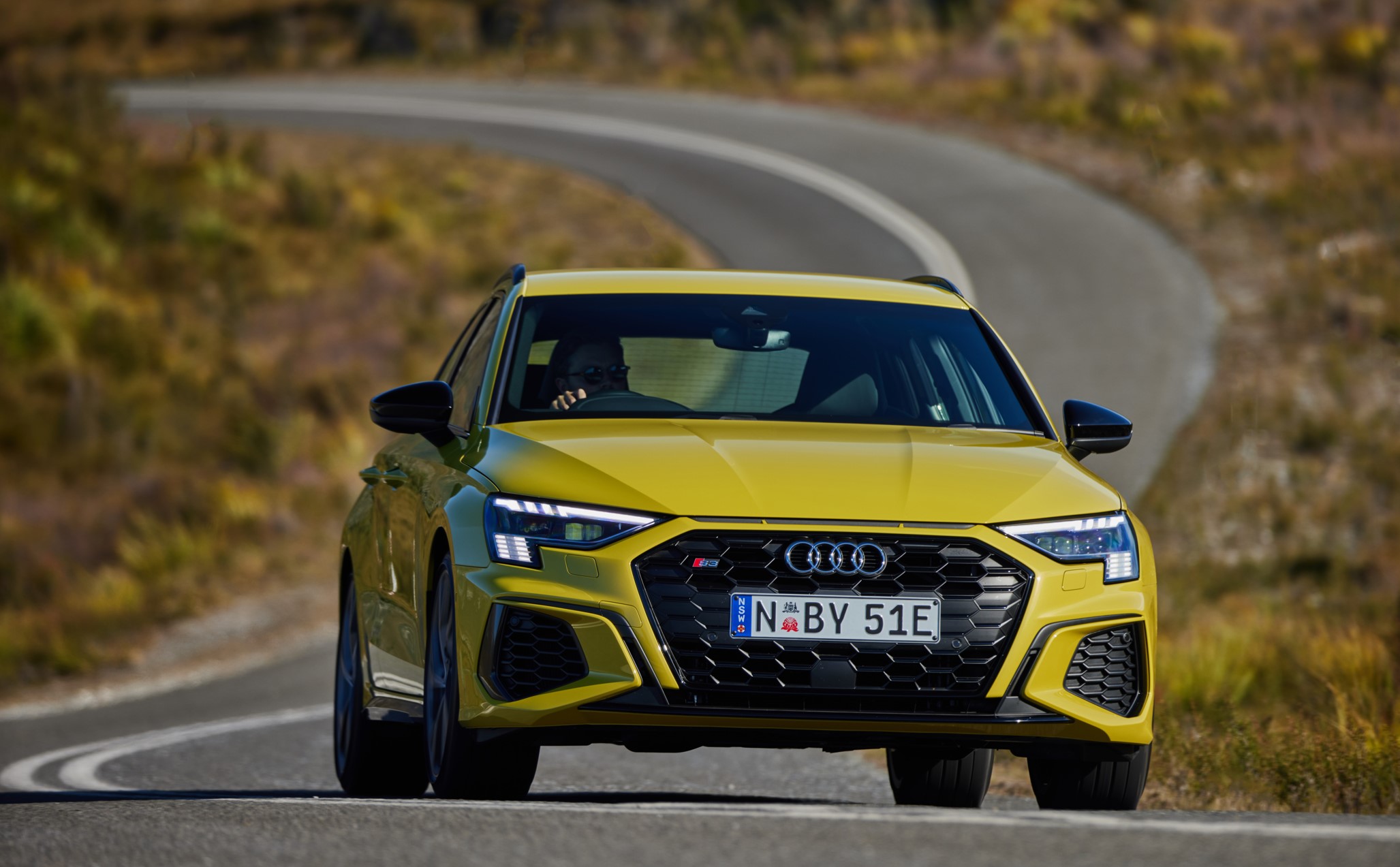 In terms of response, progression, accuracy and weighting, the new-gen S3 is right on the mark. You can charge into a corner, hard on the brakes, and provided you're not making unreasonable demands of the front end, it'll go exactly where you've pointed it. It's not a car that's inclined to misbehave, so no change there, but it does feel lighter on its feet than previous S3s, particularly through direction changes.
You'll find this car both familiar and different. It delivers the traditional blend of premium compact performance motoring that's been the S3's hallmark for generations, but it also features a more rewarding driving character. This character isn't of the overt nature that you might find in a traditional front-wheel-drive hot hatch such as a Honda Civic Type R or Hyundai i30N, but it is surprisingly more involving and inviting than Volkswagen's Mk8 Golf R with which it shares some DNA. That the better equipped and more premium Audi S3 is barely any more expensive than the $68,990 Golf R clearly swings our thoughts in favour of the model from Ingolstadt.
PUMP IT UP
The new-generation Audi RS3 retains its signature pumped guards and characterful five-cylinder engine, but the new car bristles with advanced hardware that promises an enhanced driving experience.
Audi's RS3 is one of those cars that you can't help but love. In an automotive world that's becoming increasingly homogenised, the RS3 carries itself with a swagger that few cars possess. Maybe it's the pumped guards or the hard-hitting and characterful engine, but for us, there's something a little Nissan GT-R about this compact but muscular performance weapon.
The RS3 family hatchback and compact sedan make itself known by way of added air intakes, bespoke performance wheels, a larger exhaust and more aggressive styling cues. For this generation in particular, Audi has sought to differentiate the RS3 from the regular A3 by giving the hot model a bespoke front-end design, comprising a contrasting black grille surround (either gloss or matt) that extends into the headlight clusters. The sides skirts are finished in black, as well, as are the wing mirrors, rear diffuser and, optionally, the roof.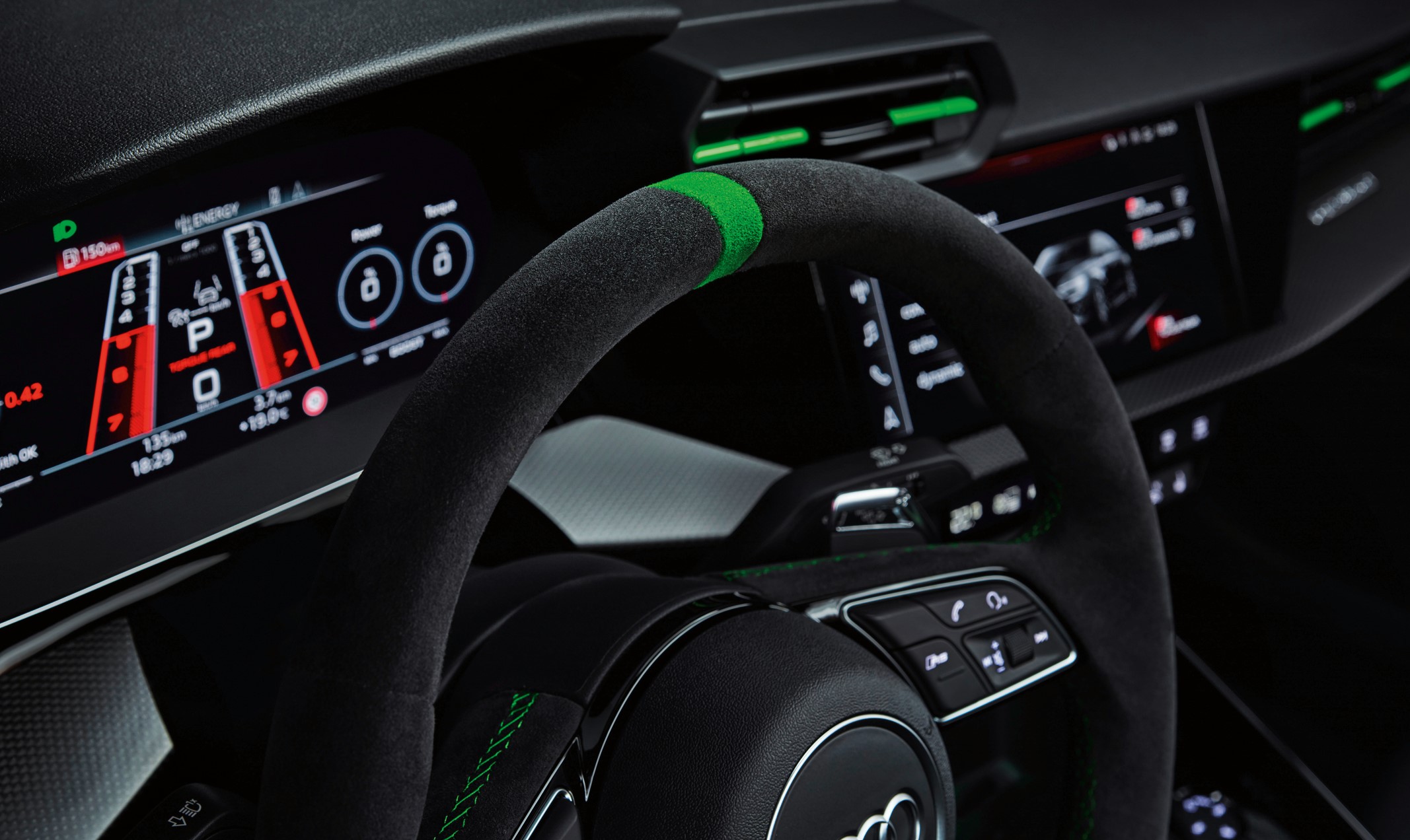 You're unlikely to tire of what marks the RS3 out from all of its rivals. Some work to the engine mapping has released an additional 20Nm (now 500Nm), but power remains unchanged at 294kW, although it arrives earlier in the rev range and hangs around for longer (5600-7000rpm). So even in a car weighing 5kg more than its predecessors (1570kg) it has plenty of go for a road car. It doesn't hang about as it chews through its short ratios to help produce the headline performance figures – 3.8-second 0-100km/h, 250, 280 or 290km/h depending on which options you select.
Springs and anti-roll bars are stiffer over the A3 and S3 models, and the dampers feature a new valve system to improve sensitivity, rebound and compression characteristics quicker than before. There's up to one degree of additional negative camber (half a degree on the rear) above a regular A3, requiring a stiffer subframe and bearings. The four-point multi-link rear suspension also includes stiffer wheel carriers. Opt for the optional RS Dynamic pack and the suspension can be tweaked further still in terms of more specific damper settings. And all RS3s sit 10mm lower than an S3, 25mm lower than an A3.
The technical party piece is a torque splitter differential pack. Where the previous RS3 had a single clutch pack to manage torque distribution across the rear axle, this one provides one pack per driveshaft and allows 100 percent of the available torque to be sent to the rear axle then distributed to the outside wheel when it's under load. And, as we'll discover, it turns the RS3 into an unexpected bundle of fun.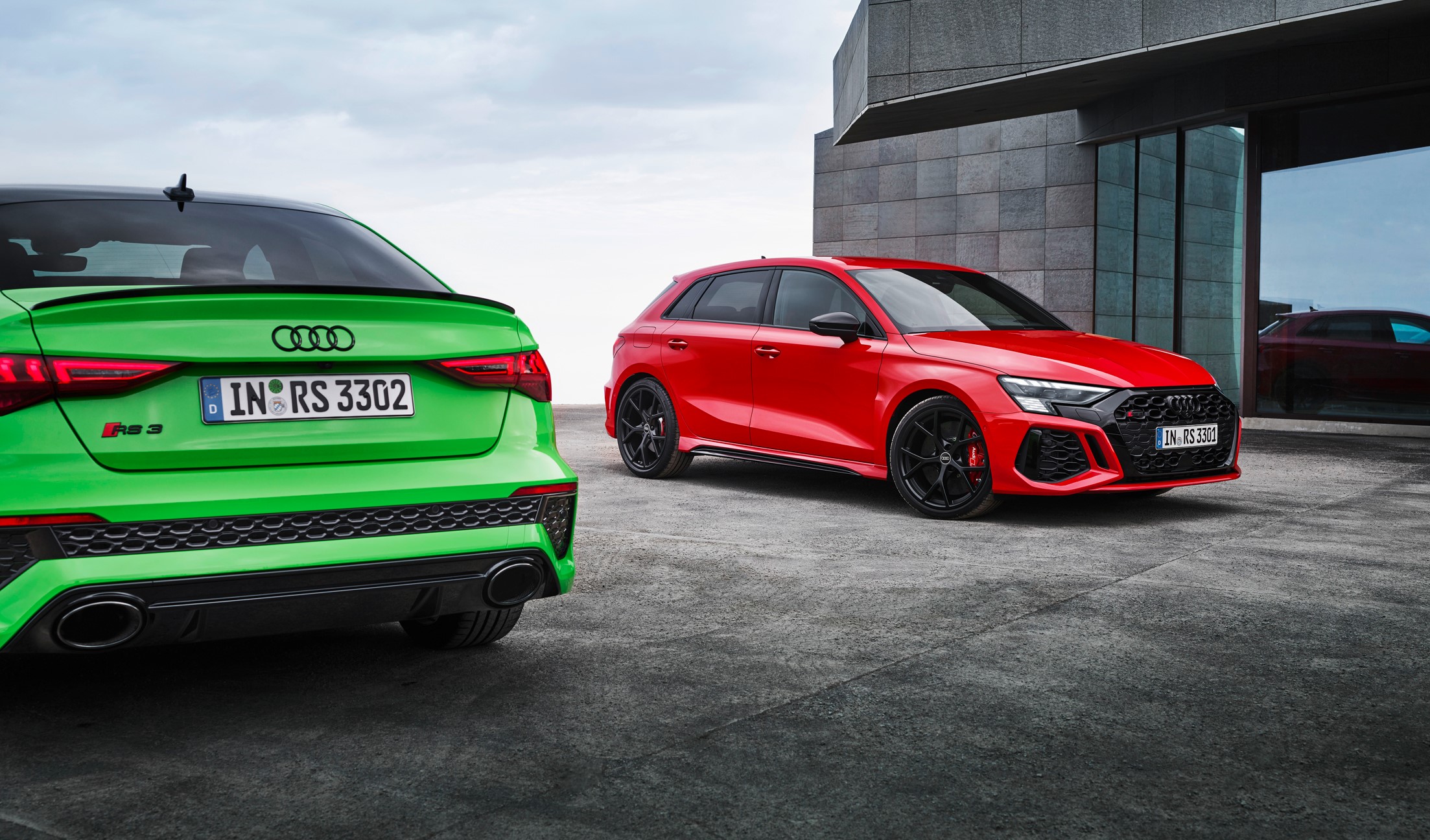 The new RS Torque Splitter rear differential is a similar system to the one employed by the last Focus RS (although supplied by Magna rather than being GKN's Twinster system) whereby the rear diff is replaced by a simple bevel gear with a wet clutch either side of it for each rear driveshaft. Manipulating the clutches allows for precise torque distribution and torque vectoring to overspeed the outside wheel during cornering (to reduce understeer). The RS Torque Splitter can deliver 100 per cent of the rear axle's power to just one wheel if necessary. However, only very extreme circumstances (think sheet ice) see more than 50 per cent of overall power diverted to the rear axle.
This all sounds great on paper, but what's the new RS3 like in the real world? Time to find out.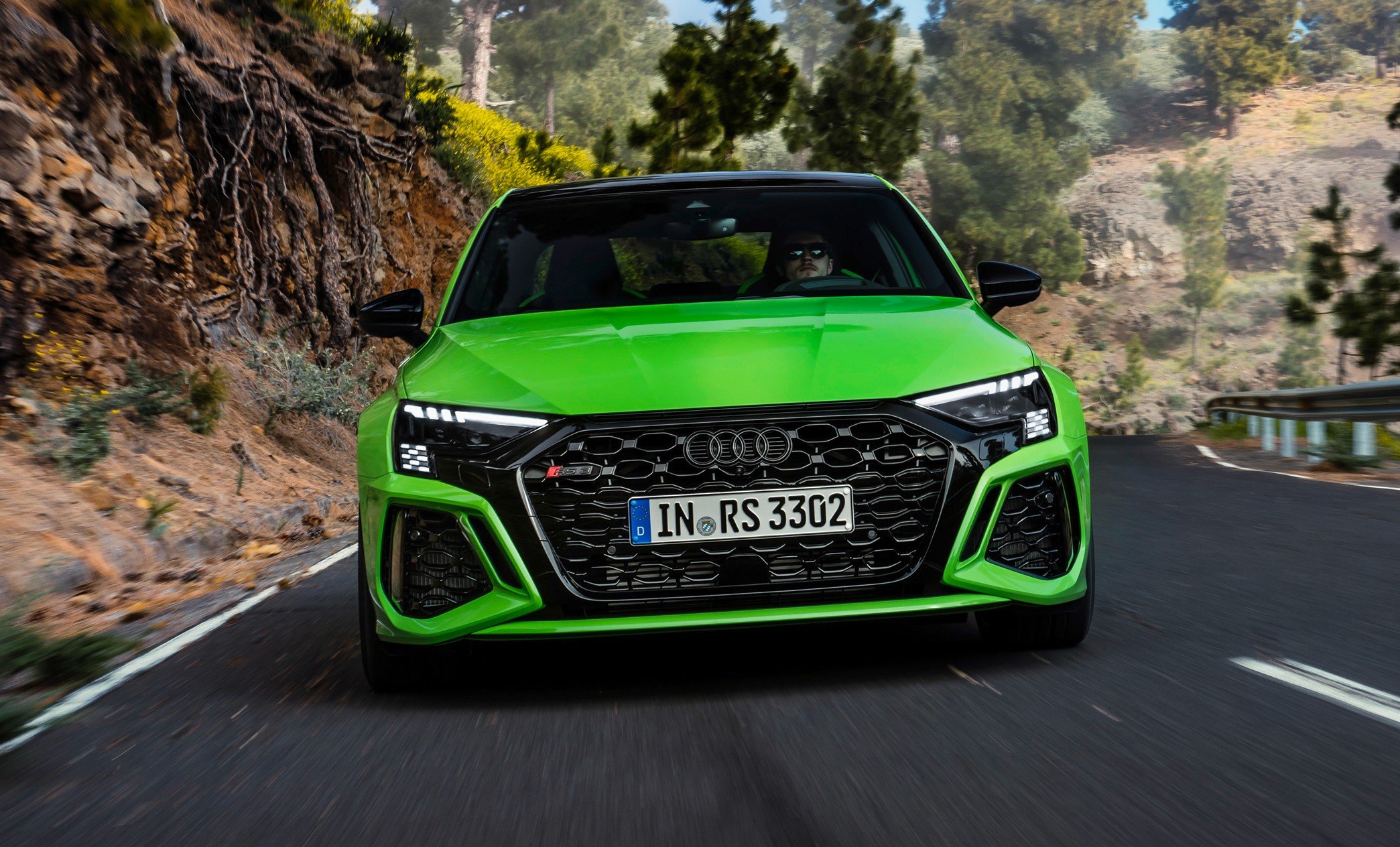 FIVE POT SCREAMER
Characterful five-cylinder engine no longer defines the RS3 as it has dynamics to match.
You'll probably think that you've a good idea how the new Audi RS3 drives. It will be as quick as you'd expect with a 294kW, five-cylinder engine. It will feel surefooted and safe, lack a little excitement but have a nicely put together interior; and you'd rather put your circa $95,000 towards AMG's more focussed A45 S, or save a chunk and divert your monthly payment to another brand within the VW Group and have a Golf R. Don't do this, certainly not the latter anyway, because the new RS3 is a bit of a surprise. More than that, it now has what's required to go broad shoulder to broad shoulder against AMG's angriest hyper-hatch.
As a result of the chassis changes that you've just read about, the first time you see a big compression ahead and brace yourself for the inevitable thump into the bumpstops, you'll quickly realise that it's already glided over it without interest. This is all after you have noticed the more compliant ride, that on good surfaces makes for an unexpected level of refinement, and on poor surfaces this is an Audi that no longer crashes and thumps across imperfections.
So you go harder, push more against its limits and go looking for its downsides. And you rarely find any. In its comfort setting the chassis is near silent and calm without being aloof. There's a good balance between body control and ride comfort, and on long runs where comfort takes priority over dynamics, the RS3 makes a Golf R feel like it's riding on bricks.
It must fall apart when you start to push? Sorry, no. Within the Drive Select modes you can switch between the pre-set modes or dive into the two RS Individual modes, one of which is called RS Performance that's been designed specifically for the track but works equally well on the road.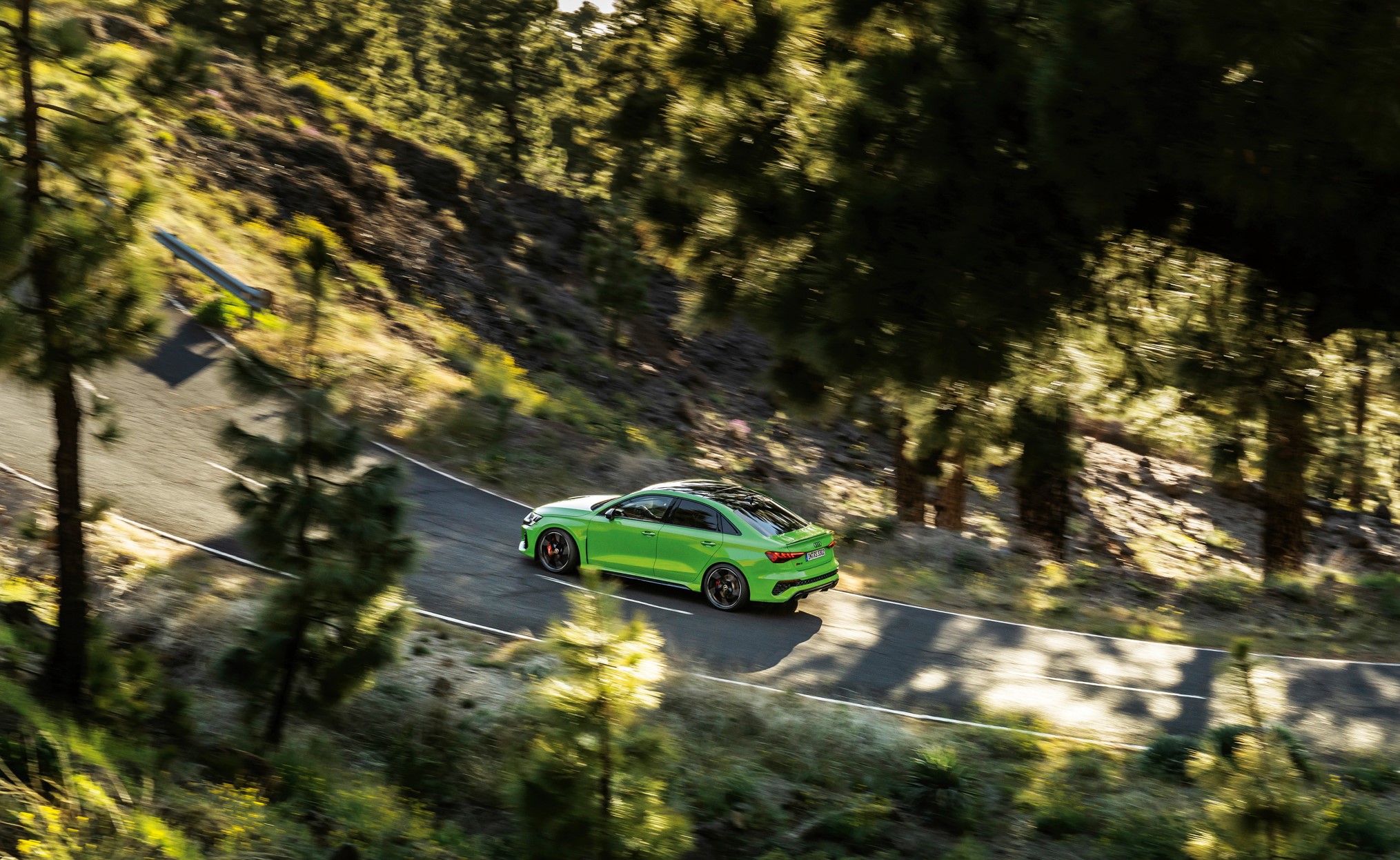 Here the RS3 remains calm and composed, but there are further layers of detail added. There's more precision in how the body moves under braking and during turn-in, and while it's stiffer, it is not 'throw you off the road' stiffer. You can find a balance as you turn in, let it settle, and as the load comes off as you exit the corner, it does so in a neat and linear fashion as the weight shuffles back to the centre point.
Through quick corners you can feel the torque splitter managing the torque load, the rear finding grip to give the front tyres a rest. Talking of tyres, we tried the car on the road with Bridgestone's new Potenza Sport that's been developed specifically for the car and it proved to be a well-balanced and suitable tyre. A heavy-handed approach will still overwhelm the front tread blocks resulting in push, but play to the technology's strengths and the front tyres work well with the chassis. On track our test car was fitted with the optional Pirelli Trofeo R rubber, which as you can imagine provided more grip than you can shake a grippy stick at. But rather than mask the chassis' dynamics, the track-biased tyres provide the higher grip levels and confidence for you to lean on the dynamics harder still.
Pitch it into a corner – still mindful that a five-cylinder engine is sat over the front axle and requires some weight management – and the nose takes a sharp line to the apex as the centre point pivots around your hips and the rear rotates with unexpected agility. It feels very together, a fluid motion that inspires confidence. Keep the throttle balanced and the RS3 slices through any corner, in quicker stuff it feels remarkably planted as all four tyres paw at the surface pulling and pushing you with poise.
Find yourself at a track day with a more lenient approach to you looking out of the side window, and with the traction aids turned off and RS Performance mode selected the RS3 goes a little feral in a fun way. It's not suddenly transformed into a rear-drive car with a traditional diff where you manage the angle of the rear axle as you play with throttle and steering angles, but once you have it set early in the corner it can be made to drive through it with an impressive angle of corrective lock applied while still maintaining some punchy forward motion.
In this regard it's similar to the Mk3 Focus RS, but with more precision to give you more options at the limit, where previous RS3 models would have thrown in the towel soon after the front tyres began to trip over their tread blocks. It's also a more intuitive and rewarding system than the Golf R's drift mode.
The big headlines are very positive. The RS3 doesn't understeer. At all. Not on the road, anyway. It has fine body control, fast reactions and its front-drive roots neither intrude nor hinder its pace and balance. Oversteer is there for the taking, but it's mostly benign and controllable. And the engine is really soulful and entertaining when it's fully wound up.
Audi has clearly delivered an RS3 worthy of its badge. And with the chassis tech and torque splitter destined for future products farther up the Audi Sport range, BMW M, AMG and Alfa Romeo will need to take a good look over their shoulder.
That the RS3 should be considered against such strong and entertaining opposition should give you some clues as to how far this new model has moved the compact performance game for Audi.