The futuristic Aura concept is a one-off road-legal two-seater developed by a consortium of British companies to showcase an array of new technologies that could shape the development of electric cars.
Four outfits contributed to the project: Astheimer led the design, Potenza Technology supplied the batteries and electric motors, BAMD Composites developed the body panels and vegan interior and Conjure took care of the human-machine interface (HMI), which uses technology supplied by Spark EV to effectively manage battery charge.
Funding for the concept, which was designed and built during the pandemic-induced lockdowns and is described as "Britain's first long-range EV", came from the Office for Zero Emission Vehicles (OZEV) through the Niche Vehicle Network (NVN). Development began on 1 October 2020, less than a year before its public debut at the Cenex-LCV show last week.
Although it's designed in the mould of a traditional open-top sports car, the Aura's prevailing focus is on sustainability and efficiency, rather than outright pace and dynamic agility. It was conceived to be "efficient on power and its demands on the world around it" and as such employs an array of measures to maximise range and reduce its environmental impact.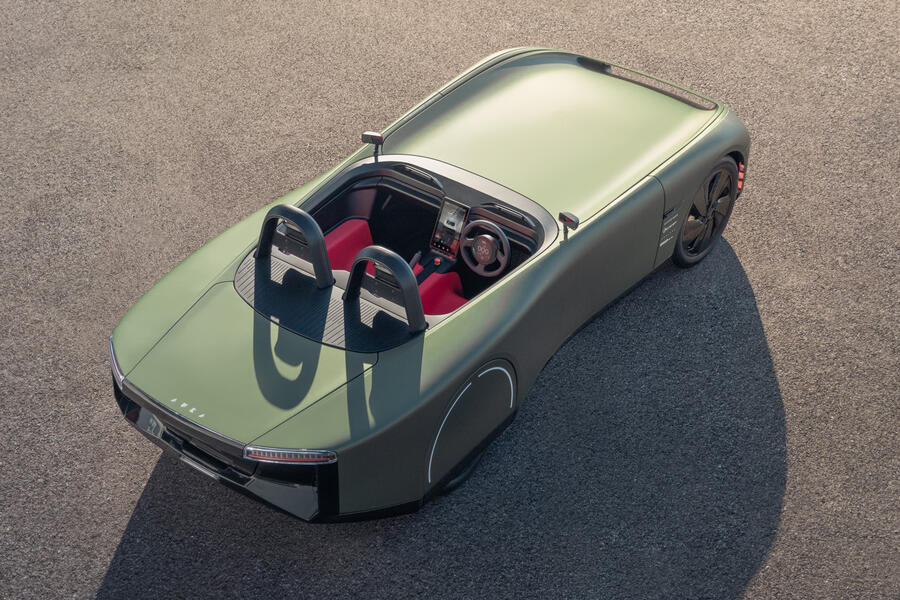 Its body is formed from lightweight and sustainably sourced natural fibre composites and shaped using computational fluid dynamics (CFD) technology to optimise aerodynamic efficiency. The rear wheels are covered to reduce drag, while the prominent rear diffuser helps to reduce the car's wake. It also wears low-resistance tyres to reduce friction.
Two 44kWh battery packs are separated for optimum weight distribution and a low centre of gravity, with one positioned under the long, low 'bonnet' and the other mounted more conventionally under the floor. As well as enhancing the car's dynamic performance, this format also allows for easy access to the battery packs for maintenance.
The cells send their reserves to a rear-mounted motor of undisclosed capacity and are claimed to endow the Aura with some 650 kilometres of range, making it one of the longest-range functional EVs yet built. But where the Aura most obviously differs technically from mainstream series-production EVs is in its potential to reduce range anxiety with a bespoke battery management platform.
Conjure's Android-powered HMI system, displayed via a self-levelling 5.0in circular display in the steering wheel and a 10.0in central touchscreen, uses Spark EV's energy-optimisation technology to offer highly accurate and realistic battery-charge estimates, based on a vast array of influencing factors, including your driving style, the weather and the surrounding environment.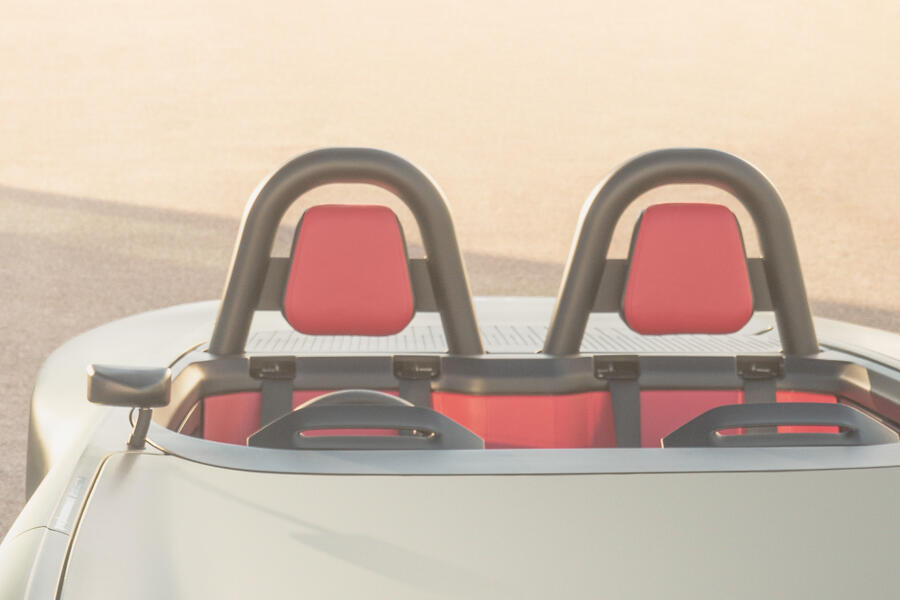 Spark says its software can ensure "the driver will never run out of electricity unexpectedly or wait on a charge point for longer than is necessary", giving readings to within 99.5% accuracy.
Many EVs on the road today, Spark EV claims, give "up to 100% inaccurate" charge indications, as they don't analyse enough external data. Its own system can provide "near-perfect" energy optimisation mid-journey" and can be connected to a 'digital twin' of the car to provide the driver with analysis of regular driving routes to boost range and reduce environmental impact.
Speaking to Automotive Daily's exclusive partner Autocar at the concept's launch, Spark EV CEO Justin Ott explained: "We say whether or not you can go to your destination, and then we compare predicted energy against actual energy and refine it using a machine-learning algorithm tailored to each user. And that's really useful, because it adapts to changes in the battery health and condition and you as a driver."
An associated app visualises this data as a boundary line on a map, which effectively shows how far the Aura can travel in each direction based on all the metrics taken into account.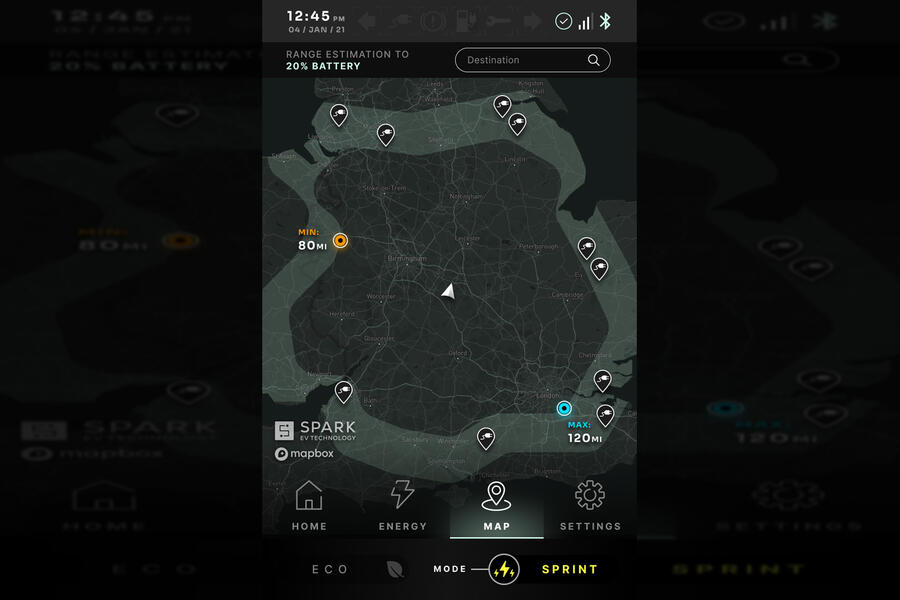 Ott revealed that Spark EV is in conversations with two manufacturers in China regarding the fitment of this system in two "premium" electric cars going into production this year and is working with two electric truck companies – one in Scandinavia and one in the US – on projects beginning in the next few weeks.
It has also just won a project with an EV truck company, which will use the technology to advise customers on which battery packs to specify in their vehicles, based on predicted load weight and use cycles.
The Aura concept's developers aim to eliminate distrust of EVs by countering the prevailing obstacle that remains a barrier to their widespread adoption: range anxiety. Ott said the car serves as a "showcase to the world how the industry can use technology available today to help overcome these barriers".
Felix Page