Bentley's head of engineering has the daunting task of ushering a brand steeped in history into the electric era. He tells us how, despite having shared technology and no engines, cars from Crewe will remain unmistakably Bentley.
Bentleyness. Noun. The quality that makes a car feel like a Bentley. Bentleyfication. Noun. The process of instilling Bentleyness into a car.
You won't find Bentleyness or Bentleyfication in the dictionary, but since both phrases are used liberally by Matthias Rabe when discussing the key challenges in his new role as Bentley's head of engineering, we thought it would be helpful to offer some definitions. Because his biggest task is ensuring that Bentley models continue to be imbued with Bentleyness as the firm moves into the electric era.
Rabe, who joined Bentley from Volkswagen in August last year, taking over from Werner Tietz, is charged with leading development of the cars that will underpin the most profound changes in the storied brand's 102-year-history. "For sure it's a challenge, and it's important to have a high respect for everything Bentley has achieved," says Rabe.
Unusually, his current company car is one that the firm doesn't make any more: a pre-configured Mulsanne Speed, one of the last built before production ended at Bentley's Crewe factory in June 2020. "The Continental is the heart of the brand, so when I arrived here, that was my first choice," says Rabe. "Then I had a chance to drive a Mulsanne. For me, the products are the transporter of the brand values. Having driven the Continental and now the Mulsanne, that's absolutely Bentley. I want to preserve this Bentleyness, this special thing, in the future."
Rabe's arrival in Crewe coincided with Bentley, under the leadership of Adrian Hallmark, laying out a bold roadmap for the future. Under the Beyond 100 strategy, Bentley will become an electric-only brand from 2030, building on proven Volkswagen Group technologies. "Our strong message in Beyond 100 is to go full electric by the end of the decade," says Rabe. "To do that, our machines not only have to be fascinating cars, but they must make people say: 'Oh, that's really a Bentley. That's really a cool car.'"
As well as his daily-driver Mulsanne, Rabe's Bentley education has included trying some of the cars in the firm's heritage fleet. "Driving a 1953 Continental or sitting in a Blower is fantastic," he says. "More than 80% of our products produced are still drivable, which really shows how strong the brand is. I try to embrace that, and transform that to the modern way in the future."
Rabe has held a number of technical management roles in the VW Group, including stints as group research boss in China and, most recently, as chief technology officer for VW cars. But he's probably best known for his eight-year stint as development boss at Seat from 2011 until 2019, helping to lead the revival of the brand with the development of the fourth-generation Leon and the Ateca, Arona and Tarraco SUVs.
Rabe's new role is a change of market, and one that "excites" him: "I've worked on GTI and Cupra. That was the same excitement, because you want cars with that emotion in."
Can Rabe take lessons from his time with a rising budget brand to the rarefied premium air of Bentley? "Yes – but not in terms of product technology," he says. "What you learn in a small brand is how to adopt the most lean and creative processes. The development methods, tools and processes have to be the most advanced.
"That's something a small brand can be even better at. Look at what we did with the Cupra Formentor: it has a high commonality with the Leon, but the customer doesn't see that. I'm not saying we will copy that approach, but it's something that we can adopt in Bentleyfication."
That process of Bentleyfication is not new: the firm's current models are all built on shared VW Group underpinnings. Rabe says the firm's path to electrification is "not zero to one", highlighting its commitment to its internal-combustion-engine models and the increased use of plug-in hybrid technology. "Even as we go towards electrification, we're working on really interesting plug-in hybrids for our grand tourers that are really exciting to drive and deliver on performance," he explains. "We won't step back: we want to continue to deliver this Bentleyfication to customers."
In the longer term, hybrid tech is a stepping stone to Bentley's all-electric future, a path that is even more reliant on the shared use of VW Group technology. One signal of that has been a reorganisation in the group that has put Bentley under more direct control from Audi.
"To be clear, the group stays with Bentley," says Rabe. "It fits absolutely to the group's portfolio, and working more closely with Bentley absolutely makes sense. In the future, we will use a lot of group platforms and work closely with Audi. That's a good thing, because with this comes autonomous-driving, sensor and battery technology. We couldn't do this on our own at volume."
While Rabe won't confirm details, the first Bentley EV will be built on the VW Group's forthcoming SSP platform, specifically a variant being honed by Audi's ongoing Artemis project. But Rabe is insistent that Bentley won't just take technology presented to it by Audi.
"On the research-and-development side, we're working closely with Audi on technologies, car concepts and platforms. The team is excited about that," he says. "For sure, Audi has the platform responsibility, but we're so involved I'm absolutely sure we will get really good Bentleys out of it."
How? Through Bentleyfication, of course: "What's very important for the future is that we will create individual and strong Bentleys based on group technology. Our EVs will be an outstanding combination of the classical strengths of Bentley, such as expert craftsmanship and materials, and building in sustainability and a more digital approach."
The starting point for Rabe is an understanding of what makes a Bentley a Bentley. Yes, we're talking Bentleyness. "We describe very clearly the attributes of a Bentley, and we absolutely see the possibility to create an electric one," he says. "First is the design, and with that comes new body shapes. Probably not the saloon of today, but delivering the functions of a saloon with a more powerful design. The second thing is that we want similar driving [to current models] in terms of acceleration, handling and speed: that will be absolutely Bentley.
"Then we want to make the interior feel like a Bentley, not just with the craftsmanship of the materials but [also] in a digital form – but we won't do that like the others. We've come up with a new approach that we're really excited by. It's a Bentley way, and not just doing it like other firms by placing the screens free-standing.
"The really important thing is to take all that and create a Bentley. Look at our Porsche colleagues: the Taycan is unmistakably a Porsche in terms of handing and dynamics, and our Bentley EV will be unmistakably a Bentley."
The VW Group's future electric strategy isn't just built on shared platforms but shared software that will underpin infotainment systems, as well as over-the-air updates, autonomous technology and key car features. Rabe says that such software and 'mobility solutions' will be integral to Bentley's future but will be offered in a way that "isn't like a Volkswagen solution".
He adds: "We talk about being always connected, but in a Bentley way. The user interface will be one of the most important things in a car in the future, especially for our younger customers. We're going full throttle on that. Cariad [VW's in-house software firm] is going into detail on the software development. We will take those models and apply them in a Bentleyfied way."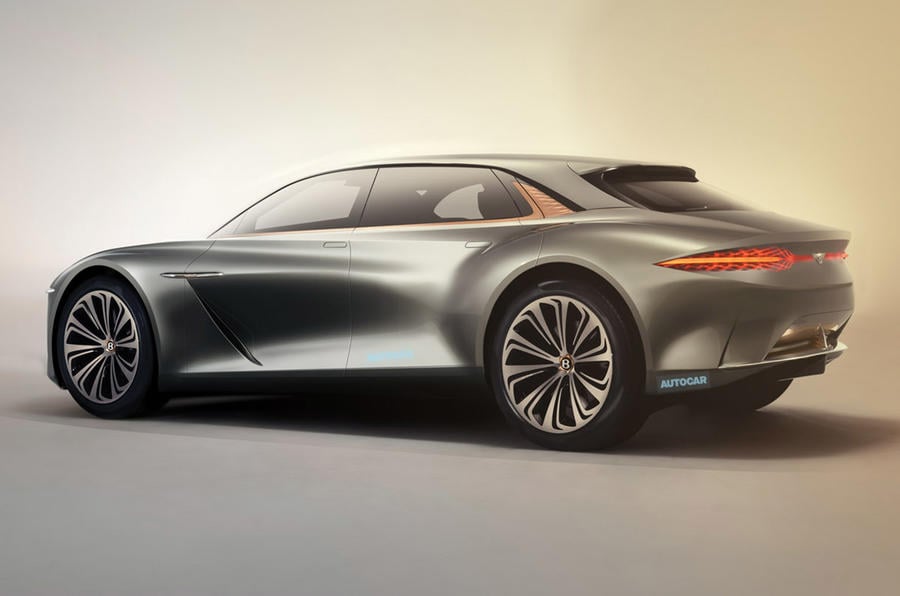 But don't think that future Bentley models will be built purely around technology: "Even after doing all the technical stuff, when you touch, smell and feel nice cars, it's great. It's important that future cars deliver this Bentleyness."
Making Bentleys feels distinctive isn't just about the design of the cars, but also where they are built and developed. While Bentley is being tied more closely with Audi, Rabe insists that the firm's factory in Crewe will remain key to its future.
"It's very important to keep that identity: not only that the factory is in Crewe but also the R&D division," he says. "You might argue 'why not put R&D in the centre of the VW Group in Germany?', but if you want to continue that brand identity and charisma, it depends a lot on the Bentleyfication of the team. That means a strong headquarters in Crewe and the R&D in Crewe.
"It's important to have the production facilities in Crewe. There's another reason for that: every brand tries to reduce complexity, and it's the same for us. We want to deliver choices for Bentley customers you can't produce anywhere else. Look at the interior, with the fabrics and wood and different materials, with different stitching, treatments and technologies. That's a benefit we have by producing the cars in Crewe."
Rabe notes that, through electrification, autonomy and technology, the car industry is set to undergo more changes in the next 10 years than it has in the past 100. By extension, that means Bentley will undergo more change in the next decade than it has in its first 102 years. Rabe's goal is to ensure that, while the company changes, the strength of its models – that concept of Bentleyness – remains.
To be accepted into a dictionary, a new word has to become part of common vernacular and appear in respected publications. We've helped future dictionary compilers by crafting the definitions for them. But that's easy compared with the challenge that Rabe faces in infusing Bentleyness into a new era of electric vehicles. But it's a challenge he's relishing. "For me a car has to be emotional," he says. "Today, you don't find many bad cars, but you find lots that don't have that emotion. A Bentley is highly emotional. When you have your breakfast in the morning, you have to look forward to your first drive in your car.
"I will never lose the root of the Bentley. That would be the biggest mistake. Other brands would be happy to have such a strong brand and such a strong heritage, and it would be a major mistake to lose that."
Matthias Rabe on…
Hydrogen: "After looking at hydrogen, we have a strong opinion in the VW Group that we don't see potential for it in passenger cars in the future. It might make sense for trucks, but I don't see it on a Bentley in the future."
E-Fuels: "We have to look for the business case and the efficiency of the production chain for this fuel. There's a stronger demand for synthetic fuel from the aviation industry than the car industry, but I'm sure we will have e-fuels available. It will be more expensive, but the big advantage is you can change the CO2 footprint of all running combustion-engined cars."
The Mulliner division: "It's the pinnacle of the Bentley world and delivers us possibilities. With new technologies, it's good to have the possibility to introduce it in small numbers so you can gain experience. That's something we can do with Mulliner that a mass brand can't do."
James Attwood