BMW's executive class-leader is updated with revised engine options and new-look styling, reports Greg Kable.
BMW has revealed a raft of upgrades for its class-leading 5 Series to fend off the newer Audi A6 and refreshed Mercedes-Benz E-Class, including new technology and new engines.
The updated 5 Series range will be available in Australia October this year.
A hardcore CS version of the V8-powered M5 super-sedan is coming later this year, too. The suite of updates to BMW's executive mainstay also brings a new 290kW 545e xDrive plug-in hybrid model into the line-up.
Launched in 2016, the seventh-generation 5 Series has continued the success of its predecessors, with more than 600,000 sales achieved worldwide to date.
In a continuation of its electrification strategy, BMW has fitted its mild-hybrid system to all 5 Series petrol and diesel models with either a four-cylinder or six-cylinder engine. First introduced to the line-up on the 520d last year, it adds a 48V starter-generator and a second battery.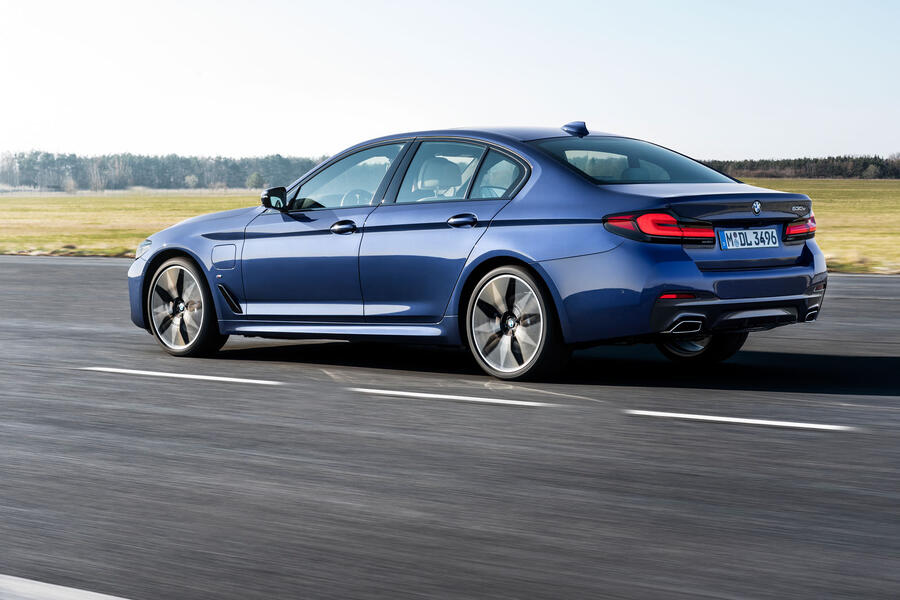 Together, they provide an 8kW temporary boost to the engine's power reserves as well as a number of new fuel-saving features. These include a coast function that shuts down the engine for periods of trailing throttle, improved brake-energy recuperation and the ability for the engine to be automatically switched off at speeds below 15km/h.
Among the petrol models are the four-cylinder 135kW 520i and the 185kW 530i, as well as the six-cylinder 245kW 540i. The 530i and 540i are available with standard rear-wheel drive or optional four-wheel drive. Above them is the four wheel-drive M550i xDrive. Available in sedan form only, its turbocharged 4.4-litre V8 engine delivers 390kW and 750Nm of torque, enabling a 0-100km/h time of 4.0sec.
Three diesels are again available: the four-cylinder 140kW 520d and two six-cylinder models, the 209kW 530d and 250kW 540d xDrive. The 520d and 530d come with standard rear-wheel drive or optional four-wheel drive, while the 540d is available with four-wheel drive exclusively. Changes to the six-cylinder diesel engine – including the adoption of two-stage turbocharging and new common-rail piezo injectors that operate at up to 2700bar – bring gains of 15kW and 30Nm to the 530d and of 15kW and 20Nm to the 540d.
The petrol-electric plug-in hybrid 530e, which comes with standard rear-wheel drive or optional four-wheel drive, has been updated with the latest evolution of BMW's turbocharged 2.0-litre four-cylinder engine. However, it continues to deliver the same nominal combined system output of 185kW and 420Nm as before, with 215kW and the same 420Nm available for 10sec via a so-called XtraBoost function. On a full charge, it has a WLTP-certified electric-only range of up 68km.
New to the family is the four-wheel-drive 545e xDrive plug-in hybrid, which uses the same 185kW turbocharged 3.0-litre in-line-six-cylinder petrol engine and 80kW electric motor as the larger 745e. Together, these provide a system output of 290kW and 600Nm, giving the 545e a 0-100km/h time of 4.7sec and a governed 250km/h top speed. The plug-in hybrid's combined WLTP fuel economy is around 2L/100km, with CO2 emissions of 49-54g/km. With a lithium ion battery mounted within the floor of the boot, the 545e achieves an electric-only range of up to 56km at speeds of up to 140km, according to BMW.
As before, all drivetrains are mated to a standard eight-speed automatic gearbox, with no manual option offered.
Although the new M550i will head the range for now, a reworked M5 will be unveiled later this year. It's set to sire a new M5 CS model with revised aerodynamics, including a rear wing similar to that seen on the M2 CS, M3 CS and M4 CS, plus lightweight carbonfibre-reinforced plastic components. Nothing is confirmed just yet but the future range-topping M5 model is rumoured to feature a newly developed V8 engine with even more firepower than the 459kW twin-turbo 4.4-litre V8 used by today's M5 Competition.
Exterior changes for the 5 Series are concentrated on the front grille, which is now wider and positioned lower than before. It also receives a new single-frame design, with a central element in chrome, and sits within a reprofiled front bumper.
Styling tweaks have been applied to the headlights as well. They receive new graphics, with L-shaped daytime running lights and indicators located at the outer edges. LED headlights are once again standard, although there's now a greater number of options, including BMW's super-bright Laserlight high-beam option. There are also more heavily structured tail-lights similar in design to those that grace the latest 3 Series, as well as a redesigned rear bumper. Regardless of the model, all 5 Series are now fitted with trapezoidal tailpipes.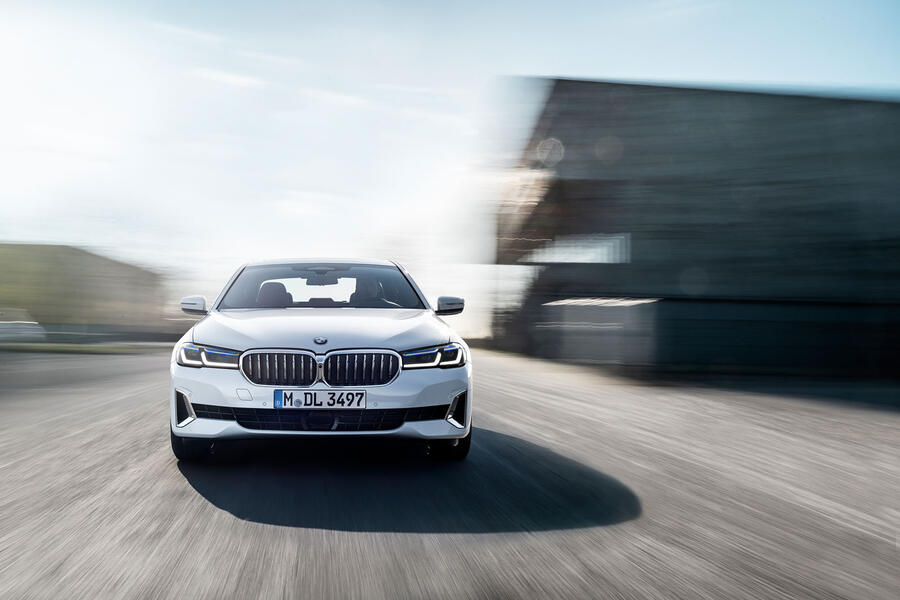 Buyers can now choose between two non-metallic and eight metallic colours. These include new Phytonic Blue metallic and Bernina Grey amber-effect metallic as part of the standard colour range and new Aventurine Red metallic and Tanzanite Blue metallic within the BMW Individual range. The upgraded brake calipers that are part of the M Sport styling package can also now be specified in red as well as the previous blue.
BMW says the adoption of new bumpers has increased the length of the sedan by 27mm and the Touring by 21mm so that both now measure 4963mm. Refinements to the aerodynamics – most notably with underbody cladding and an active air flap control system for the radiator – net the saloon a drag coefficient that is described as class-leading, at 0.23Cd, while the Touring is put at 0.26Cd.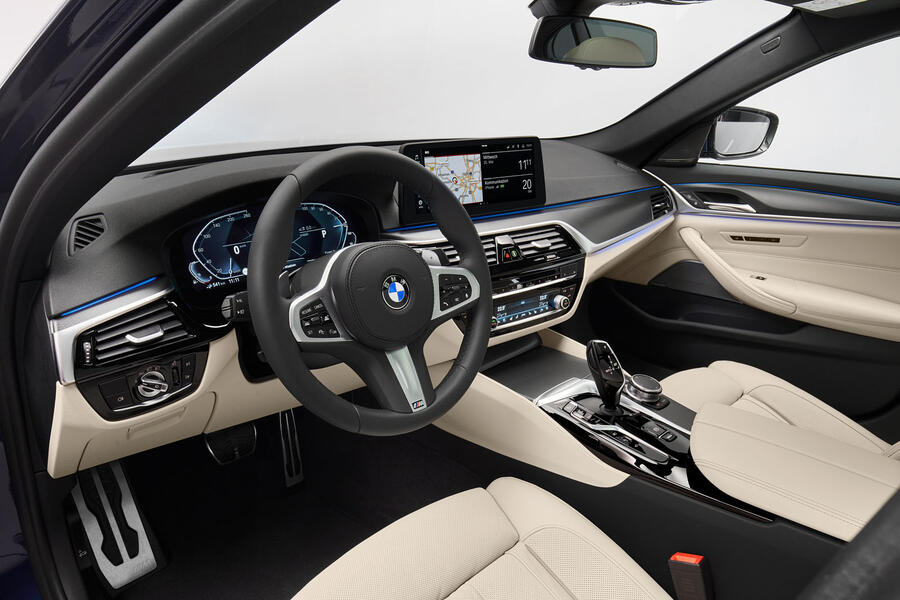 Inside, the 5 Series has the latest seventh-generation version of BMW's iDrive infotainment system along with either a standard 10.3-inch or optional 12.3-inch central display. Entry-level cars get more kit than before, while M Sport estates receive black roof rails. Further interior tweaks are focused on the dashboard, which gains a new lower climate display alongside revised materials and gloss black centre console details.
Greg Kable