We drive the all-new BMW XM that brings a number of firsts to the performance brand's line-up.
One down, one to go. This is the year that two blue-blooded carmakers – Ferrari and BMW M – dispense with tradition and launch their own SUVs.
Controversial? Just a bit. That said, we've already driven the Ferrari Purosangue and found it to be profoundly good – although the presence of an 8250rpm 6.5-litre V12 always helps. That leaves the BMW XM. This is M division's first bespoke car since the mid-engined M1 of 1978 and one that M CEO Frank van Meel says offers the best of X and the best of M. Hence the name.
Turn off the stability control and you can access a 4WD Sand driving mode, which primes the xDrive system and the M differential's locking characteristics for dunes. It's like Sabbia mode in the Urus
This is also M's very first hybrid, and its plug-in powertrain will resurface in the next M5, possibly with even more power and torque. Even for this initial application, it gives a heady 475kW and 800Nm.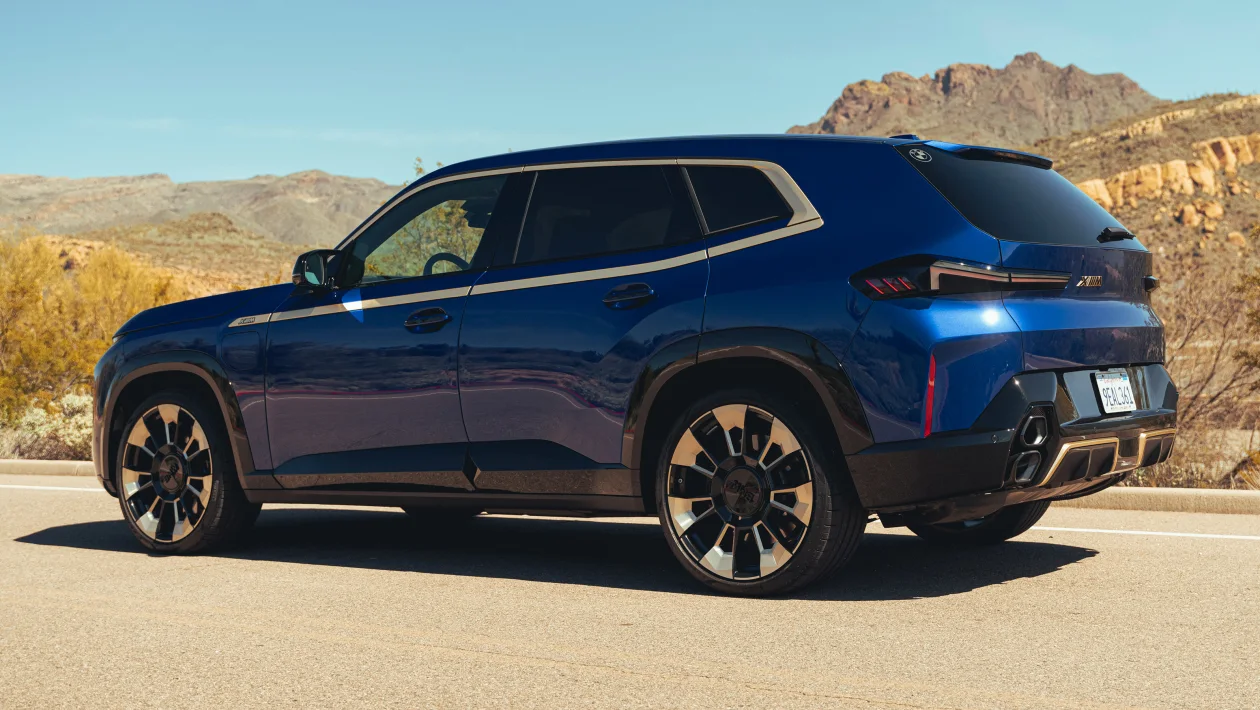 A low-slung 29.5kWh battery grants an electric-only range of 89km. It feeds a 110kW electric motor integrated into the ZF-built eight-speed automatic gearbox. The rest of the output comes from M's phenomenally strong 'S68' twin-turbocharged 4.4-litre V8 – an engine that will realise more of its potential when the 550kW XM Label Red arrives. That will ensure M's new baby outshines even the Aston Martin DBX 707 – an SUV so monstrously over-endowed that they put the figure in its name.
But yeah, all right. We can't stall forever. The fact is that none of the above, fascinating as it is, will get tongues wagging (or, I suspect, orders flowing) anything like as effectively as how the $297,000 BMW XM looks. Even in images, this beady-eyed SUV is pretty challenging to behold. But in the metal it's brutal, almost shockingly unapologetic, which is exactly as M intended. I'm struggling to remember the last time a car maker went quite so far down this road. Tesla Cybertruck?
Size-wise, the XM sits between the X5 and X7, so the footprint is sensible. The shutlines are oyster-shell tight and the creases in the body panels are deliciously crisp. However, the bevelled-block proportions are thuggish and the details a total bastardisation of M's customary strong suit of turning out cars that have a forceful, muscular elegance to them.
There are fussily stacked exhaust pipes, gold elements abound and the front-grille surround is LED-lit, just in case you missed it. BMW expects the US and China to account for roughly half of all sales, and perhaps the XM looks passably diffident next to a Ford F-450 at the intersection lights. But for M's traditional audience, it's hard to see how this SUV can ever succeed as an object in the way even the X5 M does.
The inside is better, although the pervading theme continues. First sight of the leather-lined, Dunhill-style holdall containing the charging cable genuinely had me wondering whether somebody from a fancier publication left their luggage behind. Nothing wrong with a nice bag, but it's indicative of a style-over-substance approach.
Yet be in no doubt BMW knows how to craft an interior. Metal-dipped plastics sit flush with leather and soft Alcantara, with not one stitch out of place. The curving iDrive 8 infotainment display rests on an expansive panel of matt carbonfibre. Flimsy vent controls aside, perceived quality is sky high. Our test car also had the Coffee Brown Vintage leather dashboard, finished with a process that accentuates the hide's natural characteristics. Again, probably not what a typical M2 driver wants, but this is new ground for M, with new customers and new expectations.
There's also an enormous, contoured roof panel that changes colour with the driving mode, while BMW refers to the chevron-stitched second-row bench as the M Lounge – which is surprisingly appropriate. Passengers will be lavishly cosseted, sure, but the car's steeply rising beltline and tinted rear windows ensure the space captures something of a basement-bar vibe.
We will come back to modes in a moment, because there are plenty of those, but for anyone wondering how practical the XM is, the answer is 'more practical than an M5 but less so than most rival SUVs'. The boot floor is high (on account of the M differential and the fuel tank) and 527 litres of seats-up capacity puts it behind the Porsche Cayenne and even the Lamborghini Urus. The X5 M also does usefully better, plus it has better rear visibility, although the XM would still be easy enough to live with.
But the comparative lack of practicality, the obstinately ugly aesthetic and the punchy asking price are all okay, because the XM redrafts the dynamic rulebook for fast SUVs, with M5 CS genes palpable in its very DNA, right? Wrong. And unfortunately, this is down to not just one key weakness but several.
For one thing, BMW might be weltmeister when it comes to disguising weight in performance cars, but the XM is a bridge too far. It weighs an epic 2710kg. The full-size Range Rover P510e (that's the similarly V8-engined PHEV one) weighs only 15kg more.
Part of the reason for this is that the XM is built on BMW's modular CLAR architecture. Being versatile and torsionally very stiff makes the CLAR heavy. It's why the M3 weighs a lot more than even the Lamborghini Aventador. With the XM, there's then the extra weight of the electrified bit of the powertrain and the additional bracing that any M SUV needs. Add in the luxurious interior and wheels that measure up to 23-inches in diameter and you have an extremely heavy car.
It shows in the figures: 4.3sec is quicker than anyone needs but isn't 475kW quick, especially with torque fill being injected off the line. Even on the road, the XM never feels quite as enjoyably rapid as you're expecting, which is manifestly un-M.
It is an entertaining powertrain, at least. In the default Hybrid mode (there are others for electric-only and battery hold), the XM sets off more or less silently before – precise moment dependent on throttle position – the V8 explodes into life with zero latency and calculated ferocity.
Both the engine and the motor have their own sonic signatures, and when the two combine, there's something otherworldly and quite exciting about the XM. It's just a shame that the fine-tuning isn't there. For a heavily blown unit, this V8 loves to spin out, while the motor ensures the throttle is always alert to inputs, but the roll-on response from low speeds is inconsistent, which is exactly the opposite of what you want in such a hefty and powerful car.
The steering? Not revelatory but good. It's sweeter than in many performance SUVs, striking a nice balance of camber-tracking liveliness and dead-eyed accuracy, but it doesn't communicate like the Cayenne's rack. It's recognisably M, though, which is nice.
It also has a fine base of operations, thanks to the XM's exceptional body control. M seems to have an aversion to air springs for its SUVs, and the XM is no different, yet for dynamic purposes the use of steel springs, adaptive dampers and active anti-roll bars to control the car's aluminium suspension is very successful. M also claims that an extra set of control arms at the front axle leaves the dampers almost entirely free to deal solely and neatly with vertical inputs.
Ramp up the modes (quickly done via one of the red M buttons on the wheel) and the XM turns in crisply and handles precisely, if a little soullessly. There's a thoroughbred balance here but honestly the contact patches are so obscenely large and the body control so iron-cast (on account of the heft and high centre of gravity) that there's little in the way of true agility or fluidity. So what you have is an M5 with most of the joy sucked out of it.
This wouldn't matter so much if the XM rode beautifully and was a high-riding emollient on any road surface. But it isn't. The low-speed ride is reactive, yet get going and it never truly settles. Even in Comfort mode, the XM's high-speed gait is essentially the same as that of the M3 Touring only with a little more travel. Maybe air springs aren't such a bad idea? As an SUV, the XM should be quite a bit better in this respect.
And while the seats are lavishly upholstered and comfortable, your posture – quite distinct from your height off the ground – feels a touch too ordinary and upright to capture any real sense of M car. No number of M logos and no amount of piped-in exhaust woofle can remedy that.
So driving the beastly XM confirms what its styling suggests: that this car lacks authenticity or at least any real purpose beyond shock and awe. And if M is historically about proper driving satisfaction in a truly usable and practical package, I'm not sure where its latest product, this self-professed bastion of modern M-ness, is meant to fit in. Not on many British roads, that's for sure. Too heavy to express itself, too severe to rub along with day to day and too expensive for powertrain niggles to be let off lightly, it brings little to either the brand or the super-SUV party. M can do better.