Unveiled in 2018 and sold out almost immediately, the limited-edition Bugatti Divo is an evolution of the Chiron developed with a focus on handling, not high-end speed.
Stylists resisted the urge to create a pastiche of a 90-year old race like the Type 35. It doesn't look like the Chiron, either, though its proportions are inevitably similar because the two cars share many parts under their carbonfibre bodies.
Chiron genes are more pronounced inside. Sitting inches off the ground, I face a 500km/h speedometer flanked by screens and a relatively small steering wheel with two red buttons and a pair of shift paddles.
My test car – whose owner is patiently waiting for it – wears a two-tone interior with a mostly grey driver's seat, a black passenger's seat, and both colours on the steering wheel. Over two-thirds of buyers chose to customise their car and nearly anything is possible as long as clients are willing to pay for it.
Bugatti made no major mechanical changes, meaning the Divo is powered by the Chiron's quad-turbocharged, 8.0-litre W16 engine. It sends 1102kW and 1600Nm to the four wheels via a seven-speed dual-clutch automatic transmission. 0-100km/h takes 2.4sec, which is on par with the Chiron.
It's not a stripped-out track car – its interior is thoroughly luxurious and impeccably built – yet it's 77lbs lighter than the Chiron and engineers wisely shaved weight where it truly counts.
Lighter wheels reduce unsprung weight to make the Divo quicker on its feet, for example. Meanwhile, aerodynamic improvements like a 1.82 metre-wide rear wing (23% wider than the Chiron's) that doubles as an air brake and a redesigned rear diffuser generate the downforce required for the Divo to stay planted on the ground.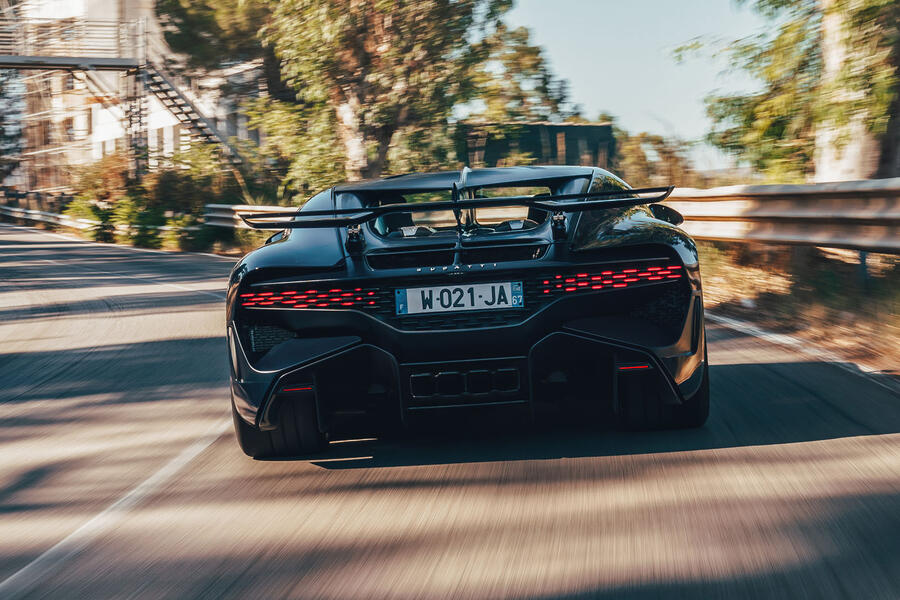 Bugatti named the Divo after Albert Divo, an intrepid French pilot who won the Targa Florio road race in 1928 and 1929 in a Type 35, so it's fitting that I experienced it on a short stretch of the event's historic route.
Driving on the narrow, olive grove-lined roads linking the abandoned Floriopoli tribune to the Sicilian town of Cerda requires swerving around potholes big enough to fry arancini in and avoiding 30-year old Fiat Panda hatchbacks running amok as lane markings blur into mere suggestions.
Every minute is a theatrical adventure, but it helps that the Divo is shockingly undemanding to drive for a 1102kW machine that's wider than a BMW X7. Its steering feels sharper and more communicative than the Chiron's, so it's easier to know what the front wheels are doing. Its braking capability (helped by the aforementioned air brake) is at least as impressive as its 0-100km/h time.
When the road clears at last, a nudge of the accelerator pedal is all it takes for two of the turbos (and, rather quickly, all four) to spool up with a whoosh reminiscent of an Airbus A330 as the 8.0-litre W16 engine effortlessly catapults the Divo from corner to corner.
I expect this kind of pace from a modern-day Bugatti. What's surprising is the Divo's ability to keep it up as it goes around a bend. Less weight, more downforce and purposeful chassis tweaks is a formula that works wonders. And, because the seven-speed dual-clutch transmission spins the four wheels, the tires never grapple for traction.
Whether or not the Divo – the first coachbuilt Bugatti of the 21st century – deserves a spot in your presumably large collection is a moot point. If your name isn't on the list, it's too late. Bugatti showed it to its most loyal clients before parading it in front of the champagne-soaked crowd at the 2018 edition of the Pebble Beach Concours d'Elegance and they scooped up the 40 cars, each priced at £4.5 million (AUD$8.22 million) in record time.
You're not out of luck if you want a Bugatti that moves sideways as well as it moves forward, though. The Chiron Pur Sport, which was also designed for the mountains, remains available.
Bugatti Divo specification
Where Sicily, Italy Price £4.5 million (AUD$8.22 million) On sale sold out Engine W16, 7993cc, turbocharged petrol Power 1102kW at 6700rpm Torque 1600Nm at 2000-6000rpm Gearbox 7-spd dual-clutch automatic Kerb weight 1961kg Top speed 380km/h 0-100km/h 2.4sec Rivals Lamborghini Sian, Koenigsegg Jesko
Ronan Glon