Hypercar company partners with US-based scooter specialist for bizarre follow-up to 489km/h Chiron Super Sport 300+
Bugatti, best known for speed barrier-breaking hypercars such as the 489km/h Chiron Super Sport 300+, has revealed its first electric vehicle – a 30km/h electric scooter.
The unlikely machine is the result of a partnership between the French brand, which is now controlled by Croatian electric hypercar firm Rimac, and New York-based e-scooter firm Bytech International. The scooter is designed and produced by Bytech, although it has been given an extensive makeover in the style of Bugatti's hypercars.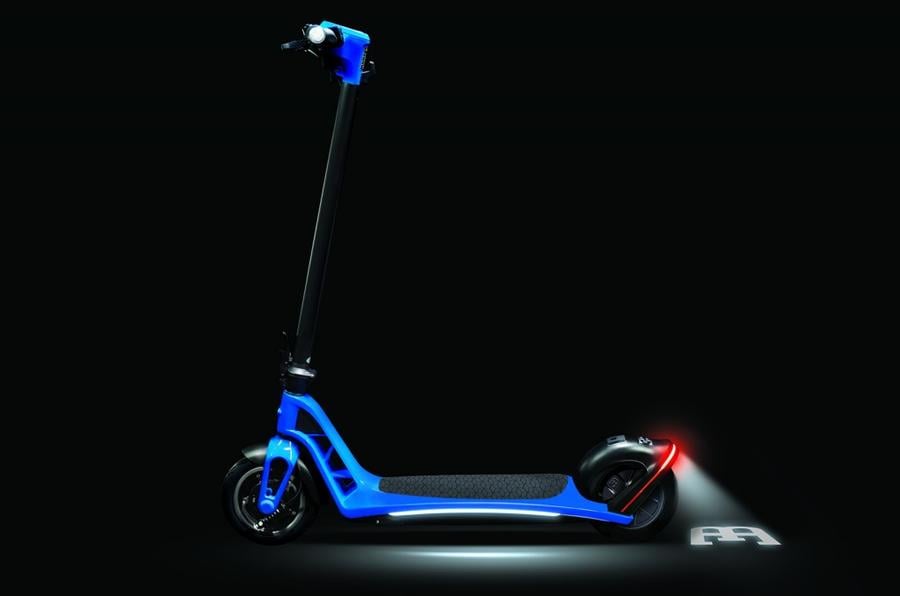 The Bugatti scooter has three speed settings: Economy (15km/h), City (20km/h) and Sport (30km/h). It is powered by a 36v, 10ah (0.36kWh) battery, with a claimed range of 35km. The battery can be charged while connected to the scooter or removed and plugged in. A full charge takes around four hours on a domestic plug socket.
The scooter's frame is made from a magnesium alloy and weighs 16kg, and folds up so it can be carried. A large LED display that shows speed, mode and battery light, and also features controls for the headlights. The machine sits on 9in run-flat tyres, and can carry loads of up to 110kg.
Bugatti and Bytech have also fitted the machine with a number of design features. There are dual-turn signals, with indicators positioned on the handle grips and rear mudguard, with illuminated base lights along the side. There is also an 'EB' emblem projection logo and rear E-ABS anti-lock brakes.
At present, the Bugatti scooter is only intended for the US market, and the firm has revealed no pricing details of it yet.
Rimac took control of Bugatti from the Volkswagen Group last year, and work has already begun on the long-running French's brands first all-electric model, part of a range of EV hypercars the two firms will launch in the coming years.
James Attwood