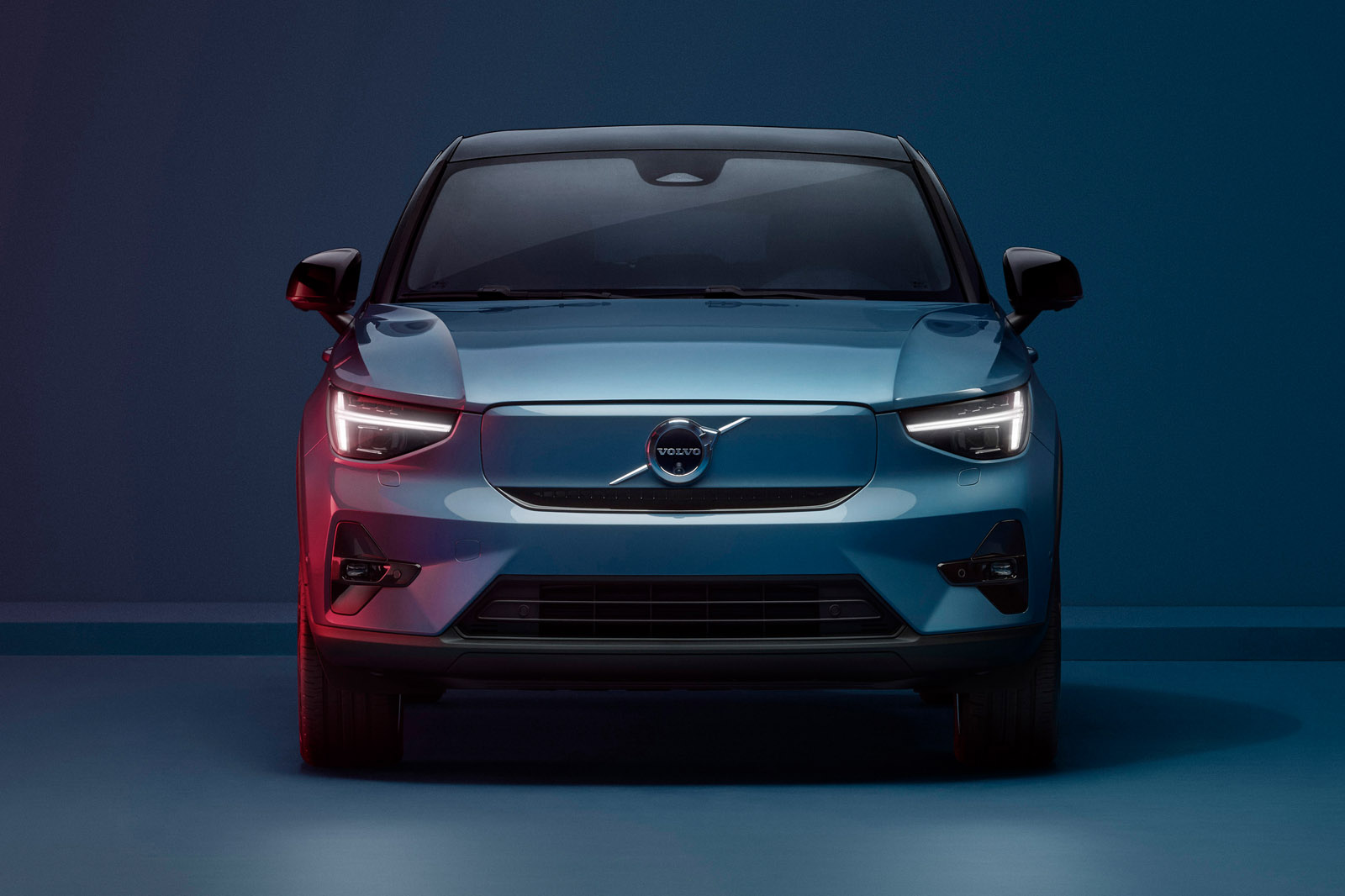 It's a sign that Volvo really has become a true rival to the premium German brands when it can wheel out a coupé version of a popular SUV and excitedly brand it an all-new model. But while there is a degree of cynical segment-filling to the C40 Recharge, it still shows Volvo's disruptive and creative approach.
While it might be a lower-slung version of the XC40 Recharge P8, with the same electric powertrain and virtually identical dimensions, it undoubtedly looks sharper and sleeker. Given Volvo's recent focus on its safe sturdy and hugely successful SUVs, the C40's styling is a welcome return to the firm showing its more dynamic side. It's the missing link between the XC40 and the Polestar 2, and that's no bad thing.
You can hardly blame Volvo for adding a sister model to the XC40, either. Sales of its smallest SUV have surged in the last year in virtually every major market. So why not present a second option in a strong segment?
But while the C40's concept might not be that radical, it does show some bold thinking by showcasing exactly how the firm aims to achieves its new commitments to make its line-up electric-only by 2030 and to shifting all sales online.
The C40 will be the first Volvo only offered in electric form – despite sharing its underpinnings with the XC40, which it will be built alongside it Ghent. That means it would be really easy to offer the C40 with one of the plug-in hybrid powertrains offered on the XC40, a move that would likely increase its short-term sales potential – and wouldn't really impact the firm's plans to go EV-only in nine years time.
So it's a sign of Volvo's commitment to really push its electric switch that the C40 will only be offered with battery power. If you're attracted by its sportier styling, you'll have to make the leap to electric.
You'll have to buy it online, too – as you will with every full electric Volvo. To clarify, that doesn't mean dealerships will play no part in the process: you'll still be able to go into one and order a Volvo EV, but they'll process the order via the website. It's about making the buying process 'seamless': you can start browCoupe-suv version of XC40 is something different for the Swedish branding on your phone or laptop, and then easily pick up in a dealership.
It's a process that takes a lead from Volvo's sister brand Polestar, and online buying is well-suited to the affluent, younger 'premium' customer base Volvo is aiming to capture with the sleek C40. A core part of the future sales offering will be an expanded version of Care by Volvo, currently the firm's no-commitment subscription service. It will expand the care package from that service to all sales in the future.
Volvo pledges no more haggling, either: it's introducing a fixed price for its cars, in an effort to further simplify the purchase process. That might not seem a positive move to those who love the thrill of negotiating a deal, but Volvo reckons it's a practice that puts off many of the premium customers it's firmly aiming for.
Volvo's further push to electrification and online sales are bold but careful steps forward, an attempt to introduce meaningful changes that the firm believes will help it grow and thrive in the future. In that sense, they're much like the C40 itself: they might not be quite as radical or new as advertised, but they demonstrate a firm committed to adopting fresh approaches as it stages a major reinvention.
James Attwood