Rugged looks join French flair in Citroen's electric buggy that could go into production.
Citroën is considering producing a rugged special edition of the Ami quadricycle based on the recently revealed My Ami Buggy Concept. In an attempt to highlight its versatility, the French car maker recently revealed the one-off Buggy, which adds off-road elements to the electric machine.
Although it was imagined strictly as a one-off, Automotive Daily understands that public reaction to the Ami Buggy has prompted Citroen to evaluate a possible production version. While we can't see it ever being officially imported to Australia, its affordable pricing might make it a fun recreational vehicle that one could import personally.
But what does the Buggy's rugged styling and features add to the Ami?
The Ami Buggy Concept is essentially a modern French reimagining of the Mini Moke and other small beach buggy concepts. With its small-but-chunky tyres, fun styling elements and open-air driving feel thanks to the absence of doors, you can see the appeal of using one for carefree cruising basking in sunshine on the French Riviera.
That appeal is tested somewhat in the cold, windswept car park of Stellantis's UK headquarters which is where we were able to take it for a test drive. Instead of letting in a cooling sea breeze, the open sides expose me to a stiff, icy wind. I consider stopping to attach the transparent rainproof panels that can be added in place of doors to offer some protection from the elements (inspired by those on the Citroën Mehari, apparently). But in truth they're a bit of a faff, and with limited time I opt to press on, especially since the imminent threat of rain has added some urgency to our test drive.
The Ami Buggy may have rugged styling that hints it can conquer all elements, but as a one-off concept that was built purely for show, there's a fear that wet weather could damage it. Best hurry to get some running in, then.
Except hurrying isn't really an option: the concept's chunky mud tyres, set off nicely against matt gold rims, look fantastic, but they only just fit within the Ami's wheel arches. Turn the wheels too far, and they'll start rubbing at the one-off's customised bodywork. Largely limited to travelling in a straight line and very gentle turns, it's predictably impossible to actually learn anything about the Ami Buggy's dynamic potential.
That said, I'm not sure that matters. Taking a regular Ami for a quick dash around the nearby streets is a reminder that this machine isn't really about dynamics or driving thrills: its mission is offering affordable motoring freedom. In its original form as an urban runaround, the Ami is as much a rival to e-bikes and e-scooters as full-size cars.
Likewise, the Ami Buggy may have rugged styling, but the aim isn't to offer off-road thrills: it's a tool to get you to the beach in relative comfort, and probably turn some heads doing it.
On that count, the Ami Buggy certainly delivers. The special design elements look fantastic in the metal, from the bull bars and light covers welded directly onto the steel chassis to the roof-mounted spare wheel, and the speckled black effect of the paint adds a subtle touch of dynamism.
Other flourishes include the words 'pilot' and 'co-pilot' added to the roof on each side of the car, and yellow arrows on the spoiler to show the direction of the airflow.
While the doors have been removed, Citroën has added small frame doors that add some hint of side protection. The gaps in the doors feature detachable bags that can be used for storage – perfect for small items you'd need for a day at the beach, or a rain coat to cope with the UK's fine winter weather.
The frame doors open using the regular Ami's door opening system, although in truth I found it was easier just to step over them to get in and out of the vehicle.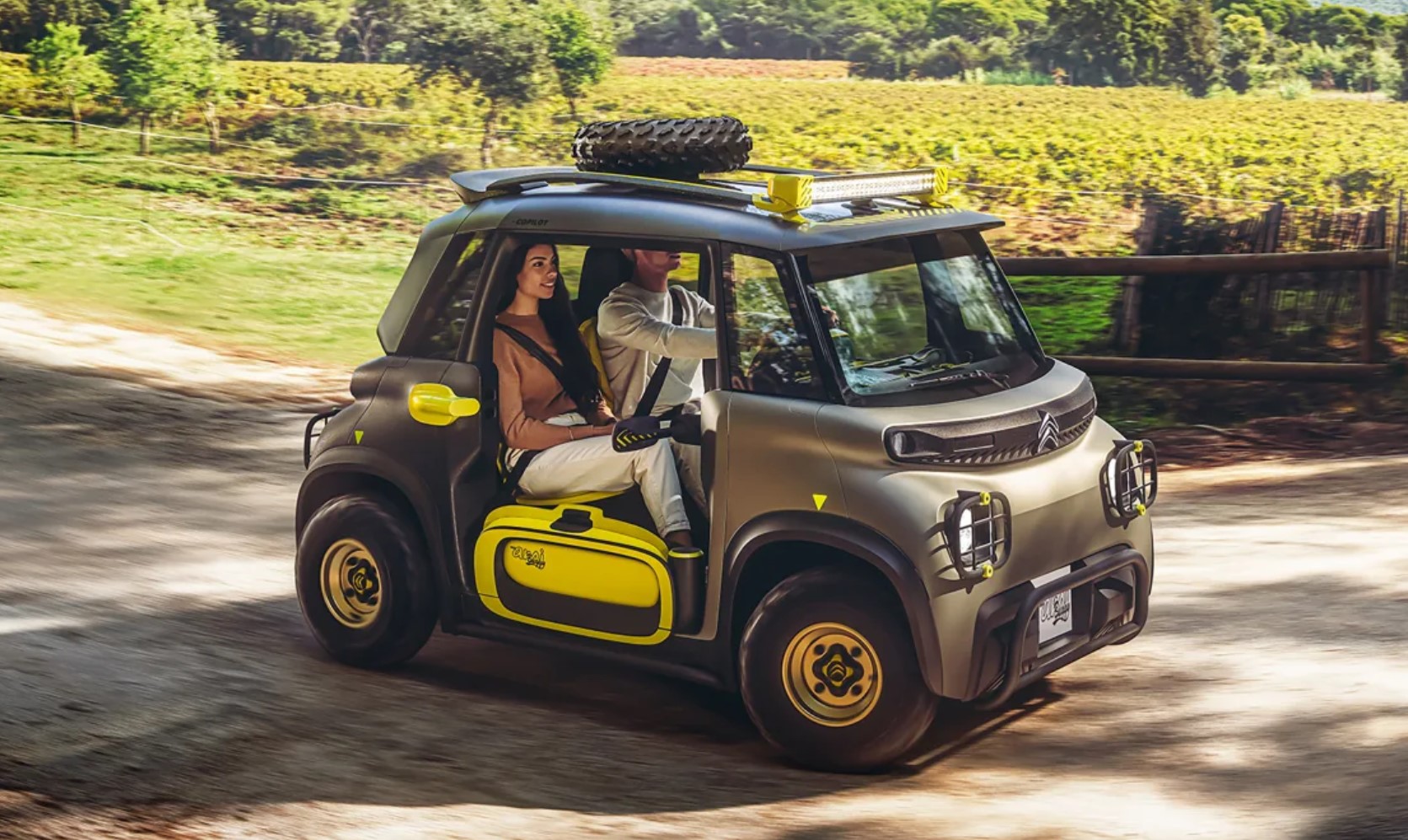 The interior of the Ami is a relatively no-frills place, and the Buggy's cabin is similar, although there are a handful of design touches that add both style and practicality. The steering wheel features a small bumbag attached to it with a magnet (which looks better attached to the wheel than it probably would around my waist), while the smartphone clamp has been replaced with a more stylish cylindrical holder. Citroën's idea is that the tube could be engraved with the car owner's name, just in case you're likely to forget such things as your own name.
Elsewhere, cupholders have been added, and there's a new removable speaker positioned in the dashboard behind the steering wheel. The idea is that speaker can be removed so you can play music in whichever sunny French seaside destination you've parked up for the day at. Should your trip out run into the evening, a roof-mounted light bar is intended to offer a torch-style light.
That device also comes in useful in adding a touch of light to an otherwise gloomy day – but then so does the Ami Buggy Concept. As a one-off that was never meant to be taken all that seriously, it's hard to really offer any firm conclusions on. But in showcasing a possible future use for the Ami, it's hard not to be excited at the possibility of a relaxing cruise in a production version. Although perhaps somewhere warmer…
James Attwood