Ferrari has created a stunning new V8-powered coupé in the Roma but it does things differently from an Aston Martin DB11 or a Bentley Continental GT. Is differently also better?
Personal taste remains the deciding factor for anyone choosing a new sports car. Nobody can tell you what you like. Even so, in such a diverse exotic sports car market as we now have, it can be hard enough just to narrow down the options. "So what next, should I have the really fast one? The hybrid one, perhaps? Or the throwback, lightweight one? What about the heavyweight electric one, or the really wild, hardcore one?"
My stock response tends to be to drive as many as you can and then, barring any revelations or revulsions, to plump for whatever it was that you really fancied in the first place. But whatever you're favouring, I'd always advise, think carefully about where, how and how often you might be able to actually use and drive it before you sign anything.
For all its many-splendoured variety, today's sports car market contains only two kinds of prospect when you really get down to it: cars you can use, and those you can't. Nothing has more influence on how much you'll enjoy owning one than usability. It sounds like a simple distinction, but it's very often either forgotten or overlooked; and it can be a peculiarly personal thing.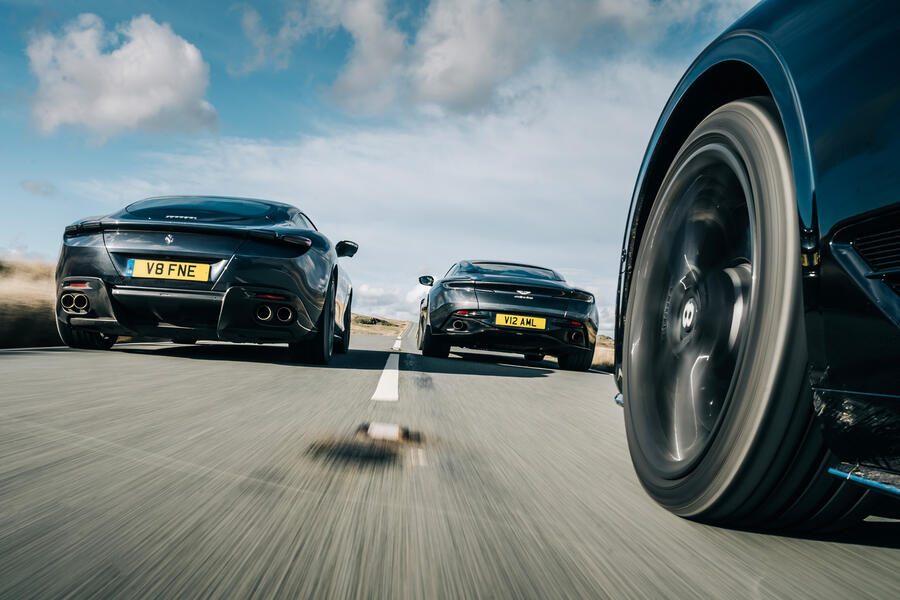 Which brings us to the concept of the sporting GT, the sports car made more usable. That's really all the modern grand tourer is: a car indulgent, exciting, exclusive and special at its heart, but tempered with just enough versatility, practicality and pragmatism to give us more ways and occasions to enjoy it. I love 'em.
A modern GT should slip easily into your life, because that's exactly what the good ones are designed to do. But some are designed to do it very differently from others. And, it turns out, a brand-new type of front-engined, rear-driven, turbo V8-powered, $410,000 Ferrari GT car does it in a very particular, fresh and dynamically compelling way. One that, you'll find, is quite unlike that of its nearest equivalent from either Bentley or Aston Martin when you have the chance to compare them back to back, as I just have.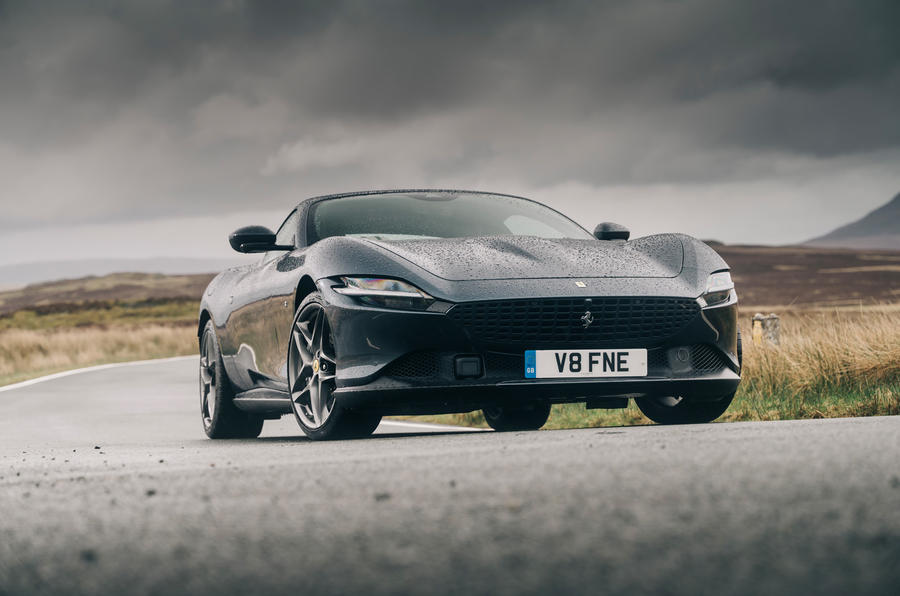 It has long seemed odd to me that a company with the GT-making pedigree of the Daytona, 250 GT and 550 Maranello should have allowed itself to become so under-represented in the modern market for cars like this of late. Ferrari's more expensive front-engined V12 models have become quite niche prospects, after all.
But the Roma returns the company right to the centre ground of the grand touring sports car class where it belongs. It's beautiful and elegant, powerful and exciting, compact yet usable – all of which you'll already have read in our mainland Europe and UK first drives.
But the really impressive thing about it is that, next to even an Aston Martin DB11 AMR that outguns it on cylinder count and headline power output and a Bentley Continental GT V8 that has luxury touring appeal unlike any other GT on the planet, the Roma makes space for itself so very effectively. It carves out a positioning and a micro-niche within a niche exactly of the sort that, frankly, a decent road tester should have predicted.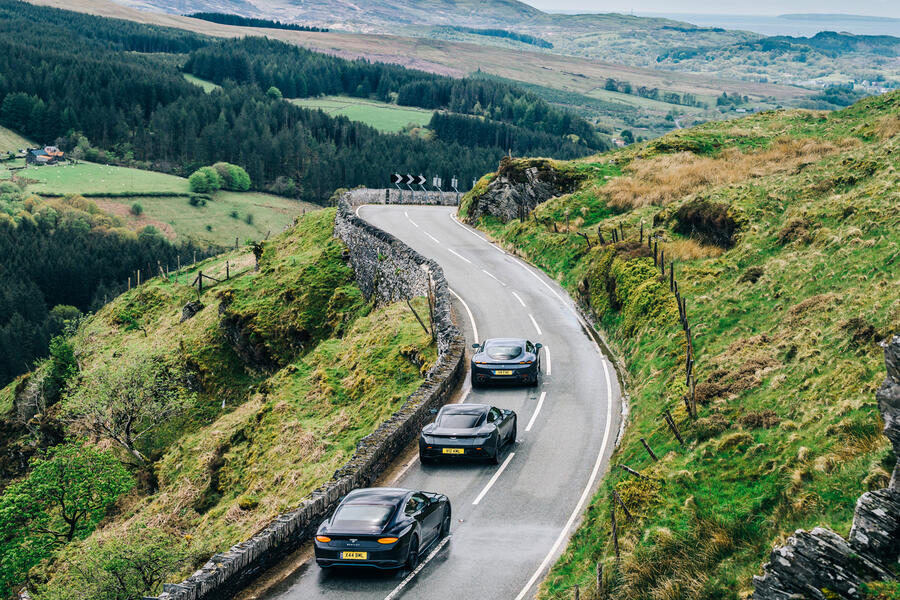 And yet, even if you had, you couldn't fail to be struck a little dumb as the Roma works its magic. As it uses all of those acknowledged Ferrari dynamic hallmarks to shrink itself around you and to disguise its weight; to set itself so free and clear of its rivals for the sheer energy, immediacy and zip of its driving experience; and yet to retain just enough breadth of appeal, day-to-day versatility and classic front-engined elegance to set itself apart from its mid-engined range-mates, too. The Roma is the everyday-use GT sports car done with really distinguishing Latinate energy and vigour.
The first clue of what the car is up to can be seen in its proportions. It looks tellingly small next to the Aston and Bentley. (It's light, too: up to 300kg lighter even than the Aston, and as light as a four-cylinder Jaguar F-Type.) And it certainly feels that way from within. The car's major dimensions don't tell quite the full story (the DB11's roof is actually lower), but to sit in, the Ferrari's scuttle and bonnet are both so low. The packaging of the car's front end must be very tight indeed, and its engine position notably lower than in either of its rivals.
So while driving the DB11 or Continental along a narrow lane can feel a bit like carrying a teak dining table down a corridor only just about wide enough to admit it, the Roma is much easier to place. It's not effortless over distance like the Bentley can be, nor quite as rich and delectable as the Aston – but it's really special. It offers a wonderfully evocative, sculptural view of the road, too: those swollen front wings over the wheel arches look like Apennine foothills on either side of a lush river valley.
Pretty much whichever angle you have of it, this Ferrari's quite the thing to behold. It's so much simpler and more lithe than the more butch, muscular Aston Martin, and so much smaller and more delicate than the handsome but imposing-looking Bentley. It out-dazzles them both for static appeal even in a dark, slightly nondescript metallic colour like the 'Blu Roma's of our test car.
On the inside, you expect that it'll feel significantly smaller than its rivals. There is certainly an intimacy to the Roma's cockpit that you won't find in the Bentley. But the Ferrari is actually pleasingly well packaged; clearly much better so than the bigger Aston Martin, whose broad sills and wide transmission tunnel seem to rob it of any advantage on roominess that it might otherwise have had.
The Roma seats tall occupants comfortably enough up front, albeit without quite as much leg room as the DB11 or the outright space of the bigger Continental. For occasional back-row space, the Aston and Ferrari are more or less equals: you could put younger kids in the back of either (and I did in the Roma) but you wouldn't want to for hours at a time. Forget about carrying adults back there, though, or even teenagers.
The Bentley is the only adult-sized four-seat GT of our three, just as it's the only truly lavish, luxurious, effortless long-distance tourer. What a cabin it has. Superbly comfortable, multi-adjustable seats sit in front of a fascia dripping in tactile, alluring brightwork and finished with a solidity of feel and a lavishness of equipment specification that make it the standout luxury operator by a country mile. Our test car's 22-inch alloy wheels made for a slightly noisier highway ride than I'd have preferred, but it's only the remarkable refinement of the car in a wider sense that makes you aware of it.
The Bentley is so comfortable, accommodating and easy-going that you could, as a colleague put it, "just use it as if it was a Mk7 VW Golf R". Of a $401,000, 2.2-tonne exotic, that's quite a statement. To imagine owning and using one is absurdly easy; and the simple enrichment of the everyday that you'd get from doing so would be something to savour.
The same tester, however, also said that while he enjoyed driving the Continental, he didn't get much more out of doing so on a great mountain road than he would have expected of the aforementioned VW hot hatchback. Interesting observation, that, with more than a grain of truth in it. The Continental is a pleasing, woofling, thrusty thing when it really gets going, with quite supreme and genteel drivability. The finesse you feel through the weighty, perfectly paced steering is striking, and it makes a big car surprisingly easy to guide.
But the Bentley is a big, heavy car that often spreads itself across more than its share of a twisty road. It can be enjoyed at speed up to a point, absolutely; especially where the lanes are wide and the corners fast flowing. But it's still not a car to be hustled or threaded along like either the Ferrari or Aston Martin can be. It simply doesn't have their dynamic duality.
The DB11 is a car for hustling, while we're on the topic, and the Roma is more for threading. The Aston's got much more traditional GT dynamic flavour about it. Even in AMR performance-tuned form, it's supple and a little soft around the edges. It dips an outside shoulder and takes a split-second to respond as it turns like a back-row forward attacking the defensive line, and it squats and springs just a little underneath you as the road dips and rises.
But it really communicates. It has meaty control weights and some old-school hot-rod charm; a clear surfeit of mid-range grunt over rear-driven grip levels, too, and an adjustable, slightly naughty chassis balance. I would have preferred better handling precision from it. The slightly rubbery, elastic feel of the DB11's rear axle location and the way it breaks traction make you approach its limits with just a little caution and uncertainty. But it's an easy car to like at almost any speed and it's certainly a lovelier, richer and more enticing thing to drive gently than the Roma is.
What the Roma can do, though, at the kinds of speeds and effort levels you might expect to reserve for really thoroughbred sports cars, is a class apart. Want body control? You've found it. The Ferrari has tautness and first-rate vertical control of the kind you can only deliver on a lightweight car, and its directional agility is little short of mind-boggling.
It's a bit too much at first, actually. Get out of the Bentley, for example, and the sheer pace and response rate of the Roma's steering can be problematic to begin with. But give it some time, get used to the delicacy and pace of the Roma's wheel, find a driving mode that suits you, and you can simply sit back and marvel that a GT sports car can handle with as much sheer grip, swivelling energy, level poise and pin-sharp balance as a flyweight track car. Given its head, the Roma might even excite and involve its driver like nothing else with a front-mounted engine – save, perhaps, a powerful Caterham or a front-engined V12 Ferrari. For dynamic immediacy, drop-of-a-hat balance, throttle adjustability and rapier incisiveness, it's a lot more like an F8 Tributo than an Aston Martin or Bentley. Makes sense when you think about it. It's modern Ferrari, after all.
For this tester, that pin-sharp driver appeal combined with the Roma's 2+2 seating versatility and its creditable cruising manners give it a broader range of dynamic abilities than either the Continental or the DB11 has, as well as even more spectacular dynamic high notes to hit. With a long drive home ahead of you after a long day's driving, you might well pick either of its rivals, each of which, in their different ways, makes the miles go by the window very agreeably indeed.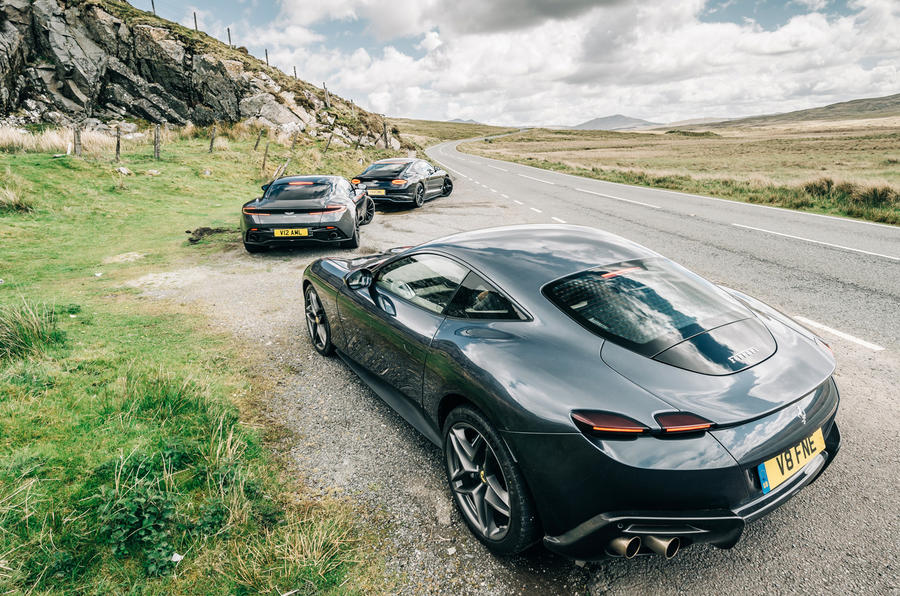 But, trust me, it's the Roma you'd be thinking about as you dropped off to sleep that night – and GT cars like that don't come along often.
Matt Saunders