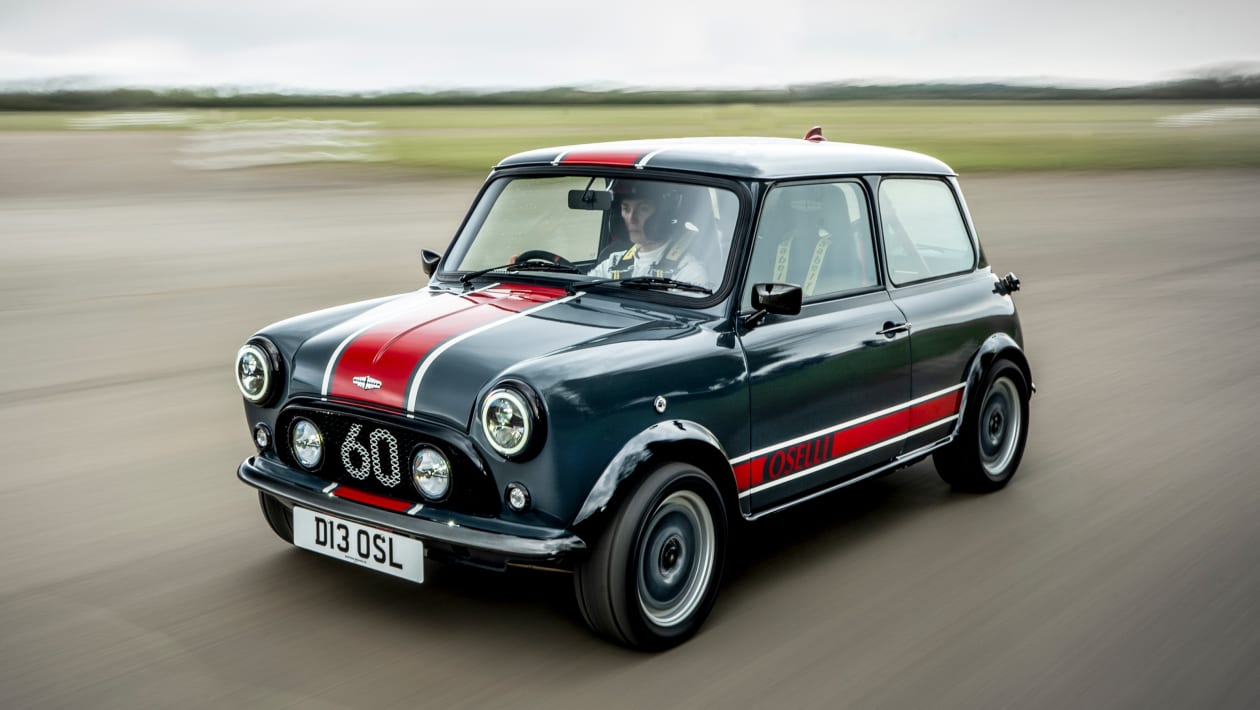 David Brown Automotive has launched a new limited-run, high-performance version of its Mini Remastered resto-mod, called the Mini Remastered Oselli Editon.
Built in collaboration with tuning specialist Oselli – which has prepared classic Minis and MGs for competition use since the 1960s -production will be limited to just 60 units, in honour of the Mini's recent 60th anniversary celebration. It won't come cheap, though, with prices starting from around AUD$178,000.
The Mini Remastered Oselli Edition is powered by an Oselli-tuned version of the BMC A-Series four-cylinder petrol engine, bored out from 1275cc to 1450cc and completed with competition-spec internals.
Upgrades include a strengthened crankshaft, new pistons and a "high torque" performance camshaft. The engine is topped-off with a hand-ported and polished cylinder head, a pair of SU carburettors and a freer-flowing exhaust system.
The result is 91kW and 153Nm. The tuned classic's 0–100km/h time is a claimed 7.8 seconds and, and it should be bearable to drive on the highway, thanks to a new five-speed manual gearbox.
The powerful new engine is supported by a host of chassis upgrades which promise to retain the Mini's renowned "go-kart" handling. Tweaks include larger 13-inch alloy wheels wrapped in grippy tyres, new Bilstein dampers, larger AP Racing brakes and a limited-slip differential.
Every Mini Remastered Oselli Edition also features a range of styling tweaks and a host of creature comforts normally reserved for modern vehicles.
There's a new mesh grille with some frenched-in spotlamps, fresh black bumpers and new LED headlamps to replace the original Mini's halogen units.
The Oselli Edition has the same deseamed body shell as the standard car, and it's available in either off-white or dark grey paint finishes. Its racing stripes come in either Royal Blue, Competition Red, or Racing Green – and the engine's rocker cover is painted to match. David Brown Automotive also offers matching racing suits and helmets as optional extras.
Inside, there's leather upholstery, an Alcantara steering wheel, aluminium pedals and a reshaped dashboard filled with Smiths gauges and a modern infotainment system. Even the boot has been trimmed in leather, and can be optionally fitted with an extra fuel tank.
If you're a particularly keen track driver, the coachbuilder will even strip out the rear bench and add a full roll-cage, four-point racing harness and Sabelt bucket seats. However, this arrangement bumps the price-tag up to AUD$197,000.
Luke Wilkinson