Ask me to configure a car to get down my favourite road and it would go something like this.
It would need to be light, of course, and quite but not overwhelmingly powerful. I'd like to find the engine ahead of me and the driven wheels behind. That engine should have more than four cylinders and power the rear wheels through a manual gearbox. And the car should be slender, so it has more of its own side of the road on which to play. Fully independent suspension and disc brakes are, of course, a must, too.
What I've just described to you is a 1960's E-Type. But were you to find such a car, even if its condition reflected that in which it left the factory all those years ago, it would likely be charming on such a road, but not very good. It would be quite slow to gain speed and even slower, relatively, to lose it. It would wobble about over the humps and crests, and if you really gave it the beans, there's a decent chance it would break.
But imagine an E-Type designed today to that outline specification, but with modern tolerances, metallurgy and an attention to detail many hundreds of times greater than that enjoyed by a normal production car like a standard E-Type. If you did, and your mind was unusually fertile, you might just come up with this, the Eagle Lightweight GT.
You may know Eagle and some of its extraordinary E-Type-themed creations of the past few years. Well, this is the most extraordinary of all: a car costing over AUD$1.5 million, with a waiting list of at least 18 months, during which 8500 man hours will be lovingly devoted to its creation. And all that only after Eagle has sourced you a suitable donor vehicle. You can't supply your own, because too many have turned out to be in even worse condition than was thought.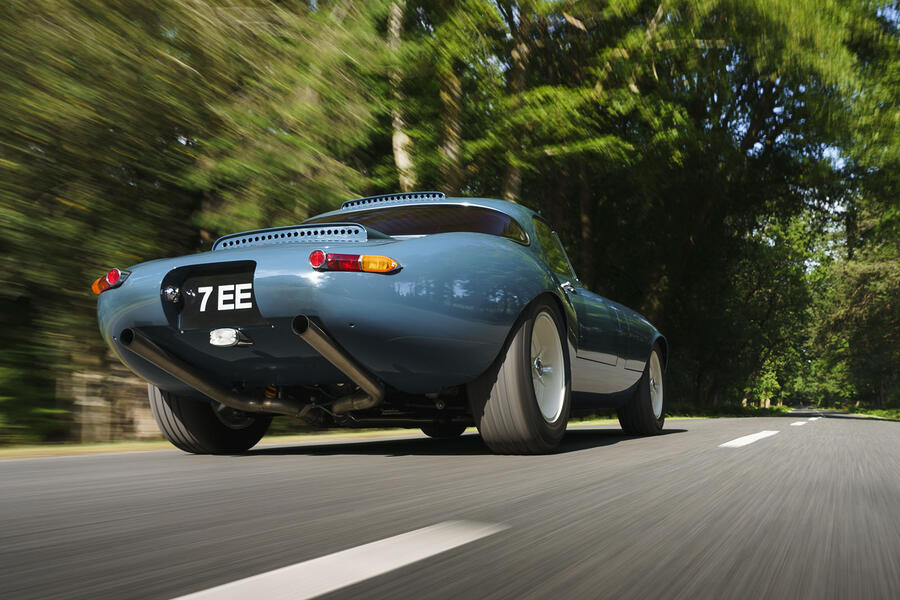 If it looks like one of those super-rare lightweight E-Type racers the factory made for wealthy customers in the early 1960s, that is no coincidence.
But nor does it have a panel in common with any E-Type, road or race. It is Eagle's own creation, and in hand-beaten aluminium, it is so beautiful that when I first saw it, I just started laughing.
Mechanically, nothing has been left untouched. The engine is based on the famed XK straight six but is Eagle's specification, complete with its own aluminium block. Within limits, you can have as much or as little power as you like: this one displaces 4.7 litres and with Weber carbs has around 285kW, which is well over 75kW more than any standard six cylinder E. If you'd prefer fuel injection, that can be done, too.
The gearbox is Eagle's own and has five speeds not four, but its action has been designed to have that slow, heavy, E-Type feel. Every bush, angle, spring, damper and roll bar in the suspension system is bespoke. To keep it light, this old E-Type is full of exotic materials such as magnesium for its sump, bell housing, diff case, hubs and wheels. The engine intake is carbonfibre, its exhaust titanium.
It has a lithium battery, hollow driveshafts… I could go on but space is short and I'm sure you get the picture.
Yet it is still an E-Type, not just in appearance, but feel, too. Although Eagle has even gone so far as to reposition the rear bulkhead to liberate much needed space inside, the driving position is all E-Type, as is the view across the dashboard and down that endless bonnet.
But what is best about it is that it may look like a racer but it's set up as a road car. The engine is awash with mid-range torque, sharpening by degrees as the revs rise. The body is structurally far stiffer than a normal E's, but it's still quite softly sprung and brilliantly controlled on adjustable Ohlins shock absorbers.
The whole thing weighs just a fraction over a tonne, and if you ditched the air conditioning and big seats, it would come in well under. Which means it has a power-to-weight ratio that puts it in the same game as a Porsche 911 GT3 RS.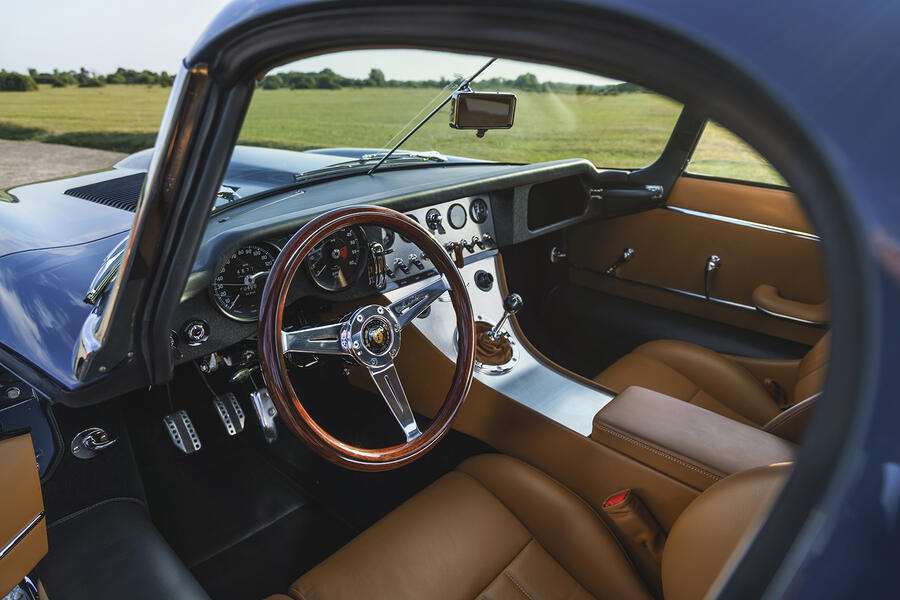 This, then, is a wickedly fast old car yet ridiculously capable, too. You can waft along, soaking up the sight and sound of the classic car it remains, or you can put that motor to work, revel in the car's compact dimensions, beautiful balance and tireless AP Racing brakes and disappear from anything that comes near you.
It is, of course, hideously expensive and there are some other highly capable resotmods these days, but all I can tell you is that on that one particular road – quiet, twisting, challenging and long – and in that one particular moment, there was scarcely a car in the world I'd have rather been driving.
Eagle Lightweight E-Type specification
Price AUD$1,500,000+ On sale now Engine 6 cyls, 4700cc, petrol Power 285kW at 5750rpm Torque 508Nm at 4000rpm Gearbox 5-spd manual Kerb weight 1017kg Top speed more than 275km/h 0-100km/h less than 5.0sec