Audi's TT remains popular today and with its elegant design it's not hard to see why.
The original TT seemed revolutionary in 1998, and the Mk3 still has a unique appeal today. We take the two for a spin to consider the past and the future
Great design is always a victim of its own success. Familiarity might not always lead to contempt, but it certainly breeds indifference. The original Audi TT has long since become an automotive background artist, a near-invisible part of any streetscape that rarely gets a second glance. Yet when it was new, it drew attention better than most supercars.
I'm serious. Back in 1999, I got to drive an early TT coupé through central London months before sales started, and it was as if I were in a low-flying spacecraft or handing out $100 notes. On a gridlocked Euston Road, a bus driver heading in the opposite direction abandoned his double-decker and crossed several lanes of traffic to demand to know what this vision from the future was. Another bloke offered to buy it for cash, which might have caused some mild friction with the Audi press office had I accepted. Not bad for a car that shared its underpinnings with the Mk4 Volkswagen Golf.
Yet now the TT is nearing the end of its life. Audi has said there are no plans for a direct replacement for the current, third-generation model, which will reach its sixth anniversary this year. Market tastes are changing as aspirational punters move to crossovers, and the TT has certainly enjoyed a good innings. But this also feels like a good time for a retrospective to celebrate both the car and the dying segment that could be termed the everyday coupé.
Parts-bin special sounds like an insult, but here it isn't. To use it acknowledges the TT's greatest strength: the fact that it isn't an uncompromising, pure-bred sports car. When compared with more dynamically focused rivals, the TT pretty much always finished runner-up; Audi must have a cupboard full of wooden spoons somewhere from all the comparison tests that it lost.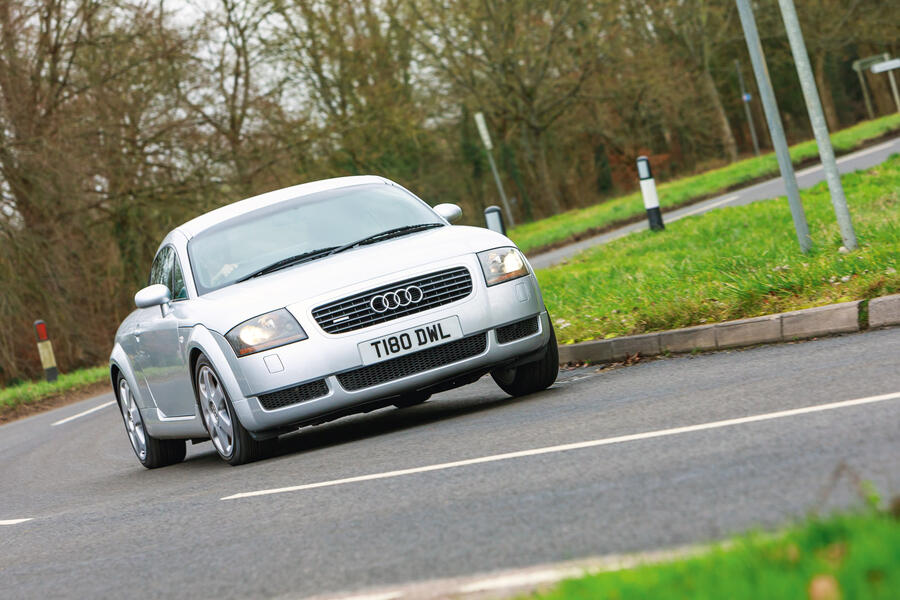 Yet, with the exception of the Porsche Boxster and Cayman, it outsold the sportier alternatives and has outlived most of them. That was thanks in part to the practicality that came from the humble underpinnings: the utility of a tailgate and four seats. You could carry a bike in a TT or more than one passenger, provided they were small enough to squash into the back.
Success has many fathers, with plenty of designers keen to have their involvement with the TT acknowledged. The two biggest influences were Freeman Thomas, who sketched the original 1995 concept, and Peter Schreyer, who translated most of that magic into the production model. Special mention is also due to Romulus Rost, who did the groundbreaking interior. Twenty years later, the TT often features on lists of the most influential car designs. Schreyer still owns and regularly drives one, despite having been design head at Kia since 2006.
The TT went on sale in Europe in 1998, but only briefly. Several high-speed crashes in Germany suggested a lack of aerodynamic stability, so production was halted while a wedgy rear spoiler and standard stability control were added. Earlier cars had ESC retrofitted but not the spoiler; the car you see here is one of the tiny number of right-hand-drive examples built early enough not to have it.
The form is still striking if you look beyond the familiarity, the curves and surfaces on show without any fussy detailing. Next to it, the latest TT looks muscular and more modern, but also like a hand that has been played far more safely.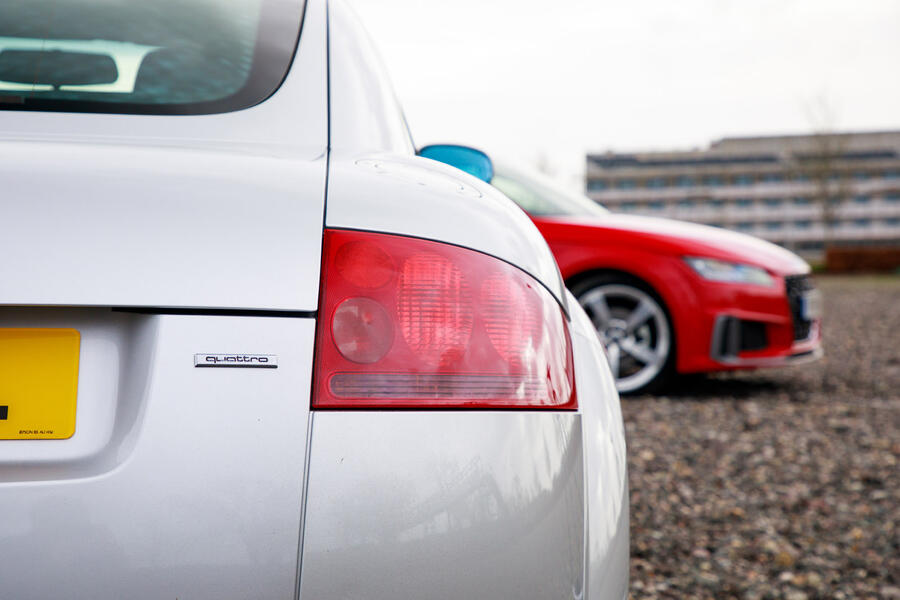 The first-generation TT's interior is impressive now; it was off the scale for a mainstream car 22 years ago. The metal rotary controls around the air vents still feel great (Audi used pretty much the same thing in the A3 until the new version) and the combination of brushed metal and dark trim gives what still feels like a 2020 aesthetic. It feels smaller than I remember: the front seats are set close together, while the rear pair barely qualify as plus-twos.
The boosty power delivery of the turbocharged 1.8-litre engine is entirely as I recall it. Audi offered 132kW and 165kW versions from launch, with a 110kW unit arriving later. The company has opted to preserve a version packing 165kW, that being delivered with more enthusiasm than finesse.
The chassis balance is also no surprise. It's front-led but not in a bad way; all early TTs had the Haldex part-time four-wheel drive system, which diverts power rearwards only when the front is running short on grip. So while it's easy to accelerate to the edge of understeer, neutralising a widening line is easily done by lifting the throttle. It's an easy car to drive at a high percentage of its capability.
Time has changed some other subjective opinions, however. In 1999, the TT didn't stand out for having notable steering feel, but the numb electric helms of modern machines mean there now seems to be a pleasant degree of chattiness through the thick rim of its wheel.
Nor do I remember the shift action of the six-speed manual being so slick and accurate, the TT being one of those cars that encourages you to change gear even when you don't really need to. In terms of raw pace, it's still more than fast enough to keep the modern TT honest.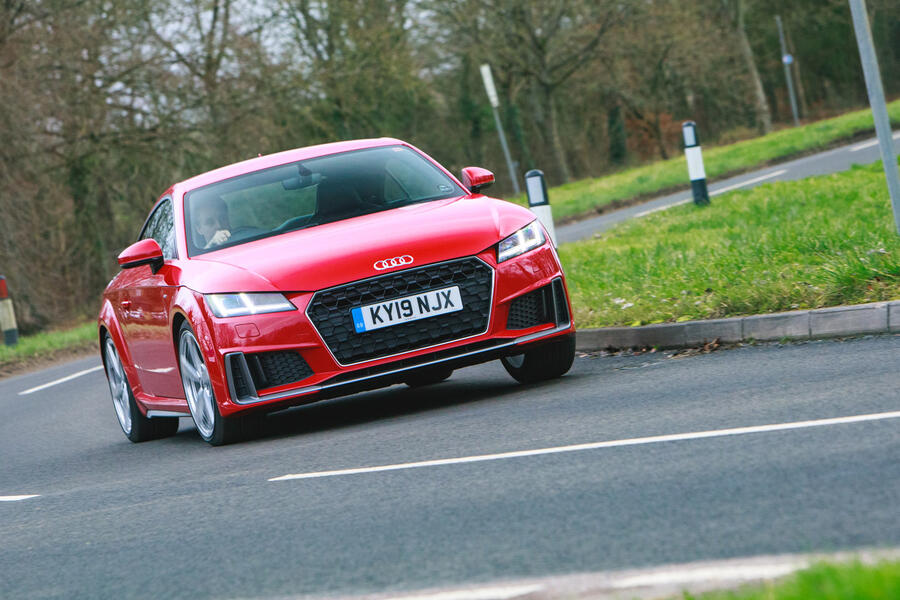 Our Mk3 comes from the bottom of the range, a front-wheel-drive 147kW 2.0-litre, intended to provide context rather than thrills. Yet I'm soon pleased that Audi sent it rather than one of its more potent models, because it shows how the TT has matured over the years. Sitting on the Volkswagen Group's ubiquitous MQB platform means the current car is tauter and is much more refined, with a keener front end and markedly less roll. It feels bigger and more grown-up, simply because it is – a point made by a glance into the back and at the almost-usable rear seats.
But despite a dual-clutch gearbox in place of the tactile challenge of a manual, there's still a pleasure to be had in driving at everyday pace; it's not always goading you to go faster.
There's lots of intelligence in the third-generation TT, too, unlike the lacklustre Mk2. It was never going to have the impact of the original and it didn't try to be a tribute act for its famous predecessor – rather clever in its own right. I still like the idea of its decluttered interior, where the only screen is the digital instrument display behind the steering wheel and there's no glaring distraction on top of the dashboard. It's a handsome, desirable car.
It's also a reminder that the bottom of the range has always made more sense than the top. There have been faster TTs, and some of them have been pretty good, but they've always served to emphasise how far Audi's natively front-driven coupé is from being a purpose-built sports car.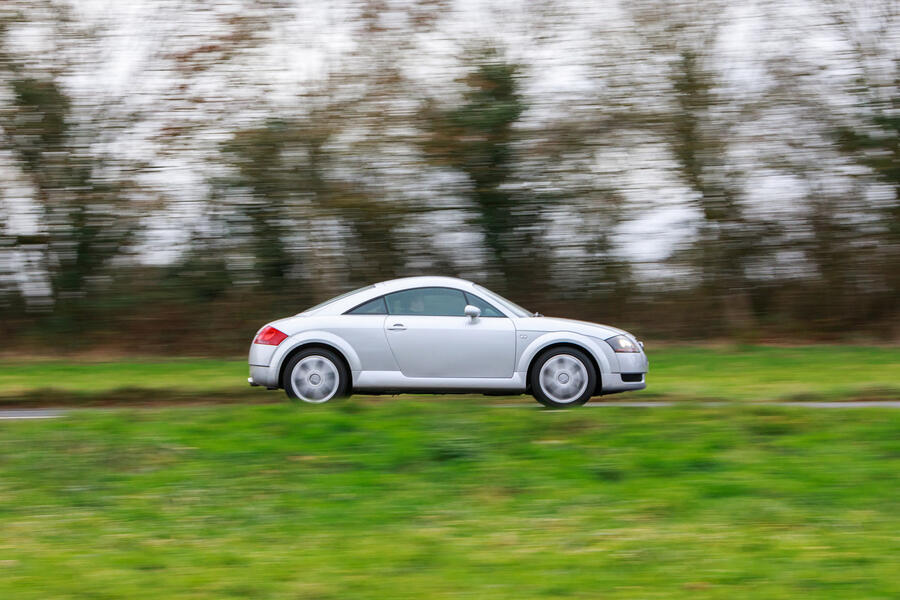 Spiritually, the TT is closer to a hot hatch, one that offers desirability and modest excitement at an affordable price. As such, it's almost a latter-day Ford Capri – and yes, that is intended to be a compliment. If Audi does replace it with something, whether that's an EV or a creation even more radical, that new car will have a mighty challenge to match its rational-emotional appeal.
Soft in the middle
When the Audi TT's obituary is eventually written, one thing will be clear: the original and third-generation versions are the ones to go for. A spin in a Mk2 from Audi's heritage collection was a reminder of just how difficult it is to replace an iconic car.
Not that there's much evidence Audi tried too hard with the second TT. There are design riffs on the original with all the zip and precision of a geriatric pub band and it's almost as uninspiring to drive as it is to look at.
The interior is particularly dull; the fact it shares its heater controls with the first R8 might be the most exciting thing about it. One for collectors to skip over.
What's next?
While Audi insiders have said there are no current plans for a direct TT replacement, the company is well aware of both the affection held for the dynasty and the need for future models capable of delivering a similar level of emotional engagement.
When we spoke to Audi technical development boss Hans-Joachim Rothenpieler in March last year, he said: "There's a future for an icon, but I don't know if it's a TT."
Mike Duff