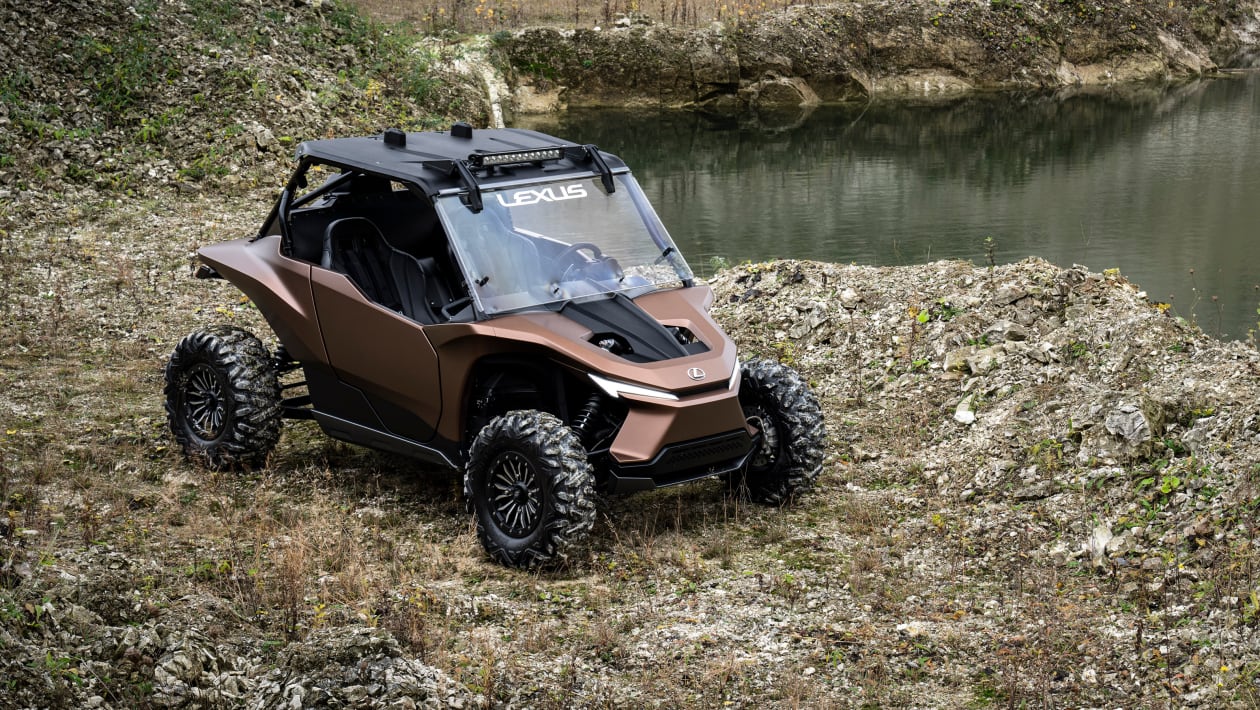 Lexus has teased a possible further extension to its brand – and some novel hydrogen fuel technology – with an off-road buggy concept called ROV.
Described by Lexus's European boss Spiros Fotinos as a car designed to "unlock a new kind of off-roading adventure for our customers in a true Lexus way", the ROV Concept is a small two-seat buggy with exposed construction and chunky off-road tyres. The vehicle is just 3.1 metres long and 1.7 metres wide, and its appearance has little in common with Lexus's conventional cars, although the headlight design does hint at a connection.
The cabin is even less like a conventional Lexus, with exposed carbon-fibre trim, a simple rev counter and only a few switches. The interior images do reveal a couple of technical details not released by Lexus, however; the transmission is automatic, and there's a simple rotary switch on the centre console that allows the car to be run in two-wheel drive, four-wheel drive or with the differential locked.
The significance of the vehicle is really its choice of powertrain, since it uses a combustion engine (configuration and outputs unspecified) fuelled by hydrogen. Lexus says the unit's main emission is water, just like with a hydrogen fuel cell, but admits there are "marginal levels" of CO2 and NOX.
The firm claims that the ROV Concept is an "almost zero-emissions vehicle", and Fotinos told Auto Express that this solution would, in theory, allow the car to appeal to the growing trend for rural exploration, while maintaining credible sustainability.
Engineers chose to use a combustion engine instead of a fuel cell on grounds of cost, packaging, weight and technical complexity.
Lexus has no plans to produce the ROV – but the firm does have a history of experimenting with extensions to its brand and then taking them to the manufacturing level after positive customer feedback. A couple of years ago, the company designed a yacht and subsequently put the vessel into production as the LY 650.
John Mcllroy