Ferrari has finally revealed the new 499P Le Mans Hypercar racer in full.
After months of teasers and strenuous rounds of initial testing, Ferrari has given us our first look at its new Le Mans Hypercar contender, the 499P. Launched as the marque's first top-flight endurance racer since 1973, it will go head-to-head with the likes of Toyota Gazoo Racing, Scuderia Cameron Glickenhaus and Peugeot when it makes its race debut at the 1000 Miles of Sebring in 2023.
The LMh-class 499P is built upon a completely bespoke carbonfibre monocoque, with its hybrid powertrain also unique. Powering the front axle is a single electric motor capable of delivering a peak of 200kW, drawing power from a 900V battery pack developed using technology derived from its hybrid Formula 1 cars.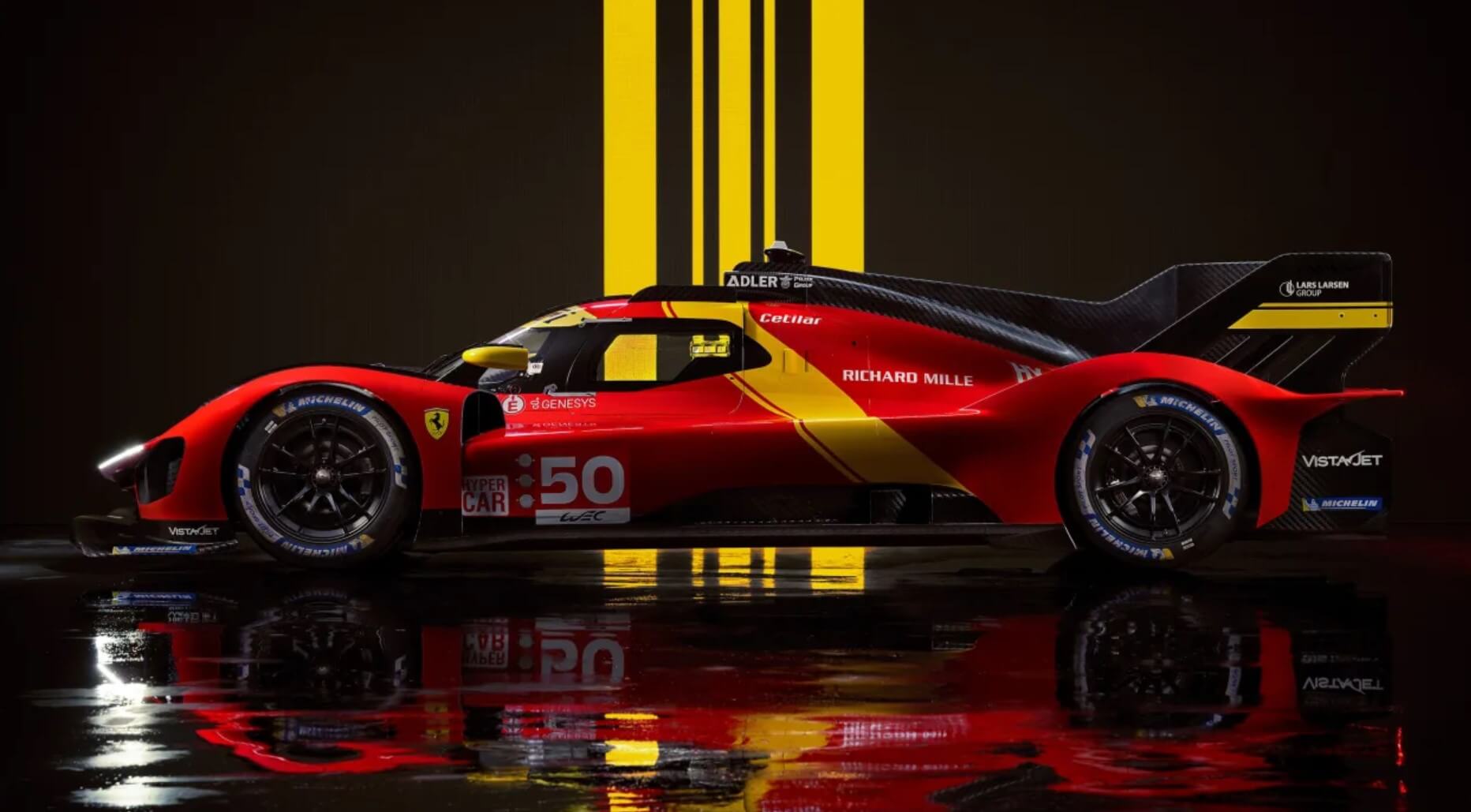 Ferrari revealed that it considered the use of V12 and V8 power plants at the project's inception, but the need to keep weight as low as possible, it settled on a bespoke 120-degree 3-litre twin-turbocharged V6 (499 being the displacement of each cylinder). As per the regulations it produces a maximum of 671bhp, and although it shares architecture with the V6 from the 296 GT3, it doesn't share any specific parts.
Both the combustion engine and electric motor produce the maximum output allowed under LMh regulations, but to ensure LMh and LMDh cars are competitive with one another, those peak outputs are constantly adjusted to ensure the 499P's combined output doesn't exceed 500KW.
The braking package is a brake-by-wire Brembo system, chosen for its ability to recover energy from the front axle to charge the hybrid system on the move. As you'd expect, it utilises double wishbone pushrod-type suspension, and in order to help meet the target weight figure (regulations stipulate a 1030kg minimum), Ferrari has made the engine and seven speed sequential transmission both stressed members of the 499P's chassis.
Appropriately inspired by the 1973 312 P with its red and yellow livery, the 499P adopts a more traditional aero design in comparison to the Peugeot 9X8, with an aggressive rear wing and a central strake that grows from a fin mounted atop a large, rectangular intake snorkel which supplies fresh air to the engine intake, battery and transmission. Underneath the high-mounted wing sits another horizontal plane that extends beyond the rear diffuser, outlined by a full-width light bar.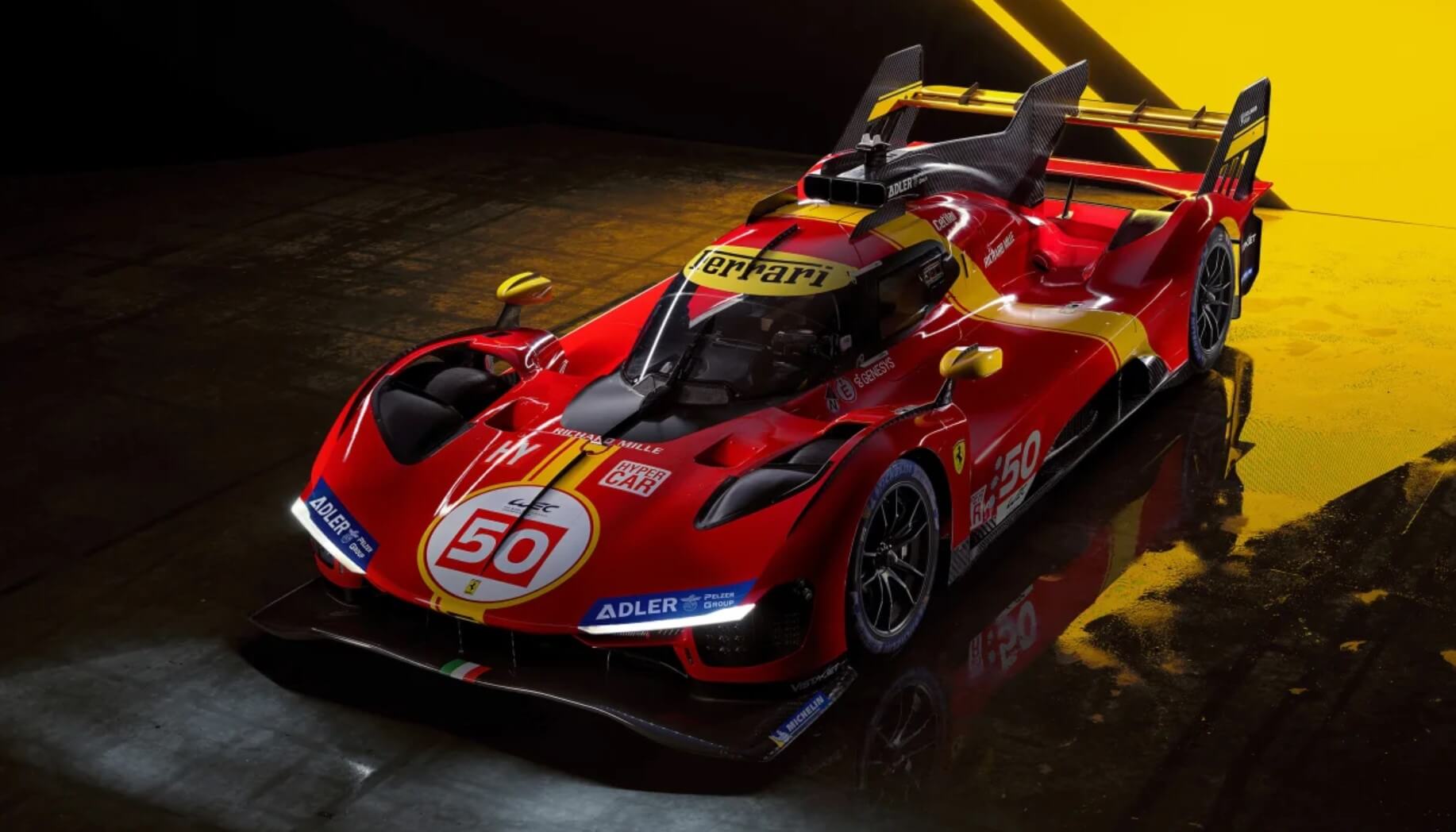 Elements such as the completely open front arches are made possible by the added freedom of the Le Mans Hypercar program, something that was previously impossible to accomplish under LMP1 regulations. The rear haunches also feature unique bare-carbon humps atop the arches, combining to make it a distinctive design out on the circuit.
Ferrari has already undertaken over 7500 miles of testing, but the most important stage of development is still to come. Ferdinando Cannizzo, Head of Ferrari GT Track Car Development, said: 'The work of synthesis that awaits us over the coming weeks, and which will see us involved in further track testing, is the most important for fine-tuning and the final integration of all the systems.'
Just two cars, numbered 50 and 51, will hit the grid in 2023. As for who will be behind the wheel, Ferrari is remaining tight-lipped…
Sam Jenkins