For over 75 years, Ferrari has been the pinnacle of sports cars. Now, the Purosangue applies the brand's exacting standards to a new class.
Breed Standard
Ferrari insists that its Purosangue isn't an SUV, rather it's a four-door, four-seater sports car. With a 6.5-litre naturally aspirated V12 producing 533kW and a sophisticated chassis, the brand has a solid argument.
THE PUROSANGUE IS THE CAR Ferrari says removes the final barrier for those unable to find the Ferrari that suits their needs, although very much an accompaniment to a collection rather than a replacement for one of its existing models.
It is not a small car as you've probably guessed, although it is 130mm shorter than a Lamborghini Urus and over 30mm shorter than Aston Martin's DBX. Yet it's wider than both, giving it a very four-square stance accentuated by its short overhangs. At 1589mm high, it's nearly 100mm lower than the aforementioned pair, too. And, of course, it has a raised ride-height, complete with wheel arch extensions that can be finished in black trim or carbonfibre.
There's a mix of SF90 and 296 GTB to the design of its raised nose, with aero ducts over and through the front bonnet and wheel arches. You might spot some GTC4 Lusso design cues in its flanks and rear design, including the swollen rear haunches that necessitated the need to hinge the doors from the C-pillar rather than the B. The front-hinged clamshell bonnet adds some drama to proceedings, too.
Some will hate its design, others will ridicule it and the lazy will poke fun at how it looks. For the record, we think it looks very impressive with a blend of Ferrari design cues that don't look forced. But Ferrari, which doesn't run customer clinics when it comes to designing its cars, won't care one bit, as its confidence has been buoyed by orders already running into two years.
Many of those orders came off the back of the confirmation that the Purosangue will be powered by a V12, Ferrari's venerable F140 engine that first appeared in the Enzo and most recently the Daytona SP3, and every front-engined V12 Ferrari in between.
Work has been carried out internally on the dry-sump engine, with new cams, conrods, valvetrain and intake, timing and exhaust all new and redesigned to meet its performance goals. Its cylinder heads come from the 812 Competizione, and unlike the GT4C Lusso, the Purosangue features the same 78mm stroke as the 812 variants and Daytona SP3 for the full 6496cc capacity (rather than the 75.2mm stroke and 6262cc of the GT4C Lusso and F12 Berlinetta).
It means that for a four-door, four-seater there are some serious numbers: 533kW arrives at 7750rpm, with 80 per cent (573Nm) of the engine's 716Nm available from 2100rpm with the full whack arriving at 6250rpm. While the V12 is positioned front-mid within the Purosangue's wheelbase, the eight-speed double-clutch gearbox sits on the rear axle, with drive sent to it as well as the revised PTU (power transfer unit, as seen in the GTC4 Lusso models) that sits on the front of the engine, driving the front axle.
Inside the eight-speed gearbox are the seven shorter ratios also used in the SF90 Stradale and 296 GTB, which combined with the larger 22- and 23- inch wheels (offered with a Michelin Pilot Sport 4S or Bridgestone's new Potenza Sport tyres), shorten the overall ratio compared to the Lusso. Eighth gear is a longer touring ratio. While there's not a whiff of electrification within the powertrain, the engine and gearbox are able to decouple to allow the car to 'sail'.
This packaging results in a 49:51 percent weight distribution. Against the clock it means you'll reach 100km/h in a claimed 3.3 seconds and go beyond 310km/h – wet weight stands at 2180kg, dry is 2033kg.
Underpinning this performance is a new aluminium chassis that has a 30 per cent increase in torsional rigidity and a 25 per cent improved beam stiffness over the GTC4 chassis, it's lighter, too. At each corner is an active suspension system that's been co-developed with Multimatic, who Ferrari also worked with on the SF90 Assetto Fiorano and 296 GTB Assetto Fiorano (along with the GT3 racing version of the latter).
Consisting of a passive spring over an adaptive damper, it also features Multimatic's clever 'True Active Spool Valve'. This has allowed Ferrari to incorporate an electronic motor, via a 48-volt electrical system, with the hydraulic damper connected to the spool valve allowing for more force and higher frequencies to be applied compared to a traditional adaptive or semi-active system. It means that there is variable and continuous distribution of roll stiffness, actively lowering the body by 10mm depending on the forces applied to the tyres. It also allows Ferrari to do away with traditional anti-roll bars.
The all-wheel drive system from the GTC4 Lusso has evolved to include software updates derived from the SF90, and the 812 Competizione's ground-breaking independent four-wheel steering technology is also fitted. While Ferrari wouldn't go as far as to say this is a model designed for offroading, it does feature hill descent control software along with every ADAS system you can think of.
Naturally there is a Manettino with the usual spread of driver and traction control modes, but what there isn't is an off-road mode. Although you can specify an electronically controlled 30mm ride height lift kit.
Manufactured from a mix of aluminium and carbonfibre – the latter is the standard material for the roof with a panoramic glass roof available as an option – the Purosangue's body design features two distinct levels: a flowing upper body paired to a more technical lower that provides a 'floating' appearance that Ferrari has also patented.
With the doors open the Purosangue's interior beckons you in, with four-sculptured seats and a wrap-around cockpit. A removal of the B-pillar was considered early on in the car's development, but the structural compromise was deemed too significant to employ it. Despite appearances though, ingress and egress from the rear isn't as tight as it might look. With the front seats set for six-footers, rear occupants enjoy plenty of space. The relatively tall glasshouse prevents any sensation of claustrophobia though, and we'd suspect that the panoramic roof will be a popular option.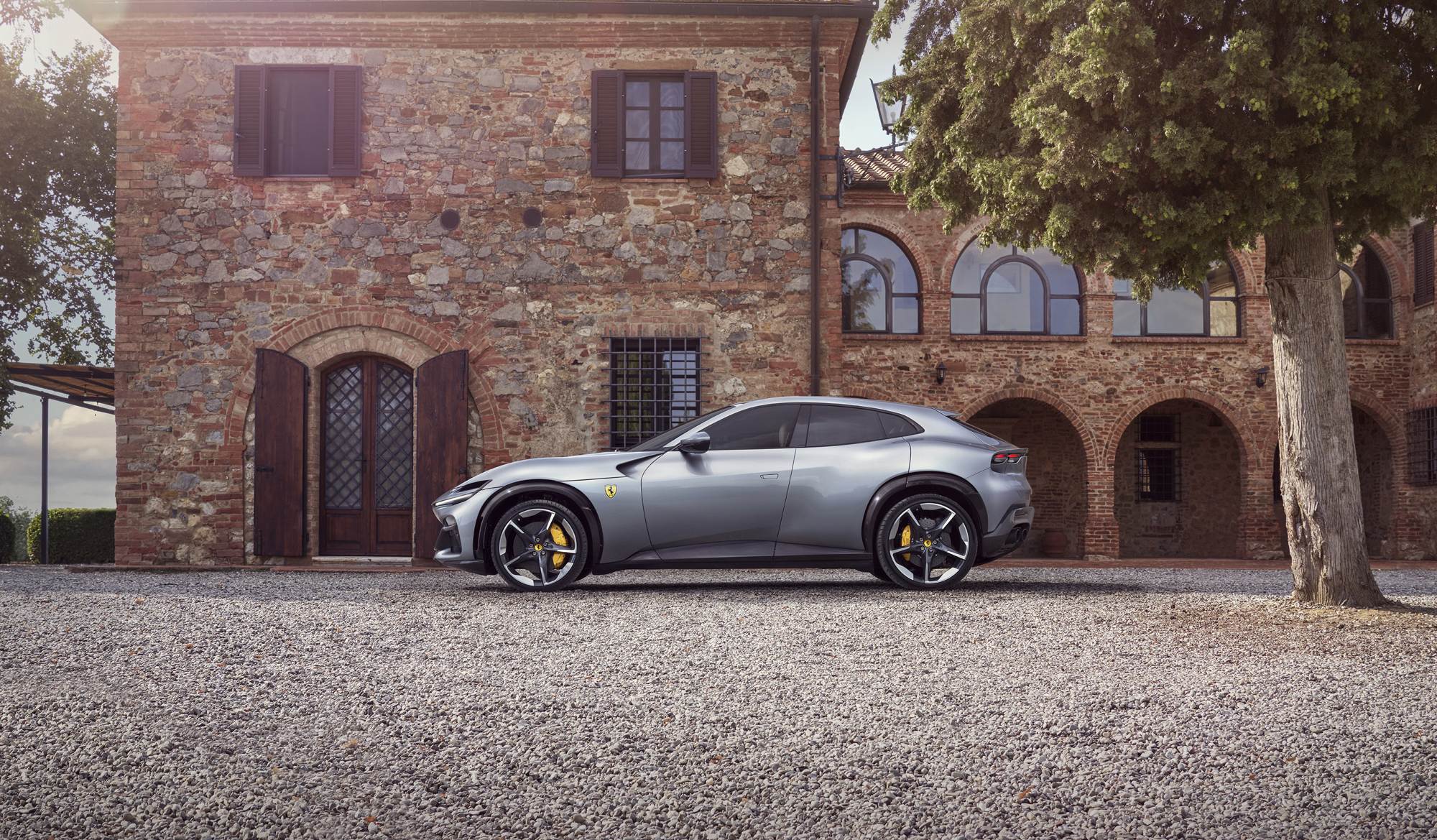 It also feels a step up from the supercars in terms of quality and luxury – a different approach to suit the new expectations of its customers. There's a level of detailing that's absent from its sports cars; the materials welcoming, the acres of carbonfibre harvested accordingly. Talking of materials, if you're over carpet or leather for your floors, a bullet-proof, ballistic fabric is offered as an alternative. You can also specify your carbonfibre to have a copper thread woven within it.
Apple CarPlay and Android Auto are both standard fit, negating the need for Ferrari to include an inhouse sat-nav system; other OEM's please take note. Ferrari also won't be offering over the air updates as it doesn't believe the technology is secure enough for its customers.
There's not a huge amount of boot space, but the parcel shelf stows under the boot floor to free up the load height and the rear seats fold flat with ski hatches present. Ferrari is also offering 'transport' solutions for bikes and such like.
In 2015 the late Sergio Marchionne, Ferrari's then CEO, said it would not make a car like the Purosangue because the technology wasn't there to create something suitable to wear the badge. In 2018 that clearly changed when the go ahead was given to start work on its design and development. Four years later and the first customers are now awaiting delivery of their Purosangue, which will likely start in Q4 in Australia – the starting price is $728,000. Production will be capped at 20 per cent of Ferrari's total vehicle production (expect in the region of 2000 Purosangues to be built a year), with the order book for the first few years pretty much full. Ferrari might not be calling it an SUV but it would appear it has built a car to appeal to those who have been waiting patiently for one.
Gene Therapy
On paper it's arguably the biggest departure from script in
Ferrari's history, so does the Purosangue carry the Prancing
Horse DNA where is counts most? Is it still a driver's car?
SOME WILL ACHE TO OWN A Purosangue. Others will think of it as a means to a much more exciting end. However, one thing is very clear. No matter the motivation, no matter the compromises nor the imagined incompatibility of Ferrari's values and this SUV/crossover/four-door physical form, the team behind it have thrown themselves at the task with unbridled passion and a determination to create something truly compelling to drive. So, I guess we should just treat it as a car and see if it's any good.
The controversy surrounding the Purosangue does not extend to its engine, one ingredient that is indisputably fit for any Ferrari. The F140IA 6.5-litre V12 produces 533kW at 7750rpm, 716Nm at 6250rpm and can rev to 8250rpm. It sits behind the front axle and drives an eight-speed dual-clutch transaxle very similar to the one fitted in the 296 GTB, plus a crankdriven PTU (power transfer unit) for the front wheels. The PTU is a two-speed unit, plus reverse, and features parallel wet clutches to send drive to the front wheels; the individual control also allows torque vectoring. The all-wheel-drive system is operational from 1st to 4th gears, but from 5th to 8th the Purosangue is purely rear-driven.
Performance is supercar-spec: 0-100km/h in 3.3 seconds and a top speed of 'over 310km/h'. The Purosangue uses a new aluminium chassis with high-strength steel integrated for crash safety and features a carbon roof as standard. Despite its increase in size over a GTC4 Lusso chassis, weight is reduced by 4 per cent while torsional rigidity is up 30 per cent and flexural stiffness increases by 25 per cent. Impressive numbers. Bone dry and with lightweight options fitted, the Purosangue is 2033kg, it's 2180kg with all fluids. By comparison, Lamborghini claims 2150kg for the Urus Performante measured to the DIN standard, which includes all fluids necessary for operation plus a 90 per cent fuel load. However, the Ferrari's frontmid layout does offer huge benefits and it has a much more desirable weight distribution – 49:51 front to rear versus 58:42 for the Lamborghini.
The Purosangue eats-up long journeys beautifully and everything feels oddly familiar if you've been lucky enough to drive a modern front-engined Ferrari, but also slightly out of whack. There's the same wonderful feeling of having a vast and silkily powerful engine stretching out ahead of you and, rather incredibly, the sense that you're sitting way back in the chassis. I know for sure that there's plenty more car behind me, but the impression of being right out over the rear axle is strong. Similarly, although the seating position is higher than that of a Lusso, this car doesn't convey the sheer sense of scale of, say, an Aston Martin DBX707. It's exaggerated GT rather than imperious SUV.
The V12 is imperious, of course. The Purosangue's richly complex engine note is subdued at cruising speeds but ever present and it suffuses quality throughout the entire experience. The interior oozes quality, too. The overly flashy colour palette of the 296 GTB's screens and controls have been calmed considerably. The design is elegant and beautifully executed. The Purosangue feels expensive. And bespoke. That's the key message you get from this four-door Ferrari in those first few minutes. It's clearly not based on a more prosaic platform that's later been endowed with superpowers. The natural responses of the Purosangue are lean and communicated with precision. The light, wonderfully clean steering feel and the way this big car wants to rotate around a point directly beneath the driver's seat is new for a car of this scale and the performance feels natural rather than contrived. This is obviously not a car that's going to batter the road into submission. The Purosangue flows.
As ever with a new Ferrari there are dozens of systems working in unison to create this sense of natural athleticism and cohesion – just how they integrate them is mindboggling. We've covered the 4RM-S Evo AWD system, but there's also the rear E-Diff, Side Slip Control 8.0, ABS Evo, Grip Estimation 2.0 (which works with SSC 8.0 to estimate tyre grip more accurately by taking load information from the electric power steering) and the independent four-wheel-steering system.
The Purosangue goes further still with the debut of a completely new suspension system called Ferrari Active Suspension Technology. Developed in conjunction with Multimatic, each damper has its own electric motor driving gears connected to a ball screw that can apply force to speed or slow the piston within the damper. This is great for ride quality, as you can speed up the compression phase over, say, a large speed bump, but the electric motors can also create torque to counter body roll, pitch and dive. Such is its power that Ferrari has eliminated the need for anti-roll bars and could actually make the Purosangue lean into an apex if it so desired. Instead, the active suspension is programmed to ensure control but also natural, predictable responses. Ferrari can also manage the roll stiffness in different phases of a corner. The dampers have their own cooling system and are powered by a battery pack located beneath the driver's seat.
The manettino features Ice, Wet and Comfort modes and a press of the dual-function rotary switch allows you to separately select between soft or mid-level damping. In the final two positions – Sport and ESC Off – you can cycle between soft, mid and hard for the dampers. In Comfort, the Purosangue is wonderfully supple. The ride quality is beautifully judged and I'd take the decisive feel of this system over a car with air springs every time. In fact, I suspect most people would happily live in Sport mode with the dampers set to their mid level and feel very happy indeed.
On deep snow the Purosangue is, of course, a hoot. So much so that I begin to wonder if the front wheels are driven at all. Just a hint of throttle and the rear swings around and the way you can play with the balance so smoothly feels entirely natural. Not a huge consideration for everyday use but a hint of what might be to come if we find some dry tarmac. The eight-speed DCT is excellent: smooth and fast but ultimately lacking the phenomenally crisp, instantaneous feel of an 812 Superfast's gearbox as they've deliberately dialled back the aggression.
Even the four-wheel steering, which sounds so contrived in theory, works unobtrusively. The Purosangue reacts like a smaller, lighter car yet feels composed and easy-going. I wish the V12 was a little more vocal at low speeds, but when the noise does arrive under full throttle it's truly, deeply inspirational. A popping, farting super-SUV from anybody else could never match it.
It's day two before we find that elusive empty road with snow lying either side but a clear surface. The picture is skewed slightly by winter tyres but there's no disguising the Purosangue's agility nor its body control. I'm pleased to say there's still some roll, a real sense of a supple car breathing with the road surface, and even with the dampers set to hard the Purosangue doesn't feel board-stiff and uncommunicative. You can feel and use the weight transfer without it ever getting out of control. The steering is fast, perhaps a little faster than you'd expect, but it isn't nervous and matches the alert chassis really nicely. The rear steer? Well, with higher forces it is more apparent. As soon as you turn towards an apex the rear seems to create a yaw moment, then holds it as you unravel the rest of the corner. It's slightly artificial in feel at times but certainly creates an exciting, interactive balance. In ESC Off mode the Purosangue goes further still and slides well enough to make even an M3 Touring blush. It's surreal but highly amusing.
One of the really nice things about the Purosangue is how it doesn't feel one-dimensional. It hasn't ploughed a narrow furrow to be The Fastest SUV in the World (a favourite line in many press releases from other manufacturers). It doesn't feel track-optimised at the expense of GT credentials but it can still get down and dirty if you really fancy it. And in the way it steers, in the lovely fluid balance and with the theatre created by that mighty V12, it is unmistakably a Ferrari. Quite an achievement. Dynamically this car is on the money.