Hyundai as gone and fitted its sleek looking i30 family hatchback with a new 48V mild-hybrid architecture as part of a mid-life refresh.
The idea of a 48V integrated starter-generator will be a familiar one to many by now, and its application here is unsurprisingly intended to help the i30 achieve very modest savings in fuel consumption and CO2 emissions.
That electrified architecture is based around one of two petrol engines: a 88kW 1.0-litre turbo three-pot or a new 1.5-litre 118kW turbo four-cylinder, tested here in left-hand-drive, pre-production guise. In Australia, Hyundai is yet to confirm specifications and drivetrain availability for the updated i30 lineup.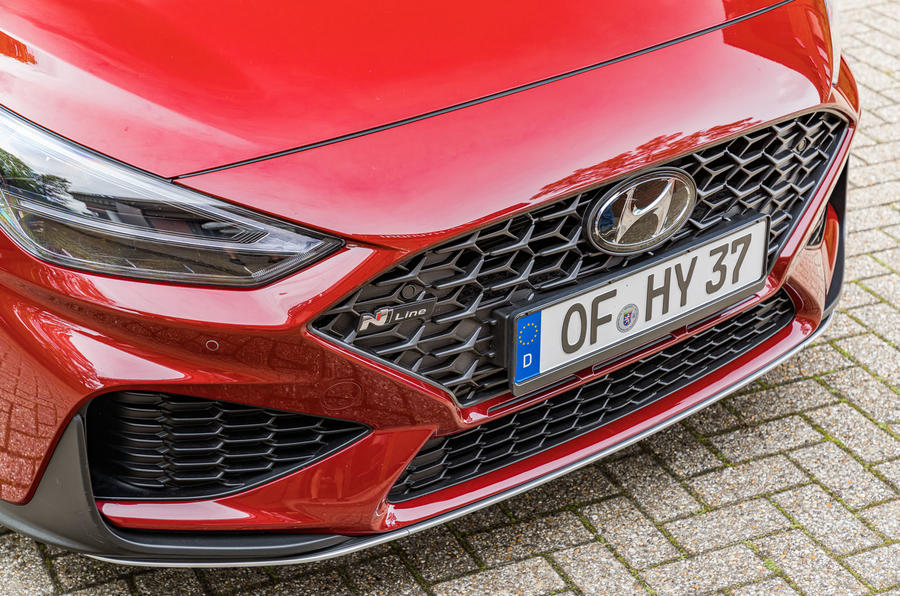 However, Hyundai Australia is quickly expanding into electrification and here we are testing the four-pot hybrid in popular N-Line trim. This pseudo-sporting trim level has been subjected to a bit of a nip-and-tuck, too. A larger grille, sharper bumpers and a revamped headlight design all feature, all contributing to a noticeably more sporting image than what you got on the original i30 N Line. It's still not quite as pumped up as the full-fat i30 N, but it's not a bad-looking thing, either.
The i30's suspension and steering have both been slightly tweaked too, provided you go for the 1.5-litre petrol engine.
For a range-topping engine, there isn't really all that much punch on offer here. Press the throttle and after a slight delay the i30 begins to accrue pace, but power delivery never feels that urgent and can come across as slightly boosty at times. At least the engine sounds smooth, but its lack of performance is a telling reminder that the N Line model is more of a shower than a goer.
In any case, the 114kW 1.0-litre three-pot you get in the Ford Focus ST not only feels considerably punchier but is also a more genuinely characterful engine.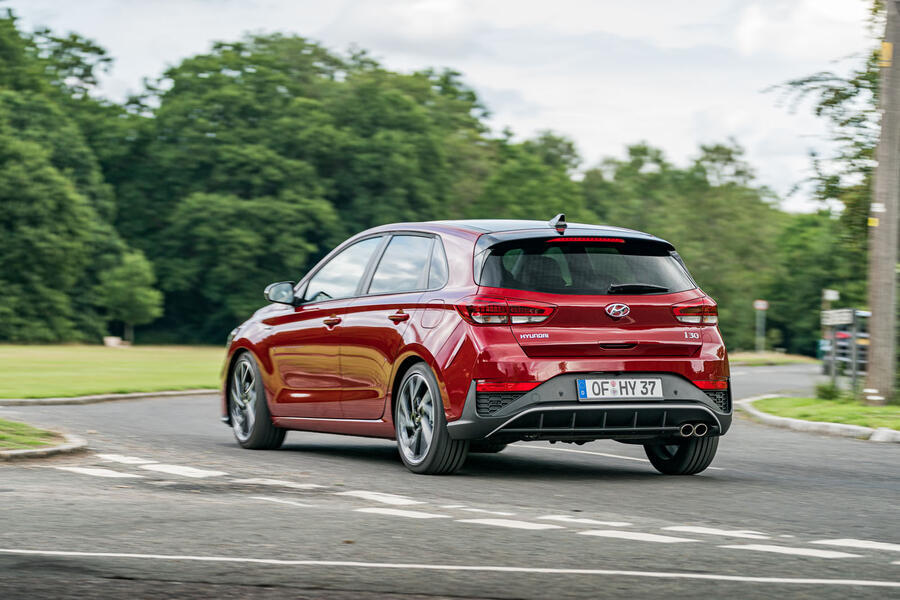 It's the Ford that's the sweeter handling of the two, too. The i30 might just edge it when it comes to ride comfort, but the Focus is certainly the more entertaining car to bomb around in. Compared with the Hyundai's nicely assisted but slightly dead helm, the Focus just feels that much more alive in your hands and that much more willing to respond keenly to your inputs.
That's not to say the i30 is a reluctant old crate – far from it, in fact. But as a marginally more driver-focused take on a regular family hatchback, its demeanour is just a bit too normal.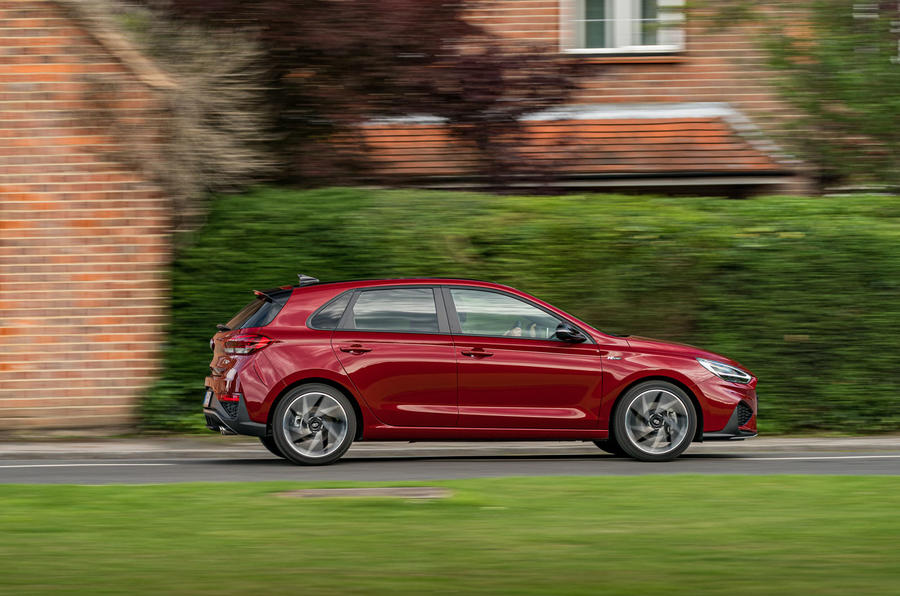 However, it does have a sweet manual gear shift. Accurate and tactile, it's arguably the most noticeable feature that has managed to trickle its way down from the i30 N. So it's a bit of a shame that the process of using it is slightly marred by a clutch pedal that feels almost ridiculously light, although I can certainly see how it might appeal if you found yourself on the M25 in rush-hour traffic.
The cabin is classic Hyundai fare, in that it feels well made and is sensibly laid out but lacks any real sort of visual pizzazz. Still, I guess the same can be said about the Focus, and there is in fact a decent amount of space on offer in the i30.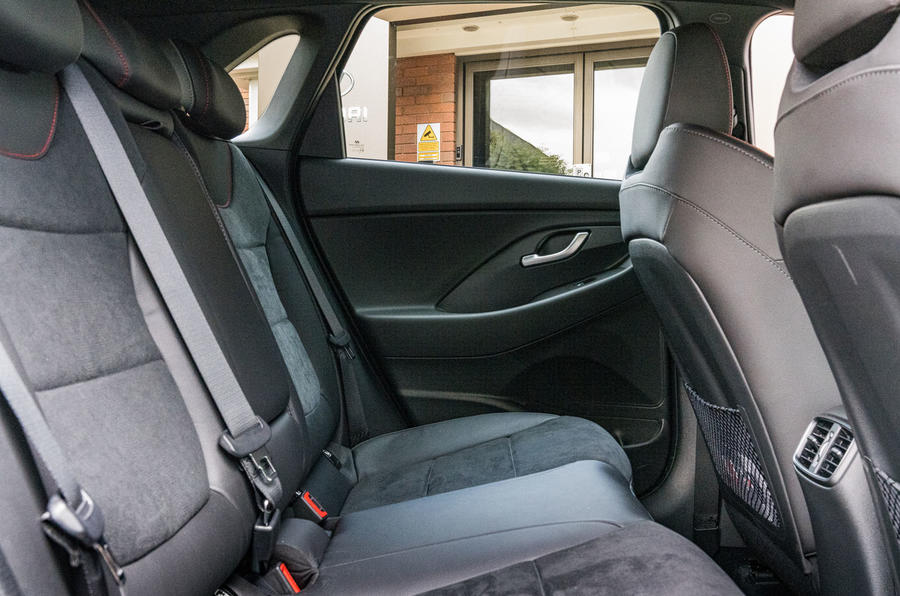 Second-row passengers will find they can sit in relative comfort, and the boot is a good size, too.
Hyundai has also updated the i30's infotainment suite so that there's now a 7.0-inch digital instrument cluster behind the wheel and a larger 10.25-inch touchscreen on top of the dashboard. As this wasn't fully operational in our pre-production test car, it's tricky to say just how good it will be when ready, but its sat-nav mapping looked suitably detailed in any case.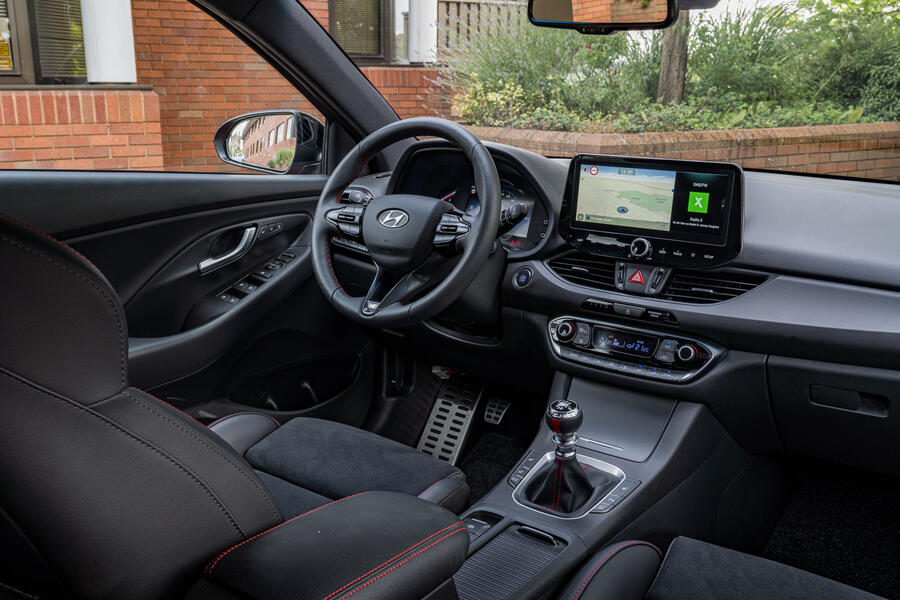 If a refined, comfortable and sporty-looking family hatchback is what you're after, you could do worse than opt for this new i30 N Line mild-hybrid. Even in pre-production guise, it feels like a nicely polished car, so it seems fair to assume that this side of things might only improve when it's finally signed off. An updated arsenal of active safety systems will no doubt appeal to family-minded buyers, too.
However, there are absolutely more entertaining and characterful rivals out there, with the Focus ST-Line being the most serious threat to the Hyundai's success. Some may prefer the Korean car's slightly more laid back, no-nonsense set-up, but a shortage of punch and a character that just seems a bit disinterested make it a bit trickier to get excited about.
Hyundai i30 1.5 T-GDi 48V N Line specifications
Available TBC Engine 4cyl, 1482cc, turbocharged, petrol, with integrated starter-generator Power 118kW at 5500rpm Torque 254Nm at 1500-3500rpm Gearbox six-speed manual Kerb weight 1250kg Top speed 210km/h 0-100km/h 8.4sec
Simon Davis