Skoda's first purpose-built electric vehicle promises ample range and the brand's familiar, dependable interior.
How much would you have wagered on Skoda's first ground-up electric vehicle being an SUV? I'm by no means a gambling man and hindsight's a useful tool, but if bookies offered odds on such things, I reckon I could have made a fair bit of cash had I placed a bet or two.
Because really, it's not much of a surprise that this all-electric Skoda Enyaq (not sure that sounds quite as good as Skoda thinks it might) is recognisably SUV-like in its proportions – even when wrapped up in its pre-production ghillie suit. After all, the Czech firm has made a name for itself as a pragmatic manufacturer of pragmatic cars for pragmatic people, so given the inexorable rise of the SUV, launching an electric one seems like a pretty pragmatic decision.
It's a suitably significant one, too. The Enyaq is not only the first Skoda vehicle to be built on the Volkswagen Group's new MEB architecture, with assembly set to take place at Skoda's Mladá Boleslav plant, but it's also the first MEB vehicle to be built outside of Germany. Given the likes of the Seat el-Born will be built at the same Zwickau plant as the VW ID 3, Skoda must see that decision as an encouraging vote of confidence from the group's higher-ups.
At 4.65m long, the Enyaq sits staunchly on the size spectrum between the larger Kodiaq and smaller Karoq SUV models. There's loads of passenger space front and back, and its 585-litre boot is generously sized, too, but one big benefit of its enlarged footprint is the fact that it has also enabled Skoda to fit the Enyaq with a battery big enough to lend it proper real-world range.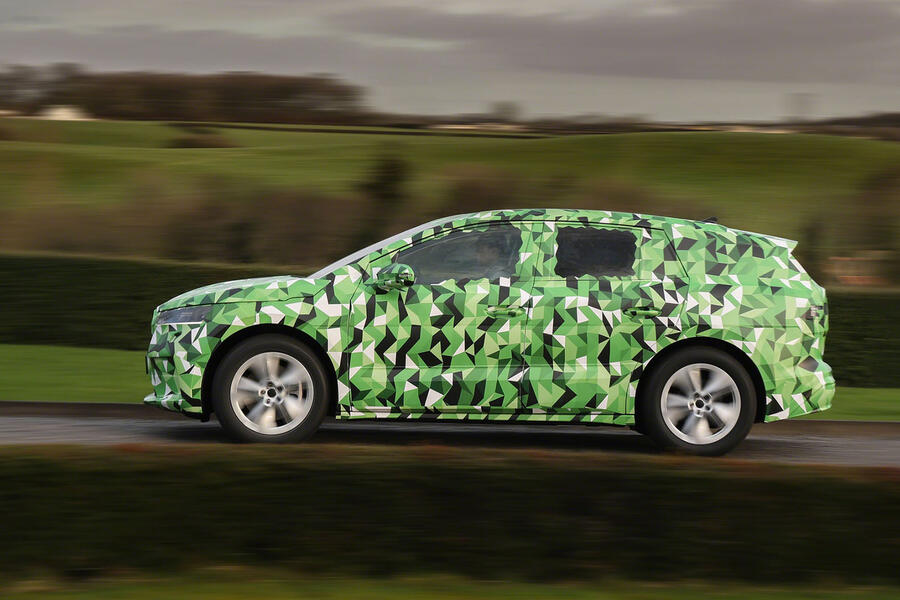 Technically, there are three different battery sizes and two different drive systems, which make for a complete line-up of five models. The Enyaq 50 represents the entry-level offering and uses a 55kWh battery to power a 110kW three-phase synchronous motor mounted at the rear axle. This version comes with a WLTP-certified range of 340km, which isn't outstanding but isn't terrible, either.
Then there's the Enyaq 60, which has a 62kWh battery, a 132kW motor and a claimed range of 390km; the Enyaq 80, with its 82kWh battery, 150kW motor and 500km range; and the Enyaq 80X and Enyaq vRS models. Those last two also use the biggest battery, but gain an extra electric motor at the front axle for all-wheel drive. While this increases their total system outputs (to 195kW for the 80X and 225kW for the vRS), range takes a bit of a hit at the same time: both are rated for 460km.
As for charging, all Enyaq models will be able to draw power from chargers rated as high as 50kW as standard – so expect to be able to top up an 82kWh model in around 1.5 hours on a rapid charger. That said, if you fancy paying a bit more money, faster charging capability will be available. Choose it, and on a 125kW outlet, you can expect to charge the battery from 10% capacity to 80% capacity in around 40 minutes.
Although our test car was heavily camouflaged inside and out, we have seen how the finished Enyaq will look. Truth be told, it's a sharp-looking thing. From the front, its visual relationship to the Skoda Scala is clear, although where you get the sense the designers approached the smaller hatchback in a slightly reserved fashion, the Enyaq seems like a far bolder and more confident expression of Skoda's new design language. There are shades of MPV about its side profile and the light-up grille is a bit naff, but overall it's a handsome thing – particularly on big alloy wheels.
The cabin is even more impressive – largely thanks to material quality. On pricier models, the flat, expansive dash top is upholstered in tasteful leather, and the fabric used on other surfaces looks smart and feels plush. Then there's the 13.0-inch infotainment system that crowns the dash and should inject a healthy amount of tech appeal into the cabin as well.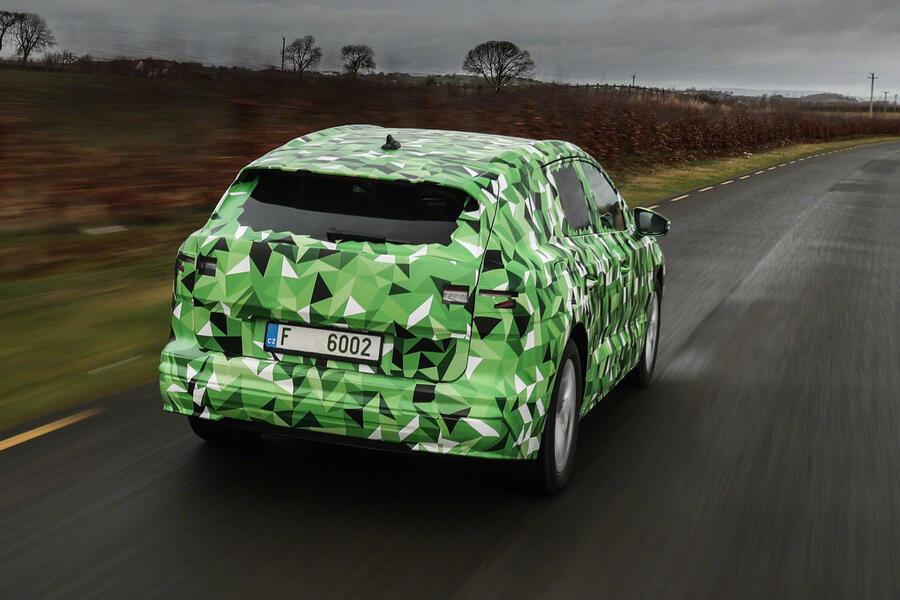 But anyway, to driving. The heavily camouflaged prototype we're in here is the rear-driven Enyaq 80, which Skoda says is around 60-70% representative of the final product. So by no means finalised, then, but developed enough to give a reasonable idea of what the Enyaq will be like when it arrives towards the end of the year.
On fairly lumpen Irish country roads still slick with most of the muck and sleet that Storm Ciara brought with her, the Enyaq feels, well, kind of how you'd expect an electric Skoda to feel. Ride quality is largely well judged so it feels tied down over undulating surfaces, although at town speeds, a sense of rigidity and brittleness does seem to creep in – suggesting its spring rates might have been increased to deal with the Enyaq's jacked-up kerb weight.
On 19-inch alloys (wheel sizes will range from 18-inch through to 21-inch), secondary intrusions are more prominent than you might like, too, but it's their volume rather than the sharpness of the impacts that's most notable. There's also a bit of vibration through the column but it seems reasonable to expect this will be addressed before the car reaches production.
At the fairly sedate speeds dictated by our lead minder car, it corners tidily enough, with the steering providing reassuring weight and accuracy. With 310Nm of instantly available torque on tap, throttle response is good, and although the Enyaq 80 doesn't feel rapid – particularly above 80km/h or so – there's enough urgency to ensure overtakes are dispatched reasonably swiftly. Step-off is a bit aggressive but, again, Skoda will probably address this before the car is signed off for production. Same goes for the completely dead-feeling brake pedal.
Still, you get the sense that the Enyaq's appeal will come from just how conventional it makes the concept of the electric car feel. Combined with its practical interior, comfortable driving position and decent real-world range, it's a very easy car to appreciate from a pragmatic point of view (funny that). Perhaps the vRS model will do more to ensure it appeals to the enthusiast, but for the everyman, there's already a lot to like.
Skoda Enyaq 80 prototype specifications
Where Dublin, Ireland Engine 3-phase synchronous electric motor Battery 82kWh, lithium ion Power 150kW Torque 310Nm Gearbox Single-speed Kerb weight 2000kg (est) Top speed 169km/h (est) 0-100km/h 7.5sec (est) Range 500km (WLTP)