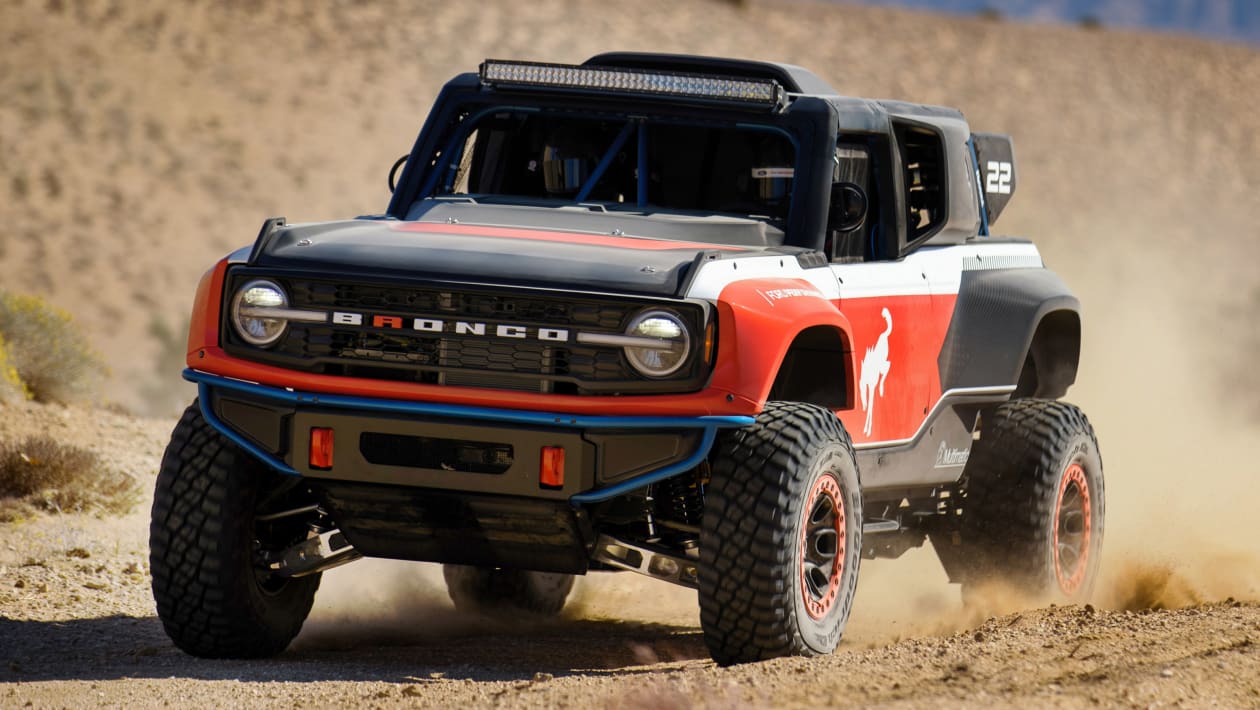 Ford unwraps the Bronco DR race car, built to tackle the Baja 1000 with motorsport-derived components and V8 power
Ford has revealed a motorsport-focused, off-road-only variant of its Bronco SUV. Called the Bronco DR, or Desert Racer, it's been heavily modified to tackle the gruelling Baja 1000 off-road race, with more power than any production Bronco in history. Just 50 examples are planned, but as with the rest of the Bronco line-up, the DR won't be available to Australian customers.
The DR is intended as a turn-key Baja racer, and uses the chassis and body structure from the roadgoing Bronco, albeit with some significant revisions. The exterior has been redesigned with more muscular, fibreglass body panels to save weight.
The wheelarches have been widened in order to house 37-inch BFGoodrich all-terrain tyres, and under the skin, the Bronco DR uses a suspension system designed by Multimatic – builder of the Ford GT supercar. This comprises heavy-duty, reinforced dampers with fluid cooling channels and new billeted-aluminium lower control arms. The inner tie-rod joints have also been upgraded, and the changes result in 55 per cent and 58 per cent more suspension travel than a four-door 'Badlands' Bronco, for the front and rear respectively.
Ford has also shaved off some kilos with the removal of the Bronco's air-conditioning system, other interior luxuries and window glass. The doors have also been replaced by fixed side panels.
Weighing in at around 2.8 tonnes in competition trim, the Bronco DR also features a full roll cage, designed by Multimatic, and a pair of racing seats. The standard Bronco's semi-digital instrument panel remains, alongside a Motec motorsport display.
Powering the four-wheel-drive off-road racer is Ford's 5.0-litre 'Coyote' V8, producing 295kW. This drives through a 10-speed automatic gearbox and electronically locking front and rear differentials. The front driveshafts have been redesigned to work with the extra suspension travel and engine torque.
An enormous 246-litre fuel tank has also been installed for the long stints at Baja, along with air intakes on the sides and roof of the car to cool a rear-mounted radiator. The Bronco DR uses the same braking system as the standard car, albeit with new brake pads.
Initially, 50 units of the Bronco DR will be available, priced at around $250,000 (AUD$337,000) apiece. Each will wear a distinctive red, white, black and blue Ford Performance livery, in tribute to a Baja 1000-winning Bronco in 1969.
Yousuf Ashraf