American auto giant General Motors is gearing up to capitalise on the global switch to EVs, and it means entering new markets with new technology.
The gleaming glass towers of the Renaissance Centre were erected in the 1970s as a key part of a plan to rejuvenate downtown Detroit. That similar urban renewal plans remain ongoing some 50 years later outlines the sheer scale of the challenge.
Since 1996, the rebranded GM Rencen has been the headquarters of General Motors, and the American car-making giant has much in common with the proud but faded city it calls home. Once one of the world's automotive powerhouses, GM has struggled in recent decades, even going bankrupt during the global economic crisis.
Its market share has slipped and its global footprint has shrunk, GM most notably withdrawing from Australia, the UK, and Europe. Ignominy heightened when new owner PSA Group (since merged into Stellantis) rapidly delivered the sibling brands' first profit in decades.
Nevertheless, GM firmly remains one of the world's largest car companies, both in terms of sales and value. And, much like in Detroit itself, there's still immense pride inside GM – and a deeply held belief that it can once again become a market-leading powerhouse.
To do that, GM must change dramatically. So GM's boss Mary Berra has gone all in on electrification. By 2035, GM will launch only EVs – even in the US, where it 's heavily reliant on big, hulking petrol-engined Chevrolet and GMC pick-up trucks.
GM's transformation isn't just about EV tech, though. There's also investment in autonomous cars and last-mile delivery vehicles. There's a move to foster a start-up mentality, freeing individual parts of the business to make decisions faster. There's a focus on a handful of key brands – a marked change from when GM had a phone book of them. And there's a planned return to Europe including right-hand drive production for the UK, although the brand remains – so far – only commited to converting certain models for Australia. It's a bold, ambitious plan, one that involves transforming how a 113-year-old giant operates – and convincing the world it really can beat the likes of Tesla at EVs. But can it work?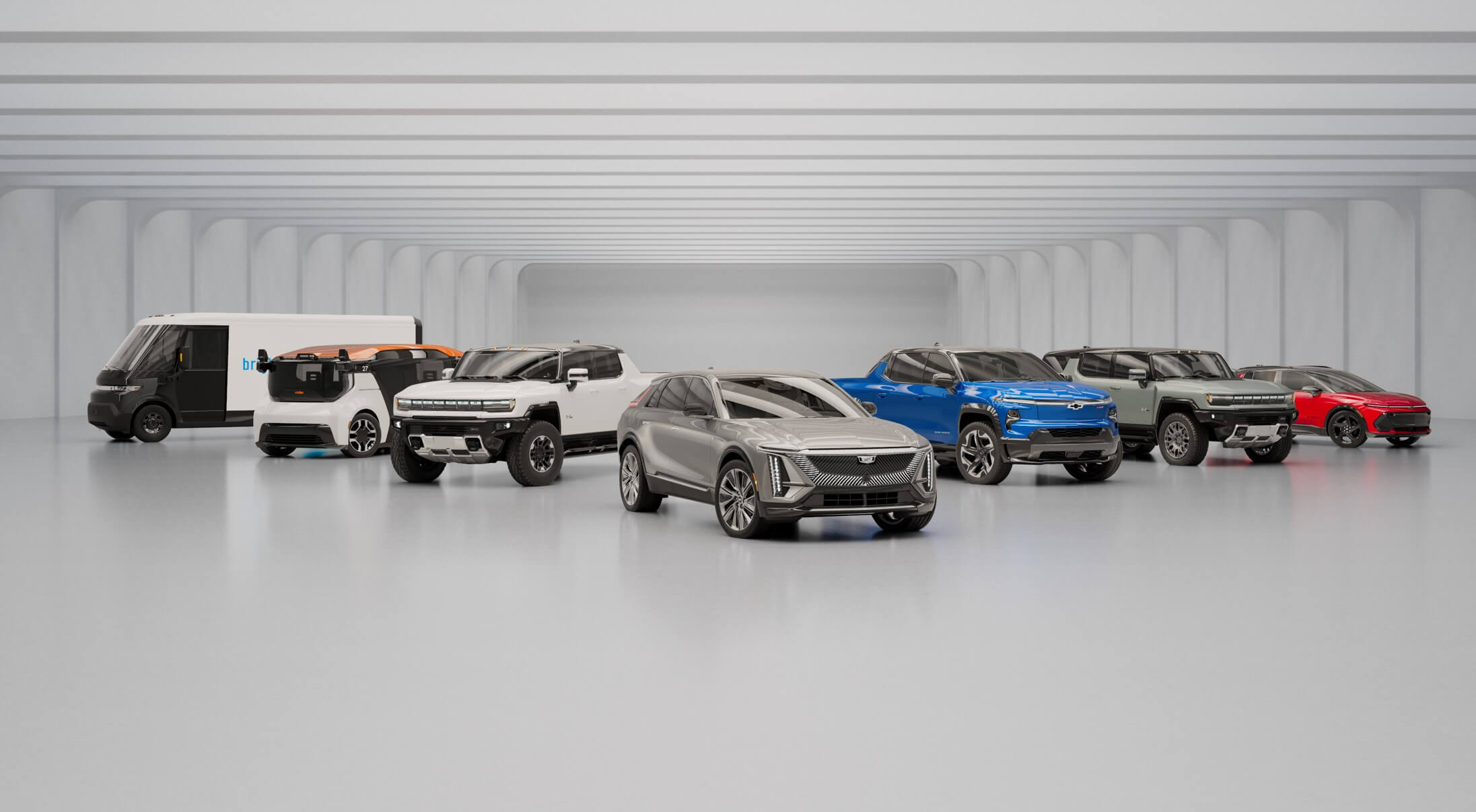 Key to GM's pivot to EVs is building a solid platform, in the most literal sense. That's the Ultium architecture, which comprises a versatile skateboard chassis, an adaptable powertrain and all the underpinning software and connectivity.
It's a clean-sheet design and intended for use in a hugely diverse range of vehicles, from the vast GMC Hummer EV and Brightdrop Zevo 600 van to the mass-market Chevrolet Blazer EV crossover and plush Cadillac Lyriq SUV. It will also be used for a range of vehicles co-developed with Honda.
But while Ultium is new, GM executives are keen to remind everyone that the firm isn't new to EVs – despite the perception of a lumbering, ageing ICE-car giant trailing in Tesla's wake.
"We've been through a learning loop," says Shilpan Amin, head of GM International. "We were the first ones to bring EVs to market with the EV1, then we evolved that to the Chevrolet Bolt."
That a GM senior vice-president is prepared, unprompted, to mention the EV1 is remarkable. Launched in 1996, the two-seat electric coupé was considered such a flop that when the project was controversially canned in 2002, GM infamously recalled and scrapped virtually every EV1.
Elon Musk has cited the axing of the EV1 as an inspiration for Tesla's foundation, and there have even been wild claims that GM was working with the oil industry to kill EVs before they took hold.
In hindsight, the EV1 was simply ahead of its time, held back by high costs and poor battery tech. But some of the ideas, such as a subscription-style sales model and aerodynamically honed bodywork, are suddenly right in vogue.
The business world has changed, too: tech startups have embraced a 'fail fast' ethos. Corporations are no longer ashamed to fail, so long as they learn from it. Rather than airbrush the EV1 from history, GM now wants to show how it was a pioneer.
Concepts from that car fed into the Chevrolet Spark EV hatchback that was launched in 2013 and followed in 2016 by the Chevrolet Bolt. While neither was a commercial smash – the Spark in particular often derided as a 'compliance car' for hitting emissions targets – they prove that GM can produce credible, competitive EVs. And they led directly to the Bolt EUV (a Volkswagen ID 3 rival) and Ultium models.
"As we went through the process [of developing EVs after the EV1], we learned there was a unique opportunity to really redefine the customer experience, to take a ground-up approach to rethink how a customer and a vehicle interface," says Amin. "Because we recognised that opportunity, we could step back and develop these platforms, which are now quickly scalable."
GM wants to sell a million EVs annually by 2025 and has secured a supply deal with LG Chem that should provide battery material for five million.
Amin says the Ultium platform really "shows our ability to lead in technology and innovation", and it certainly should be competitive within its class. It 's designed primarily for mid-size SUVs and above and can accept five different Ultium Drive powertrain set-ups, with single- and dual-motor versions covering front-, rear- and all-wheel drive and outputs ranging from 175kW to 750kW.
Essential to the platform are flat battery cells (GM says that this allows greater energy density than cylindrical cells), arranged into packs of 12 modules. A car could feature as few as six packs for a base model and up to 24 for a long-wheelbase one.
So far, most planned cars have 12, although the Hummer has 24 (two units of 12 atop each other). The system is natively 400V but can run at 800V in parallel, allowing charging rates of up to 350kW.
"Ultium is optimised for SUVs and crossovers, but it can grow by demand for pick-ups and even autonomous vehicles," says Tim Grewe, director of electrification strategy. "It gives usflexibility to meet customer needs but remain agile. But the main benefit is that we can learn as we go through over-the-air updates. We can take data from it in the cloud, do off-car computing and then offer upgrades. It's a building block for our future."